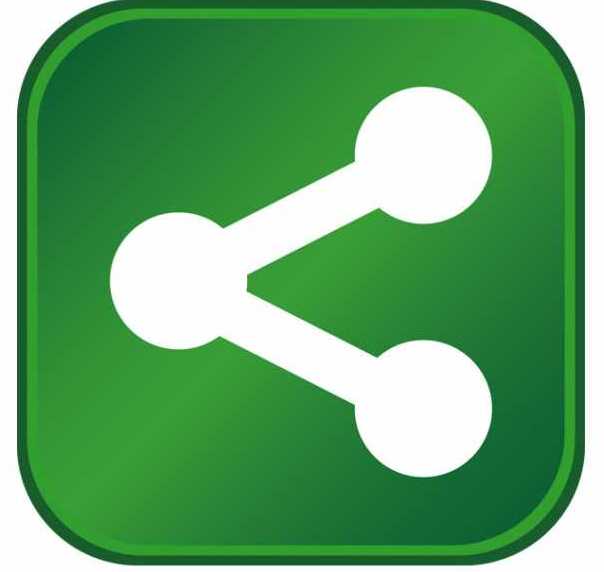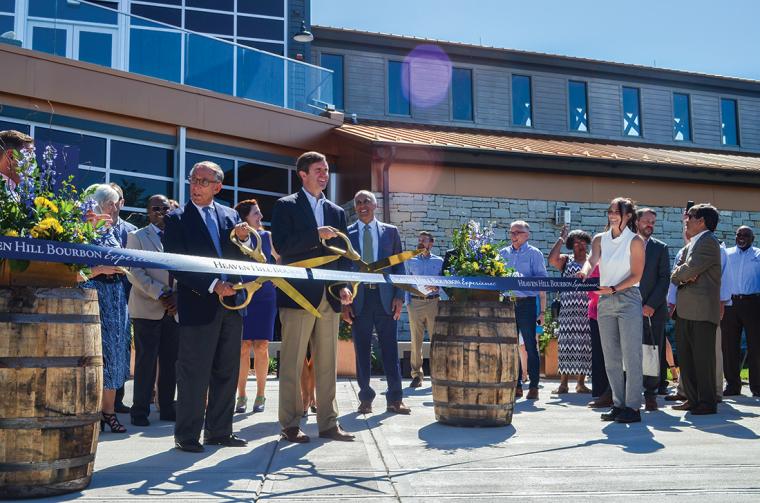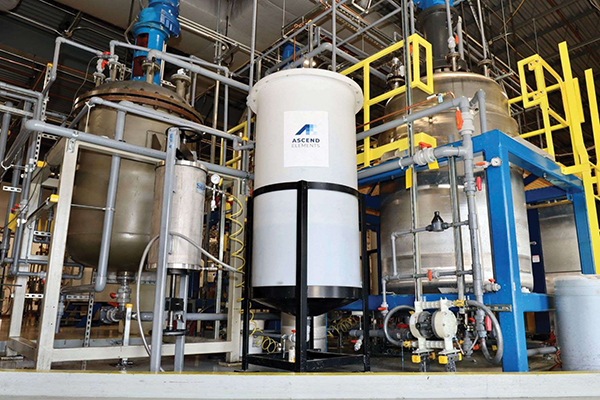 Riding a wave of economic momentum since the start of 2021, Kentucky continues to attract quality job opportunities for residents across the state and major corporate investments within its manufacturing, service and tech sectors.
The commonwealth's central geographic location makes it ideal for manufacturing and distribution of products throughout the U.S. and around the globe, while strong workforce development programs and some of the nation's lowest-cost industrial electricity rates help Team Kentucky build a future economy that works for all residents.
Kentucky has faced its share of challenges over the past two years, with the extended impact of the pandemic and weather-related disasters in the eastern and western regions of the state.
The future is much brighter in the commonwealth, however, as private sector companies are locating and expanding at a higher rate than ever in Kentucky's history. In 2021, state records were set for both investment – $11.2 billion – and job creation – 18,100. And that momentum has carried over into 2022 in a significant way, as companies through August have announced an additional 10,500 jobs behind more than $6 billion in new investment.
The new jobs pay well: in 2021, the average hourly wage for incentivized jobs in Kentucky was $24 before benefits, a 9.4 percent increase over the previous year.
"Kentuckians continue to overcome adversity time and time again, and we are all ready to move ahead toward a future that includes great job opportunities for every single resident in our state," said Kentucky Governor Andy Beshear. "Companies within a variety of different industries are growing and locating in our state, and it's because they have that same vision for the future. We're all moving in the same direction as Team Kentucky, and I could not be more proud of our continued success."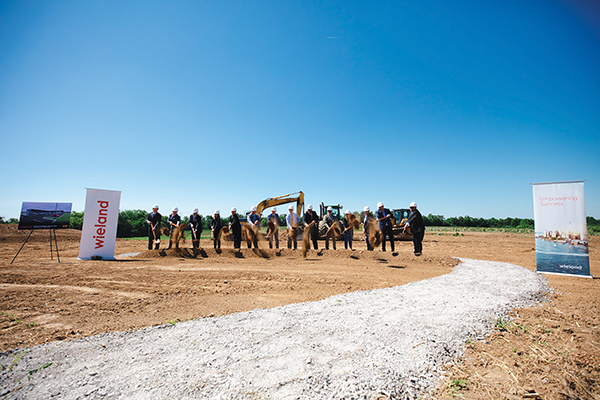 Key to Team Kentucky's record momentum is a central U.S. location that puts manufacturers and logistics providers within 600 miles – or 1,000 kilometers – of two-thirds of the U.S. population. Industrial employers also benefit from an industrial power rate currently at an average of 5.98 cents per kilowatt-hour, placing Kentucky's rates among the lowest in the United States.
With workforce development systems emphasizing education and training in a variety of traditional higher-education, apprenticeship and employer-specific skills training, Kentucky helps businesses adapt to industry changes and build years-long employee pipelines.
Kentucky Sets the Foundation for an Electric Future
A driver of the commonwealth's recent growth is the burgeoning electric vehicle (EV) sector, which is building on Kentucky's longstanding history as a national leader in automotive production. Since June 2020, EV-related announcements have totaled over $8.5 billion in new investment, while creating well over 8,000 full-time jobs in the years ahead.
At the center of that growth are two EV battery gigafactory announcements that set the stage for Kentucky to be a leader in the industry for decades to come.
In September 2021, Governor Beshear joined Ford Motor Co. and SK On, the battery manufacturing business of South Korea-based SK Innovation, to announce plans for the BlueOvalSK Battery Park in the Central Kentucky community of Glendale. The $5.8 billion investment will create 5,000 full-time jobs and furthers Ford's partnership with the commonwealth, which dates back more than a century.
In April 2022, state leadership and Envision AESC made public plans for a $2 billion EV battery gigafactory in Bowling Green that will create 2,000 jobs for Kentuckians. That project, which broke ground in late August, will serve multiple global manufacturers.
These major announcements are at the forefront of Kentucky's newest key industry, but they also are generating additional investment and job creation from a growing supplier network made up of both new and existing Kentucky businesses.
The month of August included two such announcements, as Ascend Elements and LOTTE Aluminium announced plans to locate in the commonwealth. Ascend is investing $310 million for a Phase 1 investment that is creating 250 full-time jobs in Hopkinsville, where the company will recycle EV batteries and salvage reusable components for further battery production. LOTTE is locating in Elizabethtown with a $238.7 million investment and creating 122 jobs to manufacture ultra-thin aluminum foil, which serves as a core material in lithium-ion batteries.
Overall, the automotive industry employs more than 100,000 Kentuckians full-time. Kentucky produces the Chevrolet Corvette in Bowling Green, hosts two Ford assembly plants in Louisville and is home to the world's largest Toyota manufacturing facility, located in Georgetown. Collectively, those facilities rank Kentucky as the number one producer of passenger cars per capita in the nation, according to data provided by Automotive News.
And the state's automotive landscape encompasses far more, including 550-plus automotive suppliers, trailer and truck body makers and accessory and aftermarket equipment producers.
Signature Bourbon Industry Continues to Thrive
Kentucky's food, beverage and agritech sector has shown consistent growth as well, particularly its signature bourbon industry.
Earlier this year, Heaven Hill Distillery marked its return to distilling in Bardstown after 26 years with a $135 million investment to build a state-of-the-art distillery that will create 38 full-time jobs. The company has maintained distilling operations in Louisville since a major fire in 1996 resulted in a total loss of its distillery, seven rickhouses and nearly 100,000 barrels of whiskey.
Augusta Distillery broke ground on a $23 million Bracken County distillery in June. The rural Northeastern Kentucky operation will create at least 14 full-time jobs upon startup and is breathing new life into a historic facility that has provided employment opportunities for Kentuckians as far back as 1883.
In September, startup Log Still Distillery cut the ribbon on its operation, reviving a historic site near Bardstown. The company's two-phase project includes 146 full-time jobs with a $36 million investment. The 300-acre campus includes amenities such as a tasting room, amphitheater, restaurant, train depot and event/conference center, visitor center, museum and gift shop.
Since the start of the Beshear administration, the commonwealth's bourbon and spirits industry has announced more than 50 new location or expansion projects totaling approximately $1.4 billion in planned investments and creating more than 1,100 announced full-time jobs. Currently, around 60 spirits facilities directly employ more than 5,300 people in the state.
Kentucky bourbon is a nearly $9 billion signature industry, generating more than 22,500 jobs overall with an annual payroll exceeding $1.23 billion. Governor Beshear recently worked with U.S. Commerce Secretary Gina Raimondo to remove harmful bourbon tariffs on trade with the United Kingdom and European Union, ensuring continuing strength in the export market.
Kentucky's Metals Industry Adds to a Strengthening Economy
Another focal point of Kentucky's economy is primary metals. Combined, primary metals facilities employ over 30,000 Kentuckians full-time and take advantage of Kentucky's proximity to U.S. manufacturers and markets – as metals are heavy and costlier to ship – and the state's low rates for industrial power.
Aluminum manufacturer Novelis Corp. broke ground in May on a $365 million, 140-job recycling center in South central Kentucky's Todd County. The sheet ingot casting, shredding and recycling operation will serve the automotive market with annual capacity of 240,000 tons. The project will reduce the company's carbon emissions by up to 95 percent.
Wieland North America broke ground in June on its 75-job, $100 million copper recycling facility in Shelby County, Kentucky, which is part of the Louisville metro region. That project is in addition to the company's plans to locate its headquarters in Louisville, creating another 75 full-time jobs.
These and many other major investments, paired with the commonwealth's numerous advantages, will allow Kentucky to continue to be a major player in multiple industries while working toward a future that benefits all Kentuckians.
Team Kentucky helps businesses of all sizes select a location, grow and succeed. Offering low business costs, a central U.S. location and expertise in a range of industries, Kentucky can support any company's needs. Companies looking to locate or expand in Kentucky can call 800-626-2930, email econdev@ky.gov or visit CED.ky.gov.  T&ID