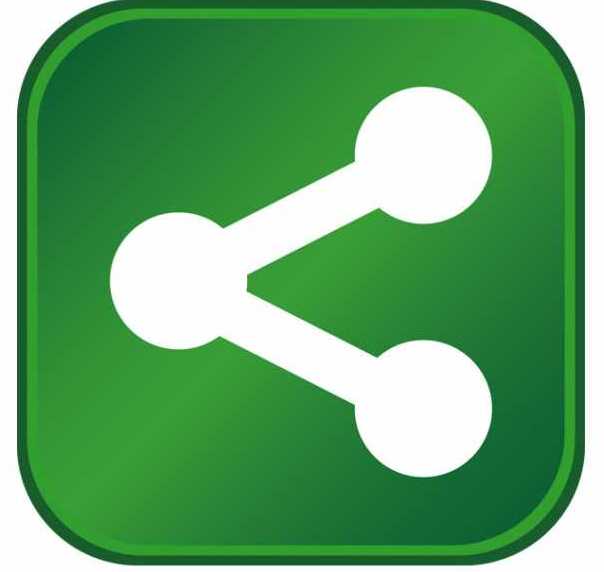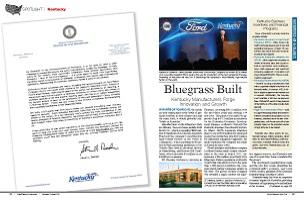 If parts of your car, the screen on your smart phone or the bottle of premium bourbon in your cabinet each had the same label, it would probably say, "Made in Kentucky."
Manufacturers in the Bluegrass State are thriving. Success stories include Ford Motor Co., which is spending $600 million to transform its Louisville Assembly Plant into the company's most-flexible high-volume factory in the world to Corning Inc., which is putting $186 million toward increasing production of its Gorilla Glass used in electronic devices in Harrodsburg, and Heaven Hill Distilleries, which invested $5 million in its Bardstown expansion.
ZF Steering Systems is growing in Florence, investing $95.8 million over the next three years and creating 374 new jobs. The project was aided by approval of up to $7.5 million in incentives by the Kentucky Economic Development Finance Authority through the Kentucky Business Investment Program. In Ghent, North American Stainless plans to invest $10 million for increased peeled bar production plus $20 million for additional equipment upgrades, the ninth expansion the company has made in Kentucky since 1990.
Global aerospace and defense company Lockheed Martin made a major commitment to the state
in March 2011, announcing a $26 million investment at its Bluegrass Station operations in Fayette County that will add 224 jobs to the more than 1,800-person workforce the company and its partner companies employ in the state. The global security company was awarded a major contract for logistics support services, and Kentucky was one of several states being considered for the project.
The investments manufacturers make and the jobs they create strengthen the commonwealth's economy, says Lynn Witten Godsey, president of the Kentucky Manufacturing Assistance Center.
"Manufacturing has been an important economic engine for Kentucky, providing thousands of high-paying jobs and millions in tax revenue. It's critical for us as Kentuckians to keep our manufacturing industry successful. KMAC is committed to doing just that – make Kentucky manufacturers competitive, nationally and internationally," says Godsey.
Manufacturing Confidence
Nearly one out of every seven jobs in Kentucky, or about 14 percent of nonagricultural work, is in manufacturing, which employs 255,700 workers and is the state's third-largest creator of jobs, figures compiled by KMAC show.
Those numbers are growing. As their confidence in the economy increases, manufacturers are creating more jobs. Fifty-seven percent of manufacturers surveyed by the Kentucky Association of Manufacturers planned to hire in 2011. That represents a 16 percent increase from the prior year.
Ford, for example, is creating 1,800 new jobs at its Louisville Assembly Plant, where it will operate on two shifts with approximately 2,900 employees who will build the next generation of the popular Escape. Kentucky and Louisville approved tax incentives that enabled Ford to transform the plant.
"Working closely with the UAW and Kentucky officials, we have found a way to competitively deliver an important new vehicle that is good for our customers and supports our plan to deliver a well-balanced product portfolio of cars, trucks and utilities," says Mark Fields, Ford's president of The Americas.
Gorilla Glass for Kentucky
The state's commitment of financial incentives and worker training encouraged Corning to expand in Harrodsburg for production of Gorilla Glass, says Corning spokesperson Anna Giambrone.
The Harrodsburg plant, which opened in 1952, is increasing production capacity to accommodate the demand for its thin, durable, highly scratch resistant cover glass used in portable and handheld electronic devices. Additionally, Corning will also add research capability to explore the parameters and processes in manufacturing microsheet, an extremely thin, flexible glass to be used in next-generation electronic devices.
"The incentives helped in our final decision, but the flexibility of Kentucky workers to accept retraining and the quality of the workforce were major influences on our decision," Giambrone says.
Also in Harrodsburg, Hitachi is investing $68 million in its auto components plant and is adding 145 jobs.
"Any time a company decides to invest in expansion, it's a real win for all manufacturers in Kentucky," says KMAC's Godsey. "When companies like Ford and Dow Corning expand, they send a signal to others that they are confident about the future. Their expansions also mean more business for their suppliers in the state. We're hopeful this will lead to more companies expanding and creating jobs in Kentucky."
State incentives are encouraging other manufacturers to invest and create jobs. A sampling includes:
General Motors is investing more than $131 million in its Bowling Green plant, the exclusive home of the iconic Chevy Corvette. The plant is gearing up for production of the next-generation Corvette, creating 250 new jobs in the process.

UFLEX Ltd., an Indian-owned flexible packaging company, is locating its first U.S. manufacturing plant in Hardin County. The

phased project will entail an investment of at least $180 million and 250 jobs.

Wausau Paper, producing towel and tissue paper products in Harrodsburg since 1990, is undergoing a major expansion. The company plans a $220 million investment, adding 76 new jobs to its existing workforce of almost 400.

Denso Air Systems, a global automotive parts manufacturer, is locating a new operation in Hopkinsville. The company plans to spend more than $4.2 million and will create 80 new jobs, growing to 105 over several years.

Walle Corp., a label supplier to the consumer packaged goods industry, is expanding in Winchester. It will invest more than $4.1 million to increase printing production. That will result in 23 new jobs at the plant, which currently employs 114.

NHK of America Suspension Components is investing more than $20 million to construct a 50,000-square-foot plant at its current location in Bowling Green. The auto supplier will add up to 108 new jobs over several years to its existing workforce of more than 200.

Ventra Plastics Russellville is expanding its Logan County facility. The injection molding manufacturer will add 25 employees to its current base of 230 people and invest nearly $3.4 million.
"We take economic development very seriously in Kentucky," said Kentucky Governor Steve Beshear. "Our team of economic development professionals is second to none and coupled with the many assets our state offers to new and expanding businesses, we have the ability to successfully compete globally for new jobs and investment."
 
About the Author