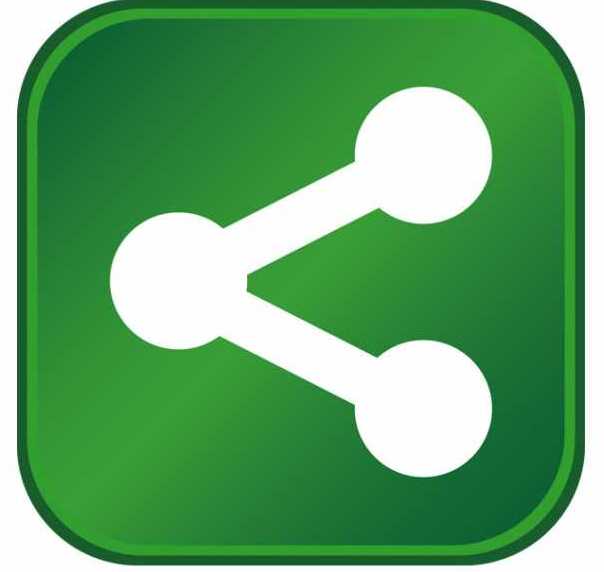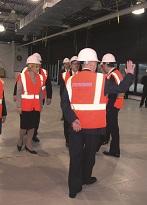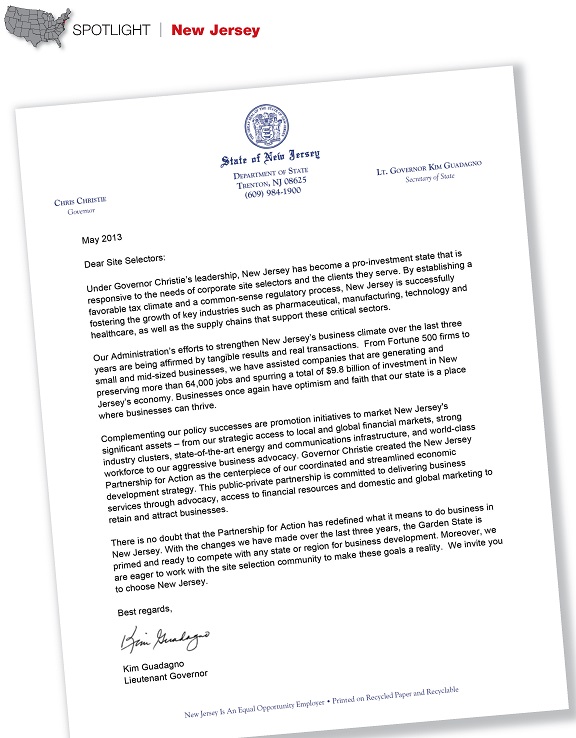 Since taking office in January 2010, Governor Chris Christie has chosen a new direction for New Jersey – lowering taxes, reducing bureaucracy that stifles economic development and restructuring government so that the Garden State is a place where business growth is fostered and encouraged.
What the Governor has done is relatively simple – he listened to the challenges and needs of the business community and acted accordingly. In February, Governor Christie delivered his fiscal year 2014 budget, outlining a bold agenda to provide unprecedented investment in New Jersey's future. The proposed budget provides an additional $213.5 million in business tax relief, translating to $540 million in the third year of job-creating business tax cuts to help businesses remain and grow in New Jersey. This includes a phased-in single sales factor corporate tax formula, a 25 percent reduction in the minimum tax for S-Corporations, and business income, loss netting and loss carry forward relief to promote a fairer tax code.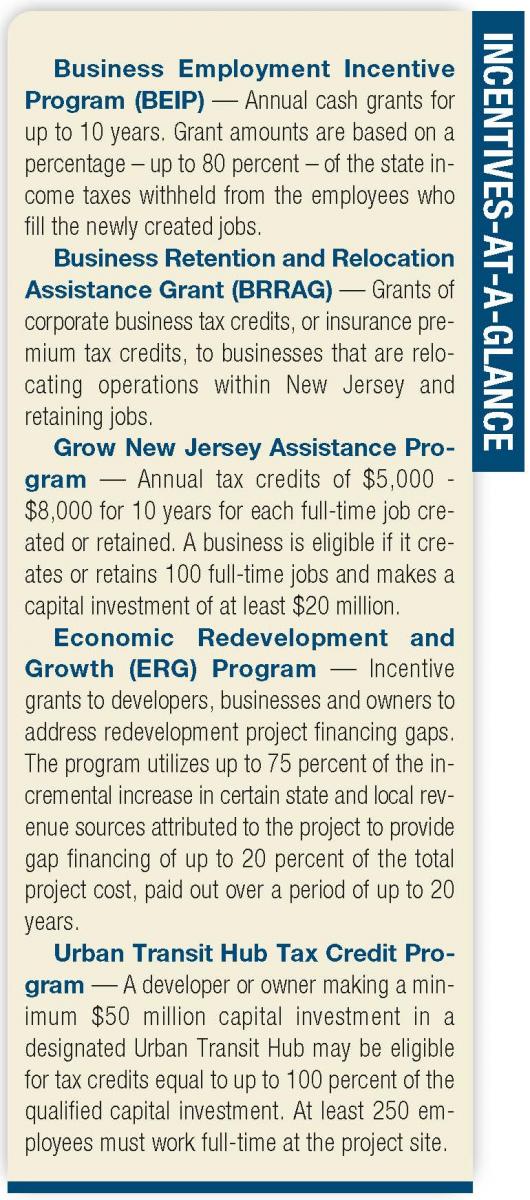 The Red Tape Review Commission, led by Lieutenant Governor Kim Guadagno, has succeeded in removing dated regulations, fostering the use of online technology to streamline licensing and permitting applications, and continues to conduct an exhaustive review of the state's regulatory process with one goal in mind:  remove obstacles that impede growth. Businesses thinking about coming to New Jersey and those that are already in the state have more confidence in the Garden State because of the Christie Administration's commitment to eliminating overly burdensome red tape and costly regulatory hurdles.
The centerpiece of the Christie Administration's economic development agenda is the New Jersey Partnership for Action (PFA), which supports the vital role business plays in advancing the State's economy and creating jobs. Led by Lieutenant Governor Guadagno, the PFA is a four-pronged public-private approach to economic development and the starting point for all initiatives, policies and efforts to grow New Jersey's economy and create quality, sustainable jobs in its communities. 
 The four elements of the PFA include the Business Action Center, reporting directly to the Lieutenant Governor and providing the business community with a single point of contact, applying a proactive, customer-service approach to businesses' interactions with State government; the Secretary of Higher Education, which coordinates, plans, develops policies and advocates for the state's higher education system; the New Jersey Economic Development Authority, serving as the State's financing arm; and Choose New Jersey, a privately funded marketing, business attraction and lead-generation organization that markets the state as an ideal business location.
Highly Educated, Perfectly Located
 New Jersey's inherent advantages and significant assets, including its ideal location and highly educated workforce, bolster the State's aggressive efforts to retain and attract world-class companies and jobs of the 21st century. In particular, New Jersey's outstanding universities, esteemed research institutions and thriving innovation ecosystem have long made the Garden State a destination for some of the most pioneering businesses in the world. 
New Jersey's history begins with the opening of Edison's "invention factory" in the late 1800s and continues on 70 years later with the debut of RCA Labs. The State's commitment to innovation has only continued to strengthen over the last six decades, and the Christie Administration has made the growth of this sector a top priority. 
Governor Christie recently signed into law the Angel Investor Tax Credit Program, which will spur growth in New Jersey's current and next generation of high-skill, high-wage emerging technology industries. The program provides tax credits for up to 10 percent of a qualified investment in an emerging technology business that is conducting research, manufacturing or technology commercialization in the Garden State. The Governor previously increased the R&D tax credit to 100 percent, providing technology businesses additional yield for their investments in New Jersey.
 The Christie Administration has also taken steps to better align business and academia in order to provide a foundation for future economic growth and further encourage the development of new products, new businesses and new jobs.
 Governor Christie signed historic legislation last year to foster three hubs of higher education excellence in the northern, central and southern parts of the state. The Christie Administration previously announced that New Jersey would become the first East Coast state to launch the Woodrow Wilson Teaching Fellowship, with nearly $9 million in support from foundations and private funders. Furthermore, a series of Talent Networks were created to connect employers and educators and ensure that New Jersey's key industries have the workforce talent they need to grow.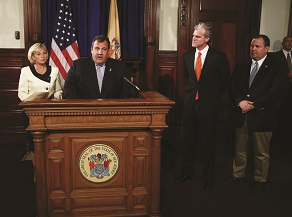 As emerging and established companies race to meet the demands of the increasingly competitive marketplace, many of the world's most innovative companies are choosing to locate and grow in New Jersey.
 Allergan opened its new research and development center in Bridgewater, New Jersey, last year. The decision by this global, technology-driven multi-specialty healthcare company to locate its new center in the Garden State will create as many as 400 jobs and inject $12 million of private investment into the State's economy. 
 In January 2013, online retailer Amazon.com announced it will open a one million-square-foot "mega-warehouse" in Robbinsville, New Jersey, creating 700 new jobs in the region. This is the first of two state-of-the-art distribution centers Amazon plans for the state, which will result in an estimated $130 million of private investment in New Jersey's economy.
 Pharmaceutical giant Novo Nordisk doubled the scope of its expansion project in Plainsboro, New Jersey, leading to the expected creation of over 400 jobs and private investment exceeding $140 million. 
 Honeywell International, a diversified technology and manufacturing leader, recently announced its commitment to remain and invest in New Jersey, ensuring the retention of 1,000 high-paying jobs and injecting an estimated $100 million to redevelop its headquarters in Morris Plains.
 Intervet, the animal health division of Merck & Company, relocated 70 senior management jobs from its former headquarters in the Netherlands to new headquarters in Summit, New Jersey. Intervet also plans to create 10 additional new jobs in the state and invest $10.9 million.  
Governor Christie has advanced a host of new and improved economic development tools that have bolstered the State's ability to spur lending activity, generate and maintain jobs and encourage private investment in communities across New Jersey. As a result, New Jersey has demonstrated strong momentum in economic growth and commitment to rebuild even stronger and better than before.
About the Author