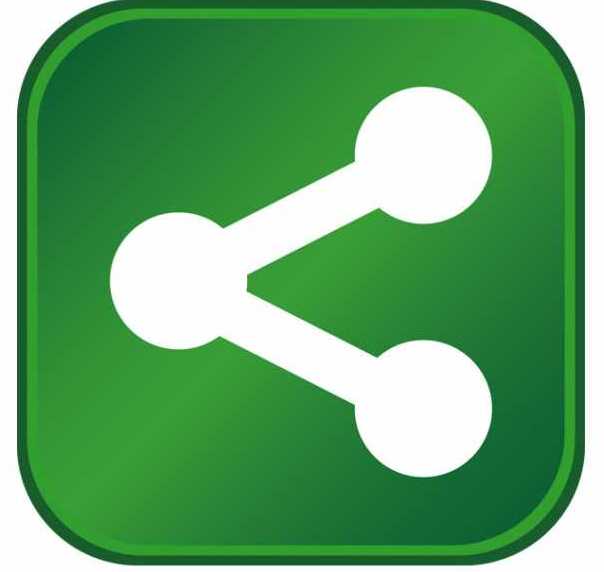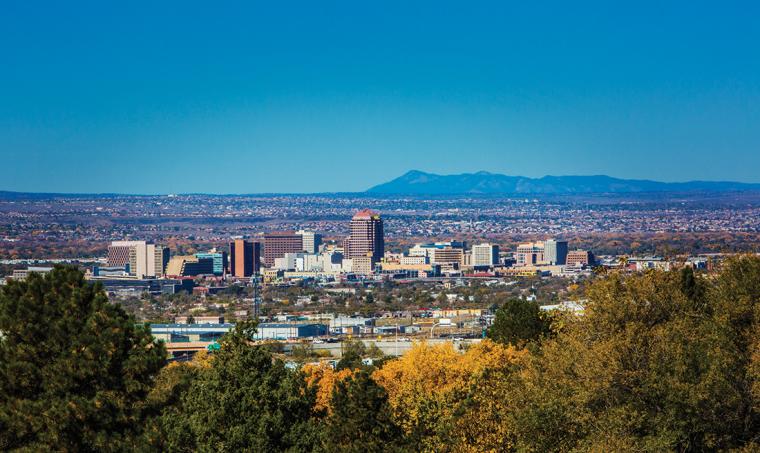 A strong history of innovation and technological developments paired with a culture rooted in agriculture could only describe a place like New Mexico. That diversity of industries is one of the traits that has put New Mexico at the forefront of locations for companies looking to succeed. Even now the state continues that history, supporting diverse industries and embracing those looking to push the boundaries of innovation.
Film and media development is an industry that has found its footing in the past five years, with Netflix choosing New Mexico for its first North American production hub followed by NBCUniversal.
New Mexico has become the third state to launch humans into space with the successful 2021 launch of Virgin Galactic's VSS Unity. The future is bright on many fronts.
Success at the Borderplex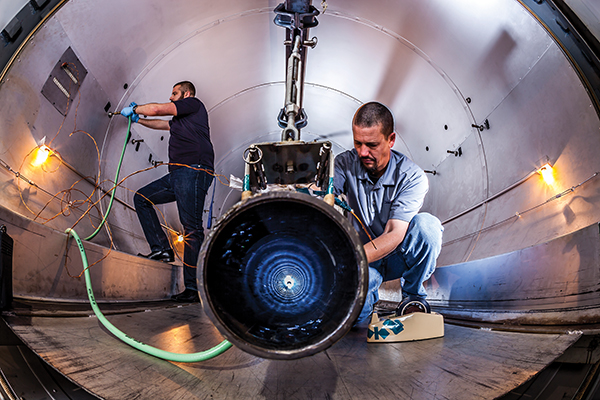 New Mexico's border region is booming and has been a consistent center for growth supported by state investments. The state is prioritizing infrastructure improvements to New Mexico's border crossings and is making global trade a top priority. In fact, the state has already allocated over $60 million in funds to support border infrastructure needs and has fostered a close working relationship with Mexico to help continue this growth.
The aptly named Borderplex is part of a bi-national, three-state region that includes Las Cruces and Santa Teresa in New Mexico, El Paso in Texas and Ciudad Juárez in Mexico, and is home to more than 2.5 million people, making it the largest metro on the U.S.-Mexico border. New Mexico's Borderplex offers companies access to key consumer markets, both nationally and internationally. The region is equidistant between the ports of Long Beach in California and Houston in Texas, and the Santa Teresa Port of Entry is one of the fastest border crossings, averaging 30 minutes. Manufacturing and logistics companies locating in the Borderplex region have a unique opportunity to make use of multinational operations under the protection of the United States Mexico Canada Agreement (USMCA), co-locating in both the U.S. and Mexico with close access to international markets in Central and South America.
The growing trend of companies locating in the Borderplex has continued into 2023. Franklin Mountain Packaging is one of the most recent companies to choose Santa Teresa, New Mexico for its next expansion. Franklin Mountain Packaging is a manufacturer that specializes in producing high quality corrugated micro-flute sheets and digital print and die cutting. Another company expanding to New Mexico's Borderplex is Louisiana Pepper Exchange. The company plans to use their new location, which will include a 40,000-square-foot processing warehouse along with space for tank farms that can store 30 million pounds of pepper mash, to supply their mash to some of the largest hot sauce manufacturers worldwide.
"Santa Teresa, New Mexico is the perfect location for Louisiana Pepper to thrive. It is a rail-served industrial park with an overweight truck zone that can support our supply chain out of Mexico," said Zach Foster, chief financial officer for Louisiana Pepper Exchange.
Investing in the Industries of the Future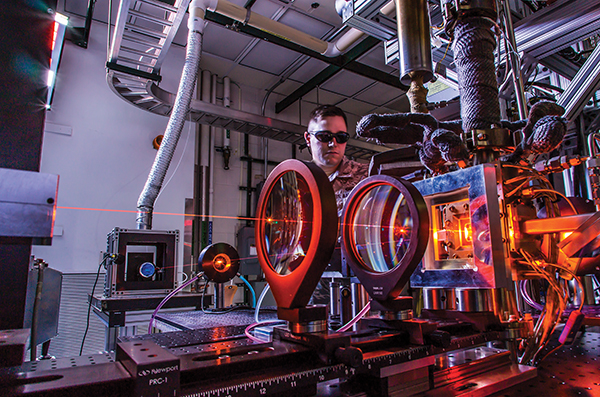 New Mexico has continued to be the place where innovative companies thrive. The state's proven history of success in R&D and emerging tech has positioned New Mexico in 2023 to capitalize on rapidly growing industries like bioscience and hydrogen. One of the advantages helping push the growth of these industries is a high concentration of STEM talent in the state. New Mexico has a pipeline of experienced talent coming from two national labs as well as new talent graduating from our research universities. For example, New Mexico saw 15.8 percent total employment growth across the bioscience industry from 2018 to 2021 while the national rate was only 11 percent. Additionally, the state provides companies access to world-class R&D resources in the form of tech transfer and partnerships. Sandia and Los Alamos National Labs offer tech transfer and partnership opportunities for companies looking to tap into their facilities and expertise.
Curia is a leading contract research, development and manufacturing bioscience company benefitting from that momentum and finding success in New Mexico. The company recently announced plans to add up to 274 more employees to their Albuquerque operations and invest over $100 million into their new 65,000-square-foot expansion of their facility. The expansion will include the addition of a new advanced isolated high-speed fill-finish vial line and an isolated flexible filling line for vials, syringes and cartridges.
"We see this expansion as a great opportunity to make a greater impact in New Mexico, which I'm proud to call our home," said Jonathan Shoemaker, vice president and general manager, Curia Albuquerque.
"We are fortunate to have access to a skilled workforce and strong partnerships in the community, all committed to growing businesses, creating jobs and fulfilling our mission to improve patients' lives."
The expansion is estimated to have a potential economic impact of more than $1 billion over the next decade and the new flexible filling and high-speed fill-finish vial lines are planned to be operational in 2025.
The renewable and sustainable energy sector, including hydrogen, are also benefitting from the thriving tech ecosystem in New Mexico. The state is committed to the success of the renewable energy industry, with a commitment to reach net-zero emissions by 2050. In addition, many of the complementary industries with hydrogen applications are finding success in New Mexico. The presence of these industries, including aerospace and defense, transportation and logistics, value-added agriculture and food production, will benefit the growth of the hydrogen sector.
One company already capitalizing on these benefits is Universal Hydrogen. The company recently selected New Mexico for its operations center. Universal Hydrogen has chosen a 50-acre parcel northeast of the Albuquerque International Sunport for their facility, where they plan to invest over $254 million and hire 500 employees. The company plans to use this location to support the manufacturing and distribution of their hydrogen storage modules, assemble airplane retrofit kits, and perform aftermarket maintenance services. Many of the jobs Universal Hydrogen intends to fill include highly skilled engineers and composite technicians.
Providing the Foundation for Success
On top of all the benefits and advantages New Mexico offers, the state also tends to have a lower cost of doing business for many industries. A lack of intense competition, a lower-than-average cost of living and a high quality of life have all kept compensation costs in New Mexico below the national average. The state also boasts low energy costs with unique opportunities for companies to take advantage of New Mexico's high potential for renewable energy and power their facilities sustainably. New Mexico has also focused on proactively maintaining a business-friendly environment with some of the strongest incentive programs in the U.S. One of the most significant of these incentives is the state's flagship program, the Job Training Incentive Program (JTIP). This program offers cash reimbursements for on-the-job and classroom training for expanding or relocating businesses for up to six months. In addition, the state's discretionary incentive, the Local Economic Development Act (LEDA), can be used toward the reimbursement of land, building or infrastructure improvement costs (funding awards are determined on a project-by-project basis).
For those ready to join the diverse set of companies finding success right here in New Mexico, the EDC is here to help make that happen. The New Mexico Partnership is designated by the state to be the single point of contact to help businesses locate in New Mexico. It offers a coordinated approach and a formal network of economic developers to simplify the site selection process. To get started on any project needs in New Mexico, visit www.nmpartnership.com.
T&ID
About the Author