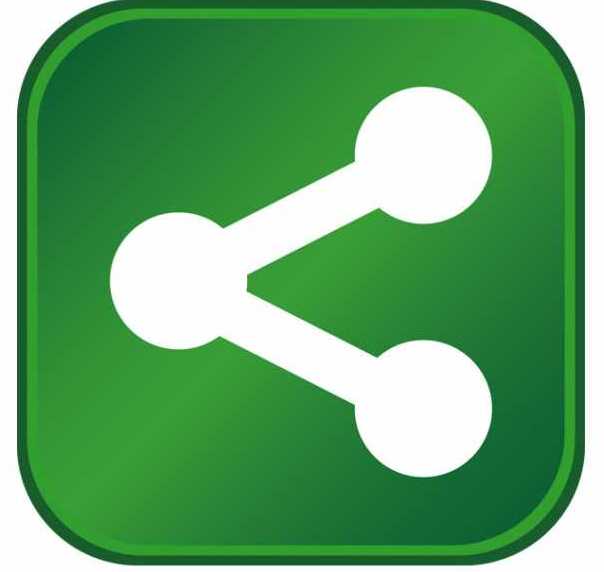 The Transportation Hub that's Acting Locally, Thinking Globally
Tucked along the Ohio River at the southern-most spot is the Point Industrial Park, in the aptly named town of South Point, Ohio. This lucrative site is home to a developing intermodal transportation hub that not only helps local businesses flourish, it's playing an increasing large role in moving goods from places as far away as Asia throughout the entire Midwest.
The Point Industrial Park is strategically located at the confluence of the Port of Huntington, a major inland deep-water port known for being the busiest in the nation, a major rail line (the Norfolk Southern Heartland Corridor) and the highway interstate system via Interstate 64.
The Point, as it is called, is attracting manufacturers, chemical and energy companies that need to move heavy materials such as steel, grain and lumber. In addition, it's a potential boon to those in the warehousing and logistics sectors that need to transport heavy goods worldwide.
A Brief Background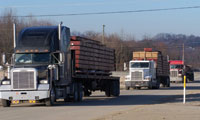 As part of the tri-state region consisting of Ohio, Kentucky and West Virginia, The Point sits at the crossroads of the nation's major markets. In fact, Lawrence County is within a day's drive of 60 percent of the U.S. population, 80 percent of the country's corporate headquarters and 61 percent of its manufacturing facilities – making The Point an ideal, strategic location to easily distribute goods.
The Point is run by the Lawrence Economic Development Corporation (LEDC) in conjunction with the Lawrence County Port Authority. Located in the middle of the Point of Huntington, it encompasses more than 500 acres of prime, flat land with seven miles of rail and 3,400 feet of Ohio River frontage.
One of the park's unique advantages is its availability of buildable land, offered at a reduced cost by the LEDC to encourage local job creation.
"We have land available to construct facilities and are offering rebate credits based on the number of jobs created," said Bill Dingus, PhD, executive director of LEDC. "In most locations, where there's a port, there's no land on site. Or, if there is land, it is marked up substantially because of the location."
Access to Deep Water River Ports and New Rail System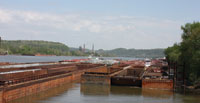 Heavily tied to the Ohio River, The Point is becoming a major player in international trade and the distribution of bulk, oversized and containerized goods throughout the central U.S. These goods travel by ship from places like Asia to ports in Mobile, Alabama and New Orleans, Louisiana. From there, they travel through the river system to the Port of Huntington, where they move to rail or truck. Traffic in the area will increase further when the Panama Canal widening project is completed in the next few years, enabling larger shipping vessels from Asia to pass through South America and easily travel to the gulf ports.
The Point has river cells for docking of barges six deep and has permits in place to handle liquid commodities, light oils and ethanol, along with two storage tanks that each hold 1 million gallons.
Rail transportation is another huge draw of The Point. The Heartland Corridor, a strategic rail line created by Congress two and a half years ago that links the ports of Norfolk, Virginia, to Columbus, Ohio, runs through the entire length of the park. The Heartland Corridor raised the height of tunnels in the Appalachian Mountains, enabling the trains to carry double-stacked cars, increasing efficiency and reducing costs of shipping by rail.
Looking Ahead to the New Container Unloading Facility
But the LEDC and local businesses are doing even more to fuel The Point's growth. Funded in part by a $3.6 million government stimulus grant, The Point is constructing a bulk materials and container unloading facility on site that can be used by any business in the industrial park. With construction beginning in November, 2009, the facility is slated to be up and running by the summer of 2010.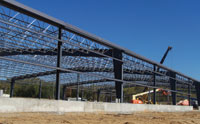 The dock staging facility will include two cranes to load and unload large items from the road to barge to rail and vice versa. It will be able to unload 10 cars on three separate rail spurs.
Jeremy Clay, director of the Point, said, "It's unique because it will be tied to the site so any business here can use this resource. It makes The Point truly multimodal, seamlessly facilitating the movement of cargo between the river, rail and interstate."
"The success of this project will drastically change the usage of The Point to accommodate heavy manufacturing in Southern Ohio," he added.
Local and National Incentives Entice
Because The Point is located in a federally designated Empowerment Zone as well as an Ohio-designated Enterprise Zone, new and relocating businesses can take advantage of numerous land, building, tax and employment incentives.
Plus, the area is designed as a Foreign Trade Zone, meaning that manufacturers can move goods in and out of the United States without tariffs, a key benefit in a port with international ties.
Spotlight on Local Businesses
Companies that manufacture heavy equipment are drawn to this industrial park, as well as those in the chemical and energy sectors. The Point is home to Marathon Petroleum Company's pipeline and tank cars, as well as Calgon tank truck service and a river fleeting service and Engines, Inc., a fast-growing railroad manufacturing and railcar repair company with 235 employees.
"The main reason we started looking in here is that the park has rail access. In fact, my building has rail access right through it," said Carl Grover, president and founder of Engines, Inc.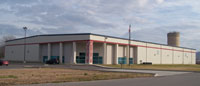 "The Point has the only public access to rail transportation in the tri-state area. It gives us great access to all transportation modes and our customer base. While it's only 30 miles to our location in West Virginia, it's opened us up to new industries," Grover continued.
This onsite rail access is a huge draw, said The Point's Jeremy Clay.
"We run rail right to the businesses on site. Rail is extremely expensive and it's not uncommon for companies at other locations to incur costs of $500,000 to $600,000 to run rail to their business. Instead, we've done this for them. They can move to our centrally located transfer facility and use the rail and container unloading facility with minimal cost to themselves," he said.
Another recent addition to the South Point area is McGinnis /McNational Corporation, which has a $40 million barge and river craft manufacturing facility under construction. McGinnis is currently one of Southern Ohio's major employers with 250 current employees and the potential to add 180 new employees at the new development.
Saving Money – and the Environment
The cost and environmental savings of transportation by barge are additional factors driving The Point's projected growth. Barge and river traffic continues to grow, in part because of high fuel prices as well as by companies looking to reduce the environmental impact of shipping goods.
According to intermodal transportation analysis experts, one 15-barge tow can ship as much as 225 railcars and 870 semi-trucks. Therefore, companies can realize huge cost advantages of shipping first by barge, then by rail.
One company that needed to haul grain did a cost comparison of the various modes of transportation. It found that it cost 36 cents a bushel to haul grain by truck, 27 cents to haul it by rail and only 6 cents per bushel to haul it by barge.
From an environmental perspective, shipping by barge also makes sense. On average, a gallon of fuel allows one ton of cargo to be shipped 59 miles by truck, 202 miles by rail and 514 miles by barge. In 1997, studies found that carbon dioxide emissions from water transportation were 10 million metric tons less than if rail transportation had been used.
A Bright Future
With its highly strategic location, available land, economic incentives and committed leadership, The Point Industrial Park has made a major impact in the tri-state region and is poised for more growth in the future.
"With our rail and barge facilities, not only have we attracted new businesses to the area. We've helped drive Lawrence County unemployment to some of the lowest in the state," concluded LEDC's Dingus.
About the Author