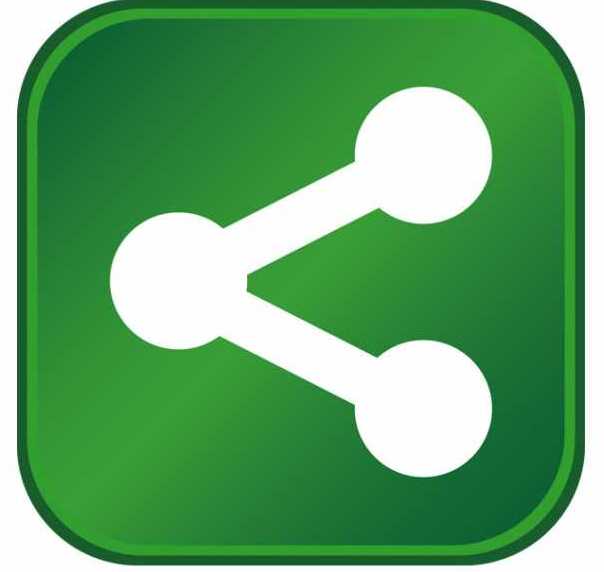 Clean industry initiatives are huge economic drivers throughout North America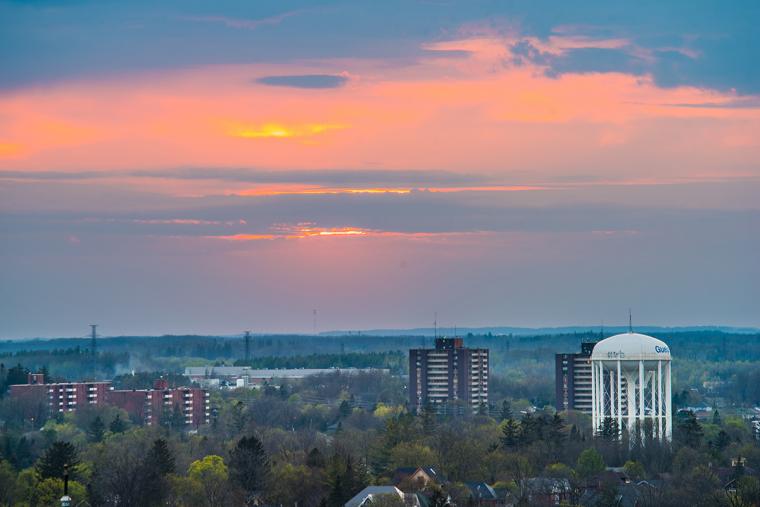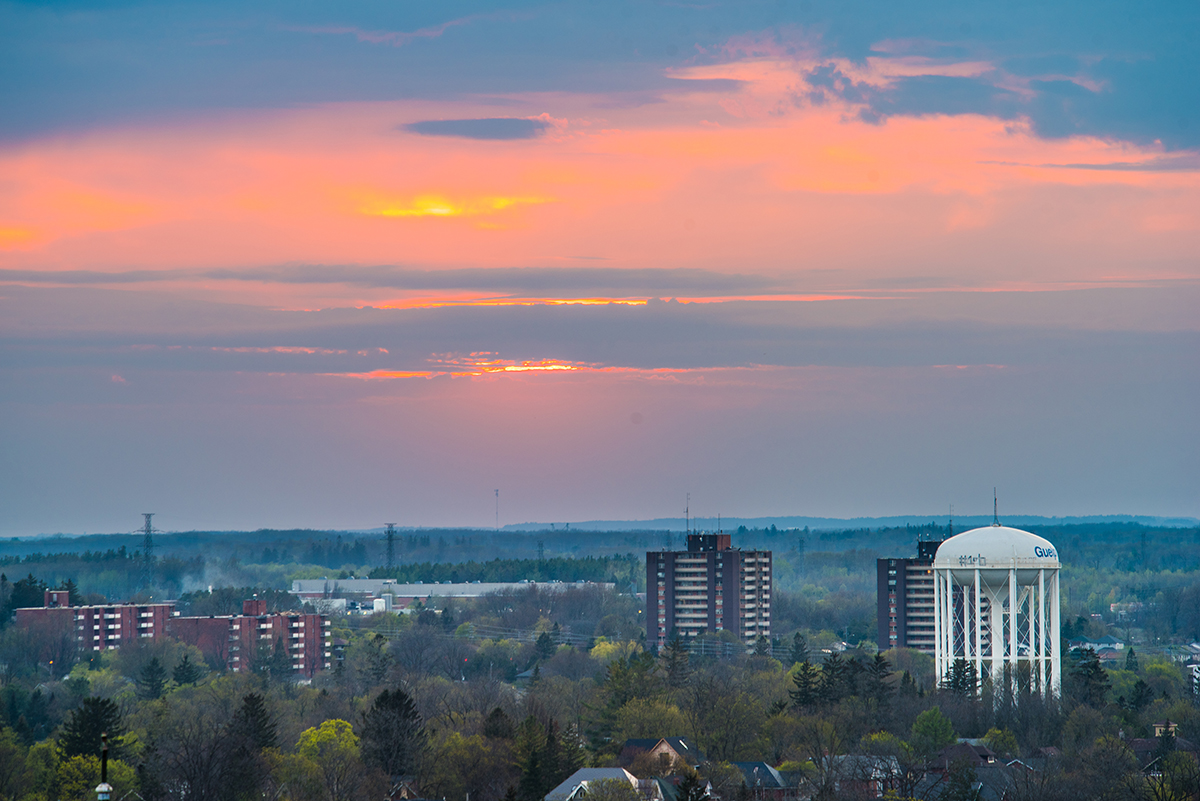 Sustainability, conservation and renewable energy are the name of the game throughout North America. Thanks to efforts by both private and public entities, innumerable clean industry initiatives are adding jobs and dollars to local economies – and being careful stewards of the planet at the same time.
Goodyear, Arizona
Solar leads the way in an area with nearly endless sun
The outlook for clean industry in Goodyear, Arizona, is sunny. Because the sun shines in the Phoenix area approximately 330 days a year, solar energy is a huge driver. To encourage businesses and residents to install solar panels, the city of Goodyear has reduced the cost of solar permit fees by setting a flat fee per panel or inverter.
"This saves businesses thousands of dollars," said Harry Paxton, Goodyear's economic development project manager.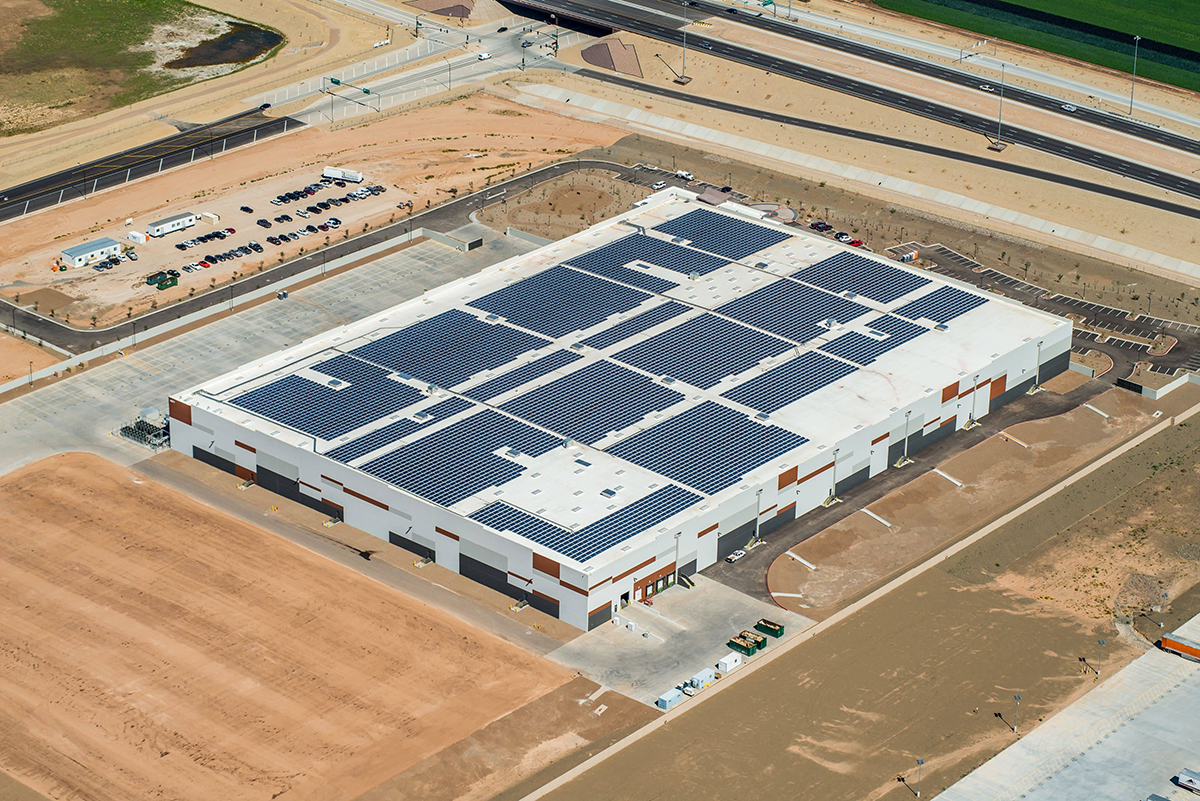 Several years ago, retailer Macy's installed a 3.5 megawatt (MW) solar power system at its online fulfillment center in conjunction with Arizona Public Service, the largest electric utility in Arizona. The U.S. Environmental Protection Agency estimates the system offsets more than 3,500 tons of carbon dioxide emissions per year, equivalent to removing more than 600 cars from Arizona's highways each year.
Another Goodyear clean industry success story is retailer REI. Its 393,000-square-foot, $73-million distribution center is the first distribution facility in the United States to earn LEED Platinum certification and Net Zero Energy designation. REI's roof features a 2.2 MW solar system that produces enough energy to power the entire facility, or the equivalent of 390 homes for one year. The size of the solar array was modeled to ensure the system would produce enough energy on-site, while still allowing for skylights to provide natural light at workstations throughout the building.
The distribution center floor features a non-evaporative cooling system to keep employees cool in the desert heat, despite outside temperatures that can reach above 115 degrees. The system is fully powered by renewable energy and saves millions of gallons of water every year. REI's break room is connected to a botanical garden where employees can walk through zones of Arizona fauna or play a game of horseshoes. REI also opens 25 percent of the second floor space for community use.
"We hope this facility will be a model for the industry and wait to see who will build upon what's been done here," said Rick Bingle, REI's vice president of supply chain.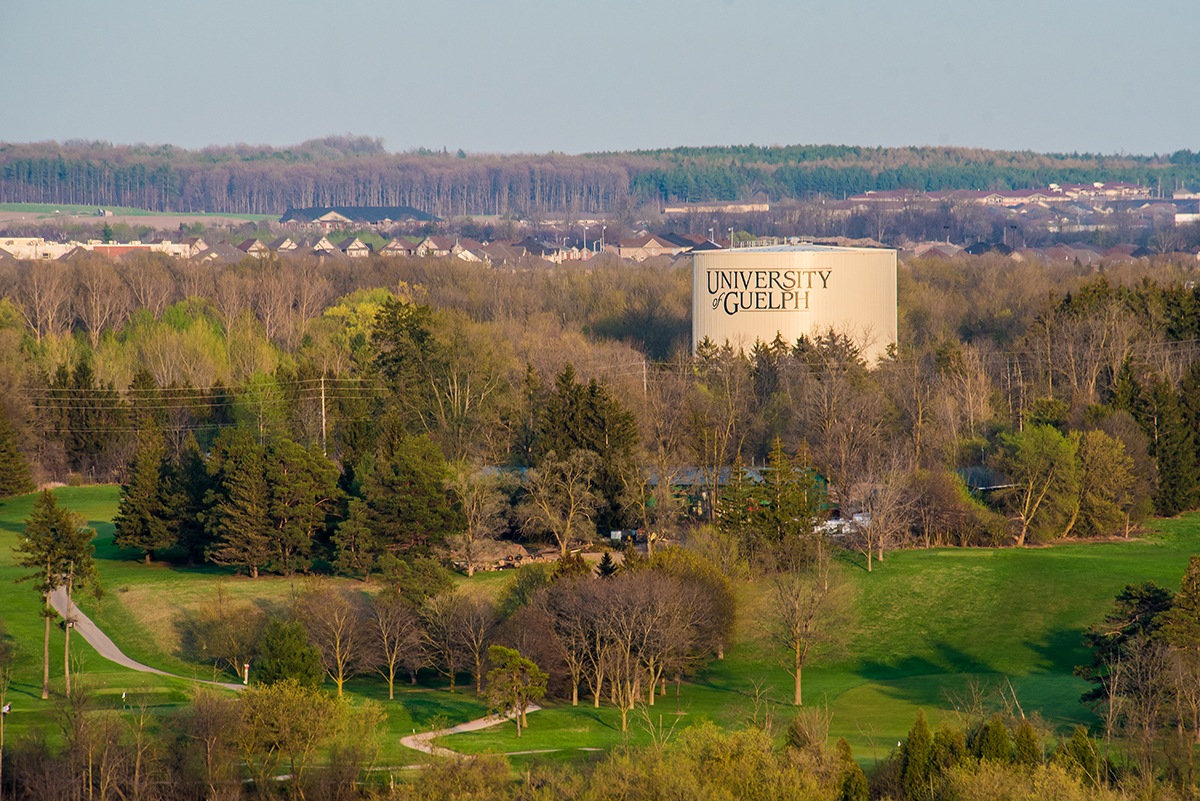 Guelph, Ontario
Clean tech is engrained in this forward-thinking community
Guelph, a city in southwestern Ontario, Canada, is home to number of area businesses in the clean industry sector, including ones focused on soil and chemical remediation, clean power generation, water reclamation and conservation, environmental engineering and clean air/emission reduction.
Guelph officials attribute the area's strength in clean industry to their location in the center of Canada's Innovation Corridor; access to talent, proximity to international airports, major highways, U.S. border crossings; and reliable rail. In addition, Guelph is a municipality that actively seeks innovative partnerships though entities like Innovation Guelph, which provides business support programs, services and mentoring to help innovative enterprises start, grow and thrive in the clean-tech industry.
Biorem is one example of a Guelph clean industry business. In the area for 27 years, this pioneering environmental biotechnology company designs, manufactures and distributes a comprehensive line of high-efficiency air emissions control systems used to eliminate odors, volatile organic compounds and hazardous air pollutants. Its business operations and mandate align with the City of Guelph's by finding solutions that ensure a clean and safe environment.
Another example is Canadian Solar, a leading manufacturer of solar PV modules and provider of solar energy solutions with a geographically diversified pipeline of utility-scale power projects. With the company's recent acquisition of Recurrent Energy, Canadian Solar's total project pipeline is now 11.1 GW, including an increase of the late-stage project pipeline to over 2.3 GW.
In April, 2018, the city of Guelph received a Canadian climate leadership award – the Large Municipal Trailblazer Climate Leadership Award – from the GLOBE Series, which recognizes exceptional Canadian organizations at the forefront of action on climate change. The GLOBE Series noted the city's successful and ongoing work on energy management and retrofits, renewable energy projects, carbon pollution and waste reduction efforts, ambitious emissions target setting and water conservation efforts.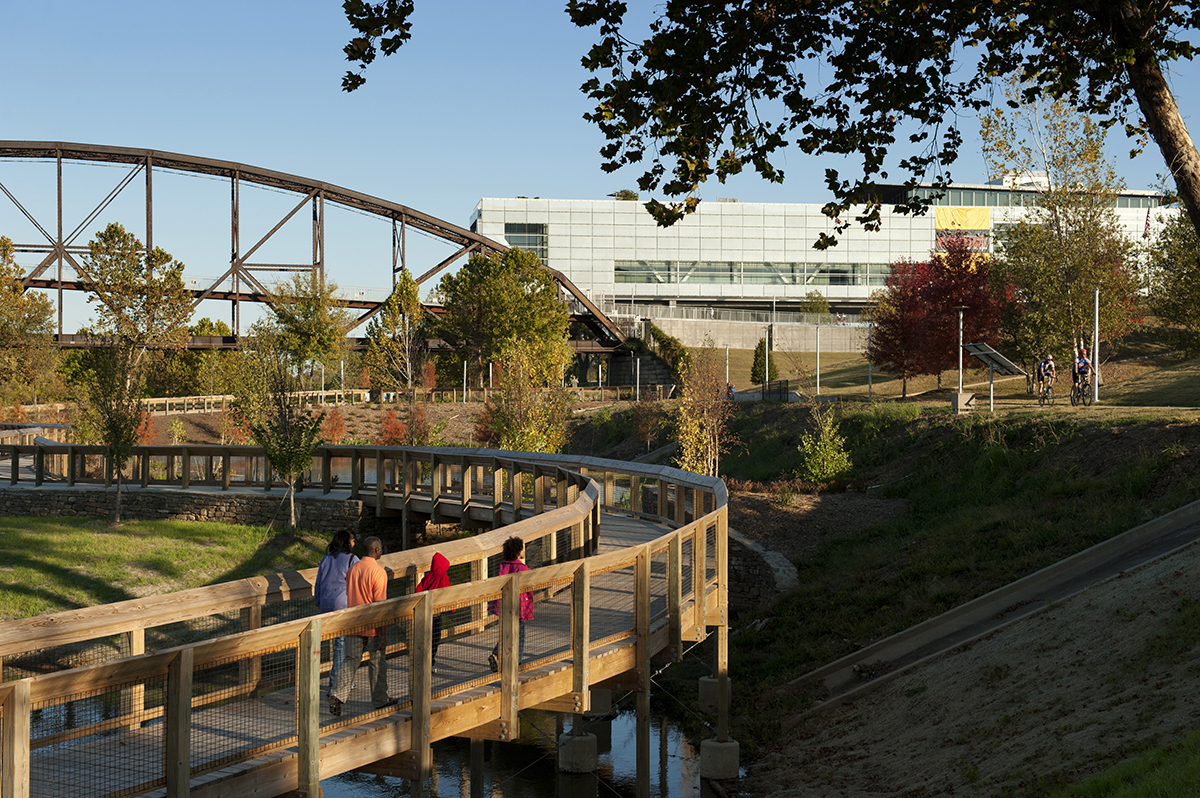 Little Rock, Arkansas
LEED projects lead the way to sustainability
From new construction to the food on its tables, Little Rock focuses on protecting the environment in ways both big and small. Arkansas is one of the first states in the country to start a U.S. Green Building Council Chapter to promote its Leadership in Energy and Environmental Design (LEED) practices for more sustainable and efficient buildings. There are currently 194 LEED projects in the state with 53 in Little Rock. The city has LEED requirements for each new facility it builds. Little Rock is also home to the Sustainability Consortium, housed at the University of Arkansas.
"We've had a lot of success with clean industry companies," said Ben France, vice president of economic development at the Little Rock Chamber of Commerce.
Glass manufacturer and installer Ace Glass Construction Corp. has plans to open a Platinum LEED-certified glass facility in Little Rock that will operate with 100 percent solar power and implement lean manufacturing processes. The facility is expected to be the first glass recycling facility in the state. Ace Glass' recycling division will soon start to collect and recycle consumer, commercial and industrial glass, and longer term, the company will convert crushed glass into a commercially viable product. Ace Glass has been operating a glass recycling pilot program in Maumelle, Arkansas, and has plans to expand into other communities across the state.
LM Wind Power, a manufacturer of wind turbine blades, is another strong example of clean industry in the area. Located at the Port of Little Rock and employing 450 people, the company has expanded twice, most recently to accommodate the construction of longer wind turbines. The company built a new warehouse at the site to store materials there and cut transportation costs.
Sustainability runs deep in Little Rock. For example, the William J. Clinton Presidential Library, a part of the National Archives, has been designated as one of the most energy-efficient and environmentally friendly places to work in the United States by the U.S. Green Buildings Council under its Leadership in Energy and Environmental Design Green Building Program. The 154k-square-foot Library is the first federal building to receive a platinum rating, the highest in the LEED for Existing Buildings (LEED-EB) Green Building rating system. Only 29 other buildings in the world have achieved this designation.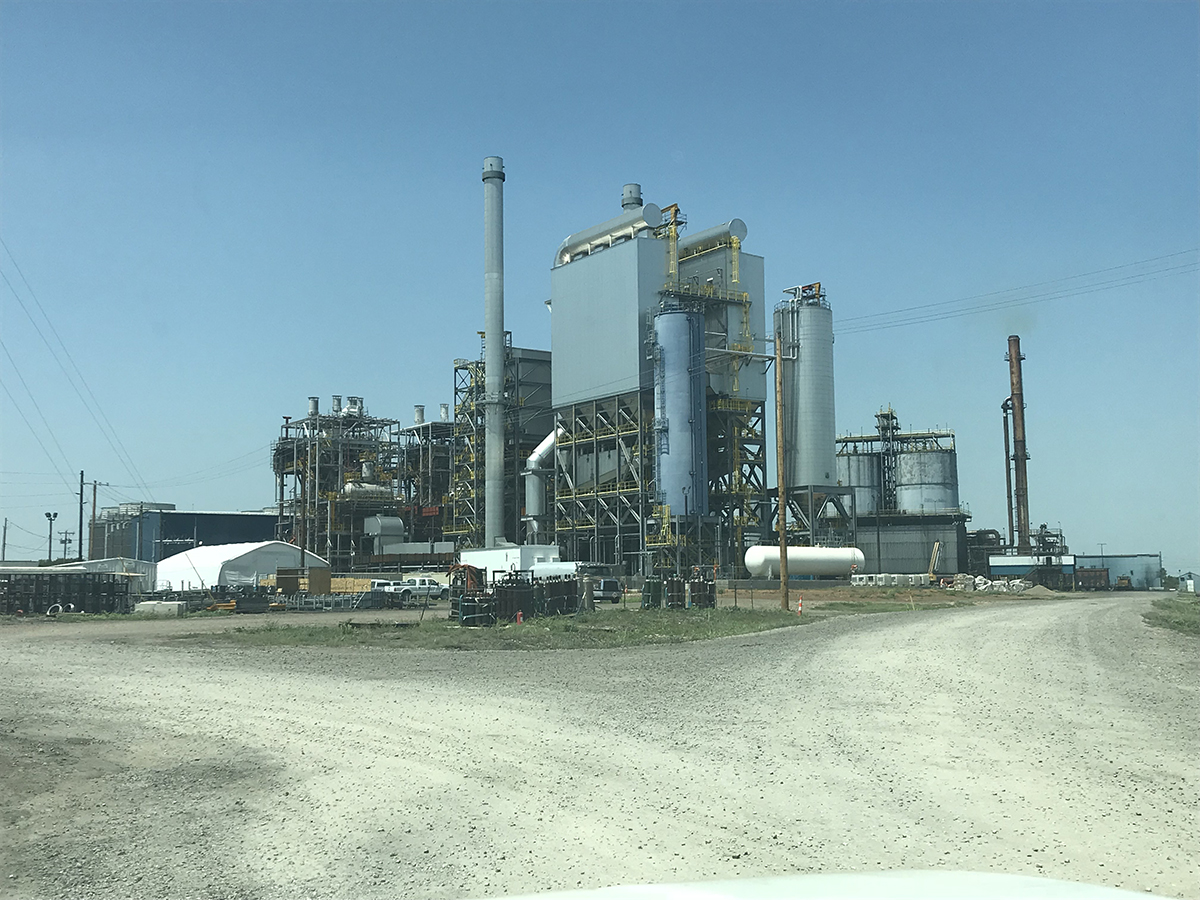 Ponca City, Oklahoma
A focus on alternative green energy spurs opportunities
"People look at Oklahoma and think of oil and gas. In fact, we've been focusing on building clean industry since 2009," said David J. Myers, executive director of the Ponca City Development Authority.
"Our approach is to identify and understand opportunities that exist in our region for the installation and use of renewable industry."
The city developed the Sustainable Alternative Green Energy (SAGE) program to explore, understand and accelerate the opportunities for renewable energy in north central Oklahoma. A few of the SAGE initiatives include promoting energy-efficiency management, reducing energy consumption and costs for local industry and significantly expanding the residential and commercial use of geothermal, solar and wind power energy.
Ponca City's Lighten the Load Project is a lighting upgrade project for local businesses to upgrade old florescent, high pressure sodium or metal halide lighting to the newest T-8, T-5 fluorescent and LED technology. Each company that participates receives a free lighting audit to assess usage and lighting needs, as well as a plan with lighting schematics along with energy rebates offered by the City of Ponca City and Oklahoma Municipal Power Authority (OMPA). These upgrades have saved companies as much as 65 percent on lighting energy usage.
"We have about 15 local industries participating and the payback on the program took less than one-and-a-half years, saving more than 16kW annually," said Myers.
Homegrown company Continental Carbon Company is an excellent example of a legacy industry going green. Continental Carbon is a recognized leader in the development and manufacture of carbon blacks used in tire, rubber and other specialty applications and has been in Ponca City since 1954. It is in the midst of a $100 million expansion that includes a co-generation station that takes previously unused steam and converts it into electricity. The co-generation station will go online later this year and will also significantly reduce the company's permitted air emissions. The system will take waste energy from the stacks of the current carbon black operation to generate more than 250 million KW-hours of electricity.
"The combined systems will allow Continental Carbon-Ponca City to convert waste energy into usable energy and further reduce our emissions footprint on the environment," said Dennis Hetu, president and COO. "We will create enough energy to supply 24,000 homes."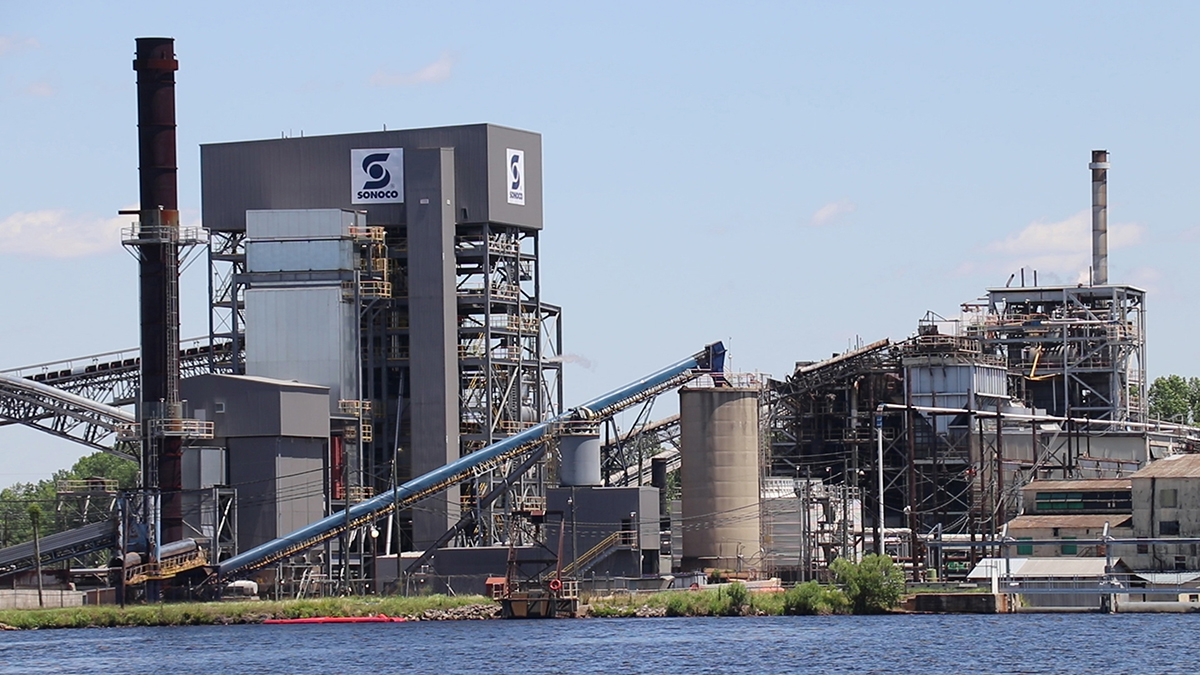 North Eastern Strategic Alliance, Florence, South Carolina
A push for sustainability pays off
The North Eastern Strategic Alliance (NESA) region of South Carolina is focused on developing and expanding clean industry in the region.
One thriving example is Sonoco with global headquarters and manufacturing facilities in Hartsville, South Carolina. Sonoco is a global provider of packaging products and services, delivering innovative solutions to industrial and consumer businesses. This Fortune 1000 company is listed on the Dow Jones Sustainability World Index, based on its economic performance, environmental stewardship and social responsibility.
Over the last year, Sonoco has reduced its greenhouse emissions from global operations by 6.2 percent and reduced its landfill disposals by 9.4 percent. In 2014, Sonoco invested $75 million in its Hartsville facility for the construction of a biomass boiler to provide green energy for its paper mill. By 2025, the company plans to recycle or cause to be recycled 85 percent of all products it puts into the global marketplace.
"Sonoco was founded in our region in 1899 and has grown into a global company," said Ronald Carter, director of operations at NESA. "They are truly a success story for us and have made a major global impact."
In August, 2018, Sonoco announced that it is expanding its environmental and social stewardship initiatives to include commitments to achieve greater packaging sustainability and recycling. The company said the move supports the food industry's efforts to reduce food waste.
Rob Tiede, Sonoco president and chief executive officer, said, "Sonoco believes packaging plays an important role in protecting food from damage and spoilage while extending shelf life at retail and home. In fact, greater adoption of food packaging technologies to prolong the shelf life of produce and proteins has the potential to divert 72,000 tons of food waste from landfills in the United States, reducing greenhouse gas emissions by 329,000 tons per year."
NESA's Ronald Carter explained the push for sustainability in the region.
"Our region contains thousands of acres of forestland, lakes, rivers and natural preserves. With such an environment, locating a clean industry here just makes sense," said Carter. "Our counties have no property taxes on pollution control equipment. Additionally, our state offers tax credits for research and development, recycling facilities, energy conservation and alternative energy facilities."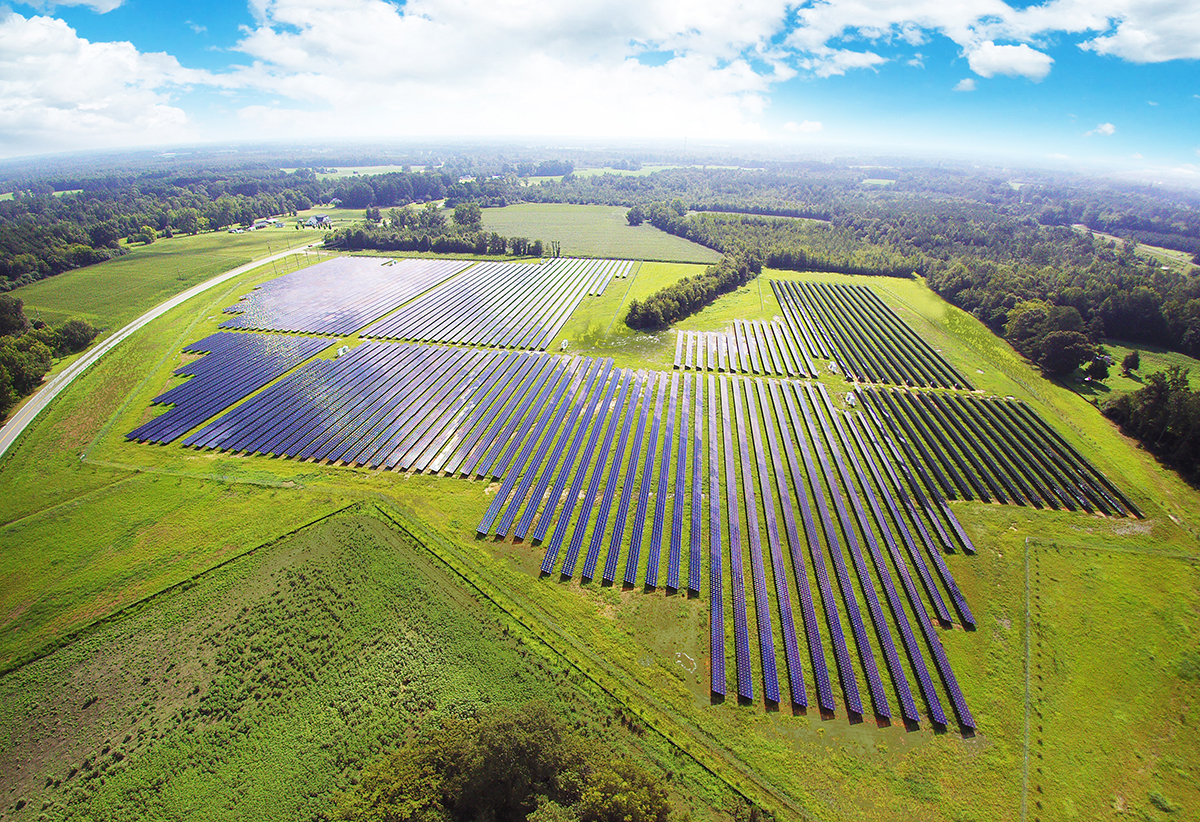 The state of South Carolina
Several new solar projects further the state's clean industry
With a number of new solar projects in the works, South Carolina is focused on further developing its clean industry sector.
Southern Current, a developer of utility-scale solar energy facilities across the Southeast, is expanding its solar farm portfolio with three new solar facilities in Clarendon County, South Carolina, a $10 million investment. Two of the projects will be located outside of Summerton and the third will be outside of Manning. In total, the three facilities will generate six megawatts of solar energy.
"This builds upon the flourishing and innovative alternative energy industry in the central South Carolina region and helps strengthen the diversification of resources available for the growing economy," said Central S.C. Alliance chairman Mike Brenan.
In Florence County, Coronal Energy, a leading independent solar power and energy storage provider, announced plans for the construction of a new solar project – the Rankin Solar Center. The new development is projected to bring approximately $15 million of capital investment.
The Rankin Solar Center will generate 10 megawatts of clean, renewable solar power, enough to power approximately 2,000 homes annually. Coronal Energy currently owns, operates and manages a 333-megawatt portfolio with a multi-GW development pipeline. It's expected to come online in the fourth quarter of 2019.
Meanwhile, in north-central Union County, part of the Spartanburg MSA, Pacolet Milliken Enterprises has proposed to launch a new renewable energy operation called Midway Green Solar. This project is expected to bring approximately $12 million of capital
investment.
Pacolet Milliken Enterprises, Inc. is a private, family-owned investment company with a history that dates back to the 1860s. Located on property adjacent to Midway Green Industrial Park in Union, South Carolina, the company's new solar project is expected to come online in the second quarter of 2019.
"South Carolina is continuing to blaze a trail in the renewable energy sector," said South Carolina Secretary of Commerce Bobby Hitt. T&ID
About the Author