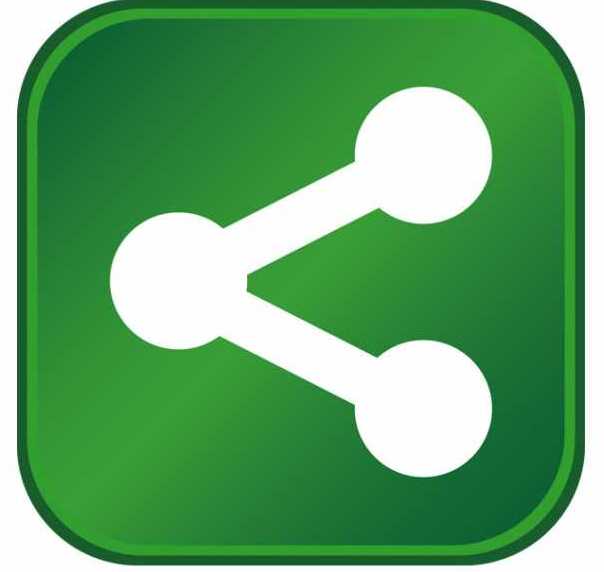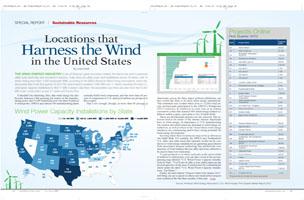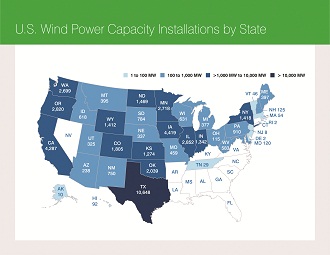 The wind energy industry is one of America's great successes. Indeed, the idea to use wind to generate utility-scale electricity was conceived in America. Today there are utility-scale wind installations across 38 states, with 14 states having more than 1,000 megawatts (MW), according to the AWEA (American Wind Energy Association), which also documents that in the first quarter of 2012 the wind industry installed 1,695 MW over 17 states, boosting the total U.S. wind power capacity installations to 48,611 MW. It doesn't stop there: the association says there are also more than 8,900 MW under construction across 31 states and Puerto Rico.
It shouldn't be surprising, then, that wind energy has also become America's fast-growing job creator in the manufacturing sector, and 75,000 Americans now owe their livelihood to wind power. AWEA says almost 500 manufacturing plants currently build wind components, and that more than 60 percent of components in U.S.-deployed turbines are produced in this country.
That's not enough, though, as more than 80 percent of Americans, across the three major political affiliations, say they would like there to be more wind energy installations. That sentiment was evident when close to 12,000 wind energy professionals participated in the AWEA's Windpower 2012 Conference & Exhibition in early June at an Atlanta convention center that featured 900 wind-energy-related exhibitors within a space equivalent to five football fields.
These are all important statistics for site selectors. Site selectors need to be aware of the intense interest Americans have in wind energy, its importance to U.S. manufacturing job creation and which states are dominant in wind energy installations, as well as where in the United States wind energy initiatives are commencing and/or have strong potential for wind energy development.

Knowing where these locations are may not be as obvious as one might think. For example, the AWEA says Southeastern U.S. states and other areas that typically would not be conducive to wind energy installations are garnering great interest from developers because technology has allowed the construction of wind turbines that are taller and more efficient to be used in these low wind areas.
To gain perspective on where each state in the union stands in relation to wind power, you can take a look at the accompanying map labeled "U.S. Wind Power Capacity Installations by State." You'll also be able to note which states are the most progressive in the area of wind power by examining the charts under the label "U.S. Wind Power Capacity Installations, Top States."
Finally, the chart labeled "Projects Online First Quarter 2012" will bring you up to speed on where new wind power projects were realized in the first three months of this year.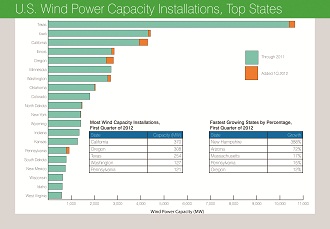 Source:  American Wind Energy Association  | U.S. Wind Industry First Quarter Market Report 2012
About the Author