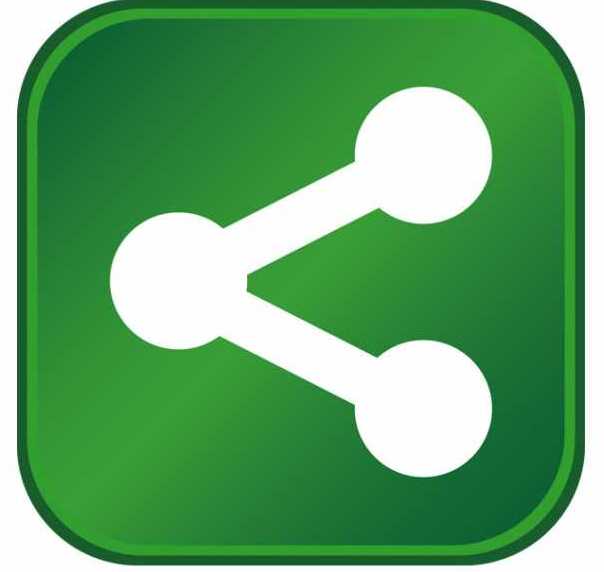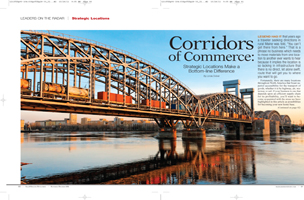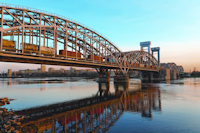 Legend has it that years ago a traveler seeking directions in rural Maine was told, "You can't get there from here." That is a phrase no business which needs to move materials from one location to another ever wants to hear because it implies the location is so lacking in infrastructure that there is no direct, let alone swift, route that will get you to where you want to go. Fortunately, there are many locations throughout North America that boast superior accessibility for the transport of goods, whether it is by highway, air, waterway or rail. If your business is one that depends upon an efficient supply chain for its profitability, you'll want to become acquainted with the areas we have highlighted in this article as possibilities for becoming your new home base.

Town of Ajax, Ontario, Canada
Canada's Town of Ajax is situated directly east of Toronto, along the Ontario Highway 401 corridor (also referred to as the Highway of Heroes in honor of war veterans). Ajax is a place where history meets present-day with a progressive eye toward the future.
Home to more than 100,000 people, Ajax is quickly becoming recognized in Canada and North America for its diverse population, business growth and key site-selection criteria including cost-effectiveness, infrastructure and economic growth potential.
With two existing interchanges along the Highway 401 corridor, and two future links to Highway 407, Ajax provides accessibility for products and people. These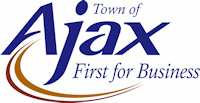 entry points provide direct access to existing zoned business areas, and 700 acres of cost-effective "shovel-ready" industrial land. Lot sizes that range from one acre to 80 acres are serviced, ready to go and backed by PriorityPath™, a customized municipal process specifically designed to streamline projects.
Cost-effectiveness in Ajax starts with affordable land prices. But as North America's first fully ISO-certified municipality, Ajax understands that time is money, too. Ajax has the infrastructure, zoning, processes and people in place to ensure projects move quickly.
Along the 401/Highway of Heroes corridor, Ajax history is repeating itself as a result of its continued dedication to progress, accountability, community and the environment, as well as a commitment to provide more for its businesses' dollars and their customers.
Elgin County, Ontario, Canada
Elgin County, located in Southwestern Ontario, Canada, is a major transportation hub and a thriving and growing engine, driving economic success as Ontario's gateway to the world.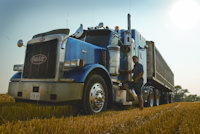 Elgin County has convenient access to Highways 401, 402 and 403, and is within easy reach of the cities of Windsor, London, Woodstock, Chatham-Kent, Brantford and the Greater Toronto Area. The U.S. border is just a two-hour drive away, enabling fast transport and just-in-time delivery of products to customers south of the border. Air transportation is available at the St. Thomas municipal airport, with facilities to accommodate recreational and commercial activities. Businesses in the County of Elgin can connect to marine shipping channels, and Port Stanley and Port Burwell provide access to the St. Lawrence Seaway.
Opening a business in Elgin County provides immediate access to a market of more than 439,000 people, including the cities of St. Thomas and London. More than 10 million people are located within a two-and-a half-hour drive.
Elgin County recognizes the importance of sustaining its growth and driving new investment for its communities. In recent years, Elgin County has seen a significant increase in transportation firms moving to the area to take advantage of its strategic location, the availability of industrial real estate and the various manufacturers located along this major corridor.
NESA (North Eastern Strategic Alliance), South Carolina
South Carolina's NESA region– named for the North Eastern Strategic Alliance, a regional economic development organization representing nine counties in South Carolina's northeast corner—has a simple motto when it comes to logistics: "We'll get your product to market, by air, land or sea." With its central location along the Eastern Seaboard, and heavy local and state emphasis on transportation infrastructure, the NESA region is a logistical cornucopia.
Starting from the ground up, the region boasts two major Interstates (95 and 20) crisscrossing its lush green environment, and in the coming years will be home to the new I-73—which will connect Michigan to Myrtle Beach.
The NESA region also has miles of rail including Class I CSX track that has direct access to the region's two major seaports in Charleston and Georgetown. In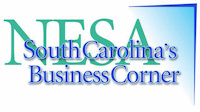 addition, the region is centrally located between the Ports of Charleston and Wilmington and is not far from the Port of Savannah. Complementing the highways, rail and seaports are the region's two airports, one regional in Florence, and the other international in Myrtle Beach.
A corridor of commerce has been defined as an area in which one can transport raw materials from their initial location to the factory floor, and easily transport a finished product from the factory floor to the market. With its air, land and sea transportation triad, the NESA region fits that definition to a tee.
City of Port Colborne, Ontario, Canada
The City of Port Colborne, Ontario, Canada, is located in the Niagara region of the province, where the Welland Canal connects to Lake Erie. The canal is a key part of the St. Lawrence Seaway System.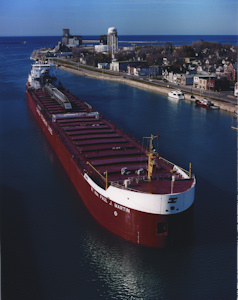 "Any vessel that passes from the Atlantic Ocean through Lake Ontario and into the upper Great Lakes needs to pass right through our community," said Stephen Thompson, general manager of Economic Development for the City of Port Colborne.
Port Colborne provides several strategic advantages. It's within 20 minutes of the border crossing at Buffalo, New York, and 30 minutes from the border crossing at Niagara Falls, New York. Plus, the Greater Toronto Area is under an hour from the City of Port Colborne.
The port offers a niche in the movement of bulk goods such as aggregates and grains. In addition, a grain elevator acts as a storage facility and intermediary location to move and store bulk product. Ships come in during the winter months for both routine maintenance and major repairs.
The city also owns a short-line rail connection which connects to both CN and CP main lines with service from coast to coast in Canada and the U.S.
"We are also working with the St. Lawrence Seaway Management Corp. to bring more land to market along the Welland Canal for wind equipment manufacturing and other industrial and logistics uses," Thompson said.
Rio South Texas
The area of Texas known as Rio South Texas is an ideal strategic location for industrial, manufacturing and logistics businesses wanting to operate in a region generating international acclaim for its ability to foster economic growth in today's uncertain times. As the largest border region in the nation and one of the largest metro areas in Texas, Rio South Texas (including major cities of McAllen, Harlingen, Brownsville, Edinburg and Mission) straddles the southern border and extends eastward to the Gulf of Mexico. Its costal location and wealth of options to transfer commodities to global markets make Rio South Texas well suited for companies that require significant transportation resources.
The region provides an alternate way to get goods to market faster. It boasts the ability to rapidly move goods to consumers in both the U.S. and Mexican markets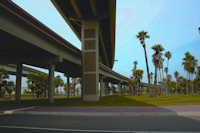 via 13 international crossings, two deep water ports, two shallow water ports (using the intercoastal canal), five U.S. international airports and two Mexican international airports, Marine Highway 10, a future I-69 corridor, highways including U.S. 281, U.S. 83, U.S. 77, and rail.
Rio South Texas is home to over 600 manufacturing companies and is a leading job-creation center in both the U.S. and Northern Mexico. Also, the area has over 87,000 students enrolled in higher education in institutions such as The University of Texas Pan American, The University of Texas–Brownsville, South Texas College and others.
Rolla, Missouri
Interest and excitement are growing within the Rolla, Missouri, area because of the anticipated development of a rail/truck transloading site located less than a mile from access to Interstate 44, one of the two primary east-west routes across Missouri. Adjacent to more than 100 acres of level, developable land, the Burlington Northern Santa Fe line has ample capacity for companies looking for an economical place to locate manufacturing, distribution or warehousing operations. Customized warehousing and/or packaging services will be available.
The site is located less than two miles from an established business park, where more 180 acres of land is available. Also situated in the park is a 338,000-square-foot manufacturing facility located on 45 acres of land. The food-grade quality building, equipped with dual power feed, has been upgraded and well maintained since being vacated by the Briggs and Stratton Company. The facility may be purchased or leased; sub-division is an option.
In addition to its other benefits, Rolla, Missouri, is home to the Missouri University of Science & Technology (MST). With more than 1,500 engineering, science and math graduates per year, the area provides ideal access to a highly valued workforce as well as research and development partnerships.
South Carolina
South Carolina's ports, rivers, rail and roads are essential arteries of commerce in the state. Transportation, distribution and logistics companies depend on them. The state's location on the East Coast helps attract investment by logistics and distribution companies seeking to establish or expand operations.
In the past year, South Carolina has seen capital investment of over $194 million—and more than 3,000 jobs created—from distribution and logistics companies. Companies like Amazon.com, The adidas Group and Target among others, have built or are building distribution centers in South Carolina.
The state's unparalleled infrastructure is a major draw in attracting new investment from these sectors. In addition to the five interstate highways that crisscross the state, South Carolina has more than 91 miles of state-maintained highways for every 10,000 residents. This is the highest ratio of any state with at least one million people in its labor force.
Largest in the Southeast, the Port of Charleston is an integral part of South Carolina's infrastructure appeal. More than 150 nations are served directly from

Charleston docks, using more than 30 different shipping lines. The Port of Charleston regularly serves ships of more than 8,400-TEUs (twenty-foot equivalent units) and handled 1.28 million TEUs during fiscal year 2010. South Carolina is making sure the state is ready in 2014 for the widening of the Panama Canal to handle the increased number of ships coming into the Port.
Wayne County, Georgia
Located in the heart of Southeast Georgia, Wayne County is uniquely situated with access and proximity to major rail lines, the interstate system, ports and international air travel.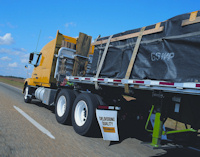 Two major four-lane state highways intersect in Wayne County, both leading to I-95 (36 miles). Those same highways provide easy access to the deep water ports of Savannah (69 miles) and Brunswick (39 miles). Wayne County's new industrial park located on Highway 341 East of Jesup cuts that time drastically. It is located on a divided-four lane highway (Highway 341) and is only 22 miles from I-95 and 25 miles from the Brunswick Port.
The Golden Isles Parkway (Highway 341) runs through Wayne County providing a four-lane route from I-75 in the heart of Georgia to I-95 at the Georgia Coast.
Wayne County is also served by two Class I railroads, CSX and Norfolk Southern. Norfolk Southern has built only the second rail siding between Macon and Brunswick in Wayne County. This allows an entire train to be pulled off the main track and allows more transportation along that route. The siding was built in part due to the increase of rail traffic anticipated in Wayne County's newest Industrial Park on the Norfolk Southern line on Highway 341.

 
About the Author