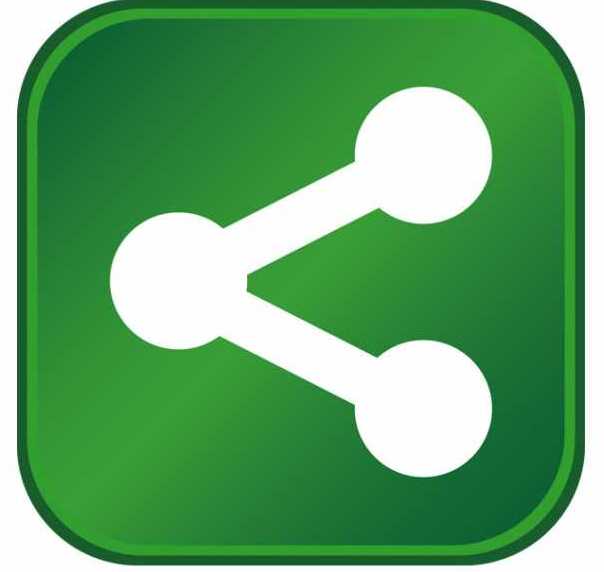 Ports deliver major economic growth and goods to the U.S. and beyond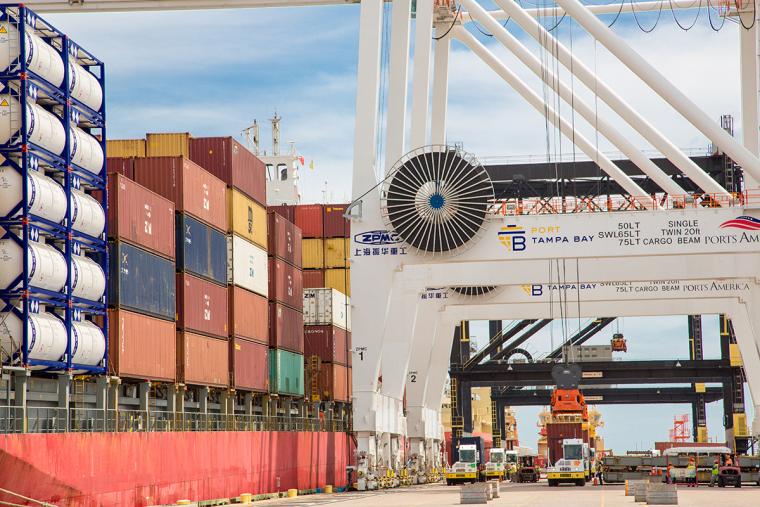 Ports deliver vital goods and services to consumers and ship exports out the country. But they also go well beyond that—they create jobs and support local and national economic growth.
According to the American Association of Port Authorities (AAPA), port cargo activity accounts for 26 percent of the U.S. economy. In 2014, ports generated nearly $4.6 trillion in total economic activity and more than $321 billion in federal, state and local taxes.
If you're looking for a key shipping location, explore the positive business, economic and environmental impacts that these ports are having on the regions around them.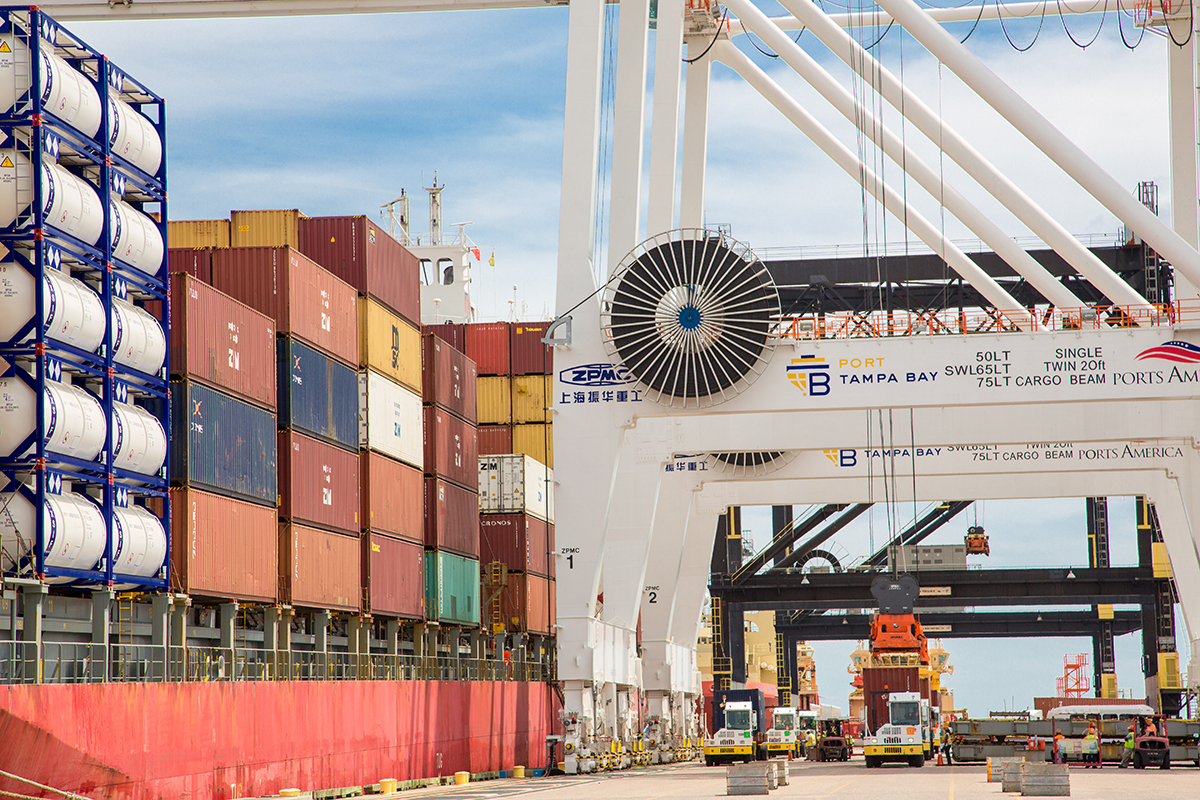 Florida's largest port now reaches all the way to Asia
Port Tampa Bay, Tampa, Florida
Port Tampa Bay is Florida's largest port—both in terms of tonnage and geographic footprint—encompassing more than 5,000 acres and handling more than 34 million tons of cargo per year. It's known for the diversity of its lines of business, including containers, liquid and dry bulk, break-bulk, refrigerated cargo and "roro," otherwise known as roll-on/roll-off vessels designed to carry wheeled cargo such as cars.
Port Tampa Bay is also a major cruise home port, welcoming over 1 million passengers a year, as well as an important hub for shipbuilding and repair.
"What continues to drive the port's business is its preferred location at the geographic center of the state and the closest port to Florida's largest and fastest growing market, the Tampa Bay/Orlando I-4 corridor, home to almost half of Florida's 21 million residents," says Wade Elliott, VP of marketing and business development at Port Tampa Bay.
Because of the port's central location in the state, importers and exporters achieve significant savings in their truck delivery costs and can easily reach into markets throughout the Southeast and beyond. The port's container business is its fastest growing segment, up 55 percent in 2018. Due to this growth, COSCO Shipping recently announced it was adding direct container service to the port from Asia.
"We have been big supporters of Port Tampa Bay's efforts to attract new services (like the service to and from Asia) because of our significant distribution center capacity throughout Central Florida," says Ali Hosein, VP of international freight and merchandising at Rooms to Go, a furniture store chain with 226 stores in the Southeast, Texas and Puerto Rico. "The port's proximity makes it easy for truckers, who can make multiple round-trip deliveries per day."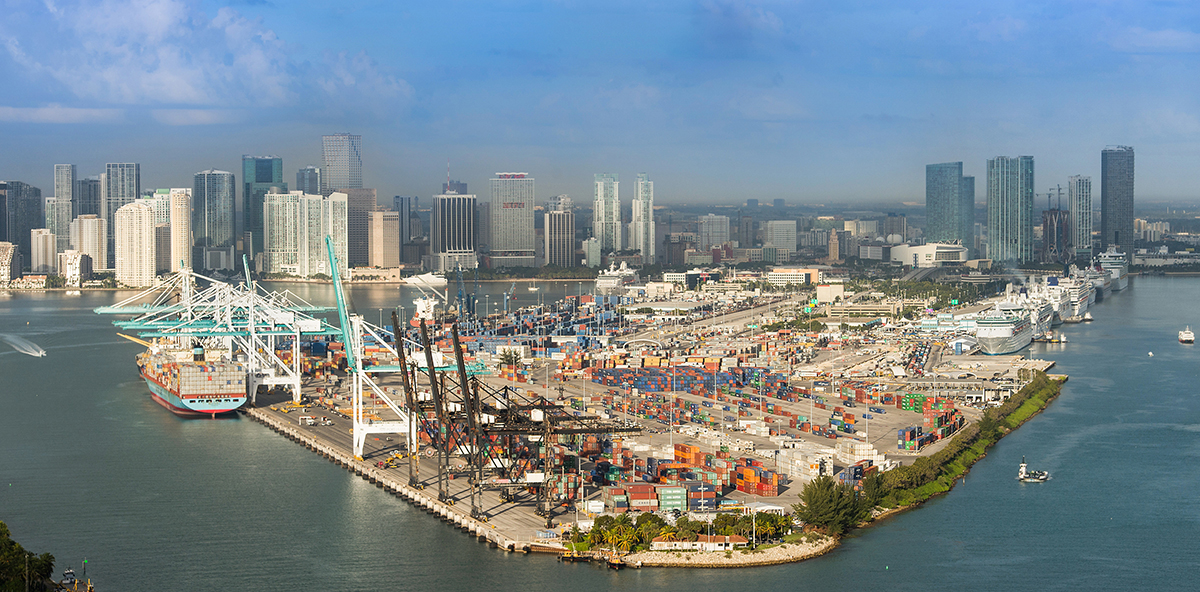 Cargo gateway of the Americas
PortMiami, Miami, Florida
Located at the crossroads of north-south and east-west trade lanes and the closest East Coast deep-water container port to the Panama Canal, PortMiami links world markets with the United States. It's also a major economic driver for the state.
With its cargo and cruise activities, PortMiami positively impacts more than 21,800 direct jobs in Miami-Dade County and surrounding areas, according to Liane Ventura Guerra, SVP of international business and executive director at the Greater Miami Foreign Trade Zone Inc. The port brings in direct wages totaling more than $893 million. As a result of this economic infusion, more than $1.62 billion additional dollars of total income and local consumption expenditures are created by port businesses.
"The economic impact of PortMiami to the state of Florida is significant—approximately $41 billion according to the latest figures," says Guerra. "This includes business activities from brokers to freight forwarders, from lawyers to insurance agents, and from technology experts to truckers."
In order to stay at the forefront of growth, PortMiami is evolving to meet industry demands. Perishables are one of the commodities driving growth at PortMiami. The port is in the process of becoming an organic-certified port, which involves specific handling and fumigation procedures.
"In addition, we are seeing new trends in cold-chain logistics, including ocean shipping of flowers, beauty aids, medical equipment and pharma, all of which need accurate temperature control/monitoring and fast delivery," Guerra notes.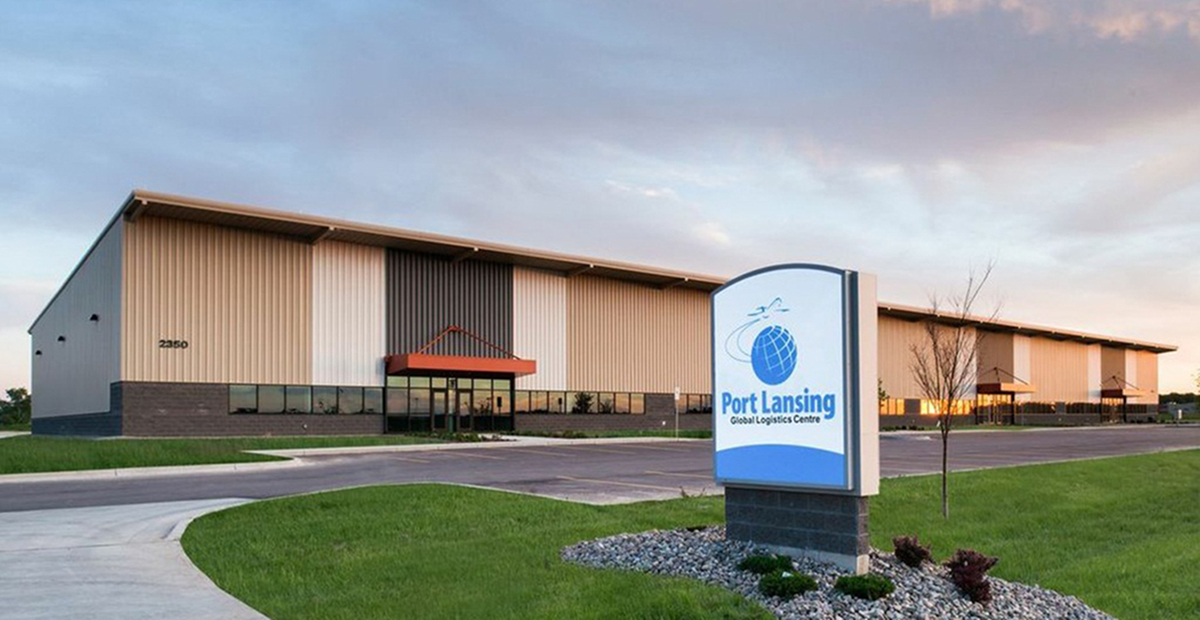 Inland port serves as a hub for the Midwest and Canada
Port Lansing, Lansing, Michigan
Port Lansing is an inland (dry) port located at the Capital Region International Airport in Michigan. The port is home of FTZ No. 275 and a full-service commerce park. Services include a U.S. Customs Port of Entry and a 48,000-square-foot global logistics center for the storage, consolidation and distribution of goods. Port Lansing also serves as a hub for UPS's Michigan operations. In 2017, more than 48 million pounds of cargo passed through Port Lansing.
Port Lansing has many benefits for local companies. JMT US, LLC, a company that provides a storage solution to extend the shelf life of fresh produce and dry goods, has made one of the Port Lansing warehouses its supply location, praising the central location.
"Port Lansing is easily accessible and served by numerous transports," says Benoit Janny, director of JMT US. "Being in the mid part of the country, handling tasks or traveling to the east or west parts of the country are considerably facilitated. Finally, the proximity with the Canadian market gives the opportunity for companies to expand their geographic presence in North America."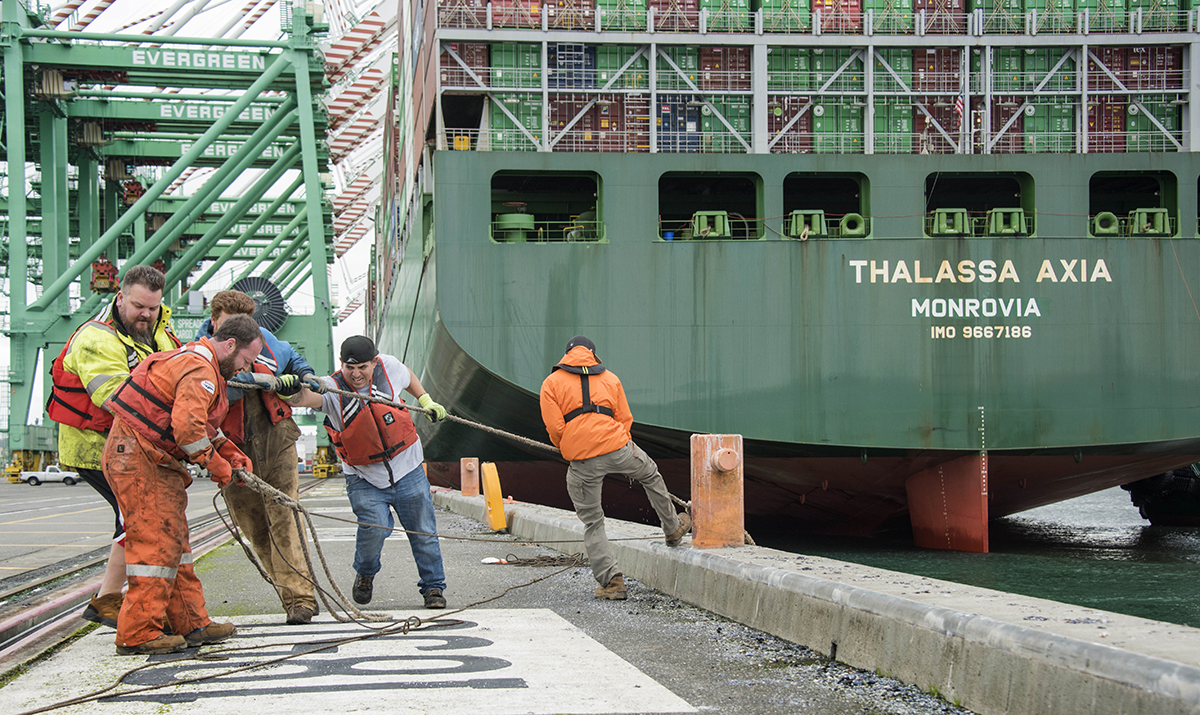 A West Coast shipping hub keeps growing
Port of Tacoma, Tacoma, Washington
The Port of Tacoma is the fourth-largest container gateway in North America and a major gateway for trade with Asia and Alaska. As part of the Northwest Seaport Alliance (NWSA) along with the Port of Seattle, it's a major economic development driver for non-marine industries across Puget Sound. Today, the port covers more than 2,700 acres in the port industrial area and is responsible for more than 29,000 jobs and nearly $3 billion in economic activity.
Dozens of companies and agencies, from Boeing to the Joint Base Lewis-McChord military installation, benefit directly from the port. And hundreds more benefit indirectly from the economic activity produced by the port.
Apples, Washington's top crop, are one of the main refrigerated commodities that moves through the Port of Tacoma. In 2016, NWSA shipped 26,609 TEUs (twenty-foot equivalent units) of apples, valued at more than $413 million.
"The ports of Seattle and Tacoma, and by association, the NWSA, are critical to the success of the Washington apple industry, exporting 30-plus percent of our total volume," says Todd Fryhover, president of the Washington Apple Commission. "It is the ease of access to these world-class ports that have assisted the Washington apple industry's world-class reputation."
Automaker Nissan is also benefitting from the Port of Tacoma. After the company found that the congestion at the Port of Long Beach in California was becoming a hurdle to importing its cars, Nissan's shipping line sought space at the Port of Tacoma.
"In mid-December 2018, the Port welcomed its first shipment of Nissans, and four more shipments are expected by year's end," says Katie Whittier, Port of Tacoma communications director.
A direct link from the center of the country to the world
Tennessee-Tombigbee Waterway Development Authority, Columbus, Mississippi
Tennessee-Tombigbee Waterway, also known as the Tenn-Tom, links to 4,500 miles of navigable waterways from Paducah, Kentucky, to Mobile, Alabama. Its strategic location serves 23 states throughout the South and Midwest and sees approximately 1.2 billion ton-miles of commerce each year. It provides direct connections to the Port of Mobile, the Gulf of Mexico and the Ohio-Mississippi-Missouri River network.
The waterway is home to 17 public ports and terminals and nine private ports. Based on the lower shipping costs associated with water transport, the Tenn-Tom Waterway provides an annual savings of $100 million in transportation costs for the companies that use the waterway.
According to Mitch Mays, executive director of the Tennessee-Tombigbee Waterway Development Authority, there are approximately 25,000 full-time jobs associated with the waterway, bringing in $1.9 billion in personal income.
"By all our estimates, the annual economic output of the waterway is $8.1 billion, and that's just the commercial side. It doesn't count all the recreational activities on the waterway, which is another economic driver," Mays says.
The Tenn-Tom has been designated a national marine highway, called the M-65, and it has a maximum tow size of eight barges in a single lockage. The biggest inbound and outbound cargo are aggregates, coal, chemicals, fuels and metals.
"We're seeing a big increase in metals and anticipate steel to increase," adds Mays. "The tariffs that the current administration have imposed have been good for the steel plants in the area."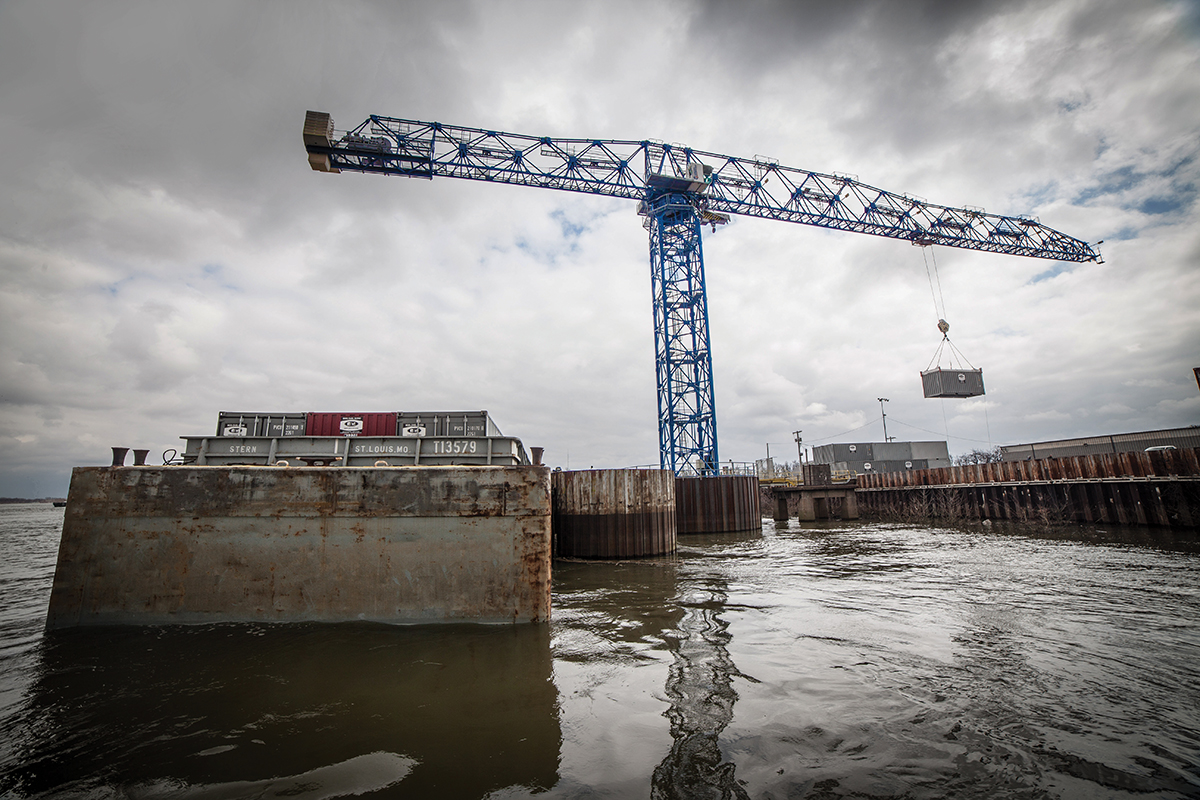 A strategic location near the confluence of four major river systems
Paducah-McCracken County Riverport Authority, Paducah, Kentucky
The Paducah-McCracken County Riverport Authority is a full-service inland port facility located in Paducah, at the confluence of the Tennessee-Tombigbee Waterway, the Ohio River and the Cumberland River. This location makes it the hub of the U.S. inland waterways, enabling shippers to move goods to more than 65 percent of the U.S. population and Canadian border within a day's drive. The port's facilities handle a wide range of commodities, including containerized, break-bulk and bulk cargoes.
"We have direct access to multiple blue-water Gulf ports and operate Foreign Trade Zone #294, which provides benefits to shippers involved in international trade," says Bill Miller, executive director of the Paducah-McCracken County Riverport Authority.
The port moves 450 tons of bulk cargo and 208 tons of break-bulk cargo each year. Port customers can store cargoes on terminal or in terminal warehouse facilities. The port also offers storage and warehousing services, including inventory management. Because of the area's moderate western Kentucky climate, the port calls itself the northern ice-free riverport, providing year-round service and operations without fear of supply chain interruption.
"We support many local industries with the products that we load and unload for our customers," Miller says. "The sand, gravel and rebar support the regional construction industry. Many of the break-bulk products that move through our facility go on to support the regional manufacturing industry. Our fertilizer customers' products support the regional agricultural community with year-round service."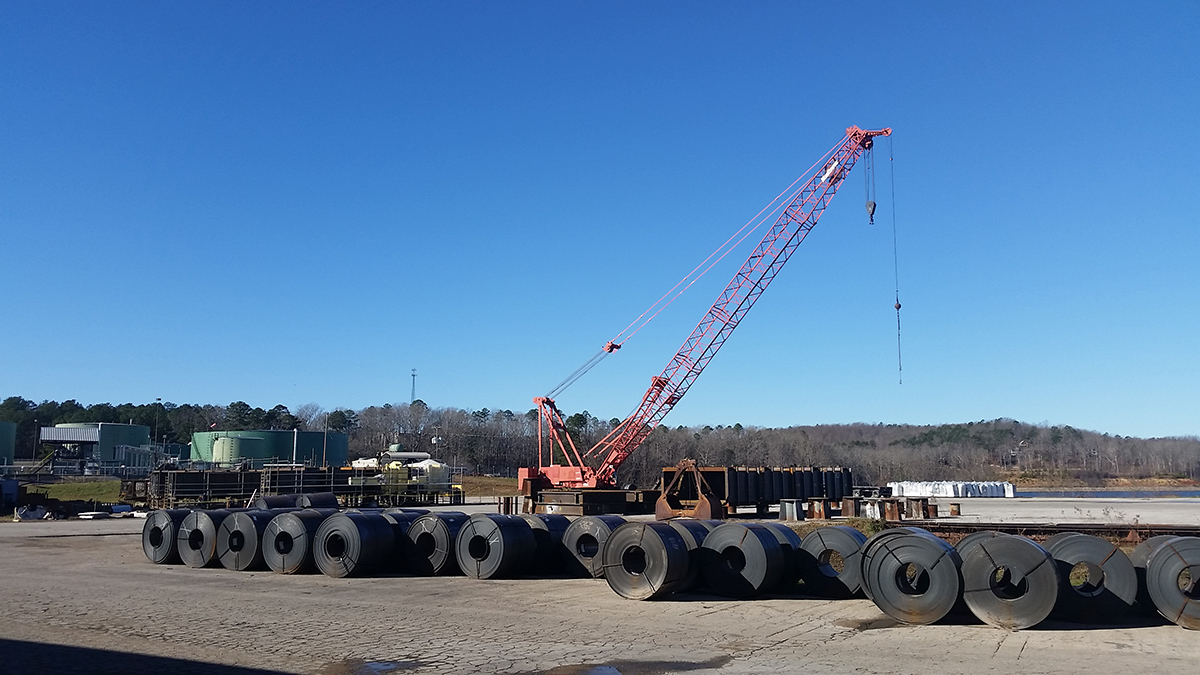 A thriving port on the Tenn-Tom Waterway
Yellow Creek State Inland Port Authority, Iuka, Mississippi
In the foothills of the Appalachians in northwest Mississippi, the Yellow Creek Port is located at the intersection of the Tennessee River and the Tennessee-Tombigbee Waterway. The full-service port terminal handles a wide range of commodities, such as steel coils, steel pipe, steel piling, large fabricated steel items, bulk silicon, paper and timber products, coal, grain, containers, sand and gravel.
Because of the large amounts of metal cargo flowing through the port, a cluster of metal fabrication companies have located in the area, along with a steel processing facility on site that provides steel slitting, leveling and distribution. The port also offers a regional cement distribution facility.
"The port terminal operates to provide services of general cargo transferred by rail cars, trucks and primarily by barges. It enhances the economic well-being of the area by giving industry the opportunity to use economic water transportation," says Robert J. Dexter, executive director of the Yellow Creek State Inland Port Authority.
Yellow Creek Port provides a variety of amenities, including a 20,000-square-foot humidity-controlled warehouse with two 25-ton overhead cranes, another 15,000-square-foot humidity-controlled warehouse and a 20,000-square-foot cargo/indoor storage warehouse. In addition, the port authority also offers approximately 2,500 acres of industrial sites ready for new and expanding businesses.
A protected inland location with easy access to a major port
Washington County, Florida
In the central Florida Panhandle, Washington County sits approximately 45 minutes north of the Port of Panama City. While the county doesn't have a port of its own, the inland location, ample space for new and expanding businesses, and proximity to the Port of Panama City are key to its business recruitment efforts.
"After Hurricane Michael, many companies are looking to move inland to be protected from the high winds," says Ted Everett, executive director at the Washington County Chamber of Commerce.
The Washington County Industrial Park, one of two industrial parks in the county, is expanding and offers plenty of available space. "Our central location is served by an efficient interstate highway system, freight rail transportation and access to commercial and corporate airports, in addition to the Port of Panama City," adds Everett.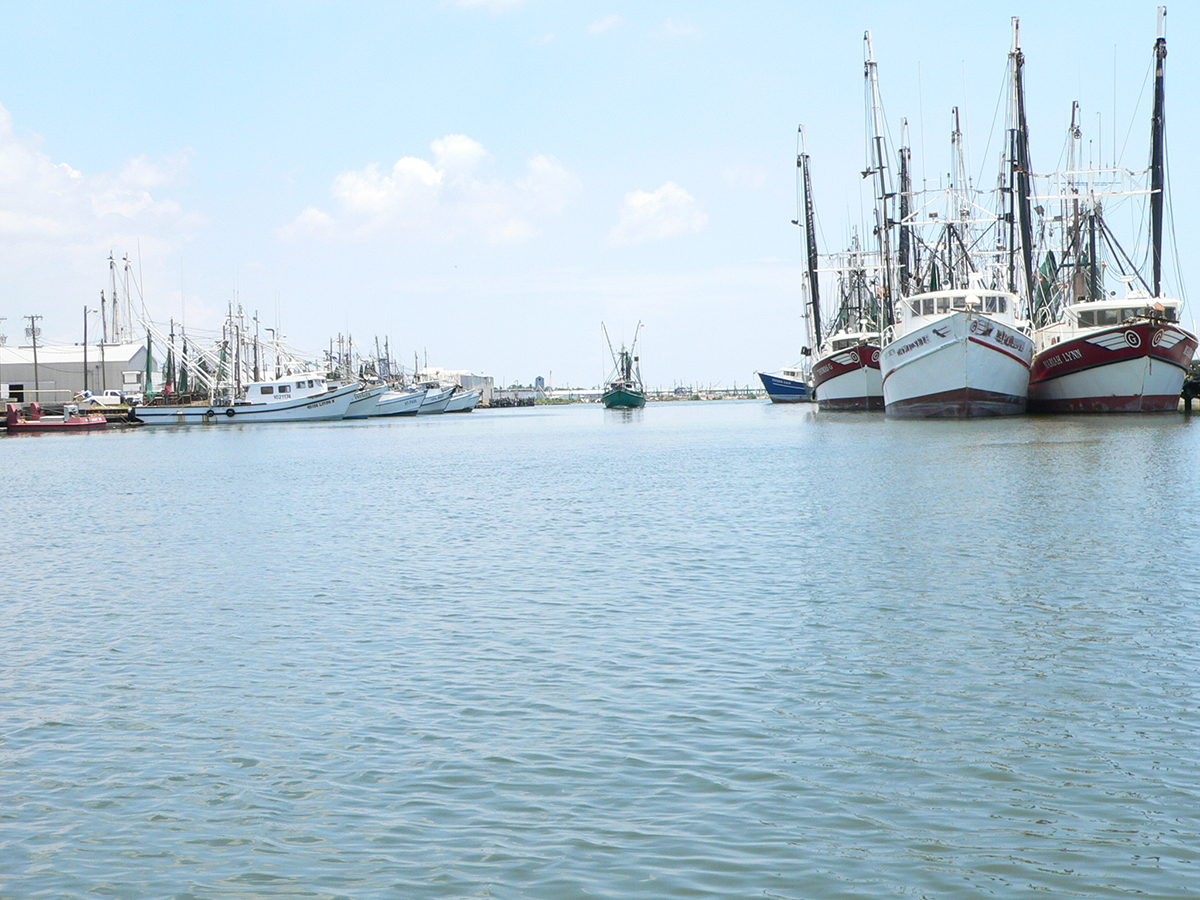 A sound expansion plan to take the port beyond commercial fishing
Port of Palacios, Palacios, Texas
Located off the Gulf of Mexico between Corpus Christi and Galveston, the Port of Palacios is a landlord port that leases dock space and property around its four turning basins. It was created in the 1920s when the U.S. Army Corps of Engineers dug the boat channel across Matagorda Bay, from the Intracoastal Canal to Palacios.
Palacios is a shrimping community and most of the port's tenants are shrimpers. The port's commercial fishing and shrimping provide more than 500 direct jobs in the county. Last year, 16 million pounds of shrimp came through the port.
However, port officials are working to develop a plan for the future that is both environmentally sustainable and commercially diverse. They are targeting heavy industry, which typically transports huge equipment across Texas roads and highways. By moving shipping to barges instead of trucks, companies can save money and utilize a safer and more environmentally friendly method to reduce their carbon footprint.
"The Port of Palacios is committed to expanding to accommodate movement of such equipment up and down the Gulf Intracoastal Waterway, which will provide a tremendous economic savings for new and expanding industry," says Victor Martinez Jr., port director at the Port of Palacios and the Matagorda County Navigation District No. 1.
The port also has more than 65 acres of greenfield property ready for development that is located less than a quarter-mile from the its turning basins. "We are calling it our Port Commercial Center," Martinez says. "We will be putting in a new road through the middle of this property to provide easy access to Business Highway 35. We hope to attract new businesses to our area." T&ID
About the Author