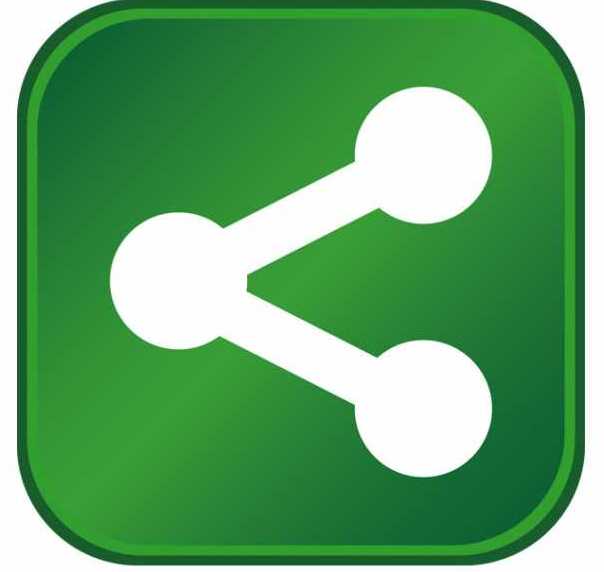 Determining the best-possible location for any business establishment, whether a new construction  venture, new construction as an expansion of an existing facility or a relocation to a new state or province, means a team of corporate site selectors charged with making this weighty decision has a long road of information gathering ahead of them. Even with careful due diligence, there's always the worry that prime locations have been overlooked. To help alleviate some of this concern, site selectors will want to take a look at the following prime locations to see what they have to offer and consider putting them on their short list of top locations.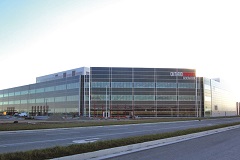 Clarington, Ontario
Clarington, Ontario, Canada, is only 30 minutes east of Canada's largest city — Toronto, and 160 miles (250 kilometers) from the U.S. border. Clarington offers a blend of urban and rural living. Known for its diverse business community, and in close proximity to markets, it has business sector strengths in energy, food processing, manufacturing, life science, tourism, aggregate, construction and services to the public. It is home to several 'mega projects,' including the Darlington Nuclear Refurbishment Project, Port Granby Project, the extension of the 407 major highway system, Durham York Energy Centre and Ontario Power Generation's 300,000 square-foot Darlington Energy Complex — all representing billions of dollars in investment.
With investment comes accommodation of industry needs and growth. Clarington has several build-to-suit opportunities as well as affordable serviced land and inventory of available buildings. Key local infrastructure improvements are underway. For example, in fall of 2013, Clarington Council committed to commence work on the extension of a major industrial road, creating an opportunity to easily access shovel-ready industrial land along Highway 401.Various municipal incentives and resources are in place to facilitate development. There is also access to federal government funding supporting the purchase of new equipment, market development and training.
Clarington is committed to listening to business and takes actions to enhance its business landscape – and to accommodate its existing economy and future development. Clarington offers genuine opportunity, realistic growth potential and authentic support.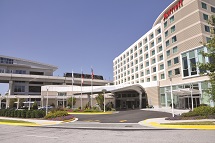 College Park, Georgia
In addition to being a desirable location to live, work and play in the metro Atlanta, Georgia, region, College Park enjoys business resurgence along its Main Street, with initiatives designed to stimulate job growth.
One of Georgia's newest Opportunity Zones, College Park's Main Street continues to boldly establish itself as a leader in green initiatives. Its compressed natural gas (CNG) fueling station, in collaboration with Clean Energy Fuels, Inc., supplies a broad customer base, including personal vehicles, transit, airport shuttles, taxis, intrastate and interstate trucking, airport and municipal fleets.
Additional development along Main Street includes the Gateway Center, College Park's $230 million multi-use conglomerate connected to Hartsfield-Jackson Atlanta International Airport via light rail (the ATLSkyTrain).  The award-winning Gateway Center is comprised of the 403-room Marriott Headquarters Hotel, the 147-room SpringHill Suites and a class A office building that houses Magic Johnson's "Aspire" network, all surrounding the Georgia International Convention Center (GICC). Three additional hotels are scheduled to be constructed soon.
Club Entrepreneur Café is a business center that brings entrepreneurs, experts and executives together to discover new opportunities for business development. Club E Café is located in the former College Park Furniture store. It has flexible meeting space suitable for as few as five people or up to 200 guests. Club E Café includes dining, a library, conference rooms, an advanced fiber optic network and a business center…all the trappings of a business incubator.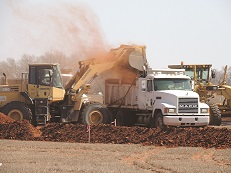 Elk City, Oklahoma
Elk City. Oklahoma, is located on Interstate 40 in Western Oklahoma, equidistant between Oklahoma City and Amarillo, Texas, only 18 minutes from the Oklahoma Spaceport. This fast-growing micropolitian (seventh-fastest in the nation) is the retail, business and aviation center of western Oklahoma with a trade area of 80,000 people and a local 5,400-foot jet-capable runway. The sales tax collections in Elk City annually far exceed any other community within a 90-mile drive.
Situated in the Heart of the Anadarko Oil Basin, Elk City is home to 139 oil, gas, wind and solar companies and is just opening its third new industrial park. Big Elk Industrial Park is composed of 130 acres with rail, all utilities and high-speed Internet and is located only one and a half miles from access onto I-40.
Elk City has welcomed four new four-story hotels in the past 24 months: Hampton Inn, Holiday Inn Express, La Quinta and Sleep Inn, bringing to 1,200 the total room nights available. In addition, the 104-unit Granite Landing Apartments and the 20 new JMAC duplexes have just finished construction.
Manufacturing companies can qualify for the Oklahoma Quality Jobs Cash Back incentive and also qualify for locating in former Native American lands credit that allows accelerated depreciation of capital assets. New retail businesses that locate in the community can qualify for a city rebate of a portion of the sales tax they collect for up to three years.
This vibrant micropolitian of 23,000 provides a high quality of life focused on family values, sports and recreational opportunities. Elk City has an abundant supply of water with an excess capacity of six million gallons per day and has never had to resort to water rationing.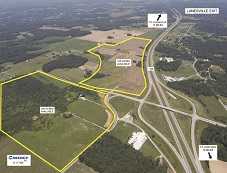 Harrison County, Indiana
Harrison County, Indiana, has business development opportunities on I-64 just west of Louisville, Kentucky. For example, Corydon, Indiana, is about 25 miles from the city center of Louisville and 35 miles from the UPS World Hub at Louisville International Airport and Lanesville, Indiana, is only 15 miles from the city center and 25 miles from the Airport/World Hub. 
The Harrison County Business Park is an Indiana certified shovel-ready site with almost 60 acres available at Corydon. All infrastructure is in place and the available sites are less than one mile from the S.R. 135, I-64 exit. Light industrial and distribution are the main existing uses in the park. Several companies have been successful there and the collective workforce is more than 750 employees in the surrounding one-mile area.
The Lanesville interchange is currently being developed with basic infrastructure.  Sewer, water and roadways have been constructed to serve Areva Pharmaceutical's distribution center for generic, injectable drugs. The Harrison County Economic Development Corporation purchased the property and developed the site for Areva with funds borrowed from the County. More than 250 acres are available for development. The proximity is ideal for distribution because of the highway access, being less than one mile from I-64 and only a few minutes west of Louisville. While Areva is just opening this summer, additional employers have also been evaluating this location.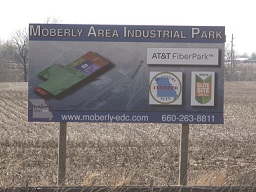 Moberly, Missouri
One of North America's largest home building products manufacturers, GAF, recently selected the Moberly Area Industrial Park in Moberly, Missouri, as the location for its newest production facility. The selection was based on the industrial park's infrastructure such as electricity, rail access and ease of truck shipments by way of U.S. Highway 63's divided four-lane highway.
The Moberly Area Industrial Park is located in a three-county region that features seven industrial parks, two-business parks and port access to the Missouri River. Located near the geographical population center of the United States, the Moberly Region has a transportation network that includes access to three Class 1 railroads including a dual rail served site just minutes from the shipping channel of the Mississippi River. The region's five distribution centers assure access to freight companies as products are moving all over North America through the Moberly Region.
Access to an educated workforce in the Moberly Region is led by Central Methodist University in the City of Fayette and Moberly Area Community College, headquartered in Moberly. Only 30 minutes away sits the state of Missouri's flagship university, the University of Missouri, providing some of the best- educated workforces in the central portion of the United States.
The Moberly Region of Missouri can be the one perfect location a company needs to service customers in all of North America.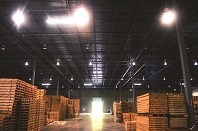 NESA Region, South Carolina
The North Eastern Strategic Alliance (NESA) region of South Carolina culminates all aspects of a great workforce, available sites and buildings, infrastructure, tax incentives and workforce training programs into one package.
With one of the most productive workforces in the nation, South Carolina excels at manufacturing everything from luxury vehicles to highly advanced medical equipment. The companies that produce these products have had no difficulty finding, recruiting and retaining talented and productive workers, technicians and management employees. 
The NESA region has more than 40 buildings, more than 60 industrial sites with 20 of those being certified shovel ready by McCallum Sweeney Consulting and Austin Consulting among others. Among the industrial buildings available, the region includes seven spec buildings of various sizes.
When it comes to infrastructure, the region is the ideal location for industrial operations given the easy access to many of the state's main transportation hubs including Interstates 95, 20 and the proposed Interstate 73; U.S. Highways 17, 378, 52, 521, 701, 301, 1, 501; Florence Regional Airport and Myrtle Beach International Airport; Class I CSX rail and the port of Georgetown. The region also is conveniently located within 45 minutes of Interstates 26 and 77, Charlotte Douglas International Airport and the Port of Charleston and Port of Wilmington, North Carolina.
The region has training resources available from recruiting and screening assistance to on-the-job training through ReadySC. The Southeastern Institute of Manufacturing and Technology (SiMT) also offers customized training and start-up assistance. 
Valdosta-Lowndes County, Georgia
Valdosta-Lowndes County, Georgia, is the unrivaled transportation hub of the Southeast, United States, connecting companies to virtually every major market in real-time. Located between Atlanta and Orlando in the heart of South Georgia, Valdosta-Lowndes County is strategically positioned for business to access and serve the global economy. Each of Valdosta-Lowndes County's top sites are certified Georgia Ready for Accelerated Development (GRAD) and have unique attributes, from rail served for plastics and manufacturing to parks situated near Interstate 75 and just north of Interstate10 for distribution and service industries.
Value-added agriculture and food processing leaders like Archers Daniel Midland Company (ADM), South Georgia Pecan, Sunset Farms and CJB Industries are located in Lowndes County. South Georgia Pecan is the second-largest pecan-shelling company in the U.S. shelling at least 160,000 pounds of pecans a day to supply food manufactures such as Nestle, Russell Stover and retail warehouses with almonds, cashews, pistachios and walnuts.
A strong workforce pipeline fuels companies located in Valdosta-Lowndes County, with two public school systems, a four-year university and a technical college. In addition to its schools and colleges, Valdosta is also a Georgia Work Ready certified community – a workforce development initiative that assesses real-world skills of Valdosta's workers, provides job training and helps companies reliably match the right people with the right jobs.
About the Author