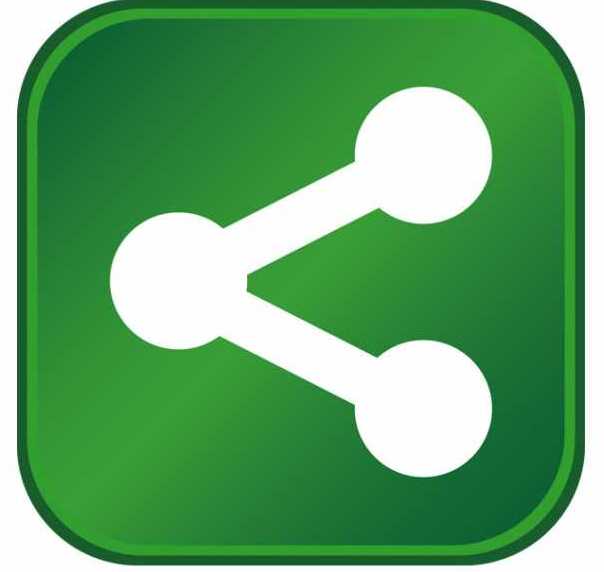 Locations Prepared for Resurgence in the Manufacturing Sector
Despite many blows, the manufacturing industry, the "heart and soul of the economy," is still fighting its valiant fight for strength and vitality. Indeed, the year 2010 is expected to be favorable for the manufacturing sector, with production growth estimated at 2.5 percent, according to Manufacturing Industry Trends, Butler International, March/April 2009.
These numbers bear out a sentiment of optimism for the future of manufacturing expressed more than a year ago. In June 2008, Futurist Jim Carroll's blog stated, "The reality is, there is plenty of life left in the American manufacturing sector, for those who are choosing to move to what I might call Manufacturing 2.0 – focused on agility, flexibility, fast time to market, automation, mass customization: a whole series of attitudes and capabilities."[1]
For those with a like mindset who are ready to seize the opportunity to capitalize on a possible resurgence in manufacturing, following are seven locations to consider for manufacturing endeavors that can proudly carry the "made in the USA" stamp.
North Louisiana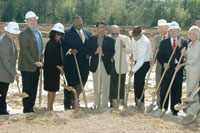 North Louisiana boasts one of the most diverse and balanced economies of its size in the United States. The region, developed around two metro areas, has a large and sophisticated healthcare community, competitive manufacturing base, a healthy agricultural industry, reenergized oil and gas industry, strong wood and paper product manufacturing presence and a sizeable and diverse service sector including notable educational institutions, hospitality/gaming companies and customer support/call centers.
The area's location at the junction of several major interstate highways, rail lines and two navigable rivers with access to the Mississippi River and the Gulf of Mexico makes North Louisiana an ideal location for manufacturers.   In June 2009, V-Vehicle Company, a new American car company that will manufacture high-quality, fuel-efficient cars for the U.S. market, selected Monroe, Louisiana as its first plant site after an extensive and competitive, multistate evaluation of potential candidates against a detailed list of critical factors.   In spring 2009, Pratt Industries opened its third U.S. wastepaper recycling mill at The Port of Shreveport-Bossier. The mill will produce 100 percent recycled container board for the packing industry. Along with the manufacturing facility, Pratt built a recycling facility to feed the mill and, as a result, began offering curbside recycling to the residents of Shreveport for the first time in the city's history.   Learn more at www.nledf.org.
Effingham County, Georgia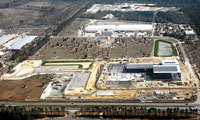 Effingham County has emerged in recent years as the center of growth and development in the Savannah, Georgia area. In fact, it is now the sixth fastest-growing mid-size county in the nation. New industrial facilities and new homes continue to sprout from fertile soils. Effingham County has recently received attention from some of the largest industrial projects in the southeast region. A rundown of local efforts illustrates the reasons for their successes.
The community has taken tremendous steps toward distinguishing itself from others in the southeast. The community recently invested over $40 million in land, new infrastructure, technology and sites for technical colleges and public school career academies. The county's development authority has broken from the traditional approach to economic development and has embraced a holistic approach. John Henry, CEO of the Effingham County Industrial Development Authority, sums it up, "We take a different approach to attracting sustainable high-tech industry – we evaluate every aspect from building a high-competency workforce from the ground up to featuring industrial developments that encompass the resources to create synergies 50 years from now."
Learn more at http://www.effinghamindustry.com.
Cecil County, Maryland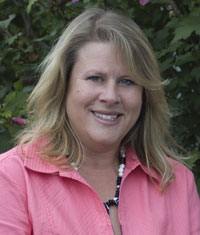 Manufacturers seeking a new site should know something of significance: Cecil County, Maryland, is graced with the most important words in real estate, "location, location, location." Situated in Maryland's northeastern region, the county shares a border with Pennsylvania and Delaware and is bisected by I-95, U.S. Route 40, rail and the Chesapeake and Delaware Canal. Cecil's upgraded infrastructure, in its designated growth corridor along I-95 and Route 40, and array of fast-track permitting and Enterprise Zone initiatives, welcome businesses.
"Cecil's central location is less than an hour from Baltimore, Wilmington and Philadelphia, and provides companies skilled workforce availability in both the Baltimore and Wilmington labor markets. Cecil has the quality of life, skilled labor, easy access and high visibility," explained Erika Quesenbery, marketing coordinator for the Cecil County Office of Economic Development.
There has been a significant increase in interest in the county following the BRAC or Base Realignment and Closure of 2005, bringing thousands of jobs from Fort Monmouth, New Jersey, to Aberdeen Proving Ground, just seven miles away. Technology-based industries are touring Cecil and finding properties from manufacturing to Class A office space immediately available at highly competitive rates.
Learn more at www.cecilbusiness.org.
Economic Development Partnership of South Carolina
The strength of a community lies within its industry base, and in the case of Aiken and Edgefield counties in South Carolina, there are no more important companies than those that already call the community their home. Companies like Kimberly-Clark, Bridgestone, GlaxoSmithKline, Shaw and others are well-established in the community. Aiken County is also heavily engaged in hydrogen research and other renewables as sources of alternative energy.
On the automotive front, not only is Aiken near the center of the country's automotive manufacturing, but it's also near the center of the country's growing automotive research. Located next to Augusta, Georgia, Aiken County has an acclaimed quality of life, numerous universities and one of the most progressive technical colleges in the southeast.
For those exploring alternative fuels, Aiken County constructed The Center for Hydrogen Research, a 60,000 square foot facility to take advantage of local expertise in this field. Half of the space is staffed by the Savannah River National Laboratory (SRNL), while the other half is available for the private sector companies and academia. Companies are daily interacting with the 60 hydrogen scientists and researchers from the SRNL.
The facility also contains 20Kw of photovoltaic panels of various types. The CHR is currently producing hydrogen from renewable sources.
Learn more at www.edpsc.org.
Kennewick, Washington
Kennewick, Washington, is the northwest's most exciting growth region: Kennewick is part of the fastest-growing metro area in Washington State. Its strategic location in Southeast Washington, at the confluence of the Columbia, Snake and Yakima Rivers, provides abundant water for crop irrigation and hydroelectric energy, and provides a major transportation intersection for water, rail, air and road. Two major interstates, I-82 and I-84, connect Kennewick with the metropolitan areas of Seattle and Portland within three hours, and Spokane and Idaho two hours to the north. These major highways provide dependable year-round transportation routes for agricultural and manufactured commodities leaving the area for world markets.
Home to businesses ranging from a National Laboratory, high-tech firms, environmental and engineering companies to food growers, processors and manufacturers; Kennewick provides a greater range of offering than might be expected in a community of its size. Forbes ranked Kennewick 2nd Best Cities for New Jobs Spring 2009 with a net employment outlook of +19 percent.
Efficient air, water, rail and ground transportation, stable business environment, solid IT infrastructure, advanced healthcare technology, excellent educational system and abundant recreation opportunities are just a few reasons why Kennewick is a great place to work, play and live.
Learn more at www.kennewickmeansbusiness.com.
Four Lake Industrial Development Authority of Tennessee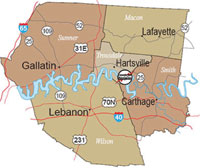 The notion that necessity is the mother of invention was never proven as true as in the case of the Four Lake Regional Industrial Development Authority (FLRDA) of Tennessee.
The FLRIDA was created after progressive cutbacks halted construction of what was initially intended to be the world's largest nuclear power plant at Hartsville, Tennessee, and eliminated employment at the nuclear site by 1982, resulting in significant economic dislocations in the regional economy. The purpose of The Four Lake Authority was to focus its activity toward economic development and improving employment opportunities in the region, as well as to develop the resources of the region, which embraces both the Greater Nashville Regional Area (Sumner, Trousdale and Wilson counties) and the Upper Cumberland Development District (Macon and Smith counties) in the state of Tennessee.
In2002, the Tennessee Valley Authority sold 554 acres of the mothballed nuclear site to the FLRIDA for regional economic development, enabling The PowerCom Industrial Center to become a reality. It is a large-acreage site with navigable river access and available warehousing space. A 54,000 square foot speculative building was designed and completed in 2008, and a Business Incubator Program, owned and operated by FLRIDA, currently leases 10 buildings to eight businesses.
Learn more at www.fourlake.org.
Southern Carolina
Southern Carolina makes it easy for businesses to make it big.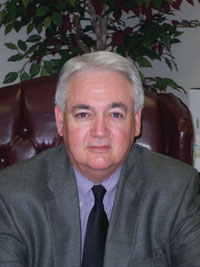 "Our ability to meet workforce needs is the number-one reason we have landed our last three or four major projects," said Danny Black, CEO, SouthernCarolina Alliance. "Through our Certified Business Ready® program, we can provide skilled employees who meet the profile of each position needed in the facility."
As part of the Certified Business Ready program, the Alliance examines and certifies that the program elements – including labor, site, approval, incentives, acceptance and assistance – meet strict standards, are readily available, reliable and comprehensive.
Southern Carolina prepares the 200,000-plus workforce to meet local industries' needs through various pilot training programs and apprenticeships.
The South Carolina Technical College system serves the area with facilities throughout the region, and last year the Alliance implemented a regional WorkKeys® testing and certification program, using the nationally recognized WorkKeys program to ensure that the Southern Carolina workforce is Certified Business Ready.
The four-county region offers a multi-county incentive and has strategically developed industrial parks with rail throughout. Among those parks are 10 South Carolina Department of Commerce Certified parks, which include extensive investigation and preparation, making them truly shovel-ready.
Learn more at www.SouthernCarolina.org.
[1] Financial Times, July 29, 2009
About the Author