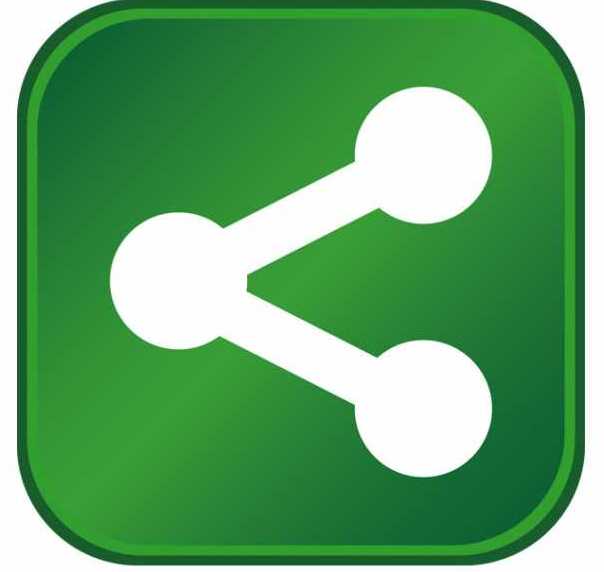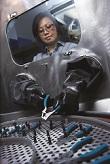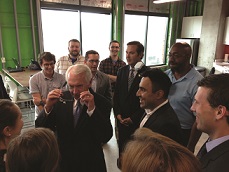 From individual companies to small communities to entire states, research and development is the fuel behind business drivers and economic engines.
Kentucky Makes Research and Development a Statewide Initiative
In Kentucky, a statewide focus on R&D has begun to pay big dividends.
"We're a small state with a population of little more than four million, and 97 percent of the companies that operate here are classified by the Small Business Administration as a small business. So, we created the Office of Entrepreneurship, along with the Small Business Tech Transfer Program (STTR) and Small Business Innovative Research Program (SBIR). It's part of our efforts to help companies turn R&D into commercialized products and services – and get their businesses off the ground," said Eric Dunnigan, Kentucky's deputy secretary at the Cabinet for Economic Development.
Since its inception in 2006, Kentucky's SBIR and STTR programs have awarded nearly $49 million to support 100 companies. These businesses have leveraged an additional $85.3 million in federal funds and created nearly 465 new jobs. A total of 34 companies relocated their businesses to Kentucky for the program.
This investment has paid off.
"The U.S. Bureau of Labor Statistics ranked our state No. 1 last year for the percentage growth of businesses established. That shows that these kinds of programs are sparking new businesses and get new employers in the state," said Dunnigan. "Also, the State Entrepreneurship Index ranked Kentucky fourth in the country for our ability to create businesses this year – and we climbed 45 places in the past year."
One company that benefitted from the SBIR-STTR Matching Funds Program is Transposagen Biopharmaceuticals. Lexington-based Transposagen is a leader in the development of unique rat models that can mimic human diseases and are used for drug discovery and development research.
"The federal award to Transposagen for its cutting-edge research proves that our SBIR-STTR Matching Funds Program, which helped bring the company to Kentucky, is attracting some of the world's foremost science and technology firms," said Larry Hayes, former interim secretary for the Cabinet for Economic Development. "These high-tech firms are leading the way in developing Kentucky's knowledge-based economy and are helping establish our state as a world-class location for research and development."
"They just signed a $300M licensing agreement to take their technology worldwide. This is a great example of a success," said Dunnigan.
Interapt is another Kentucky success story. Founder Ankur Gopal raised some eyebrows when he moved his start-up mobile technology solutions company to Louisville, rather than Silicon Valley. To help Interapt, state, community and business leaders stepped in to assist by providing contacts, making introductions and setting up meetings for the company to pitch its services to potential clients. In late 2013, Louisville-based Yum! Brands entered into a pilot with Interapt to test real-time learning for new and existing menu items using the just-launched Google Glass.
The results and future potential were so positive that Yum! asked Interapt to extend its work to another major fast food brand: Taco Bell. Based on this success, Interapt became one of only 10 companies in the world to receive Google's highly coveted "Glass at Work" certification.
"There's tremendous opportunity for the world's top innovators in Kentucky, and no reason why the technology and innovation ecosystem can't thrive here with the right support and roadmap," Gopal said. "I knew our core team could compete with the best tech companies in the world while being to Kentucky. Now the whole world knows it."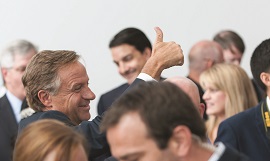 Tennessee Stands Out as an R&D Hub
Neighboring Tennessee has also embraced R&D, investing approximately $4.2 billion annually. A center of science and technology since the 1940s, Tennessee supports R&D in small businesses, large corporations and several internationally recognized research institutions, including St. Jude Children's Research Hospital, Vanderbilt University, Oak Ridge National Laboratory (ORNL), U.S. Airforce Arnold Engineering Development Complex and the University of Tennessee, according to Justin Lane, marketing director at the Tennessee Department of Economic and Community Development.
Because of that commitment, Tennessee is home to R&D facilities that provide world-changing technologies to businesses, communities and individuals around the world.
One example is Volkswagen Group of America. In July, 2014, the company announced it would invest in a $900 million expansion in Chattanooga by building a National Research & Development and Planning Center and adding an additional manufacturing line.
"The impact of this announcement goes far beyond the 2,000 new jobs because of the large multiplier effect of the automotive industry, and adding the National Research & Development and Planning Center sends a clear signal that Tennessee can compete with anyone in the global marketplace," said Tennessee Governor Bill Haslam.
In October, 2014, Mars Petcare also opened its first Innovation Center in the U.S. in Thompson's Station, Tennessee, focusing on dry cat and dog food in both the natural and mainstream pet food categories. The state-of-the-art, Gold LEED-certified $110 million facility will employ 140 people. The facility includes a 39,904 square-foot Quality & Innovation Center that houses research and development associates working in an office setting, in addition to a state-of-the-art microbiological and analytical laboratory.
"Everything about this campus is dedicated to helping pets live longer and happier lives," said Larry Allgaier, president of Mars Petcare North America. "Mars has been doing business in Tennessee for the past 35 years. The location in Thompson's Station was selected in part because of a great working relationship with the state of Tennessee," he added.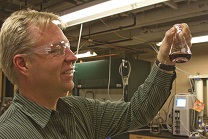 Wisconsin Stays at the Forefront of R&D
Janesville, in southern Wisconsin on the Illinois border, is on the forefront of nuclear medicine. Two companies, SHINE Medical Technologies and NorthStar Medical Radioisotopes, have both announced plans to build facilities in the area. The companies want to fill a void expected when two other nuclear reactors, located in Canada and the Netherlands, that use highly enriched uranium to produce isotopes are taken out of service in 2016 and 2020. NorthStar and SHINE Medical Technologies are two of three U.S. companies supported by the National Nuclear Security Administration as it pushes for a more reliable and diverse supply of Mo-99, a medical isotope primarily used for detecting heart disease and determining stages of cancer progression.
SHINE Medical Technologies signed a $125 million deal to build a $100 million manufacturing plant on Janesville's south side. When it opens in 2017, the plant is expected to produce more than a quarter of world supply for Mo-99, the most commonly used isotope in nuclear medicine. SHINE plans to use low-enriched uranium in a series of eight accelerators to produce the isotope, which is used in more than 30 kinds of diagnostic imaging procedures and more than 40 million medical imaging tests each year. SHINE expects to bring at least 125 high-paying jobs to the area.
In July 2014, NorthStar Medical broke ground on a 50,000 square-foot facility in nearby Beloit that will house the company's headquarters and activities related to the production of the Mo-99. Within the next four years, NorthStar expects to have approximately 165 employees working at its Beloit corporate campus. The company signed a letter of intent with GE Healthcare as a distributor of Mo-99.
According to James Otterstein, Rock County Economic Development manager, "This is an exciting project that is contributing toward reshaping, as well as redefining, the economic landscape of the Janesville-Beloit MSA . Rock County's economy in increasingly populated with firms that are developing and conducting industry leading technology applications."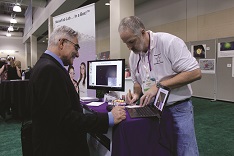 North-central Wisconsin's Portage County also has R&D on its radar. Much of this is being driven by the Wisconsin Institute for Sustainable Technology (WIST), which connects the University of Wisconsin-Stevens Point to business and industry and provides research, laboratory services and education.
"At WIST, they have a $75 million science building in the works and $5 million in economic development grants. There are lot of great connections between industry and the R&D sector," said Lori Dehlinger Van Alstine, executive director at the Portage County Business Council.
WIST Director of Research Eric Singsaas, PhD co-founded WIST, the university's economic development arm, in 2009. UW-Stevens Point has one of the nation's largest paper science and engineering programs.
One way WIST's R&D is helping the local economy is by developing ways to transform the area's struggling paper mills, a major legacy industry.
WIST is working on developing technology he hopes will  transform dead or dying paper mills into an entirely new industry, capable of extracting the carbon that trees absorb naturally and converting it into biofuels and other products.
The project won $7 million in research grants from the U.S. Department of Defense and the UW System in Madison. It has three additional patent applications pending for processes that convert the cellulosic hydrocarbons from its bioreactor into commercially viable fuels, bioplastics, fibers and solvents.
It also lined up several private-sector partners, including Chicago-based American Science and Technology Corp., which opened a subsidiary in nearby Wausau, where AST will build a commercial-scale version of the bioreactor capable of processing up to two tons of trees or other biomass per day.
"It brings together the world of pulp and paper processing and biotechnology," Singsaas said." There's been a lot of work in the past in cellulosic ethanol, but that has existed primarily in the biotech world. And, there's a lot of expertise in cellulose processing in pulp and paper. But there hasn't been a lot of crossover between the two."
Singsaas isn't the only one focused on R&D at UW-Stevens Point. Mike Zach, associate professor of chemistry there, recently developed NanoFab Lab...in a Box!™ in collaboration with the U.S. Department of Energy's Argonne National Laboratory in Illinois. It was selected as one of the top 100 technology products added to the market place for 2013 by R&D magazine.
He designed this science kit to help students learn about nanotechnology. The NanoFab Lab simplifies nanotechnology concepts for high school and undergraduate college students. It is a shoebox-size educational kit for easy, rapid duplication of patterned nanowires without the need for a multimillion-dollar clean room. This is a new way to make tiny electronics and other materials used in high-tech advanced manufacturing.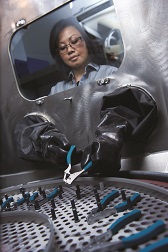 "When I looked through the various educational opportunities in nanotechnology and engineered nanomaterials, there aren't a lot of good ones for students under graduate level," said Zach.
"NanoFab Lab will help create a new generation of a highly skilled workforce," said Van Alstine. "The whole workforce development process is so critical to our growth."
Companies in Elk River, Minnesota, are Buoyed by R&D
About four hours west of Stevens Point is Elk River, Minnesota, a community situated between St. Cloud and the Twin Cities. Located there is Metal Craft, one of the community's R&D companies. It's using R&D to elevate its machining services to become a leading supplier of medical devices and implants. The company makes surgical tools for hip, knee and spinal replacements, tools for cardiac surgery and for knee and spinal implants.
"We are constantly looking at ways to improve how we do things, reduce costs and find innovative solutions to accomplishing what our customers are looking for – so we're continuously investing in R&D. This lets us improve the quality of the product, shorten lead times and reduce the costs," said Trisha Mowry, CEO at Metal Craft & Riverside Machine.
The company employs 120 people at the Elk River facility and another 80 at its Riverside Machine facility in Chippewa Falls, Wisconsin.  
"Elk River is a prime location, close enough to the city to easily access services, sub-contractors [and] other machine shops. There's a lot of manufacturing here, so we have good access to a qualified workforce," said Mowry.
Colleen Eddy, economic development specialist at the City of Elk River, Minnesota, said, "Companies like Metal Craft and Cargill's Animal Nutrition Innovation Campus (also located in Elk River) are using research and development to truly take their services and solutions to the next level. It's absolutely driving their growth – and ours."
About the Author