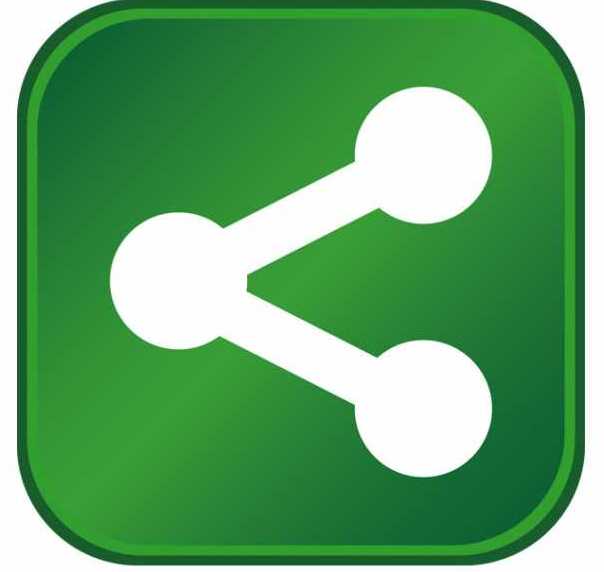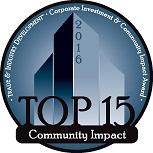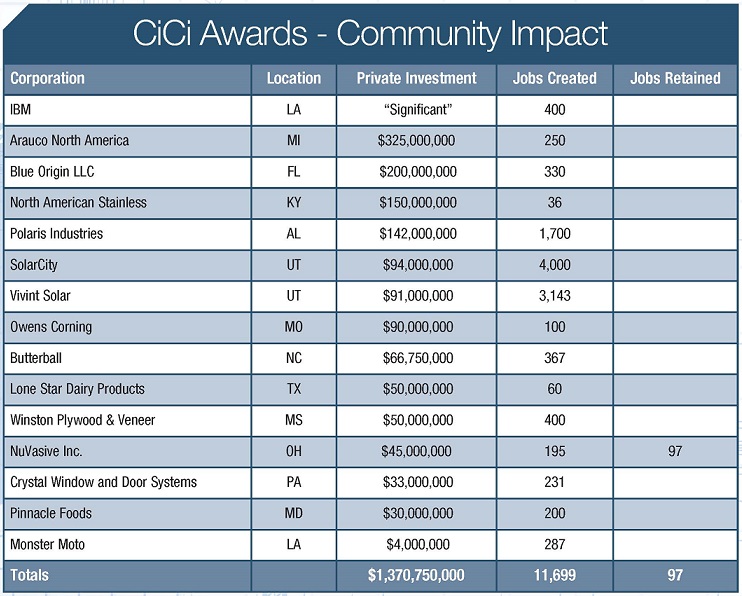 The Community Impact category of the CiCi Awards is particularly rewarding. The Awards in this category take into account not only dollar amounts of the projects, but also the impact they make on the lives of the people in the regions where each project is based. These 15 projects are responsible for almost 12,000 new direct jobs and countless indirect jobs, enriching the lives of numerous families across the country.
The 15 recipients of the 2016 CiCi Community Impact Awards represent a wide variety of industries and locations, from IBM's Application Development and Innovation Center in Monroe, Louisiana, to two solar companies – Vivint Solar and SolarCity – in Utah.
Each of these projects has a compelling story behind it. For instance, Lone Star Dairy Products is locating a $50 million milk processing facility in Canyon, Texas. As the first taxable industry in the town's history, city officials are delighted with the future impact the company will generate.
Canyon's city Manager Randy Criswell said, "Each dollar turns over seven times, with an anticipated payroll of about $4 million. Plus, hopefully some, if not all, of the employees will live in Canyon and buy homes here. Then, they'll spend money here, which will boost our economy. As far as the plant, we add $680,000 to our property tax collections over the next 10 years. That is truly a significant event for Canyon."
Other CiCi Community Impact recipients are moving into facilities shuttered by other operations, literally breathing new life into still-viable facilities. Pinnacle Foods in Hagerstown, Maryland, Crystal Window and Door Systems in Benton, Pennsylvania, NuVasive in West Carrolton, Ohio, and Butterball in Raeford, North Carolina, are all great examples of this.
Others Impact stories tug on heartstrings. Most people remember the devastating tornado that ripped through Joplin, Missouri, in 2011. Others might recall the tornado that hit Louisville, Mississippi, in 2014, killing 10 and destroying countless properties, including the Natron Wood Products facility there. Today, Owens Corning is locating a mineral wool insulation manufacturing facility in Joplin, while the newly renamed Winston Plywood and Veneer has committed to rebuilding its facility in Louisville.
Blue Origin's development at the Cape Canaveral Air Force Station, Florida, is another example that collectively appeals to our nation, while also re-launching the area's economy. When NASA shut down the shuttle program, more than 7,000 people lost their jobs. Amazon founder Jeff Bezos's new company, Blue Origin, will manufacture and launch rockets at Cape Canaveral, bringing jobs and economic development to the area.
Whether the Community Impact project winner is well-known, like IBM and Bezos's Blue Origin or something lower profile, all are making a huge impact in their communities. Take a look and get inspired.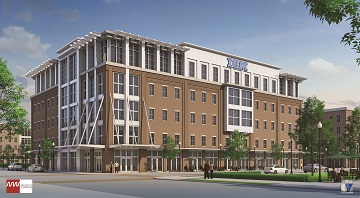 IBM
Ouachita Parish, Monroe, Louisiana
The Northeast Region of Louisiana, which is anchored by Monroe, has seen numerous challenges over the past decade, including the loss of hundreds of jobs when State Farm and International Paper shuttered. The announcement that IBM is partnering with Monroe, Louisiana-based telecommunications company CenturyLink to open the IBM Application Development and Innovation Center is especially good news. It's the result of the state's effort to cultivate key industry sectors, especially those in software development, digital media and information technology.
This center will create at least 400 new roles for experienced professionals, drawing heavily on graduates from the state's colleges and universities. These jobs primarily will focus on application modernization, big data, analytics and cloud-based software development and software management services for the company's U.S. corporate clients. The IBM Application Development and Innovation Center is estimated to create more than 400 additional indirect jobs.
The IBM project builds upon CenturyLink's addition of 1,150 new jobs associated with its two expansion projects. It will feature IBM as the anchor commercial tenant in an 88-acre, mixed-use development across from the CenturyLink headquarters that will include a mix of office, retail and residential properties in an estimated $200 million real estate development.
The project includes a 10-year, $4.5 million higher education initiative by the State of Louisiana, led by the University of Louisiana at Monroe to expand its computer science and computer information systems programs, helping to create a pipeline of talent for IBM and CenturyLink. In addition, this initiative will support the cyber engineering program at Louisiana Tech University and the data analytics program at Grambling State University.
IBM's arrival in Louisiana's Northeast Region will further establish Louisiana's 1-20 corridor as a premier investment location for digital interactive media and software development companies of varying sizes and scopes.
"We're proud to be part of this innovative public-private partnership with the State of Louisiana and CenturyLink to further develop highly valued skills and solutions expertise in security, analytics and mobility applications," said Colleen Arnold, senior vice president of IBM sales and distribution. "Louisiana is the right place for high-tech job growth with an exceptional education system, business environment and workforce to serve the needs of our clients."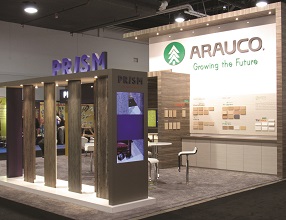 Arauco North America
Crawford County, Grayling, Michigan
A new particleboard manufacturing facility in Grayling, Michigan, is expected to bring a major boost to the north-central Michigan regional economy – while further diversifying the state's multi-billion-dollar forest product industry.
Currently, Michigan's forest products industry supports about 90,000 jobs in the state and generates approximately $17 billion annually, according to the Michigan State University Department of Forestry.
Arauco North America will invest $325 million in a new particleboard manufacturing plant in 2018. The project is expected to create approximately 250 jobs upon completion. Notably, it will aid in the sustainable harvest of an underutilized wood basket and benefit the management of public and private forest lands across the state. The company will begin clearing the 600-acre site in spring of 2017.
Headquartered in Chile with operations in Argentina, Brazil, Uruguay, Canada and the United States, Arauco is a manufacturer of a wide range of sustainable forest product solutions, including a comprehensive selection of composite panels, premium plywood, millwork, lumber and FSC-certified wood pulp.
This project will require substantial expansion of the logging supply sector in the northern Michigan region. Michigan Department of Agriculture and Rural Development (MDARD) estimates an additional 12–15 logging crews – typically with five employees each – will be needed in the region to supply the plant's raw material needs, attracting an anticipated $3 million capital investment.
"Our presence in Michigan should promote Michigan's emphasis on healthy and sustainable forest management through utilization of low-value fiber," said Jake Elston, vice president of corporate operations for Arauco North America. "This should be supportive of local landowners, sawmill operators and other forestry-related resources."
A critical part of the deal is an $11.8 million, 13-year Forest Products Processing Renaissance Zone approved by the Michigan Strategic Fund. Arauco selected the Grayling Township site after an intense year-long search.
"This is a transformative project that illustrates the collaborative power and positive economic impact on a region when state agencies work together effectively," said Michigan Governor Rick Snyder. "Arauco's presence in Michigan is a significant contribution to the state's forestry product industry, and a noteworthy addition of jobs that will be felt throughout Crawford County."
At the end of September 2015, Governor Snyder named Grayling as one of 10 communities in the Rising Tide initiative, a program to help economically challenged communities become better positioned for redevelopment opportunities. The pilot program brings civic and business leaders together to develop strategies for economic prosperity and create more and better jobs.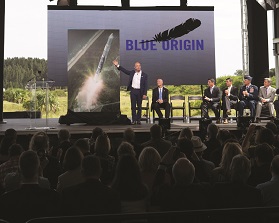 Blue Origin
Cape Canaveral Air Force Station, Florida
When NASA shut down its shuttle program at Kennedy Space Center at Cape Canaveral in 2011, the resulting 7,000 layoffs economically battered the community. Now Amazon founder and CEO Jeff Bezos is helping re-launch the area's economy.
Bezos announced his company Blue Origin will manufacture and launch rockets into orbit from Cape Canaveral Air Force Station in Florida. The company will invest $200 million into Florida's Space Coast and create 330 jobs over the next five years. Blue Origin will develop vehicles and technologies to enable commercial human space transportation. Blue Origin's rockets will provide streamlined launch opportunities for satellites and research payloads.
"Cape Canaveral has long been a gateway to humankind's greatest adventures. Our new home – Complex 36 – has seen 43 years of service and 145 launches, including the Mariner missions, Pioneer 10 and Surveyor 1 – the first U.S. spacecraft to land softly on the moon. This historic pad hasn't seen a rocket launch in more than 10 years – too long – we can't wait to fix that," said Jeff Bezos.
Bezos's establishment of Blue Origin makes Florida a major manufacturing center for high-tech space-bound hardware as well as being the nation's premier gateway to space. The company's investment in the region will help revive the local highly skilled workforce and secure Florida's future as a national leader in the aerospace industry.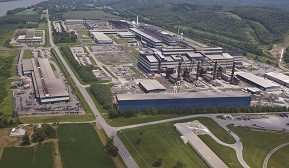 North American Stainless
Carroll County, Ghent, Kentucky
Most rural communities in Kentucky and the nation struggle to obtain quality, high-paying jobs. Carroll County, Kentucky, has an advantage over many areas. It benefits from river access, abundant power and an almost limitless aquifer that provides an ideal environment for heavy industrial activity, which has contributed to the phenomenal success of North American Stainless (NAS), the largest U.S. stainless steel producer.
Since the company began operations in Ghent in 1990, the company has expanded 10 times. It will soon mark its 11th expansion with the announcement that it will add additional manufacturing lines, a $150 million expansion that will also bring 36 new jobs. The expansion is expected to be completed in 2017 – and further cement's Carroll County's reputation as a manufacturing haven that provides quality jobs for the entire region. In fact, With the success of NAS and other industrial partners along the river, Carroll County and Ghent continue to be a manufacturing haven that not only provides quality opportunities for the Carroll County community, but also workers in neighboring counties of Gallatin, Owen, Henry, Trimble and Oldham as well as the Louisville metropolitan area, Cincinnati metropolitan area and Southeastern Indiana.
NAS plans to add a bright annealing line and a cold rolling mill. The bright annealing line will process material from the rolling mill after degreasing the surface of the strip and heat treating it in a controlled atmosphere, giving the material a bright finish. Common applications from this type of steel include appliances, auto trim, cookware, truck trailers and mass transit vehicles, heaters and surgical instruments.
"We thank our parent company Acerinox S.A., for again demonstrating its confidence in our employees," said Cristobal Fuentes, president and CEO of North American Stainless. "This investment creates an opportunity to increase our sales in the U.S. – a market where a significant percentage of this product is currently imported. We appreciate the Governor's demonstration of support of the men and women of NAS by meeting with the executives of Acerinox S.A. in Spain, as well as when they visited Kentucky."
Acerinox S.A. is headquartered in Madrid and to date, the company has invested more than $2.6 billion in its Carroll County facility, making it the largest Spanish industrial investment in the U.S.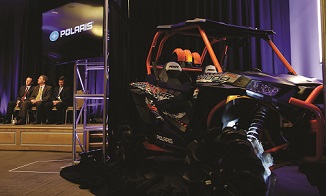 Polaris Industries
Madison County, Huntsville, Alabama
Off-road vehicles like ATVs and snowmobiles are known for their recreational possibilities. However, Polaris Industries' foray into Huntsville, Alabama, is big business for the off-road vehicle manufacturer and the entire region.
In early 2015, Polaris Industries announced plans to build a $142 million advanced manufacturing facility in Huntsville, Alabama, to produce its off-road vehicles which will create between 1,700 and 2,000 jobs. Alabama had to beat out 14 other states in what was codenamed "Project Axle."
The manufacturing facility will feature multiple assembly lines and state-of-the-art technologies. The plant will support several core processes including, vehicle assembly, chassis and body painting, welding, fabrication and injection molding.
Polaris selected Huntsville due to its skilled workforce, history of technology and innovation, existing utility infrastructure and strong local and state resources supporting economic development. The 453-acre Huntsville site offers Polaris close proximity to its key customer base in the Southeast U.S. and strong logistics network.
"This new facility will complement our already strong and growing North American manufacturing footprint by reducing pressure on our existing facilities and enabling each to remain focused on their current product lines as we continue to meet the demand for our innovative, quality products." said Ken Pucel, executive vice president of operations, engineering and lean at Polaris Industries. "We are grateful to the city of Huntsville and the state of Alabama for their support as we invest in our shared future."
SolarCity
Salt Lake County, Draper, Utah
SolarCity installs one out of three solar systems in the U.S. Because less than 0.1 percent of electricity in the U.S. comes from solar power, there is massive market potential for expansion.
This huge market opportunity drove SolarCity's decision to build a regional corporate headquarters in Draper, Utah, resulting in up to 4,000 jobs and $94 million in capital investment over the next 10 years. The location will house human resources, finance, legal, accounting, marketing, sales and more.
Founded in 2006, SolarCity has more than 200,000 residential customers throughout 18 states. The company currently employs more than 12,000 nationwide.
"We've chosen Utah as a regional headquarters because of its educated workforce and affordable cost of living for those in the professional roles we will create in the Beehive State," said Brendon Merkley, executive vice president of customer operations at SolarCity and an alumnus of Brigham Young University. "In addition to creating many skilled labor and technical roles, the growing solar industry also has increased demand for professional services and supporting functional roles."
The wages for these 4,000 new employees are expected to exceed 125 percent of the county's average wage. The project is projected to bring in over $110 million in state taxes over 10 years.
"SolarCity's choice of Utah for its regional headquarters is a reflection of the vibrant growth of alternative energy companies in the state," said Val Hale, executive director of Utah Governor's Office of Economic Development (GOED). "The creation of thousands of jobs over the coming decade is likely only a beginning."
"Utah is well-positioned to help SolarCity grow its regional corporate headquarters in the U.S.," said Jeff Edwards, president and CEO of the Economic Development Corporation of Utah. "This is a win for the state's alternative energy industry."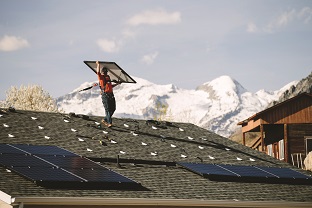 Vivint Solar
Utah County, Lehi, Utah
Vivint Solar is a fast-growing, homegrown Utah company that finds its future bright in Utah. Over the next 10 years, the solar company will expand its headquarter operations in the state. This is expected to generate more than 3,100 jobs in conjunction with an estimated $91 million in additional capital investment within the state.
Launched in 2011, Vivint Solar designs, installs, leases and provides monitoring services for residential rooftop solar energy system customers. As of the end of the first quarter of 2015, Vivint Solar had installed more than 40,000 distributed solar energy systems on the homes of residential customers throughout the United States.
"Vivint Solar is proud to be headquartered in Utah," said Greg Butterfield, CEO of Vivint Solar. "Utah has cultivated a hardworking, innovative workforce and we are excited to continue to expand our operations in the Beehive State."
Vivint Solar's thousands of new jobs will be significant, with average wages expected to be 125 percent of the Utah County average wage. These jobs are expected to bring in $1.1 billion in state wages and generate $49.4 million in state tax revenues over 10 years.
"Vivint Solar was started right here in Utah and is an important contributor to our vibrant alternative energy industry," said Jeff Edwards, president and CEO of the Economic Development Corporation of Utah. "We are excited to see them continue to grow in the state."
"It's always exciting to see a homegrown company become so successful," added Val Hale, executive director of Utah Governor's Office of Economic Development (GOED). "GOED's mission is not only to recruit new businesses to the state, but to also promote the expansion of Utah businesses. We are pleased with Vivint Solar's contributions to the state's energy industry."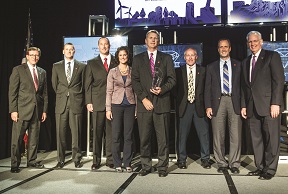 Owens Corning
Jasper County, Joplin, Missouri
In 2011, the rural city of Joplin, Missouri, population 50,000, was devastated by a tornado that caused $2.8 billion in damage. While the tenacious community has rebuilt itself, the news that Owens Corning is coming to town is especially good news.
Fortune 500 building-material manufacturer Owens Corning is investing $90 million in Joplin to purchase and fully equip a 303,000 square-foot facility for building material manufacturing. Families in the region will benefit from over 100 new jobs and an increased tax base. The company expects the facility to be fully operational in 2016.
"Our county has benefitted from a long manufacturing history at this location," said County Commissioner Darius Adams. "Owens Corning's decision to locate in this building not only breathes life back into a once vacant building, but it goes beyond with its substantial capital investment and creation of high-quality manufacturing jobs for the area."
Owens Corning is a global manufacturer of insulation, roofing and fiberglass composite. The new Joplin facility will manufacture its Thermafiber brand of mineral wool insulation for commercial, residential and industrial applications. Thermafiber mineral wool resists fire and temperatures exceeding 2,000 degrees Fahrenheit and provides sound control and energy efficiency. 
"As a company that only operates in markets with attractive, long-term macro drivers such as global industrial production, material substitution, U.S. housing and energy efficiency, our decision to locate in Joplin says a lot about the region and the state. Our new location puts us close to attractive markets and accessible raw materials, a decision we believe will result in higher productivity and an increase in efficiency," said Julian Francis, president of Owens Corning Insulation. "We will both benefit from Missouri's reputable workforce. As demand for mineral wool increases, we will need many hands on deck to fulfill orders and we are eager to tap into the state's talent."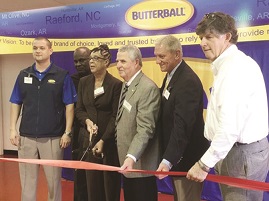 Butterball
Hoke County, Raeford, North Carolina
Butterball, headquartered in Garner, North Carolina, is the largest producer of turkey products in the U.S., producing more than one billion pounds of turkey each year. News that it plans to expand its operations to Raeford, North Carolina, was met with cheers, because Hoke County is one of the most economically distressed counties in the state.
Butterball will invest $66.75 million in Raeford over the next three years will create 367 new jobs. The poultry producer will repurpose the former House of Raeford turkey processing facility. According to the company, the average payroll will exceed $10.6 million.
House of Raeford announced in July 2013 that it would close three facilities in Hoke County, which would result in laying off as many as 950 employees. Butterball was also able to tap into an existing skilled labor pool, allowing displaced workers the opportunity to re-enter the workforce. 
Don Porter, executive director of the Hoke County Economic Development Commission, said Butterball would "put a big dent" in the jobs lost by House of Raeford's shuttering.
"We are thrilled to expand our presence in Raeford," said Kerry Doughty, Butterball president and chief executive officer. "We've enjoyed our relationship with the community throughout the years, and we are proud to continue building that relationship."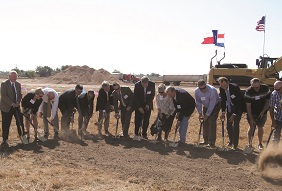 Lone Star Dairy Products
Randall County, Canyon, Texas
Lone Star Dairy Products, Inc. is bringing a $50 million milk processing facility and up to 60 new jobs to Canyon, Texas, a city with a population of only 14,400. More significantly, it's the first taxable industry in the town's history.
According to their city manager, Randy Criswell, the construction of Lone Star Dairy Products will be one of the biggest things to happen to Canyon and Randall County in their history. "We've had no real taxable industry in Canyon to my knowledge, ever. Now, we will. And the potential for spin-off businesses is highly and equally exciting."
Lone Star Dairy's plant is designed to process approximately 2.5 million pounds of milk each day and will be capable of manufacturing cream, condensed milk, butter and various premium dairy powders. The milk – received by the plant – will come from local dairy farmer members in the immediate area. Because milk is about 87 percent water, the plant is incorporating technology to separate and clean the water.  
Jim Baird, Lone Star's president said, "Technology today can take the water to potable levels. At a time when water is scarce, Lone Star is proud to invest in technology that helps conserve our water resources."  About 90,000 gallons per day of clean water will be available to the City of Canyon to irrigate nearby soccer fields, baseball fields and other city or county property.
The net economic impact of this new facility on the region is expected be $73 million in the first 10 years.
"Each dollar turns over seven times, with an anticipated payroll of about $4 million," Criswell said. "Plus, hopefully some, if not all, of the employees will live in Canyon and buy homes here. Then, they'll spend money here, which will boost our economy. As far as the plant, we add $680,000 to our property tax collections over the next 10 years. That is truly a significant event for Canyon."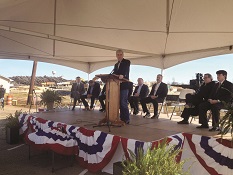 Winston Plywood and Veneer
Winston County, Louisville, Mississippi
In April 2014, a devastating tornado ripped through Louisville, Mississippi, and destroyed the Natron Wood Products facility in Louisville. Since that time, the company renamed itself Winston Plywood and Veneer as the result of a merger between Atlas Holdings (80 percent) and Natron (20 percent) – and has remained committed to rebuilding and expanding its operations in Louisville.
It recently broke ground for a new $50 million manufacturing facility that will create 400 new jobs. In addition to the investment made by the company, disaster recovery funds from the Federal Emergency Management Agency will also be used to build the new facility.
"Winston Plywood and Veneer has forged a unique partnership with the state of Mississippi, Louisville Mayor Will Hill and Winston County to not only rebuild this plywood mill, but to help this region recover," said Dr. Richard Baldwin, president of Winston Plywood and Veneer. "That daily collaboration since the first moments after the tornado hit has delivered the resources and focus we needed to be here today, with construction on a new, state-of-the-art plywood mill officially underway. This will be a great facility and will enhance the quality of life in this community for many years to come."
"I am grateful to the Winston Plywood and Veneer team for their steadfast dedication to the Louisville community and the state of Mississippi following the tornado that devastated the area last spring. Their decision to rebuild here – bigger and stronger than ever – and create these new jobs demonstrates the commitment the company has made to the citizens of Louisville and Winston County," Mississsippi Governor Phil Bryant said. "This milestone serves as a testament to the world that we have a strong, supportive business climate that fosters growth and success, and I look forward to watching the company thrive in Louisville for years to come."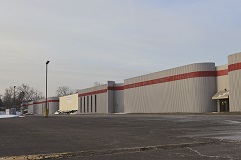 NuVasive, Inc.
Montgomery County, West Carrollton, Ohio
NuVasive, Inc. is a San Diego-based medical device company focused on transforming spine surgery with minimally disruptive, procedurally integrated solutions. It's now transforming a long-dormant former auto facility in West Carrollton, Ohio, with a $45 million investment in a spinal implant and instrument manufacturing facility.
The project will bring high-tech positions, including engineers and skilled machinists, as well as process development and validation specialists who will work with the company's research and development teams to optimize and accelerate product launches.
The NuVasive project supports Ohio's fast-growing biohealth sector. It keeps 97 jobs in Ohio, and will bring an additional 195 jobs.
The positions will have an average annual salary of $48,000, and the operation's payroll is estimated at $14.2 million upon full employment in 2018, according to West Carrollton City Manager Brad Townsend.
"We are happy to announce that we have selected a site in West Carrollton, Ohio, as the location for our new medical device manufacturing facility. The site selection and subsequent build-out is a major step forward in our efforts to enhance our manufacturing presence in the United States to support the self-manufacture of nearly 100 percent of select spinal products and instruments," said Gregory T. Lucier, NuVasive's chairman and CEO. "With this new facility and our longer-term plans to also expand our manufacturing footprint globally, we expect to increase customer responsiveness, dramatically improve inventory turns and speed up design time velocity to more efficiently meet the growing demand for our innovative spine technology. Our Ohio workforce is a critical part of our ongoing success."
"West Carrollton is pleased to become the home of one of the largest advanced manufacturing facilities in southwest Ohio," added Mayor Jeff Sanner.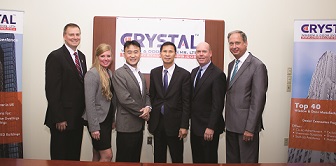 Crystal Window and Door Systems
Lackawanna County, Benton Township, Pennsylvania
They say when one door closes, another opens. That's certainly true in Benton Township, Pennsylvania.
Crystal Window and Door Systems recently acquired a 226-acre property in northeastern Pennsylvania that was formerly owned by Owens Corning Glass. It's developing the 336,500 square-foot facility to produce aluminum windows and has already created more than 230 new jobs. Because the facility where Crystal manufactures its products had sat vacant for several years, the venture is a tremendous boost to Lackawanna County and the entire northeastn Pennsylvania region.
New York-headquartered Crystal Window and Door Systems is a leading manufacturer of replacement and new construction vinyl and aluminum window and door products. The company had a highly aggressive development plan for this Benton Township facility. It announced the acquisition of the property in October, 2015 with expectations to begin manufacturing there by February, 2016. Crystal eventually plans to double its size to more than 500,000 square feet to house all of its 20 product lines and produce more than 400,000 units per year.
The company came to Pennsylvania through the efforts of Irene Tsai, Pennsylvania's representative in Taiwan and Crystal Window's CEO, Thomas Chen. Chen looked at a number of sites across the country and around Pennsylvania before choosing the Scranton-area site. The logistics of northeast Pennsylvania — with its relative low cost and close proximity to New York City — make Scranton the perfect choice for Crystal Window and Door Systems because it sells its products in all the major metropolitan areas of the East Coast.
"We are excited to expand in northeastern Pennsylvania. Crystal has many customers and now business friends in the region, and we know the potential for manufacturing expansion here is terrific. We're looking forward to being an important part of the northeastern Pennsylvania business community," said Thomas Chen, Crystal founder and CEO.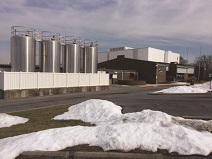 Pinnacle Foods
Washington County, Hagerstown, Maryland
Washington County, Maryland, has struggled since the Great Recession. In June, 2015, it had the 10th-highest unemployment rate in the state. In Hagerstown, there is a manufacturing site that has similarly struggled. That's changing because Pinnacle Foods is coming in.
Pinnacle Foods, a leading producer, marketer and distributor of high-quality branded food products in the U.S., is locating its new manufacturing facility there, creating up to 125 full-time jobs. Pinnacle plans to hire 200 employees over the course of five years. The plant is slated to become one of the county's larger, private-sector employers.
This project is especially significant because the Hagerstown manufacturing site has had a rocky history. The 142,000 square-foot facility was operated by Unilever as an ice cream plant until it closid in mid-2012, leaving nearly 400 workers without jobs. Around a year later, a milk-processing venture of Valley Pride, under the Shenandoah Family Farms brand, bought the plant and grew employment to around 45 workers before closing in January 2015.
The facility will produce Pinnacle's gardein™ brand of plant-based protein. The brand's frozen, plant-based foods serve as alternatives for traditional animal-based products such as chicken strips and tenders, ground beef and fish fillets. Pinnacle is known for its iconic brands such as Birds Eye®, Duncan Hines®, Wish-Bone®, Log Cabin® and others.
The meatless food product line is quickly outgrowing the capacity of the company's facility in Vacouver, Canada, said Pinnacle Spokeswoman Sarah Tremallo. "It makes sense to add production capability along the U.S. East Coast," she added.
"Pinnacle is pleased to be establishing a manufacturing presence in Hagerstown and working with both the community and the state of Maryland," said Robert J. Gamgort, CEO of Pinnacle Foods. "Gardein is a rapidly-growing, health and wellness brand that continues to expand its award-winning product offering and retail footprint, and this new facility will provide important capacity to enable the brand's continued growth."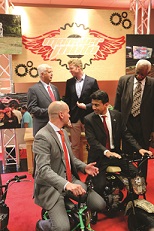 Monster Moto
Lincoln Parish, Ruston, Louisiana
The City of Ruston, home to Louisiana Tech University, once operated a municipal airport. The facility was replaced by a regional airport in the early 1990s and sat dormant for a quarter-century.
In 2015, the State of Louisiana, the North Louisiana Economic Partnership and the City of Ruston teamed up with Monster Moto to breathe new life into the former airport site. Thanks to an inventive public-private partnership, Monster Moto is consolidating its manufacturing operations from China and its headquarters from Texas, moving to a new 100,000 square-foot manufacturing and operations center the company will build on the site of the former airport.
Founded in 2013, Monster Moto designs, manufactures and distributes gas- and electric-powered minibikes and go-carts. The company occupies a unique space in the U.S. motorcycle manufacturing industry, marketing affordable and easy-to-operate, off-road vehicles primarily to the youth market. After launching sales in May 2014, the company experienced significant success in its first year of operation, with projected first-year revenue in excess of $5 million.
While components for Monster Moto minibikes and go-carts will continue to be manufactured overseas, the parts will be delivered to Ruston where the vehicles will be assembled.
Monster Moto will create 287 new direct jobs over the next decade, with an average salary of $46,800, plus benefits. Louisiana Economic Development estimates the project will result in an additional 292 new indirect jobs, for a total of more than 570 new jobs in North Louisiana. What's more, the company will develop a partnership with Louisiana Tech's College of Engineering to help develop new products and to enhance Monster Moto's existing product line.
"We are thrilled to be moving our operations from China and on-shoring American jobs. We are even more thrilled with our new partners, the State of Louisiana and the City of Ruston, who have been incredibly supportive, business-friendly and deserve a lot of credit. Controlling our own factory operation will increase production flexibility, quality control and product innovation, all at an extremely competitive cost. This is a huge win for our customers. On top of all of this, our partnership with Louisiana Tech will help our brand reach its full potential," said Alexander Keechle, CEO of Monster Moto.
About the Author