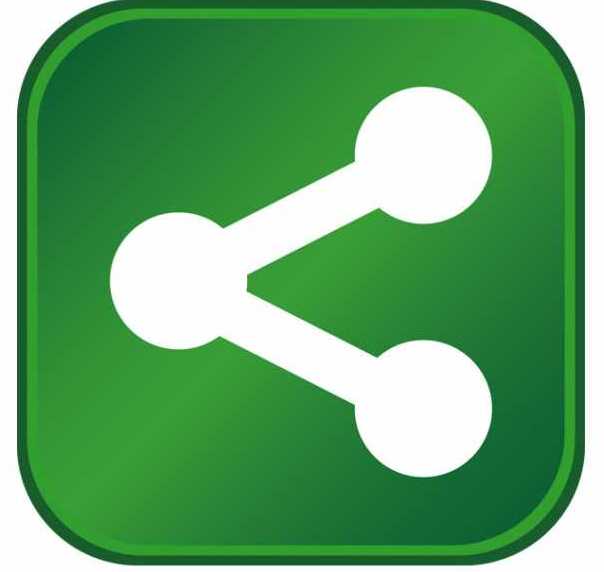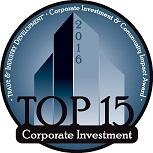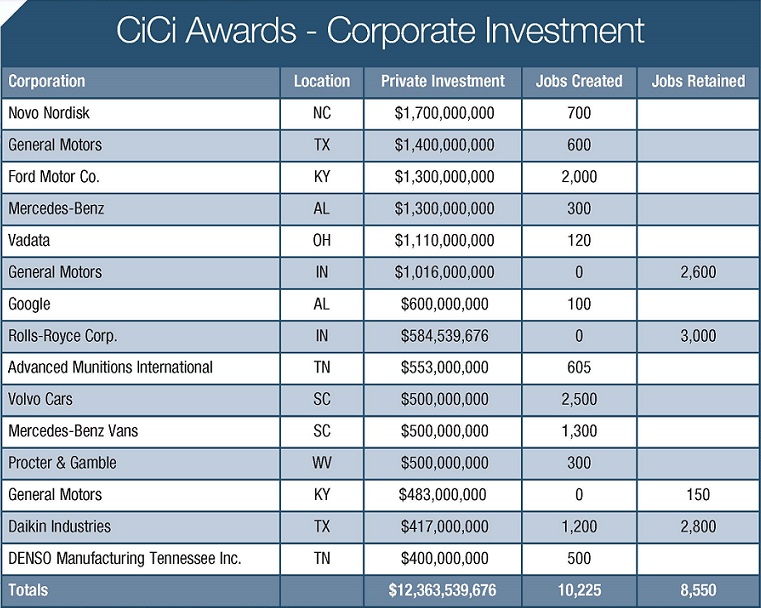 The 2016 CiCi Corporate Investment category will impress you with the whopping amount of money being poured into local economies by corporations honored here. The total capital investment committed to in 2015 by the 15 CiCi Award recipients select by Trade & Industry Development for the 2016 CiCi Awards Corporate Investment category totals more than $12.3 billion. Six projects, in fact, are destined to each invest more than $1 billion apiece – which is even more than last year.
This year, eight projects are engaged in the automotive or auto parts manufacturing industry. Three are investments by General Motors. The GM announcements are destined for Arlington, Texas; Roanoke, Indiana; and Bowling Green, Kentucky. While some of the eight automotive projects in the CiCi Awards Corporate Investment category are located in auto manufacturing hubs, others are located elsewhere, reflecting the diversity of the manufacturing economy in the United States.
Another featured project is by a company probably best known for its automobiles, but it also has vested interests in other industries. That company is Rolls-Royce Corp., which is investing $600 million to upgrade its aerospace engine facility in Indianapolis, Indiana, where it designs, engineers and manufactures engines for government and military aircraft and business jets.
Other investments have the potential to create a hub in their region. In central Ohio, Vadata, a subsidiary of Amazon Web Services, is constructing and locating a cluster of data centers there – an initial fixed asset investment of $1.1 billion.
Data centers are a fixture in today's digital era, so it's not surprising that more than one 2016 CiCi Corporate Investment recipient is a business involved in data centers. In addition to Vadata, the other data center project receiving a 2016 CiCi Corporate Investment Award is Google's new $600 million data center in tiny Bridgeport, Alabama (population 2,392). This highly efficient data center is located on the site of the decommissioned coal-fired Widows Creek Power Plant and brings 100 jobs to the area.
The 2016 CiCi Awards demonstrate that corporate investment is alive and well in the United States. Each of the 2016 CiCi Corporate Investment recipients is bringing in hundreds or even thousands of jobs – and behind each job is a very human story of family, community and dreams.
Each of these 15 projects is made possible by the tremendous assistance and resources from local, regional and state economic development entities. They show corporate site selectors who are looking for the right location for their venture what's possible when private and public entities work together.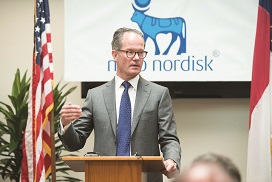 Novo Nordisk
Johnston County, Clayton, North Carolina
Denmark-based Novo Nordisk is a leading global manufacturer of insulin and related diabetes treatment products, employing 39,700 people across 75 countries. Soon, its payroll will boast of 700 more people with an expansion of its facility in Clayton, North Carolina.
The company will invest from $1.2 to $1.7 billion at its local site over the next five years. With the expansion, the North Carolina plant will manufacture active pharmaceutical ingredients for its diabetes care products. Previously, the company had manufactured its active ingredients only in Denmark. Jobs at this production site will average $68,420 per year – double the current average of $34,448 per year in Johnson County.
"For some time, we have been evaluating several options to bring more capacity into the United States because of this great need for diabetes medicines. After a thorough evaluation of multiple sites and an extensive vetting process, Clayton ended up being our preferred location," said Jesper Høiland, president of Novo Nordisk Inc. USA and executive vice president Novo Nordisk A/S. "We already have a large and very professional organization here, and have been impressed by the excellent collaboration we have had with this city, county and state leadership, and appreciate the incentives they have secured in connection with this investment."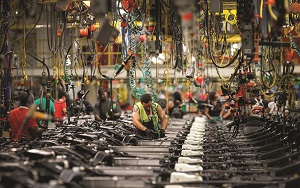 General Motors
Tarrant County, Arlington, Texas
General Motors has been in Arlington, Texas, for 61 years. It would have been easy for the company to leave an aging facility and move elsewhere, but it did not. Instead GM chose to expand once again in Arlington, investing $1.4 billion, creating roughly an additional 600 jobs and adding an additional 1one million square feet for manufacturing. The project will take three years to complete and includes a new paint shop, body shop, machinery and equipment.
The plant builds full-size SUVs — Chevrolet Tahoes, GMC Yukons and Cadillac Escalades — vehicles that generate some of GM's highest profits. According to a local source cited by City of Arlington Office of Economic Development, in 2014, GM's net profit was $6.5 billion, and $3 billion of that was from the Arlington, Texas, facility.
Arlington Mayor Jeff Williams said, "We have a winning tradition of innovative thinking and teamwork. Let's keep this partnership going."
"This super-sized investment reflects GM's commitment to our full-size SUV customers who expect nothing but the absolute best from us and their vehicles," said Cathy Clegg, vice president of GM North America manufacturing and labor relations. "Today's investment will contribute to Arlington Assembly's winning tradition marked by strong customer focus, innovative thinking and teamwork."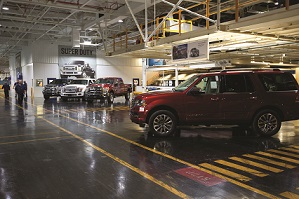 Ford Motor Company
Jefferson County, Louisville, Kentucky
Ford Motor Company's F-Series Super Duty truck is super popular. To meet growing customer demand, Ford is investing $1.3 billion in its Kentucky Truck Plant in Jefferson County and adding 2,000 jobs – which will increase production capacity by an estimated 15 percent. Ford's investment supports facility upgrades, retooling, significant automation and improvements in the body and paint shops.
This ensures the plant will be ready to produce the all-new, aluminum body in the 2017 line of the Super Duty pickups and Chassis Cab trucks. The all-new 2017 F-Series will be made with advanced materials including high-strength aluminum-alloy bodies, saving up to 350 pounds per vehicle. 
Ford's Kentucky Truck Plant employs about 4,420 hourly workers represented by the United Auto Workers' Local 862 and another 227 salaried workers. About 500 employees have been added this year with another 1,500 to come on by next summer just before production of the 2017 Super Duty begins, said Kentucky Truck Plant manager Joe Bobnar.
"Ford has a long-standing tradition of creating quality vehicles and quality jobs in the Commonwealth. Kentucky is already the third-largest auto-producing state in the country, and Ford's expansion will push us closer to the top," said former Kentucky Governor Steve Beshear.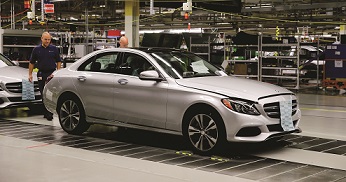 Mercedes-Benz
Tuscaloosa County, Vance, Alabama
"Project Gateway" is much more than an inspirational name. It represents Mercedes-Benz's $1.3 billion major expansion in its Vance, Alabama, plant, preparing the factory to launch production of the automaker's next-generation sport utility vehicles, including hybrids. Project Gateway sets the facility on a new path of technological advancement and is the latest in a series of a half-dozen expansions at the Alabama facility, where production was launched in 1997.
The expansion will add 300 jobs to the current total of 3,500 full-time team members. Significantly, at least 50 of the new positions will be in engineering, reflecting a priority for Alabama's economic development team, which is taking aim at knowledge-based jobs. Annual payroll for the new jobs is projected at $12.8 million.
Mercedes' new investment comes at a time of dramatic growth for the German automaker's manufacturing hub in Tuscaloosa County. Output at the 3.7 million square-foot plant reached 300,000 vehicles in 2015, an increase of more than 60 percent from the facility's 2013 production level. Once the expansion is complete by 2018, Mercedes' investment in Alabama will reach $5.8 billion.
The expansion will add a new 1.3 million square-foot body shop and bring major enhancements to the plant's SUV assembly shop, which will be expanded by 140,000 square feet. The plant's logistics and IT systems will be upgraded. These state-of-the-art technologies and an end-to-end digitization of production processes are designed to enable highly flexible production.
"In the next years, we will invest $1.3 billion into the expansion of our SUV production and turn the Mercedes-Benz plant Tuscaloosa into a high-tech location. In this way, we can produce the next SUV generations even more flexibly, efficiently and in proven top quality," said Markus Schäfer, member of the Divisional Board Mercedes-Benz Cars, Manufacturing and Supply Chain Management.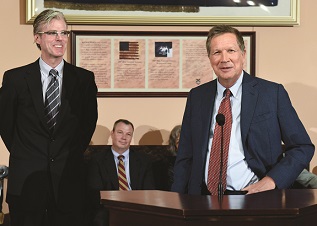 Vadata (A subsidiary of Amazon Web Services)
Dublin (Franklin County), New Albany (Franklin/Licking Counties) and Hilliard (Franklin County), Ohio
Retailer Amazon.com is known for its mammoth online presence nationwide. In central Ohio, it willl also be known for its data centers.
Amazon.com, parent company to Amazon Web Services and Vadata, is constructing and locating a cluster of data centers in three Central Ohio communities – Hilliard, Dublin and New Albany. The project will result in an initial fixed asset investment of $1.1 billion, which will include construction and data center equipment. At least 120 net new direct jobs will be created within three years from 2015.
The project will establish the area as a cloud computing and technology hub as this is the first cloud computing center in the Midwest with the global scale of Amazon Web Services. JobsOhio worked in partnership with Columbus 2020 as well as officials from the cities of Hilliard, Dublin and New Albany to develop an incentive package that helped win the project over numerous undisclosed states.
"We could not have picked a better partner than the state of Ohio. Working with the state over the past year has been a real delight for us. We had a terrific opportunity. We wanted to build out facilities for our cloud computing business, but also facilities for our other lines of business and other areas. The state's central location, its great workforce and strong economy, they are hard to miss," said Paul Misener, vice president of global public policy for Amazon.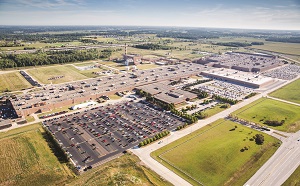 General Motors
Allen County, Roanoke, Indiana
General Motors will invest more than $1 billion to expand and enhance its Fort Wayne Assembly plant's existing 1.3 million square-foot campus located in Roanoke, Indiana. GM has already invested more than $1.3 billion in the facility since the 1980s. As a major employer in the area, GM's decision to stay is retaining more than 2,600 jobs.
"The expansion of the Fort Wayne General Motors facility is a tremendous commitment because it not only cements GM's future in the Allen County community, but it also ensures that we will continue to employ Northeast Indiana residents for years to come," said Allen County Commissioner Nelson Peters.
The new construction, which is expected to total approximately 1.5 million square feet of new space at the plant, will include a new pre-treatment facility and expanded body shop, as well as an expansion of its general assembly capabilities. The upgrades will improve the plant's efficiencies while equipment upgrades will enhance technology and energy efficiency, helping to further reduce emissions. 
"The upgrades taking place at Fort Wayne Assembly assure we can meet consumer demand and grow customers for life for years to come," said Cathy Clegg, vice president of GM North America manufacturing and labor relations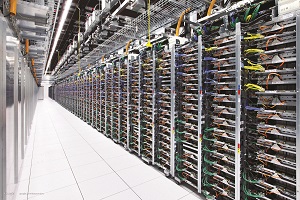 Google
Jackson County, Bridgeport, Alabama
In the tiny town of Bridgeport, Alabama, population 2,392 in 2013, Google is making a huge investment. The Internet behemoth is planning to build a $600 million data center that will create up to 100 jobs at a state-of-the-art facility powered by 100 percent renewable energy.
The highly efficient data center will act as a hub for Internet traffic, operating in a network that keeps the Google search engine and company products such as Gmail and YouTube up and running for global users 24 hours a day, seven days a week. The Alabama facility will be Google's 14th data center in its global network.
Google could have built its data center anywhere in the world, but the company chose to locate it on 350 acres of land at TVA's coal-fired Widows Creek Power Plant, which was being decommissioned. TVA will assist Google in delivering renewable energy to power the facility.
"For more than 50 years, the Widows Creek Power Plant has generated electricity for the region. Now the site will be used to bring Internet services and information to people around the world — powered by 100 percent renewable energy. We see a lot of potential in redeveloping large industrial sites like former coal plants, and we're excited to bring a data center to Alabama," said Gary Demasi, director of global infrastructure at Google.
Google's Bridgeport data center is expected to generate a significant economic impact in the area, totaling $129 million over 20 years, according to Alabama Department of Commerce estimates.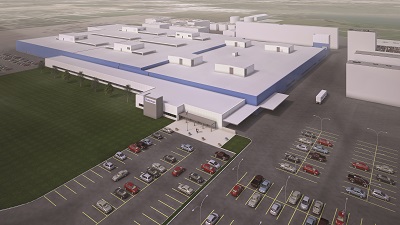 Rolls-Royce Corporation
Marion County, Indianapolis, Indiana
For 100 years, Rolls-Royce and its predecessor companies have been engineering, designing and manufacturing advanced technology in Indiana. Engines designed, assembled and tested in the state power numerous business jets, U.S. Department of Defense aircraft and U.S. Naval Vessels such as the F-35B Lighting II, C-130J Hercules, V-22 Osprey and Global Hawk UAV.
Now, the company is planning to invest nearly $600 million to modernize and upgrade its Indianapolis operations, enabling the company to become more competitive within the growing aerospace industry. Rolls-Royce's investment is the company's largest in the U.S. since buying the former Allison Engine Company in 1995.
"Our new facility will be a state-of-the-art manufacturing center that combines modern production systems and machinery with a highly skilled workforce," said Marion Blakey, president and chief executive officer of Rolls-Royce North America. "This investment ensures that we can increase our competitiveness in the market, which will benefit both our customers and Rolls-Royce."
The upgrades will reduce costs by replacing outdated infrastructure and equipment, which date back to World War II, and will reduce utility costs by eliminating unused space and consolidating operations.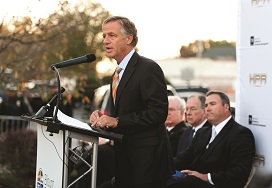 Advanced Munitions International
Blount County, Alcoa, Tennessee
In Alcoa, Tennessee, Advanced Munitions International (AMI)'s plan to build a global headquarters and state-of-the-art munitions manufacturing facility is a sure-fire way to bolster the local economy. AMI will invest $553 million in a new 235-acre campus for its manufacturing, distribution and R&D operations, which will create 605 new jobs.
A global leader in high-end ammunition manufacturing, AMI is known in the firearms industry for its HPR Ammunition brand, a specially formulated ammunition that employs proprietary technology. The company supplies ammunition to the military, law enforcement and civilian markets. The new Alcoa plant, slated to open in 2018, will hire primarily chemists and engineers with backgrounds in metallurgy, engineering, physics and energetics technology.
The proximity to the Oak Ridge National Laboratory (ORNL) was one of the deciding factors to locate in Alcoa.
"When we looked nationally for a site to build this facility, Tennessee stood out as a place with leaders that understand and support strong business growth," said Jim Antich, AMI founder and executive chairman. "Having a resource like ORNL nearby also attracted us to Tennessee and Blount County."
"AMI officials visited the lab during the recruitment process, and we are excited that they have chosen to call East Tennessee home," said Jeff Smith, deputy director for operations at ORNL. "ORNL has resources to offer any company dealing in advanced materials, and we are looking forward to a long partnership with AMI as well as calling them neighbors."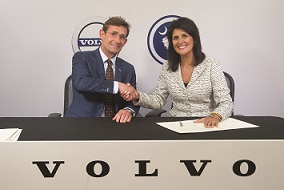 Volvo Cars
Berkeley County, Pringletown, South Carolina
Volvo Cars has never had a manufacturing facility in the Western hemisphere. Until now.
Volvo Car Corporation has selected Berkeley County, South Carolina, for its first manufacturing facility outside of Europe and China. The plant will manufacture the latest-generation Volvo models for sale in the United States and for export and is expected to produce 100,000 cars annually. The first vehicles are expected to roll off the assembly line in 2018.
The new $500 million factory is expected to create 2,500 new jobs over the next decade and up to 4,000 jobs by 2030. A 575-acre first phase would include a 2,000-worker assembly plant, offices and a welcome center. Depending on market conditions, a second phase could be built that would include another assembly plant employing another 1,500 people.
Dr. Frank Hefner at the College of Charleston estimates that as the result of the 2,500 direct jobs, the facility will create more than 8,000 total jobs and contribute approximately $4.8 billion in total economic output on an annual basis.
Volvo Cars chose Pringletown because of the easy access to international ports and infrastructure, a well-trained labor force, attractive investment environment and experience in the high-tech manufacturing sector.
"We're excited to build our first American factory in South Carolina and we look forward to helping grow the local community and economy. We were impressed with the friendliness, work ethic and passion of the people in the Charleston area," said Volvo Cars of North America president and CEO Lex Kerssemakers.
Mercedes-Benz Vans
Charleston County, Ladson, South Carolina
The already-robust economy in Charleston County, South Carolina, began to sprint even faster with the news that Mercedes-Benz Vans will establish a new, full van manufacturing plant there. The new, $500 million plant will supply the North American market with the next-generation Sprinter Van.
The new Sprinter plant in the United States is considered strategically essential for Mercedes-Benz Vans, a division of Daimler, as the large van segment is expected to grow rapidly in North America over the next few years. The Mercedes-Benz Sprinter is the world's leading large van, and more than 2.8 million Sprinters have been delivered to customers in approximately 130 countries worldwide.
The construction of the new plant will begin in 2016, and when complete, the site will cover around 200 acres, including a body shop, paint shop and assembly line. It will also employ 1,300 people who will be building Sprinters badged as both Mercedes and Freightliner models.
"This plant is key to our future growth in the very dynamic North American van market," said Volker Mornhinweg, head of Mercedes-Benz Vans. "Charleston is an excellent location for our new plant. The region has very highly skilled workers, a dense network of reliable suppliers and an outstanding logistics infrastructure that includes good transport connections to the nearby harbor. Just as important is the very good cooperation and support we've experienced at the local, municipal and state levels."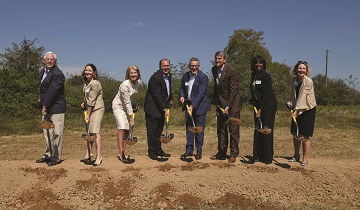 Procter & Gamble
Berkeley County, Martinsburg, West Virginia
When Procter & Gamble was examining more 70 locations as the ideal site to build a new facility, Martinsburg, West Virginia, was the clear choice. This facility is just the second manufacturing location that P&G has built in the United States since 1971 and one of the most advanced and sustainable plants among P&G's global manufacturing and supply-chain operations.
Located on 458 acres, this $500 million facility will employ 300 full-time P&G employees when it opens in 2017 and ramp up to 700 by the time it is fully operational in 2019.
"These are good-paying jobs with great benefits. Through a partnership with Blue Ridge Community and Technical College, P&G is working hard to train its new employees and provide them with the skills they need to succeed in today's jobs and those that will be available well into the future," said West Virginia Governor Earl Ray Tomblin.
The new, multi-category manufacturing plant is part of a redesign of P&G's North American supply network. The West Virginia location will enable P&G to use its new distribution center network in the eastern part of the United States, which includes facilities in Georgia, Ohio and Pennsylvania.
Yannis Skoufalos, P&G's global product supply officer, said, "This new plant will leverage economies of scale and standardized manufacturing platforms to P&G's advantage by allowing us to produce multiple brands at one strategic location. This will enable us to rapidly and efficiently serve retail customers and consumers throughout the eastern half of the United States, reaching 80 percent of them within one-day transit. We look forward to working with our new partners in West Virginia."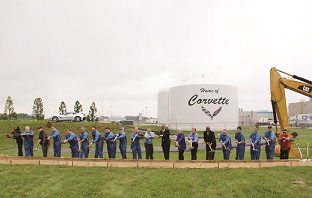 General Motors
Warren County, Bowling Green, Kentucky
In 1981, General Motors began producing the Corvette at its Bowling Green, Kentucky, facility, and the facility has remained the iconic brand's home for over 30 years. Known around the world as America's sports car, the Corvette is the world's longest-running, continuously produced passenger car with more than 1.6 million assembled.
Because of this success, GM has a major expansion in the works at the Bowling Green Corvette Assembly Plant. The automaker will invest $439 million for facility upgrades, including a new paint shop. When completed, the 450,000 square-foot facility will be almost half the size of the company's entire operation in Warren County. The paint shop will receive substantial upgrades in technology, including new tooling, robots and state-of-the-art environmental and efficiency enhancements.
Kai Spande, plant manager at Bowling Green Assembly, said the expansion is due to the success of the Corvette Z06, which has a 6.2-liter aluminum V8 engine that delivers 650 horsepower and 650 pounds per feet of torque. The Corvette Z06 accounts for nearly a third of all Corvettes produced at Bowling Green Assembly.
In addition, GM is investing $44 million in the Bowling Green Assembly plant to support increased capacity of its Performance Build Center, adding 36 new jobs. The Performance Build Center offers a "Build Your Own Engine" program that provides customers the opportunity to assemble a 650 horsepower engine for their new Corvette.
"GM has committed $483 million to Bowling Green this year alone," said Spande. "These significant investments indicate the company's confidence in Bowling Green, the Performance Build Center and our skilled workforce."
"The Corvette is one of Kentucky's most-cherished icons," said former Kentucky Lieutenant Governor Eugenia Crittenden Blackburn "Crit" Luallen. "Such a significant expansion of the Bowling Green Assembly Plant will help the company remain competitive in the region and around the world."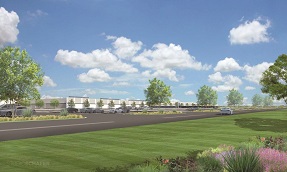 Daikin Industries
Harris County, Hockley, Texas
The Houston area is well known for its dominance in the energy industry. With Daikin Industries' announcement of a $417 expansion, the area will also be known for the production of high-efficiency heating and cooling systems for residential, commercial and industrial applications.
Daikin Industries' new 4,000,000 square-foot manufacturing and logistics campus will be home to 4,000 people. The project will create about 1,200 new jobs and 2,800 retained jobs through employees transferring from out-of-state facilities and those already working locally for the company's Goodman Manufacturing Co., which Daikin Industries acquired in 2012.                
The company produces ducted and ductless AC systems under the three separate brand names: Daikin, Goodman and Amana. The expansion consolidates much of the current footprint from its various brand operations in Texas and Tennessee.
"Our successful growth has fueled the need for additional manufacturing capacity. The new campus will allow us to dramatically increase our production efficiencies and enable us to continue to serve our customers better than ever before," said Sam Bikman, SVP of global supply chain for Goodman. "The integration of our engineering, procurement, logistics, manufacturing and marketing functions at the same location will facilitate and expedite our ability to respond proactively to customer needs."                                                            
"The new business campus will provide many outstanding benefits to our customers," said Takeshi Ebisu, president and CEO, Daikin North America. "The operational efficiencies we achieve will be reflected in the superb quality of our high-efficiency, energy-saving heating and cooling systems. We are excited about the outstanding value this move will bring to our current and future customers. We see this new business campus as a strong, long-term commitment to our North American customers."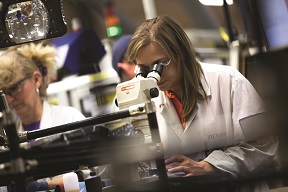 DENSO Manufacturing Tennessee, Inc.
Blount County, Maryville, Tennessee
DENSO Manufacturing, headquartered in Kariya, Japan, doesn't do things small. It's a leading global automotive supplier of advanced technology, systems and components in the areas of thermal, powertrain control, electronics and information and safety, supplying all of the world's major carmakers.
It is also Blount County, Tennessee's largest employer, with a workforce of more than 3,100 employees. DENSO will expand its automotive components and systems manufacturing plant in Maryville, making it one of the largest operating campuses in the company's worldwide operations.
A key supplier of advanced technology to the automotive industry, DENSO Manufacturing Tennessee produces starters, alternators, instrument clusters and a wide range of electronic components and systems. The Maryville campus consists of four manufacturing plants on 194 acres and has already undergone eight major expansions.
The project will create 500 new jobs and an investment of $400 million to expand its manufacturing capabilities and construct a new warehouse. Due to expanded production needs at two of the company's manufacturing plants, the existing warehouse will be converted to manufacturing space and a new consolidated warehouse will be built on the company's current campus.
"Thanks to our skilled associates and their dedication to manufacturing the highest-quality automotive technology, DENSO remains committed to investing in this region and creating jobs," said DENSO Manufacturing Tennessee President Jack Helmboldt.
Special Mention of Astounding Energy-Related & Natural Resource Investments in Louisiana
It was a banner year in 2015 for Louisiana as it announced  astounding sums of capital investment for economic development projects related to natural gas that are planned to become a reality in the state. In fact, the state of Louisiana as a whole submitted for CiCi Award consideration eight projects announced in 2015 that will capitalize on the state's natural resources, and specifically for most of them, natural gas. These eight companies are:   
Eurochem, with a $1.5 billion investment; Monsanto, with a $1 billion investment; Pin Oaks Holdings, with a $600 million investment; Shell Chemical, with a $727 million investment; plus Formosa's $9.4 billion investment; Live Oak LNG's $2 billion investment; Axiall & Lotte's $3 billion investment and Shintech's $1.4 billion investment.
The total amount of capital investment by these companies in the state of Louisiana: a very impressive $18.6 billion. There is no question the impact of these investments is tremendous.
Trade & Industry Development applauds these companies and the state of Louisiana. 
About the Author