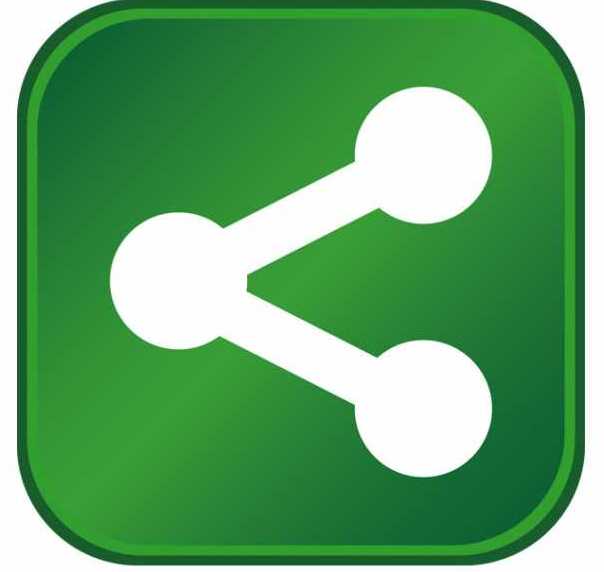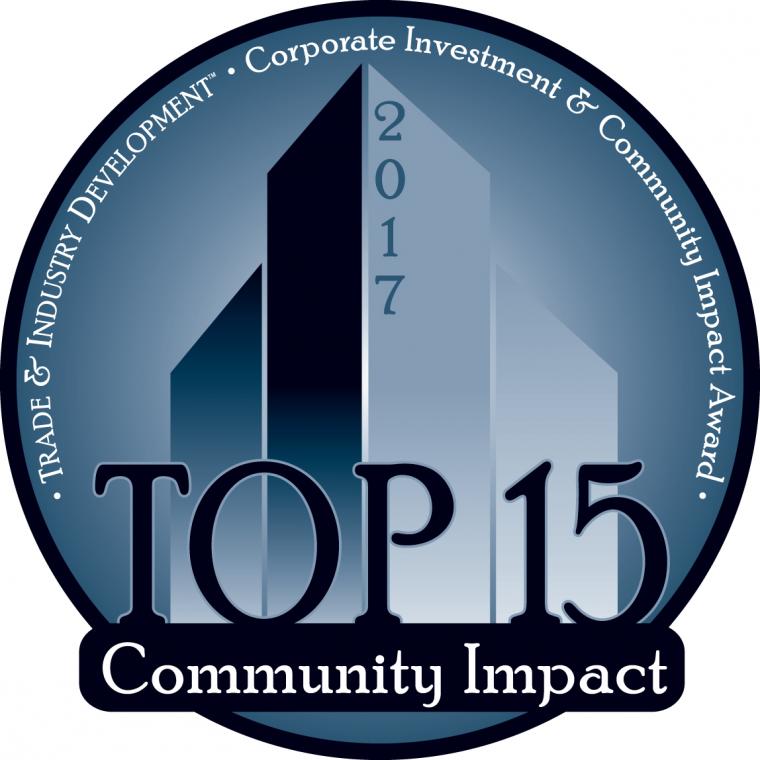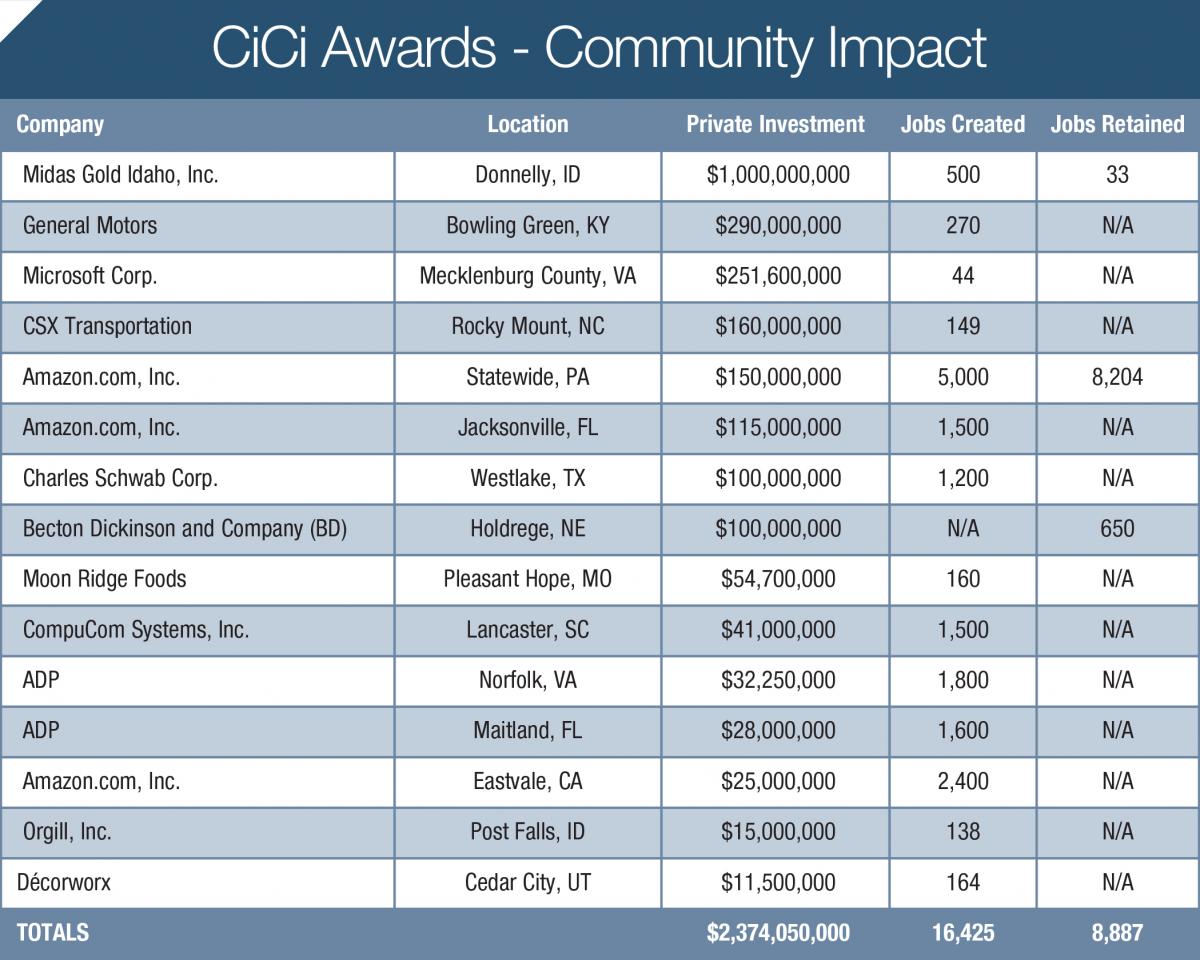 It's hard to capture the immeasurable impact businesses can have on a community, yet the CiCi Awards Community Impact category does just that.
The 12th Annual CiCi Community Impact category celebrates projects that are making their communities a better place. From revitalizing the local environment to bringing hope by providing much-needed jobs, these companies are beacons of light. 
This year, the 15 Community Impact projects are worth a total of $2,374,050,000 in capital investment. But what that number doesn't reflect are the 16,425 new jobs and 8,887 retained jobs – many in areas that desperately needed them. To those more than 25,000 families, these companies represent livelihoods. To their cities and towns, these companies are enough to spur revitalization and provide momentum to encourage other businesses to join them.
Each Community Impact story came to fruition through the tireless efforts of community leaders, local economic development authorities and state officials, along with the decisive leadership at each company that took a chance in its location decision.
This year, like every year, it's difficult to select only 15 projects for our Community Impact awards. But every single 2017 recipient has a fantastic story behind it.
Our 2017 Community Impact projects include Midas Gold Idaho, an environmental success story. The mining company located large deposits of gold and antimony in Donnelly, Idaho. But rather than mine the area for all it's worth, Midas Gold plans to leave the ecosystem of the area better than it is today. This includes reconnecting streams and waters, creating wetlands and repairing water quality. On top of that, the company expects to invest $1 billion over 20 years in the area.
Another notable project is CSX in Edgecombe County, North Carolina. The transportation giant initially announced plans to move to another county in the state and after significant community pushback there, it considered moving out of the state entirely. After heroic collaborative efforts between local developers in the county, the Economic Development Partnership of North Carolina and the North Carolina Department of Transportation, CSX chose to locate in Edgecombe County's Rocky Mount, bringing hundreds of much-needed primary and secondary jobs to a predominantly rural county.
Amazon.com, Inc.  is another company making a huge impact. This year, it is on our Community Impact list three different times, for multiple projects in Pennsylvania, Florida and California. Not to be outdone, ADP received two Impact awards this year for projects in Virginia and Florida.
Those are just several of the stories. Read them all and see for yourself what sort of impact a business can have on our nation's communities – and the people who live within them.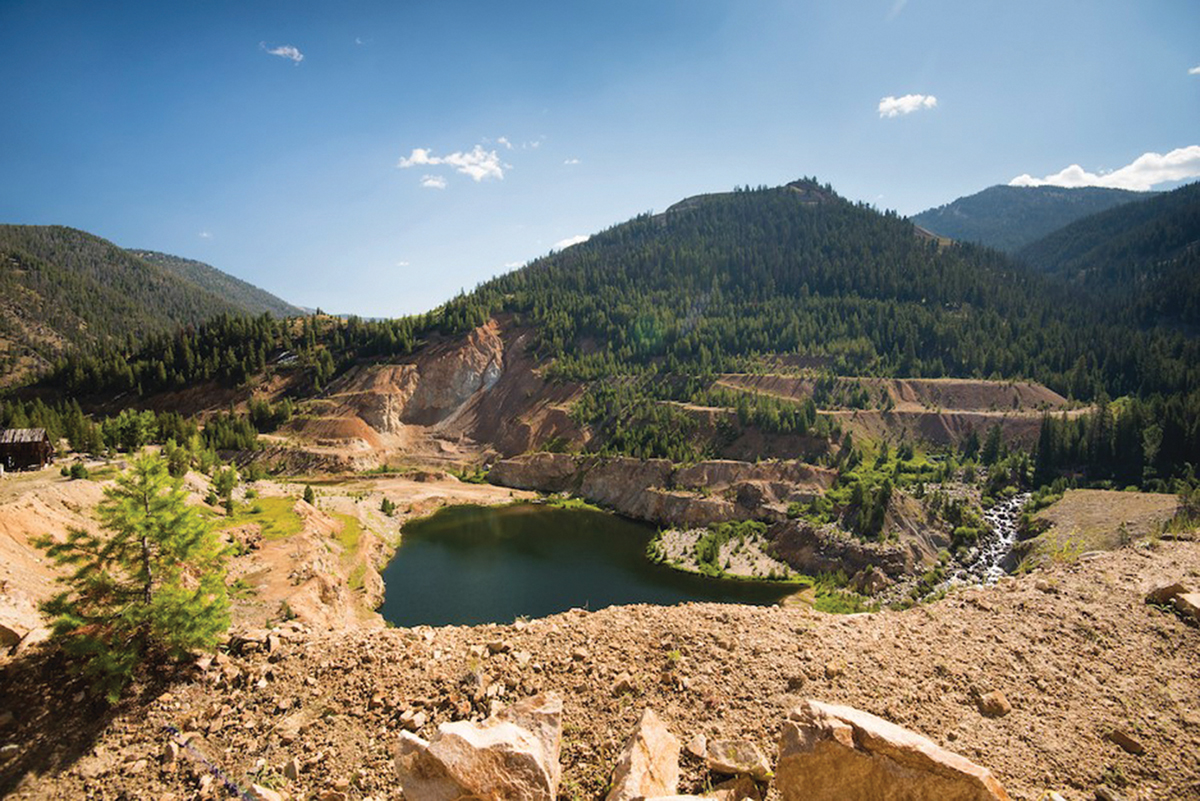 Midas Gold Idaho, Inc.
Donnelly, Idaho    
In west-central Idaho, Midas Gold Idaho, Inc. is in the process of striking gold, both for the local economy and the environment.
The company is looking to redevelop and restore the old Stibnite mining area because it discovered a large deposit of gold and antimony. The plan, which was recently submitted to regulators, is unique in that it was designed around the goal of repairing an area abandoned after 100 years of mining and left with a legacy of environmental degradation. 
While the plan will revive an industry and bring jobs and economic benefits to the area, it does much more. Midas Gold Idaho wants to leave the ecosystem of the area better than it is today. It will reconnect streams and waterways to allow fish to migrate past the site, repair water quality by keeping hundreds of pounds of metals out of the water every year, reestablish topsoil at the site, create wetlands, remove and process past tailings and rehabilitate historical impacts.
In addition to being a strong employer in Valley County, Idaho, the company puts a strong emphasis on community engagement and community giving. In total, since 2013, Midas Gold Idaho has given $230,603 in cash donations to community programs, schools and sponsorships in addition to innumerable volunteer hours.
"Midas Gold Idaho is honored to work with the community of Valley County," said Laurel Sayer, president of Midas Gold Idaho. "As a company, we've made Valley County our home and we believe we have a duty to be a good corporate citizen."
Once approved, the project is slated to be a 20-year project with three years of construction, at least 12 years of mining and restoration and an additional five years to complete reclamation. By doing this, the company will invest $1 billion in Idaho and create hundreds of new jobs. This includes approximately 400 direct and 300 indirect jobs during construction for an annual direct payroll of $48 million a year. During mine operation, Midas Gold Idaho projects approximately 500 direct and an additional 500 indirect jobs for $56 million a year in direct payroll.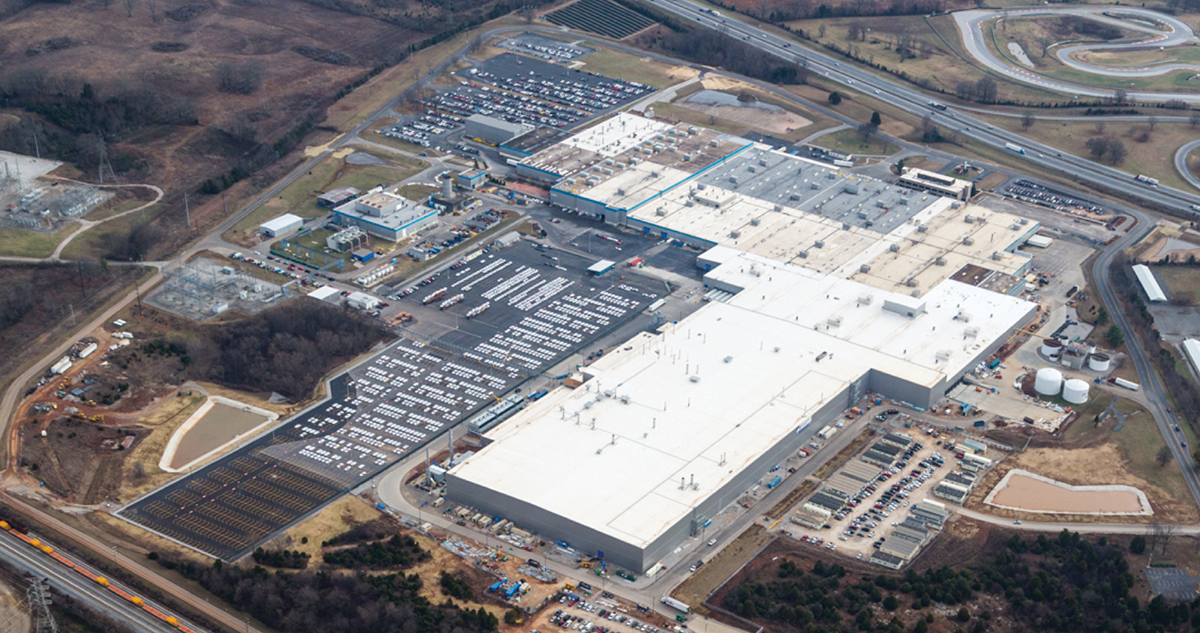 General Motors
Bowling Green, Kentucky
General Motors' iconic brand, Corvette, is a key part of Bowling Green, Kentucky's history. And it's clear that the automaker's feelings are mutual. In 2015, the automaker announced a $439 million investment in a new paint shop to bring efficiency, sustainment and the most current technologies to the plant. Then in 2016, GM added an additional $290 million to the previous project to upgrade and modify the assembly operations with new technology and processes.
Bowling Green's Chamber of Commerce estimates General Motors' total economic impact in the area to be more than $412 million – and counting.
General Motors' ties to Bowling Green run deep. The automaker began production of the esteemed Corvette at the Bowling Green Assembly plant in 1981, and the facility has remained the exclusive home of the Corvette for over 30 years. With more than 1.6 million produced since 1954 and internationally recognized as America's sports car, the Corvette is the world's longest-running, continuously produced passenger car. The Corvette is so steeped into Bowling Green's culture that the city is also home to the National Corvette Museum. This 115,000-squrare-foot exhibit features more than 80 Corvette models and one-of-a-kind concept cars spanning the history of Corvette.
The latest $290 million expansion includes a $153 million new project aimed at improving vehicle assembly line processes. Two ongoing projects at the Warren County plant – a $44 million, 36-job capacity expansion of the Performance Build Center and a $439 million investment in a new paint shop and other facility upgrades – increased by about $137 million.
"We are making technology investments that will continue to improve our manufacturing processes and ultimately the quality of our vehicles," said General Motors North American Manufacturing Manager Arvin Jones. "We are putting Corvette customers first by building upon our world-class manufacturing process."
Kentucky Senator Mike Wilson of Bowling Green noted the impact the announcement will make on one of the state's target industries. "GM's latest investment in the Bowling Green Assembly plant, coming in a succession of upgrades, expansions and enhancements the last several years, adds to an already tremendous and ongoing economic impact," Senator Wilson said. "When you consider the company's direct investment and jobs, along with those of dozens of automotive suppliers it has attracted to Kentucky, it's difficult to overstate just how important GM and its continuing commitment is to the Commonwealth.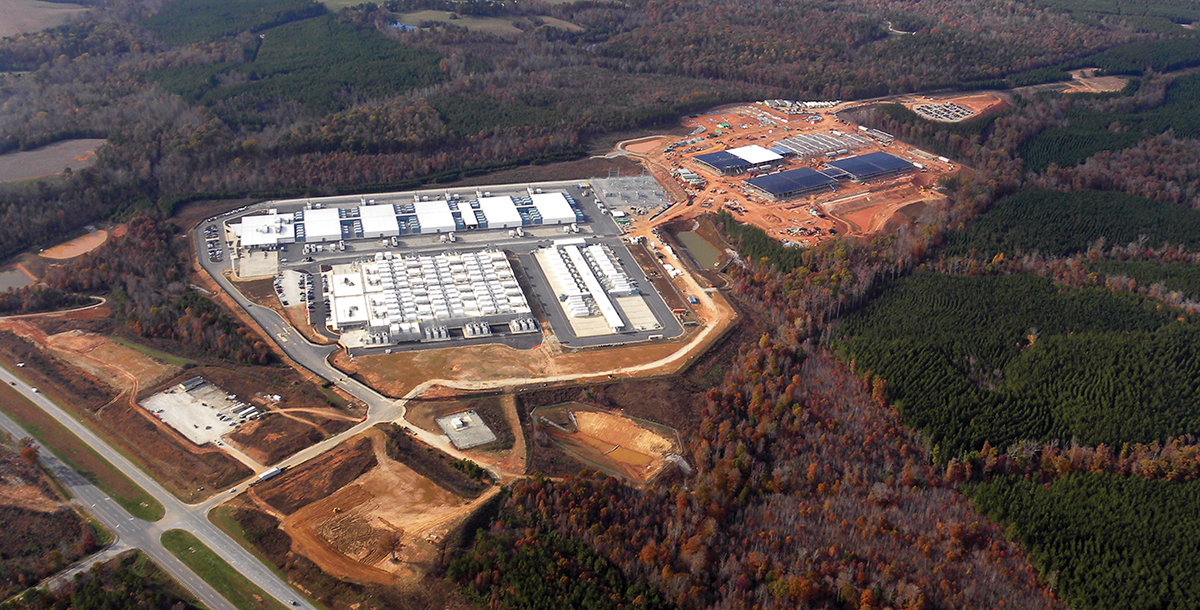 Microsoft Corp.
Mecklenburg County, Virginia
In 2010, Microsoft opened a data center in Virginia's rural Mecklenburg County. Since then, it has expanded four times – and in November 2016, Microsoft announced its fifth expansion in six years. It will invest $251.6 million to expand its data center site in Mecklenburg County to increase capacity to serve its growing customer base. This expansion is significant in this county of less than 33,000 people in south-central Virginia.
Not only does Microsoft's decision to establish and consistently reinvest in its Mecklenburg data center help solidify Virginia as the leading location in the U.S. for data centers, it also proves that data centers can be highly successful across all regions — both urban and rural — of the Commonwealth.
Virginia victoriously competed against other sites in the U.S. for the project, which will create 44 new jobs. The company's expansions speak to the success of the investment made in fiber network building in southern Virginia.
"The demand for cloud services continues to grow globally as cloud services are transforming entire industries," said Christian Belady, general manager, cloud infrastructure strategy & architecture, cloud infrastructure and operations at Microsoft. "We will continue to invest in growing our capacity to meet the expanding demand of our customers in close collaboration with the Commonwealth of Virginia and the County of Mecklenburg."
Microsoft's original project in 2010 involved an investment of up to $499 million and 50 new jobs. In 2011, the company invested an additional $150 million to expand the site and in 2013 announced a $348 million expansion. In June 2014, Microsoft invested another $346.7 million, creating 90 new jobs. The company expanded for a fourth time in November 2015, investing $402.4 million and creating 42 new jobs.
"Microsoft has now invested nearly $2 billion in its Mecklenburg facility and created over 250 jobs since 2010," Governor Terry McAuliffe said. "With five expansions in six years, this company's success continues to be a testament to Southern Virginia's talented workforce and strong IT infrastructure. The Commonwealth is emerging as a leader in the data center industry, and we are honored to have such a valued corporate partner aid us in our efforts to build a new Virginia economy."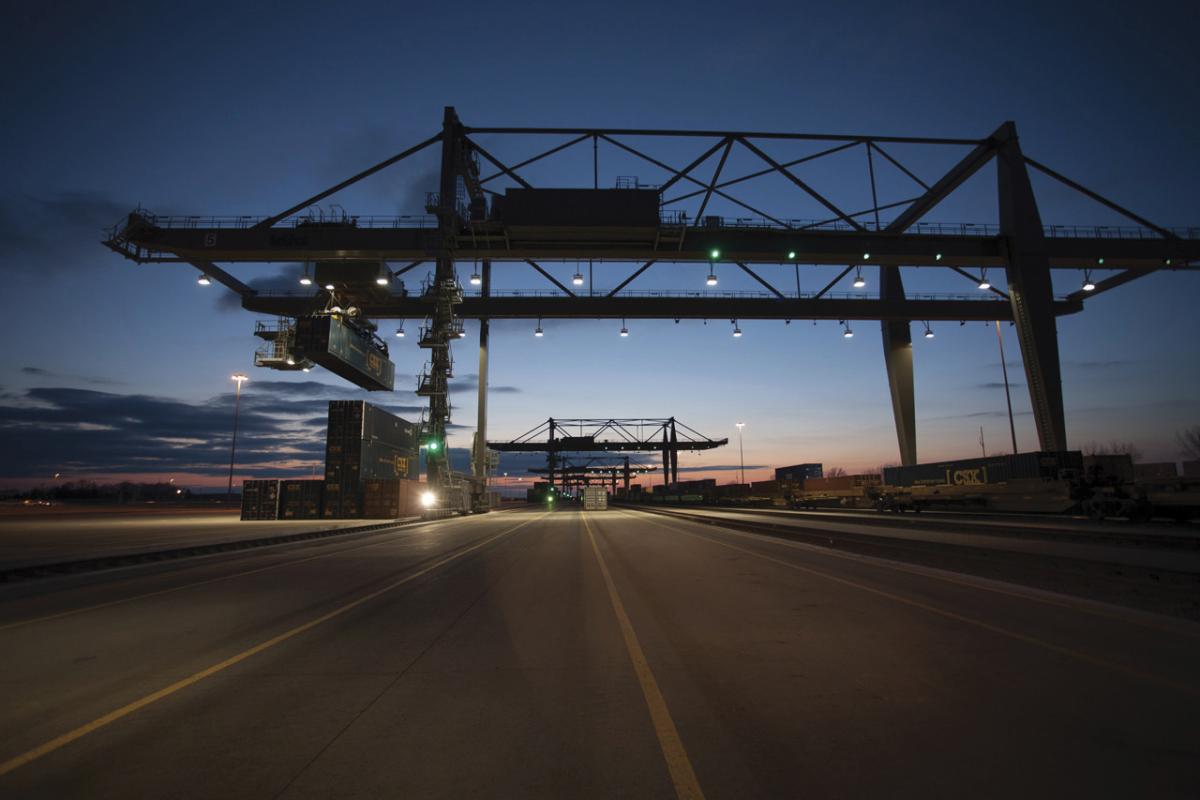 CSX Transportation
Rocky Mount, North Carolina
CSX, one of the largest rail transportation companies in the U.S., is opening a new intermodal terminal in in the heart of eastern North Carolina in Edgecombe County. However, the route to CSX arriving in the area wasn't a straight one.
When considering where to locate its next major hub, North Carolina was one of many states in the Southeast under consideration. Last January, CSX announced it would locate in Johnston County, North Carolina – about an hour away from Rocky Mount. However, after significant pushback from the local community, CSX decided to look elsewhere and considered moving to Texas. Nonetheless, this wasn't the end of the line.
With the collaborative efforts of local developers in Edgecombe County, the Economic Development Partnership of North Carolina and the North Carolina Department of Transportation, the group was able to convince CSX that Rocky Mount was the ideal location for the project known as the Carolina Connector (CCX). This critical infrastructure project will bring jobs and economic opportunity to eastern North Carolina and position the state as a leader in enhanced freight movement. It is expected to open in 2020.
CCX will transfer containerized cargo between trains and trucks, processing more than 260,000 containers per year initially. Building the facility is expected to create 250 to 300 short-term jobs in engineering, technical services and construction. Conservative estimates indicate the hub is expected to create 1,500 secondary jobs throughout North Carolina as a result of the terminal's operations.
Like many rural counties, the average wage in Edgecombe County hovers around $32,000 per year. The 149 new, direct employees of CSX will be paid an average of $64,000. While this, on its own, will highly impact the local community, no dollar amount can be placed on how this will positively transform the economy in the region.
"In partnership with the State of North Carolina and Rocky Mount, CSX is proud to bring this transformational project to eastern North Carolina which will provide cheaper, faster and more environmentally friendly connections for North Carolina's businesses and ports to domestic and international markets. Rocky Mount's vision for economic development, strategic location on the CSX network and our existing rail operations and long-standing community ties make it an ideal choice for the Carolina Connector," said CSX Chairman and Chief Executive Officer Michael J. Ward. "We look forward to partnering closely with the Rocky Mount community to create jobs and economic opportunities."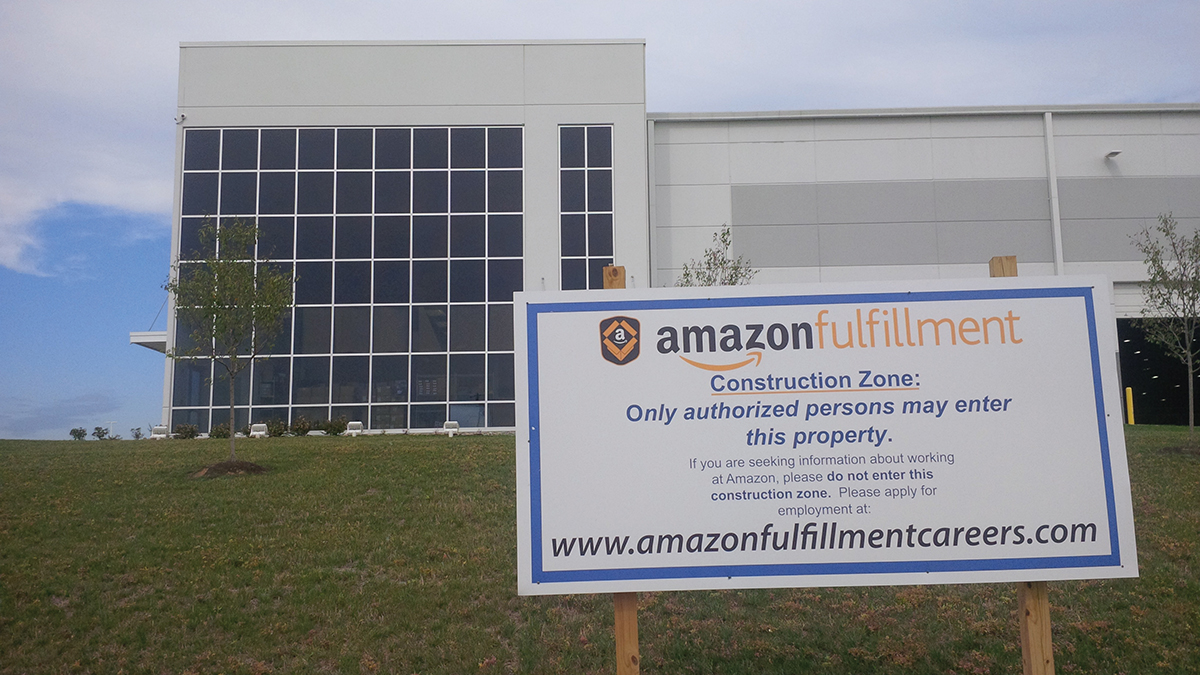 Amazon.com, Inc.
Pennsylvania
Amazon is committed to delivering – both to homes around the country and to the greater economic good of Pennsylvania.
The Seattle-based online retailer will expand its fulfillment and distribution operations at multiple new sites in the state of Pennsylvania, which will create at least 5,000 new, full-time jobs over the next three years. This is in addition to the more than 8,200 people the company already employs in Pennsylvania.
The company has committed to investing at least $150 million statewide. Additionally, Amazon has agreed to gain and maintain new jobs and retain its current positions statewide for an additional four years.
"As a worldwide leader in the technology-driven logistics industry, Amazon has made a significant commitment in Pennsylvania that will have statewide impacts far beyond the $150 capital investment," said Dennis Davin, secretary of the department of community and economic development in Pennsylvania.  "The creation of 5,000 new jobs and retention of more than 8,000 jobs across the state will have lasting effects not only in the communities in which Amazon ultimately undertakes the expansion projects, but throughout the entire commonwealth."
This expansion will support Amazon's new "Prime Now" initiative, which includes free, two-hour delivery on tens of thousands of items or one-hour delivery for a fee. This service requires Amazon's fulfillment centers to be located close to its customers to accommodate "Prime" delivery time frames.
"Pennsylvania's strategic location, as well as its skilled workforce, continue to be extremely valued assets to companies large and small," Governor Tom Wolf said. "Amazon, a worldwide logistics leader, has chosen Pennsylvania to further support its 'Prime' initiative, creating 5,000 new jobs across the state."
The first new Amazon facility in the state will be a 1.1 million-square-foot warehouse in Palmer Township, Northampton County, which will double its distribution capacity in that region.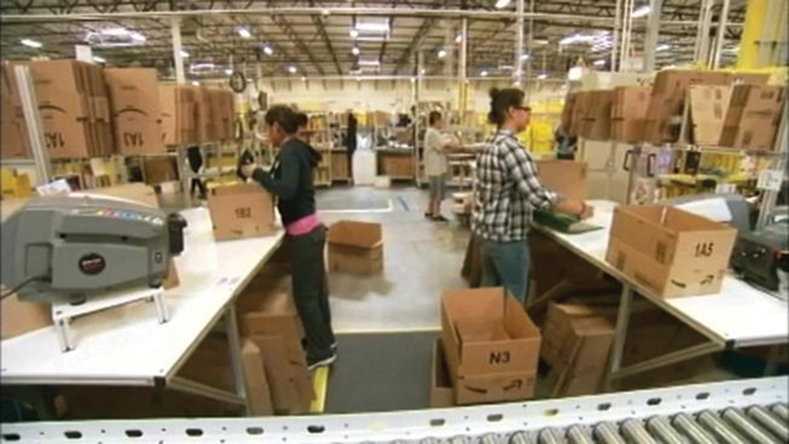 Amazon.com, Inc.
Jacksonville, Florida
Amazon.com announced plans for a more than 800,000-square-foot fulfillment center in Jacksonville, Florida. Amazon will create more than 1,500 full-time jobs at the site when the fulfillment center opens, making it the single largest jobs announcement in Jacksonville's history.
At the facility, Amazon employees will pick, pack and ship to customers small items such as books, electronics and consumer goods. Associates will work alongside innovative technologies to fulfill customer orders. Amazon currently employs more than 4,000 full-time workers in the state.
Amazon's new facility will bring a $115 million capital investment to the region. This international, state-of-the-art fulfillment and distribution center will also strengthen Jacksonville's position as a destination for international business.
"The new Amazon fulfillment center is an incredible win for northeast Florida, and marks the single largest jobs announcement in Jacksonville's history," said Jerry Mallot, president of JAXUSA Partnership. "This project further supports our strategy of targeting outstanding companies, and solidifies Jacksonville as a region of wide open opportunity where anything is possible."
"We're excited to further expand our presence in the state with this new fulfillment center in Jacksonville," said Akash Chauhan, Amazon's vice president of North American operations. "Florida has been an ideal location to help enable superfast shipping speeds to customers and a source of exceptional talent for Amazon. We're proud to be creating great jobs with benefits for Floridians."
"Amazon.com has been one of Florida's best job creators since they announced their first project three years ago," said Mike Grissom, executive vice president of Enterprise Florida, Inc. "Since that first announcement, the company has created thousands of jobs and hundreds of millions of dollars in capital investments across the state. This most recent project in Jacksonville is another great win for Florida and we thank Amazon for their continued investment and job creation."
In addition to competitive wages and comprehensive benefits, Amazon.com also offers employees innovative programs like Career Choice, where it will pre-pay 95 percent of tuition for courses related to in-demand fields, regardless of whether the skills are relevant to a career at Amazon. Since the program's launch four years ago, more than 7,000 employees in 10 countries have pursued degrees in game design and visual communications, nursing, IT programming and radiology, to name a few.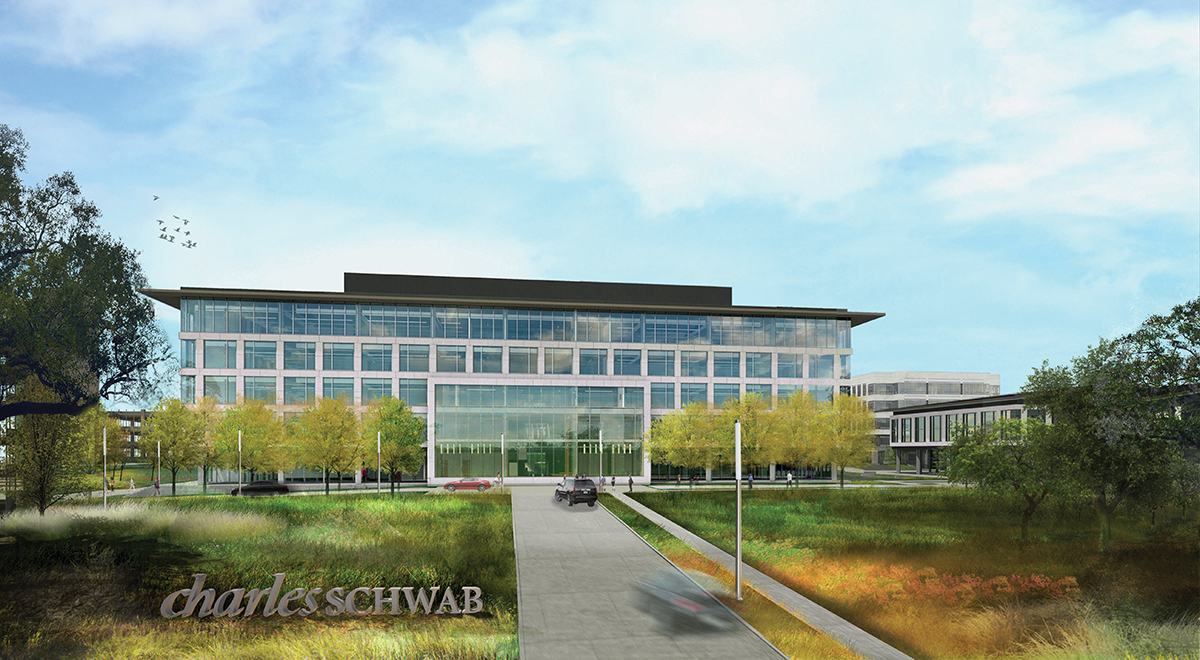 Charles Schwab Corp.
Westlake, Texas
The town of Westlake has quickly established itself as a financial service industry cluster within the Dallas-Fort Worth area of Texas, and with the announcement of the new Charles Schwab campus, that distinction is solidified. The project's impact on the town of Westlake is phenomenal. For a community with a population of 1,255, a project with 1,200 new jobs almost doubles their population – at least from 8 a.m. to 5 p.m.
"Westlake is delighted that The Charles Schwab Corp. has selected us as the location of its new campus," said Westlake Mayor Laura Wheat. "Charles Schwab has a long, strong and distinguished reputation in the financial services industry and joins other prestigious companies who call Westlake home."
Charles Schwab Corp. announced plans to develop a new $100 million regional campus in Westlake, Texas, which will house 1,200 new jobs upon completion. The campus will include functions such as client service and support (investor services), advisor services, technology, marketing and human resources. It expects to break ground on the new campus in the second half of 2017, with completion slated for early 2019.
"We're excited to have this opportunity to expand our presence in Texas, and we'll be ramping up our recruiting efforts from among the great wealth of employee talent in and around Westlake," said Schwab executive vice president Dennis Howard.
The 500,000-square-foot campus will sit on a total of about 70 acres and will anchor a larger proposed Circle T mixed-use development, including a hotel, retail stores and residences.
"Texas remains the brightest beacon of free enterprise in the nation, and Charles Schwab's decision to expand its operations in North Texas is yet another testament to the Lone Star state's promising economic climate," said Texas Governor Greg Abbott.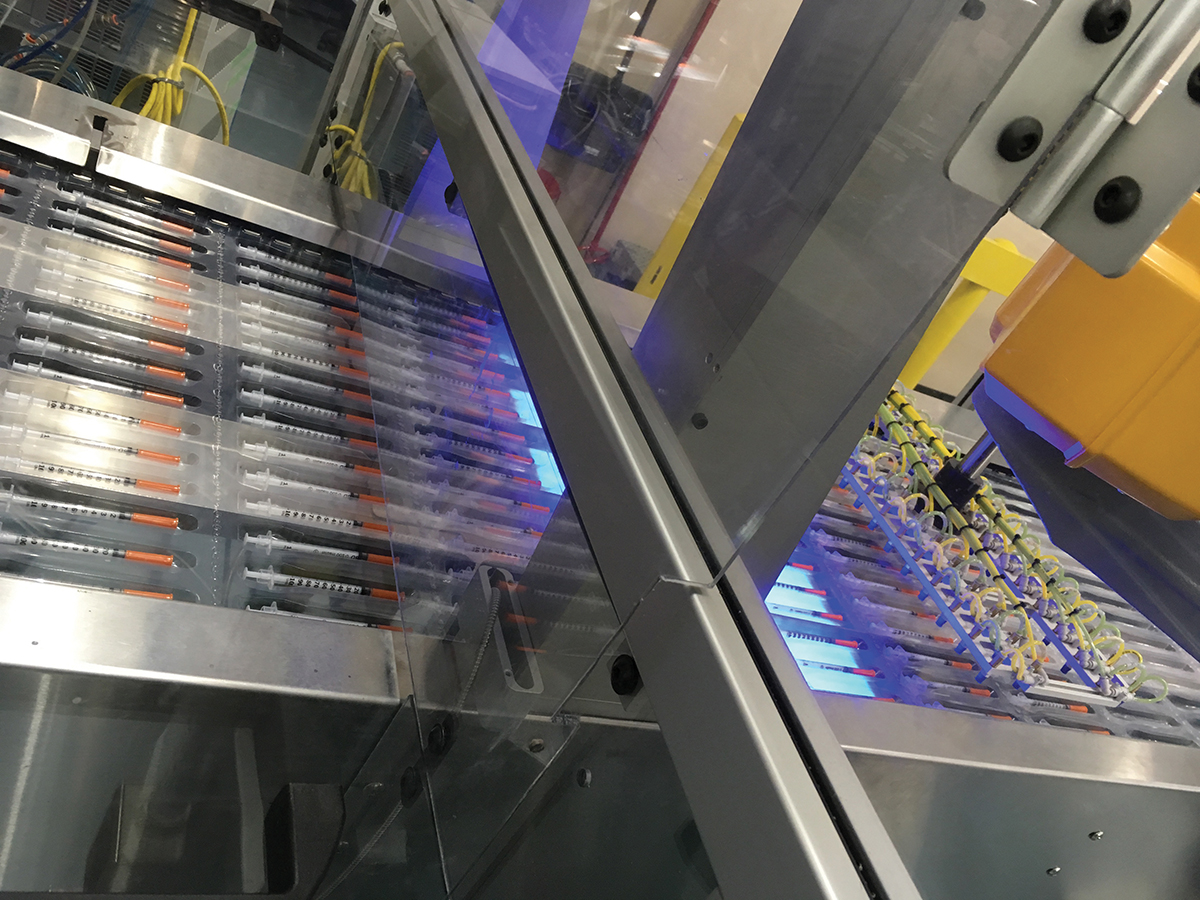 Becton, Dickinson and Company (BD)
Holdrege, Nebraska
Becton, Dickinson and Company (BD) is one of the largest medical device manufacturers in the world and is dedicated to "helping all people live healthy lives." The products manufactured at the Holdrege, Nebraska, location include insulin syringes, alcohol swabs and safety-engineered syringes that are used in diabetes care. During the 50th anniversary celebration of BD's presence in Holdrege this past October, the company announced a $100 million investment to expand manufacturing operations there.
Holdrege is a small, rural, agricultural community of approximately 5,000 in south central Nebraska. With 650 workers, BD is the area's largest employer. An investment of this magnitude makes a significant impact on local morale as well as reinforcing the fact that Phelps County is a prime location for manufacturing. In addition, if BD had chosen to relocate elsewhere, the loss of jobs would have been devastating.    
"With our primary industry of agriculture on a steep and concerning decline, expansions among our local manufacturing companies are much celebrated victories for the local economy," said Ron Tillery, executive director at the Phelps County Development Corporation.
The investment will be used for new technology and manufacturing equipment to expand capacity for BD insulin syringe production. The company already produces more than two billion insulin syringes each year, which averages to be more than 250,000 syringes per hour. The facility began production in 1966 in a 12,000-square-foot building with 66 employees.  Today, BD makes 20 different products in its 350,000-square-foot building. 
"About 40 percent of people with diabetes who inject insulin use syringes as part of their diabetes management regimen. This investment will provide benefits to this diabetes population and underscores our commitment to supply high-quality, industry-leading insulin syringes to patients," said Ken Miller, worldwide president of diabetes care for BD.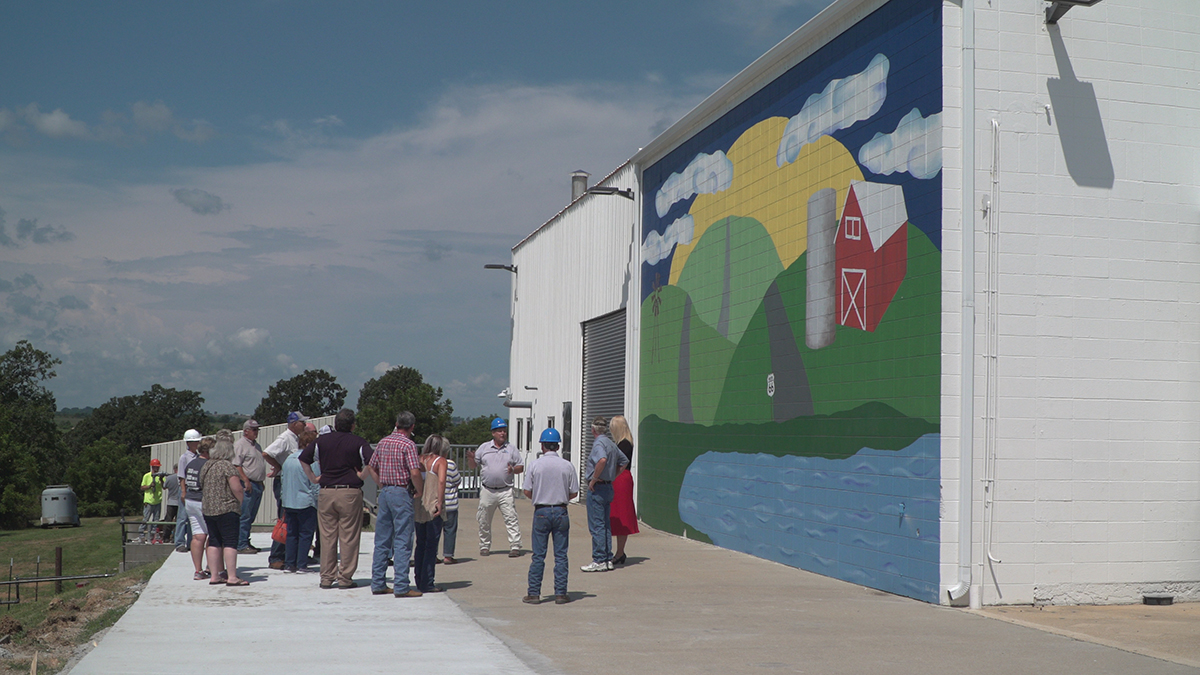 Moon Ridge Foods
Pleasant Hope, Missouri
In the Ozark region in southwest Missouri, Moon Ridge Foods recently opened a new, highly innovative 120,000-square-foot pork production and processing facility. A combination of renovation and new construction, it represents an investment of more than $54.7 million over the next two years. It will revitalize a region devastated by the closing of Cargill's meat processing plant, which resulted in 118 lost jobs.
The new facility will employ many of those workers who were let go by Cargill. Plus, the company says it used almost all local contractors and employed people without jobs due to poultry job losses in the area. The average annual wages at Moon Ridge Foods are $34,599 – 27 percent above the county average wage. The number of new jobs planned is 160.
"I am pleased to welcome Moon Ridge Foods to Pleasant Hope, where its investment and new jobs will make a huge impact in this community and the surrounding rural area, and further advance economic development in this key industry. Missouri has a long, rich history of feeding the world, and Moon Ridge's expansion builds upon this tradition," said Mike Downing, director of Missouri Department of Economic Development.
When it is running at full capacity, Moon Ridge Foods will process about 600,000 hogs per year of sustainably produced pork. The company expects the project will help grow state exports, as 30-35 percent of its product is expected to be shipped out of Missouri. 
It will be the first U.S. pork processing plant to utilize snap chilling technology to boost shelf life, quality, processing and freshness while reducing energy use and its carbon footprint. Not only does Moon Ridge Foods use energy-efficient technologies for production processes, the company plans to use renewable energy including solar and wind. Moon Ridge Foods' leadership has a goal of being the most energy efficient, eco-friendly food production system in North America.
"Pleasant Hope is the best location in North America for Moon Ridge Foods. A strong labor supply and transportation infrastructure, close proximity to major consumer centers and an ideal environment for sustainable livestock production make it a great fit," said Russ Kremer, co-founder and CEO of Moon Ridge Foods.
Local officials expect it to be one of the greenest plants in the U.S., and the company aims to be off the electric grid in five years.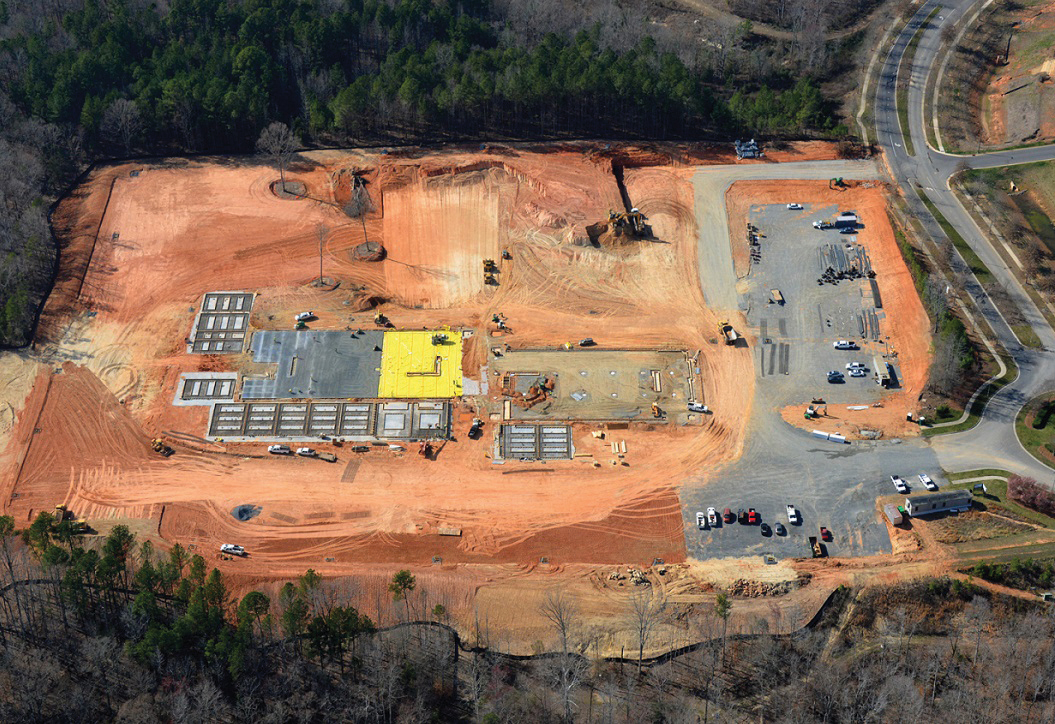 CompuCom Systems, Inc.
Lancaster, South Carolina
CompuCom Systems, a leading technology infrastructure services company, is locating its new global headquarters operations in Lancaster County, South Carolina. And with it comes the largest single job announcement in Lancaster's history, according to Lancaster County Council Chairman Bob Bundy.
CompuCom's newly constructed, 150,000-square-foot building will house corporate offices and global contact center operations. Not only is the new development projected to bring $41 million in new capital investment, it is expected to create 1,500 new jobs over the next five to seven years. That's especially significant since the county's population was approximately 85,500 people in 2015.
While the new business will expand the county's tax base, the new jobs will expand the population and possibilities for retail growth. It also reinforces the strength of the community as a premier location for corporate facilities.
"When a company like CompuCom decides to build its global headquarters and create 1,500 new jobs here, it sends a message to the entire world that South Carolina is open for business. The commitment that this $41 million investment represents is extremely important to our state, and we could not be more excited to welcome this fantastic company to the South Carolina family," said then Governor Nikki Haley.
Founded in 1987, CompuCom is a global company which provides IT managed services, infrastructure solutions, consulting and products to Fortune 1000 companies. With approximately 11,500 employees, CompuCom manages and supports more than 4.4 million end users and is a partner to six of the top 10 Fortune 500 companies.
"This is an exciting new chapter in CompuCom's journey," said CompuCom CEO Dan Stone. "We will build a state-of-the-art Command Center in the South Carolina office to serve as the hub of our service experience management global contact center operations and corporate operations as well. In addition, CompuCom's new headquarters in South Carolina places us closer to many of our clients, as well as near an expanding network of IT professionals in North and South Carolina."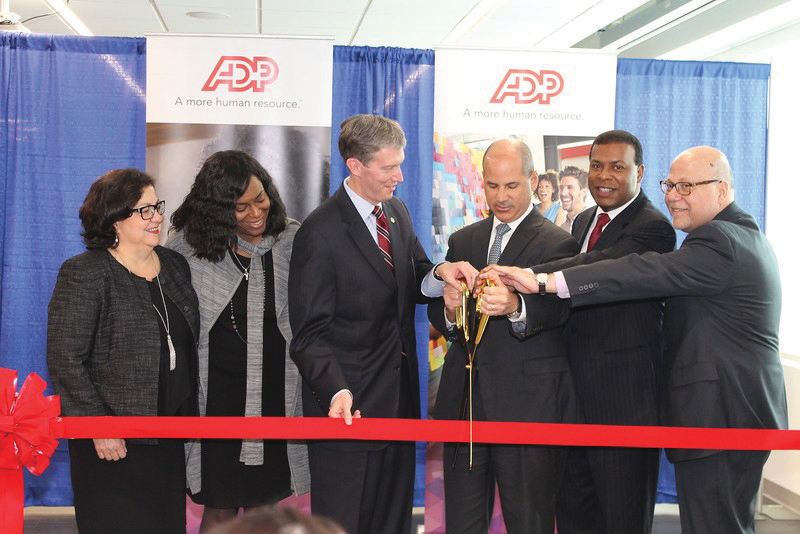 ADP
Norfolk, Virginia
ADP, a comprehensive global provider of cloud-based human capital management solutions and business process outsourcing services, analytics and compliance expertise, will invest $32.25 million to establish a regional customer service center in Norfolk, Virginia. The project will be a real game-changer by creating more than 1,800 new jobs in a city where the unemployment rate is 6.4 percent and the poverty rate is 23.3 percent.
While ADP may relocate up to 10 percent of key managers and employees from other offices, the greatest employment benefit will be for Virginians. ADP will also provide job opportunities for members of the military transitioning to civilian life, as well as military spouses. In addition, ADP's presence is likely to entice young workers and college grads from Old Dominion University, Norfolk State University and Virginia Wesleyan College to stay in the region upon graduation.
By conducting extensive studies, a leading site selection consultant was able to verify the existing labor force talent, workforce training programs and potential for attracting talent to the region.
The City of Norfolk is spending $10 million to acquire a 785-space parking garage adjacent to ADP's office and will subsidize parking for ADP for an agreed upon time. ADP's investment is having a ripple effect in the community as well. For example, an old building adjacent to ADP is being renovated and turned into nearly 300 luxury apartments to accommodate the new hires.
"We chose to locate a new facility in Norfolk because of the thriving business climate in the city and Commonwealth. We have the opportunity to attract a diverse workforce that will make significant contributions to ADP and add value to the client experience," said Debbie Dyson, corporate vice president of client experience and continuous improvement at ADP. "We thank and acknowledge the efforts of our community partners, who provided critical support throughout the decision-making process. We look forward to building long-lasting relationships with the people of Norfolk and Virginia."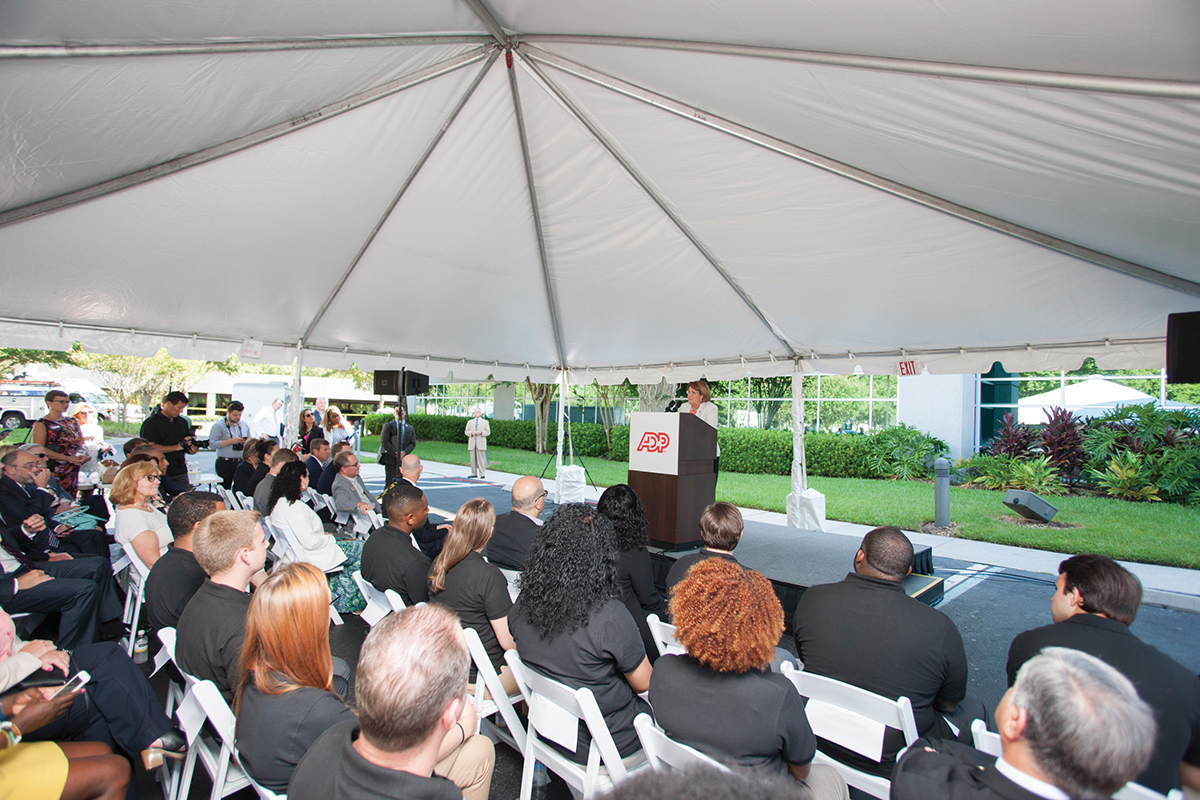 ADP
Maitland, Florida
Just outside of Orlando, the suburban city of Maitland, Florida, is experiencing a "game-changer," thanks to ADP.
ADP will locate new offices there, creating 1,600 jobs. The new office opening will create 500 positions within the next six months and the company will invest more than $28 million in the local community. The biggest impact isn't just the creation of jobs, but who will receive them – including a focus on hiring veterans.
Pamela Nabors, CareerSource Central Florida president and CEO, said, "ADP is a game-changer for Central Florida. While our EDC team continues to attract high-impact companies to our community, this project elevates us to another level. It's always a win when a company commits to move – or expand – to our community and actively engages education partners, prioritizes the hiring of veterans and becomes a premier employer in the region."  
ADP is a comprehensive global provider of cloud-based human capital management (HCM) solutions that unite HR, payroll, talent, time, tax and benefits administration. The company is a leader in business outsourcing services, analytics and compliance expertise.  ADP serves more than 610,000 clients of all types and sizes around the world.
Debbie Dyson, corporate vice president of client experience and continuous improvement at ADP, said, "Powerful technology combined with superior service is why ADP is a human capital management leader. We are strategically placing jobs in the areas of client support and implementation and are happy to be doing this in the Orlando area."
Partners in the expansion include Enterprise Florida, Florida Department of Economic Opportunity, Orlando EDC, Orange County, the City of Maitland, CareerSource Central Florida and Duke Energy.
Alex Glenn, Duke Energy Florida state president, said, "ADP's exciting announcement will mean new job opportunities this year and well into the future for the communities we serve. This win is a perfect example of the importance economic development plays in everyone's life and the success that comes from community partners working together to attract new businesses to the region. Duke Energy is proud to have been part of the team to attract ADP to Florida."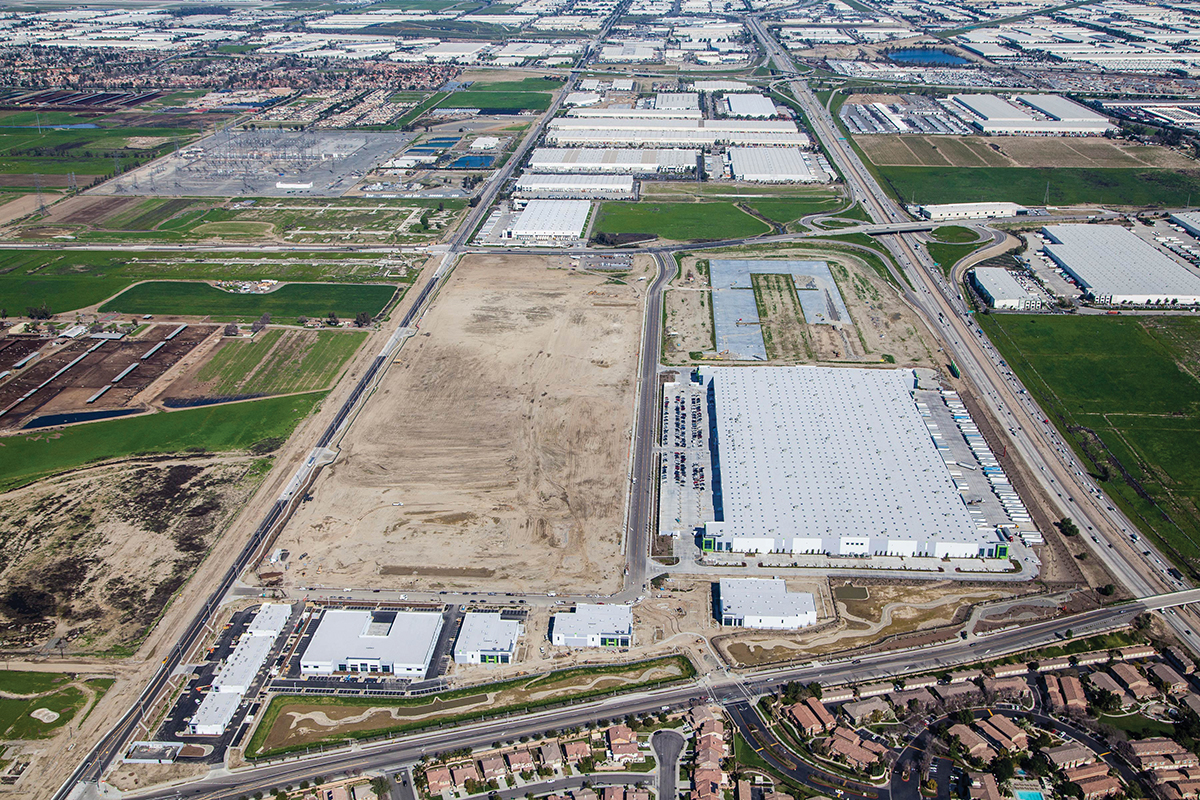 Amazon.com, Inc.
Eastvale, California
Eastvale is one of California's newest cities, incorporated on October 1, 2010. Roughly 10 years prior, Eastvale was a part of the world-famous Chino dairy area, home to thousands of dairy cattle and only a handful of residents. Today, Eastvale ranks as one of the fastest-growing cities in California, according to the California Department of Finance.
In September, 2016, online retail giant Amazon opened a 1.032-million-square-foot fulfillment center in Eastvale. Approximately 800 employees work at each of two shifts, and the company flexes up to three shifts for a total of 2,400 jobs during holiday season.
In addition, Amazon is currently building another facility in the same complex with an additional one million square feet, which will bring another 1,000 year-around jobs and more during the holidays. It will be up and running in 2018.
The Amazon project has been critical in providing significantly more jobs to the local community. The daytime population of Eastvale has historically declined significantly as residents migrate out to the employment bases in Orange and Los Angeles counties. The Amazon facility leverages the latest robotics technology, IT and warehouse logistics to provide higher paying jobs than the average fulfillment center.
Amazon's commitment to higher education runs deep. The facility also provides a learning ground for the Career Technical Education (CTE) program at Norco College.
"2017 marks the five-year-anniversary of Amazon beginning to operate fulfillment centers in California," said Akash Chauhan , Amazon's vice president of North America Operations. "Within that time span, we've launched Career Choice, a program hundreds of Amazonian Californians have participated in to go back to school."
The fulfillment center is located in the Goodman Commerce Center. The 200-acre mixed-use development project is intended for retail and healthcare, as well as a business park and industrial.
"Having Amazon in Eastvale will draw retail to the area that appeals to Eastvale's millennials and help bring additional businesses, jobs and more sit-down restaurants to town," said Eastvale Mayor Joe Tessari.  "The project also provides a nice skilled labor pipeline between our nearby Norco College and Amazon… I'm also eager to see Amazon employees participate in the company's Career Choice program in which they can go back to school."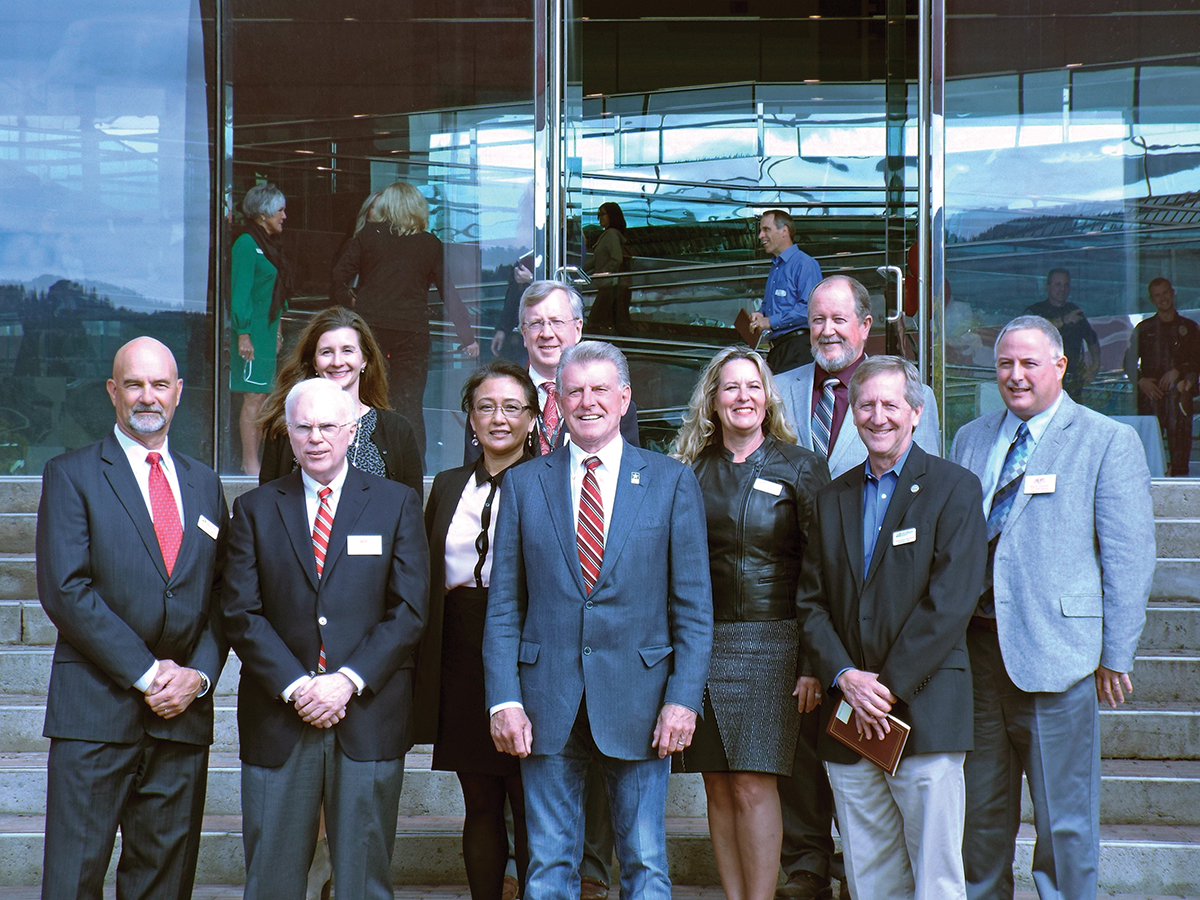 Orgill, Inc.
Post Falls, Idaho
When an office furniture maker moved its operations out of Post Falls, Idaho, to Indiana, it left one of the largest buildings in the state vacant and 200 people jobless. This gave Post Falls, Idaho, a "ghost town feel," according to Gynii Gilliam, president, Coeur d'Alene Area Economic Development Corporation.
That's why it was big news when Orgill, Inc., the world's largest independent hardlines distributor, chose that location to expand its network of world-class distribution facilities. Orgill is taking over the entire space in Post Falls, in addition to hiring dozens of employees. The approximately half-million-square-foot distribution center will create more than 135 new jobs. Orgill distributes hardware and home improvement products to hardware, home improvement and building material retailers of all types and sizes.
"There were many positive things that lead us to select Post Falls as the home for our newest distribution center including the excellent workforce in the area, the assistance and cooperation of local officials and the quality of the facility itself," said Ron Beal, Orgill's chairman, president and CEO. "We look forward to being a good corporate citizen of Post Falls, Kootenai County and the State of Idaho."
The new facility will be Orgill's seventh full-service distribution center, in addition to locations throughout North America. The primary reason for the addition of the new Post Falls facility was to provide faster and more efficient service to Orgill's growing customer base. The new facility will service Orgill's retail customers in five states throughout the Northwest including Montana, Idaho, Oregon, Washington and Alaska as well as Canadian customers in British Columbia and Alberta.
"We are thrilled to welcome Orgill as the latest in a growing number of companies choosing to expand their operations in Idaho," said Governor C.L. "Butch" Otter. "Orgill was looking for a talented and motivated workforce as well as a community that fits their long-range business development plans, and they will certainly find both in Post Falls. I am delighted to welcome them and the good-paying jobs they will bring to Idaho."
"Orgill is a great addition to our area," said Post Falls Mayor Ron Jacobson. "The company will provide a significant number of jobs in our market, they place a high importance on employees and their families, and are active members of the communities in which they are located.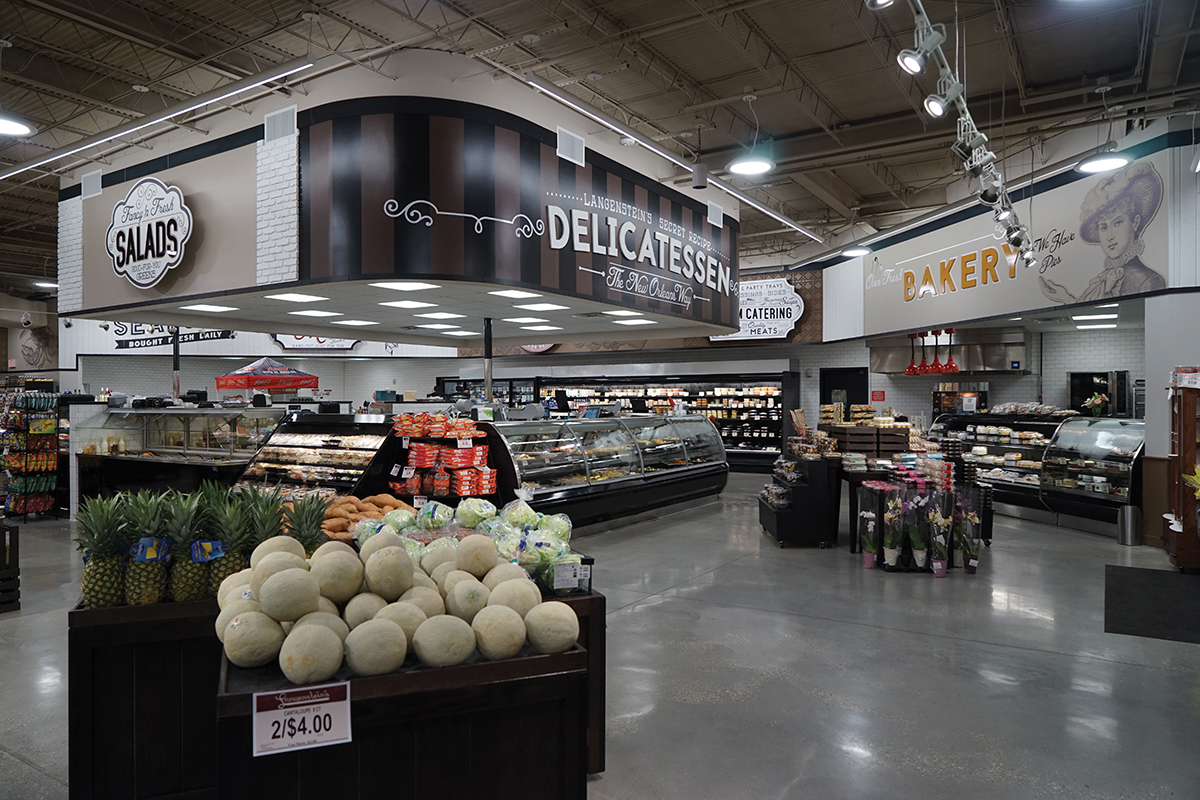 Décorworx
Cedar City, Utah
Décorworx is a Utah success story. The Cedar City-based company is expanding its operations in Utah after having been courted by several other states and considering relocating out of state. This $11.5 million investment will create up to 164 jobs in the area over the next eight years. Décorworx's growth brings high-paying, quality jobs, including sales, engineering, design and craftsmen, to a rural community with traditionally high unemployment rates. The new jobs will pay 110 percent of the current average wage in Iron County, Utah.
Décorworx has become an important piece of Cedar City's economic ecosystem, supporting the growth of other local companies that contract with it. The
project will also contribute to the revitalization of downtown Cedar City, as the company plans to rehabilitate a historic but dilapidated downtown building. The company also initiated the creation of a Community Reinvestment Area, where other businesses can qualify for local incentives, which will help the city to attract more business to that section of the downtown.
"As the need to expand beyond our current facility became dire, there was a lot of logic behind moving our company out of Cedar City. Two other states offered us a variety of significant incentives, said Kona De La Cruz, Décorworx marketing specialist. "In corporate America, I think that would have been the end of the conversation… but we are from Cedar City. Our company grew up here. After looking at the substantial advantages of expanding out of state, the incentive package offered by the Utah Governor's Office of Economic Development, combined with the promise of local incentives, compelled us to stay and invest in our community."   
"It is rewarding to help a family-owned, homegrown company like Décorworx thrive in a national marketplace," said Val Hale, executive director of Utah's Governor's Office of Economic Development (GOED). "Supporting expansions like this is important to our communities."
Founded in Cedar City 20 years ago, Décorworx specializes in customized décor that reflects a store's brand and targeted demographics. The company's aim is to enhance the shopping environment and produce greater success for their clients. Enjoying rapid national success Décorworx is now a preferred vendor for multiple groups including Associated Foods Salt Lake, Affiliated Foods Midwest and Piggly Wiggly. This represents more than 10,000 independent grocery stores nationwide. Décorworx has received 12 national design awards and is a community-minded business.
"As a result of our talented employees, Décorworx has been openly received nationwide," said Jeff Dansie, president of Décorworx. "We find daily inspiration from our lifestyle in Cedar City and the surrounding area. It enables us to create award-winning stores and true success for our clients."   T&ID