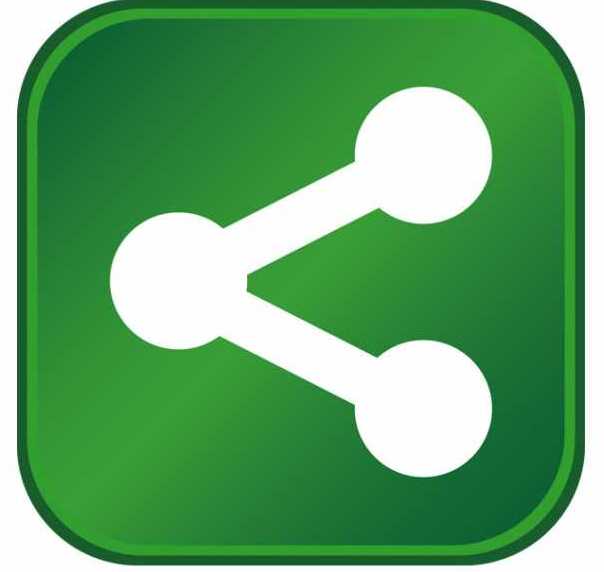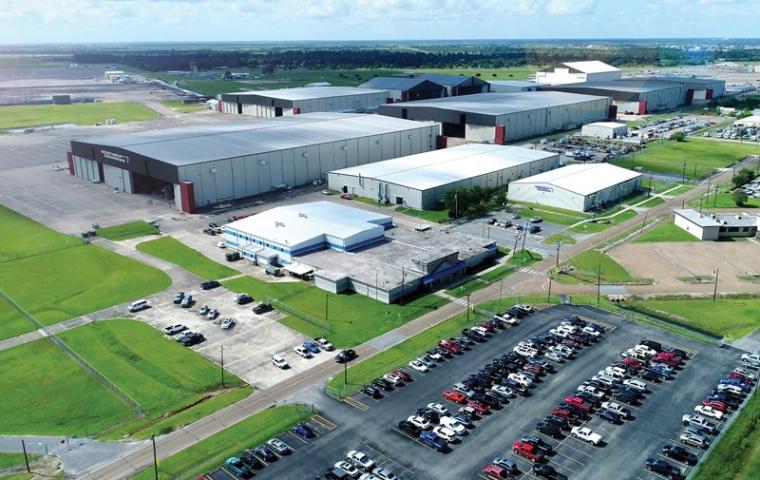 Companies today have a laundry list of features that are important to them when choosing a location to build or expand the business. Trade & Industry Development has put together a compendium of locations from all across the country that include critical business infrastructure such as transportation, workforce, storage, land, utilities and regulatory and permitting issues and incentives.
Camden, Arkansas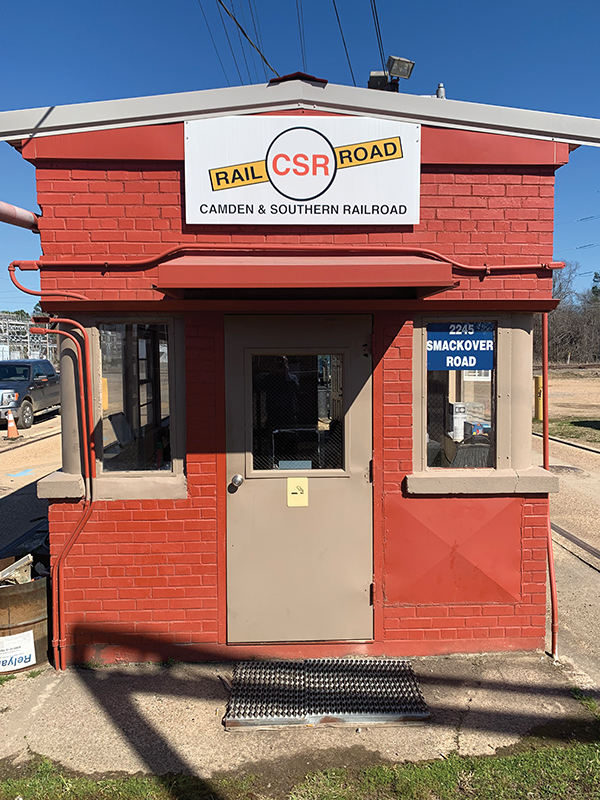 The South Arkansas Intermodal Park located in Camden, Arkansas is a regional transportation hub for South Central Arkansas with an effective service area of more than 50 miles. The park is conveniently located to existing four-lane connector highways for ease of delivery from rail to truck or truck to rail. The park has existing warehouse space for lease in addition to buildable acreage. A 115KV electric substation operated by Entergy Arkansas is on site.
Railroad switching and transloading services are provided at the park by the Camden & Southern Railroad, an onsite short line railroad. The park serves as an interchange between the Camden & Southern Railroad and two Class I rail carriers: the BNSF railroad and the Union Pacific railroad. This is an attractive option for industries' transportation needs. Petroleum products and finished lumber are shipped from the park serving the area's oil refineries and lumber mills. Inbound rail traffic includes grain and intermodal containers.
Local tax incentives, such as property tax abatements, are available for new job creation and investment. These incentives have been used effectively by the area's aerospace and defense industry located nearby in their recent expansions. Workforce training incentives are also available and are redeemable with the region's two-year technical junior college, SAU Tech. SAU Tech will tailor companies' workforce requirements into a curriculum that suits their needs.      
Cheyenne, Wyoming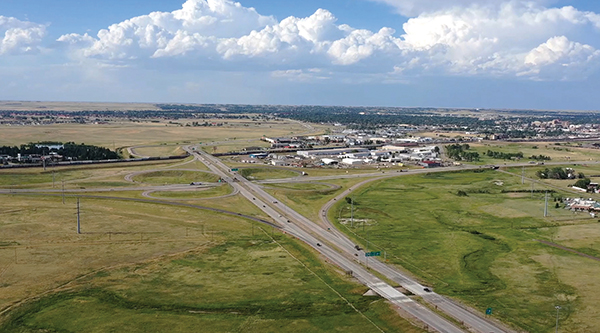 In a place like Wyoming, change takes place at a slower pace; however, it does change. Wyoming is quietly changing the way it looks at economic development. While the Cowboy State continues to welcome businesses with the same hospitality as it always has, it is also seeking new ways to diversify and strengthen the economy in the wake of changes to the gas and coal industries. While change may be at the forefront of the discussion, one thing has remained the same: Wyoming remains a destination for business.
As a community, Cheyenne is located just 90 minutes north of Denver, Colorado and has dedicated itself to economic development. The region continues to develop shovel-ready business parks, and Bison Business Park is the newest. The region has expanded opportunities for those looking to leave more restrictive states. Employers and employees alike enjoy an average commute time of 14 minutes, workforce training grants and a favorable tax mode. With a labor shed of over 183,000 and once again ranked number one by the Tax Foundation's State Business Tax Climate Index due no state corporate tax, inventory tax or individual income tax, Wyoming continues to make many site selector's short list.
Lake Charles, Louisiana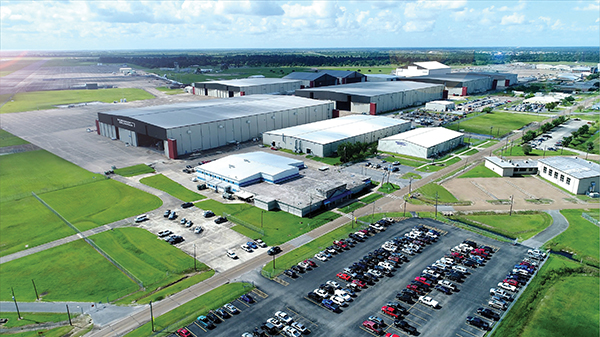 Chennault International Airport's strategic location at the center of the U.S. Gulf Coast provides logistical access to a wide swath of the southern U.S. It is situated in one of the fastest-growing metro areas in the nation, Lake Charles, Louisiana — a medium-size city with a warm Southern climate and an attractive quality of life.
Chennault has 14 sites available for development, ranging from four acres to 215 acres. Two of the sites are certified development-ready by Louisiana Economic Development: Site 2/2a (180 acres) and Site 5 (160 acres). In addition, Louisiana offers a long list of business incentives for developers.
Chennault's development sites surround the airport's centerpiece — its two-mile long runway (10,701 feet by 200 feet) that can handle any aircraft in the world. Tenants benefit from access to the runway, the accredited air traffic control tower, 24/7 security and fire protection. Nearby transportation connections include rail, interstate highway and a deepwater port. An air cargo center is under development at Chennault to accommodate burgeoning activity in the air cargo sector.
Current tenants at Chennault include Northrop Grumman, Landlocked Aviation Services, Citadel Completions, Louisiana Millwork (Masonite) and Million Air — leading companies in the aircraft MRO, manufacturing, transportation and service industries. Chennault International Airport is adjacent to Sowela Technical Community College, which provides practical workforce training for businesses and industries in the area.
Laredo, Texas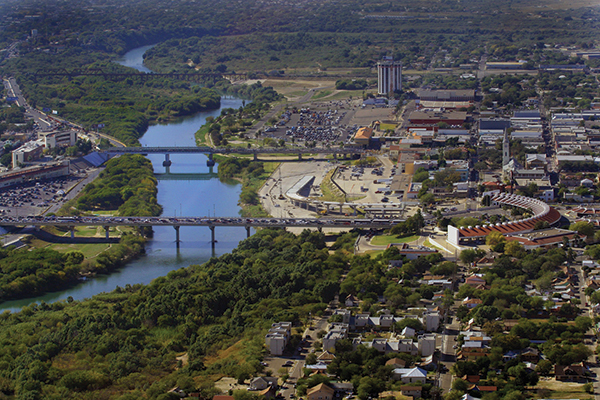 Locally known as "Los Laredos," Laredo and Nuevo Laredo are actually one city divided by the Rio Grande. Originally settled by Spaniards in 1755, Laredo/Nuevo Laredo became the first "official" port of entry on the U.S./Mexico's border in 1851.
The Port of Laredo is the number-one inland port on the U.S.-Mexico border, generating more than $324.5 billion in trade. It is ranked the number-two customs district in the U.S. by value of shipment, generating over $231.58 billion in international trade.
As the Port of Laredo gains momentum in the global economy, the Laredo Economic Development Corporation (LEDC) continues to foster the economic and industrial development of the community. The LEDC plays a vital role in keeping the local economy strong and vibrant and takes a leading role in promoting the Port of Laredo as the international logistics hub to the Americas.
At the center of the primary trade route connecting Canada, the U.S. and Mexico, and the gateway to Mexico's burgeoning industrial complex, Laredo and Nuevo Laredo offer markets, business opportunities and profit potential which business and industry simply cannot find anywhere else.
Laredo is the only U.S./Mexico border city strategically positioned at the convergence of all land transportation systems.  Mexico's principal highway and railroad leading from Central America through Mexico City, Saltillo and Monterrey converge at Laredo to meet two major U.S. rail lines, Interstate 35 and other roads which fan outwards to the urban centers and seaports of Texas, and upward to the northern states and Canada.       
As the fastest-growing city east of the Rocky Mountains, and the most competitive USMCA crossing, Laredo's economy has and will continue to be vibrant.     
Port St. Lucie, Florida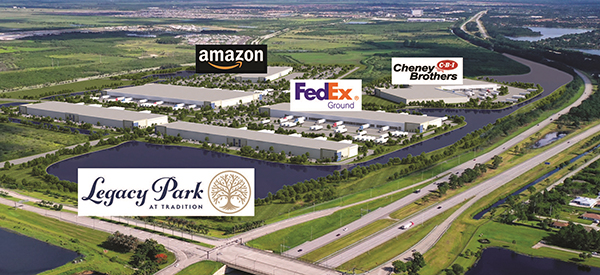 Legacy Park at Tradition, the Sansone Group's 425-acre industrial development in Port St. Lucie, Florida, is receiving national and regional recognition. The Class-A industrial park is in the heart of southeast Florida, midway between Miami and Orlando on Interstate 95, and is home to a 245,000-square-foot FedEx Ground regional sortation center, a 220,000-square-foot Amazon delivery station opening this fall, a planned 327,427-square-foot warehouse and distribution center for Cheney Brothers, and two speculative facilities available for lease.
The park, awarded with the "Deal of the Year" by the Florida Economic Development Council and recognized by the National Association of Industrial and Office Parks (NAIOP), is located at Exit 114 on I-95. At full build-out, Legacy Park will be home to approximately 5.4 million square feet of single- and multi-tenant Class-A, institutional quality light industrial and distribution facilities.
Completion is anticipated in spring 2022 for the 520,000-square-foot cross-dock and 168,000-square-foot rear-loading speculative facilities.
Port St. Lucie, Florida's seventh-largest city, is in St. Lucie County and is considered to be Florida's hottest new industrial development market. The rapidly growing county has a workforce of more than 156,000 with a labor force of more than 302,000 in the surrounding region. The county's schools offer more than 35 career and technical education programs, and the region's six-campus, Aspen Award-winning college provides short-term, in-demand certificate programs and is constructing a new advanced workforce training center.
For more information, visit www.youredc.com or contact Jill Marasa at the Economic Development Council of St. Lucie County at 772-336-6257.
Richland, Washington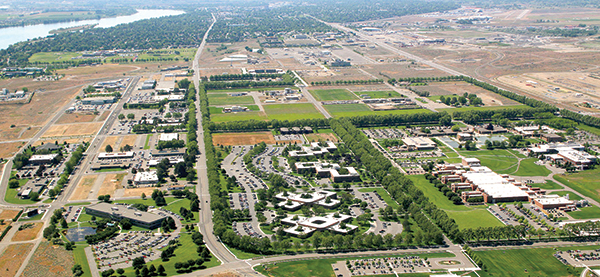 The growth to innovate clean energy technologies will be unprecedented in the coming decades, but a U.S.-based supply chain to support this expansion does not yet exist. An industry-led coalition is positioning Washington State as the premier clean energy innovation hub to source and provide solutions for this rapidly changing market. Washington VERTical has formed the Clean Energy Supplier Alliance (CESA) to solve industrywide challenges and accelerate innovation in the U.S. The coalition will initially identify supply chain gaps and work to address those needs, supporting development and commercial demonstration of the country's first advanced nuclear reactors under an aggressive U.S. Department of Energy timeline.
"The alliance's initiatives will implement a scalable supply framework for companies to access the build out of other clean energy technologies in communities nationwide, including communities most severely impacted by the retirement of carbon-emitting energy facilities," said Diahann Howard, PPM, Port of Benton's Executive Director.
Port of Benton administers the state program grant that supports CESA and related programs.
"Washington VERTical will leverage the area's professional, technical and skilled trades along with vast clean energy sector companies as the epicenter of the supply chain," Howard said. "And we're responding by readying more than 2,500 acres for the nation's leading suppliers to join us."
To learn more about Richland and the ecosystem to develop the clean energy supplier alliance, visit washingtonvertical.com.
Roanoke County, Virginia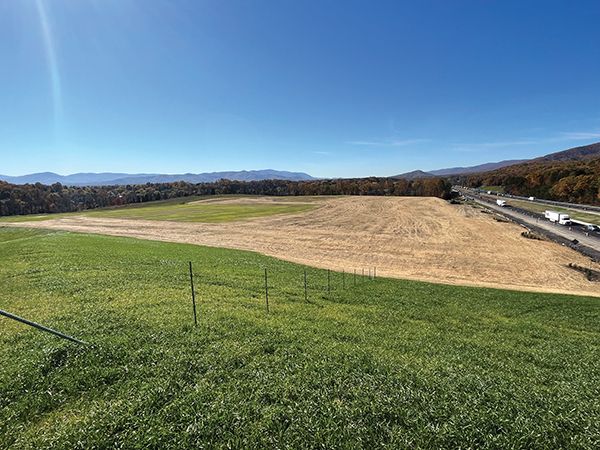 As the demand for shovel-ready sites increases, Roanoke's Wood Haven Technology Park, a future hub of innovation, is ready to answer the call. Wood Haven is a 100+ acre planned technology park strategically located at the junction of Interstates 81 and 581 in scenic Virginia's Blue Ridge. Bringing a high level of interstate visibility and 20,000 feet of frontage on Interstate 81, a primary north/south transportation connector, the site is within minutes of the Roanoke-Blacksburg Regional Airport and nearby Virginia Tech.
The property is approaching a Tier 5 designation, the highest level of readiness in the Virginia Economic Development Partnership's Business Ready Sites Program, demonstrating its advanced level of preparedness and speed to market for new business development. Wood Haven is located within an Opportunity Zone at the commuting gateway to the Roanoke Valley, bringing access to a regional labor market of more than 300,000 within a 60-minute commute. Advanced manufacturing and high-technology companies seeking a low cost of doing business and high quality of life, outstanding access to east coast markets and a shovel-ready site to hit the ground running, will find that the Wood Haven Technology Park in Roanoke Virginia delivers. Call 540-343-1550 or email info@roanoke.org for more information.
Visalia, California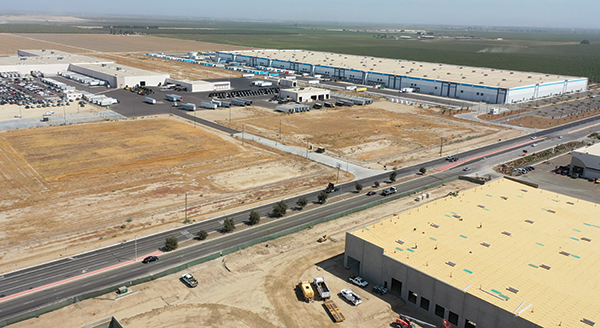 Visalia, California continues to draw attention as the Visalia Industrial Park (VIP) expands and employers discover hard-working employees and a cooperative city hall. Recent additions to the 4,000-acre VIP include the 425,000-square-foot UPS Central Valley Ground Hub, and a 1.3 million-square-foot Amazon fulfillment center developed by industrial spec builder CapRock Partners. CapRock is already moving on a second million-plus-square-foot center immediately north of the Amazon center. YS Industries has completed two 300,000-square-foot buildings and is planning to build several more. Seefried Industrial Properties is developing a one million-square-foot Ace Hardware DC with land available for another large user.
Local developer Diversified Development Group continues to invest and expand in Visalia, with nearly 700,000 square feet of recently developed buildings south of the UPS Hub. DDG also owns 150 acres of zoned industrial land ready for spec development near this site.
The high level of activity in the VIP has been met with plans by the City of Visalia to expand and improve roadways within and around the new development to ensure ease of access.
In addition to the VIP, Visalia boasts a bustling downtown with a wide variety of shopping and dining options and educational opportunities such as College of the Sequoias, UMass Global (Brandman University), Fresno Pacific University and San Joaquin Valley College. Development costs are lower than other regions, average commute times are shorter and housing is still affordable.
For information on the VIP, contact Nancy Lockwood, Visalia Economic Development Corporation, nlockwood@thelockwoodagency.net or Devon Jones, Economic Development Manager for the City of Visalia, devon.jones@visalia.us.
Volusia County, Florida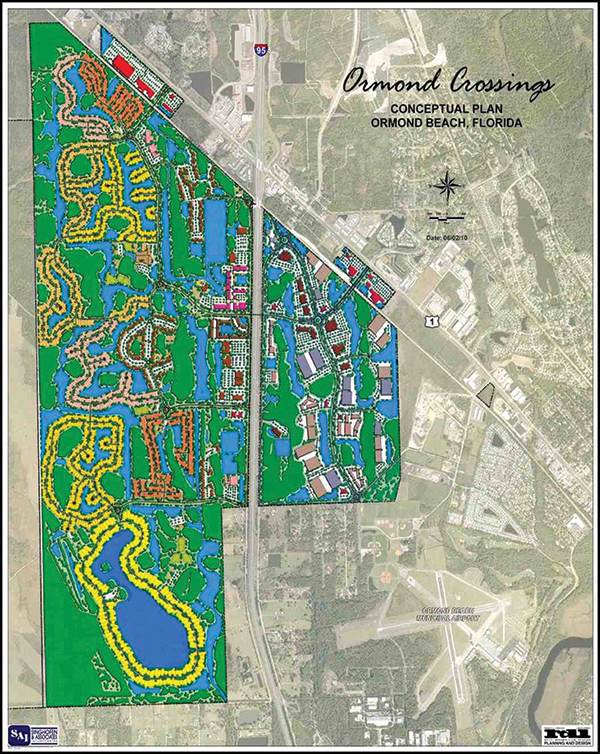 Florida's High-Tech Corridor is aglow with relocations and expansions of leading-edge companies. Volusia County, where the Corridor begins, is a strong player across high-tech sectors due to geography, proximity and community assets.
Volusia County, along Central Florida's east coast, is at the crossroads of Interstate 95, connecting it to the entire eastern seaboard, and Interstate 4, which traverses the Sunshine State, and is the very footprint of the Corridor. Only an hour's drive from Orlando, and next-door neighbor of the Space Coast, Volusia County has plenty of location opportunities for companies that need rapid access to Cape Canaveral, Kennedy Space Center and other resources that have one foot in outer space.
Within easy driving distance to Port Canaveral and Jacksonville's JAXPORT, Volusia County is home to Daytona Beach International Airport, with land available for commercial development, and air service that includes nonstop flights to Atlanta, Charlotte, Dallas, and Philadelphia, with connections to anywhere.
Additional tech-driven assets in Volusia County include Embry-Riddle Aeronautical University and its John Mica Engineering and Aerospace Innovation Complex (MicaPlex) with several high-tech companies with offices on site, a Business Incubator presented in partnership with the University of Central Florida, and Daytona State College's Advanced Technology College.  T&ID