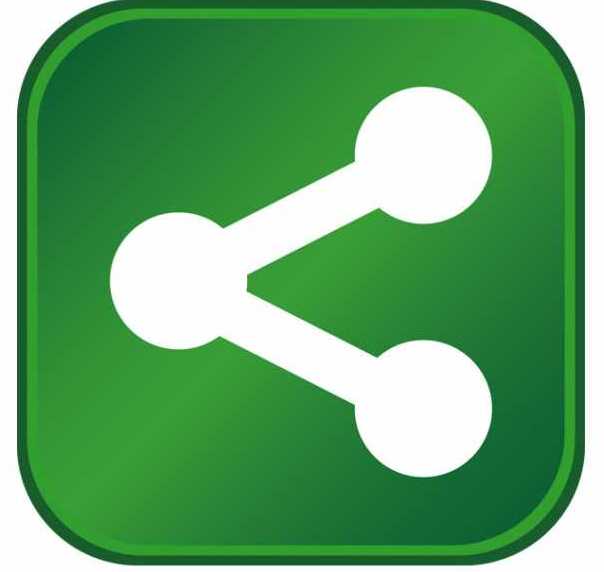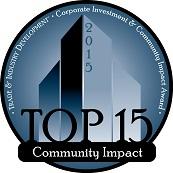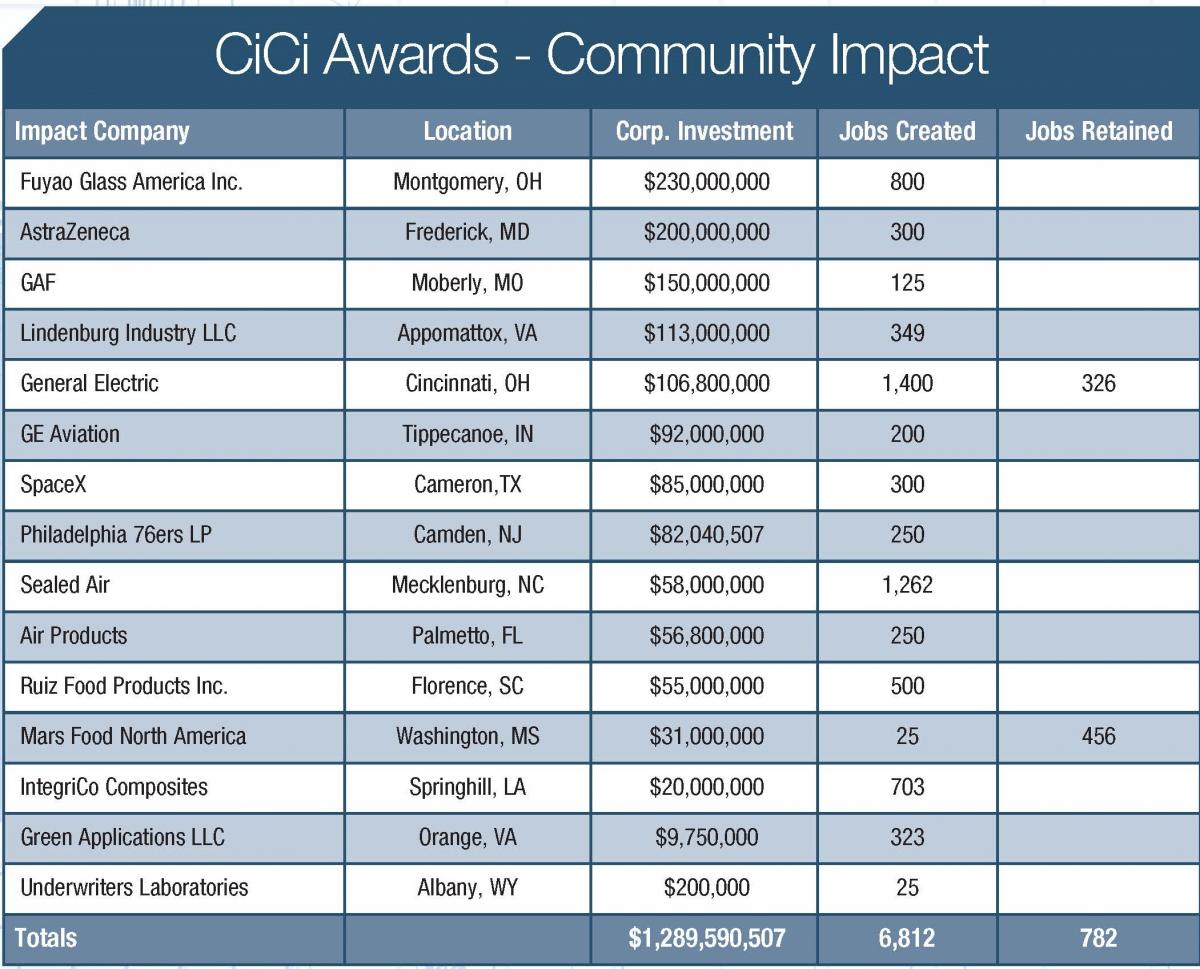 Community Impact says it all. The 10th Annual CiCi Community Impact category celebrates and highlights projects around the country that were announced in 2014 and are making a much-needed investment in their communities, bringing jobs and promises of revitalization with them. This category celebrates not only the companies that are making the investment, but the tireless work of the local and state development officials that have helped attract these companies.
Each of these recipients has a great story. Take, for instance, the Philadelphia 76ers NBA basketball team's new training facility in Camden City, New Jersey. Camden City recently ranked dead last – 566 out of 566 municipalities – in the 2007 New Jersey Municipal Revitalization Index. The new facility that is being built on an old parking lot is bringing more than a direct impact on the city's economy. It's also bringing a much-needed sense of excitement and pride.
Three different CiCi Community Impact recipients are companies that are literally moving to an existing, shuttered facility. They're revitalizing the facilities and bringing jobs with them.
For example, California-based Ruiz Food Products, the leading producer of frozen Mexican food and snack products, is expanding to the East Coast. It's moving into a former Heinz plant in Florence, South Carolina, that shut down and displaced 200 workers. Ruiz Food Products is investing $55 million in the facility and hiring 500 people.
In Springhill, Louisiana, IntegriCo is expanding its manufacturing operations by moving into an improved 135,000 square-foot manufacturing plant formerly occupied by Trane Commercial Systems, along with an adjacent 43,000 square-foot building. The composite products manufacturer is adding $10.5 million in payroll to this city of 5,300.
And in Gordonsville, Virginia, Green Applications is expanding operations to the area. It purchased the former American Press facility, which closed in 2011, putting 130 employees out of work and leaving the building vacant. Green Applications, one of the largest printers and distributors of textile merchandise and heat applied graphics on the East Coast, will invest $9.75 million in the facility and create 323 jobs.
Others on the CiCi Awards' Community Impact list are helping out the local economies by building new operations or expanding current ones, which brings a significant trickle-down effect through ancillary jobs.
The 15 2015 CiCi Awards Community Impact recipients represent a wide variety of industries and locations. From Wyoming to New Jersey, these companies are leaders in automotive, pharmaceuticals, manufacturing, safety science, sports and more. Take a look at the exciting revitalization and progress they are making and the huge impact they have or will have in North America today.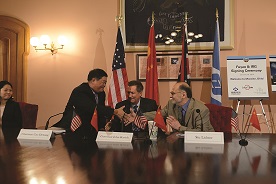 Fuyao Glass America Inc.
Moraine, Ohio
China is an economic force to be reckoned with – and when Chinese-owned companies invest here in the U.S., it's worth taking notice. Fuyao Glass America, a major global automotive supplier, is building its first North American automotive glass manufacturing facility in the City of Moraine, Ohio, near Dayton, committing to the creation of at least 800 new jobs over the next five years.
Headquartered in Fuzhou, China, Fuyao employs more than 18,000 workers globally and plans to use its new Moraine facility to supply its growing U.S. customer base, including GM, Chrysler, Safelite, Hyundai, Honda and Kia. The company is the largest automotive glass supplier in China with 65 percent of the market and 18 percent of the global automotive glass market.
The $230 million investment breathes new life into a former General Motors assembly plant and reaffirms Ohio's dominance in the automotive industry. GM closed the plant in December of 2008, resulting in the layoff of 1,100 workers.
"We appreciate Ohio's strategic location, workforce and pro-business environment in making this decision to open our North American facility," said Fuyao Chairman and Founder Cao Dewang. "We are making such an investment in Moraine to better service our important OEM customers in the United States and North America."
Fuyao selected Ohio for its first North American manufacturing plant over competitive proposals from states across the Midwest and South. The company acquired over one million square feet of the former GM Moraine plant and will begin glass manufacturing by the end of 2015.
Fuyao's new facility will be the largest Chinese investment ever made in Ohio. According to the foreign investment tracking organization FDI Markets, it will also be the largest Chinese investment ever made east of the Mississippi River and the largest Chinese automotive industry investment ever made in the United States.
"I am committed to ensuring the excellence of Fuyao's U.S. auto glass manufacturing," said Chairman Cao. "I strongly believe that Ohio is the best location to base these operations, which is why I have chosen to once again invest in the Moraine facility and the Greater Dayton community."
Editor's note:
On January 14, 2015, Fuyao Chairman and Founder Cao Dewang joined Ohio Governor John R. Kasich and JobsOhio President and Chief Investment Officer John Minor to announce the company's plans to add another auto glass operation at the facility that will bring an additional 700 jobs to the 800 to which it had already committed in the 2014 annoucement. Governor Kasich said the expansion now puts the Fuyao project in the top 10 biggest Chinese business investments in the country.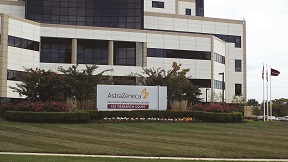 AstraZeneca
Frederick, Maryland
British pharmaceutical giant AstraZeneca continues to invest in the well-being of patients around the world – and the economy of Frederick, Maryland. The company is adding 40,000 square feet and 300 jobs at the facility to increase production capacity of drugs made from human or animal material or microorganisms. The company employs 3,100 people in Maryland.
The more than $200 million expansion will help the company keep pace with a growing demand for the development and use of biologics and is expected to be completed in mid-2017. Biologics currently represents nearly 50 percent of AstraZeneca's overall pipeline.
AstraZeneca's Frederick biologics manufacturing center is an FDA-licensed, large-scale cell culture production facility, with hundreds of thousands of square feet of administrative, production, warehouse, laboratory and utility space. The company's Frederick manufacturing center is its largest biologics facility in the world. It's also a worldwide industry leader in cell culture manufacturing. The site currently produces a pediatric medication, as well as other investigational biologic products.
"Biologics are an important part of AstraZeneca's overall capabilities, in addition to our strengths in small molecules and protein engineering," said Andrew D. Skibo, regional vice president of biologics supply for AstraZeneca.
"Our global biologics research and development arm, MedImmune, has a robust pipeline of more than 120 biologics, including more than 30 in clinical development. The expansion of our Frederick facility will support the progression of drug candidates across our core therapeutic areas, ultimately aiding us in our efforts to make a meaningful difference in the lives of patients through scientific leadership and innovative new treatments," added Skibo.
"We're very pleased by AstraZeneca's demonstrable commitment to our local workforce and to our growing biotech community," said Frederick City Mayor Randy McClement. "This expansion will help bring even more high-caliber life science jobs and career opportunities to Frederick and the surrounding region."
GAF
Moberly, Missouri
Founded in 1886, GAF is the largest roofing manufacturer in North America. Now, it's hanging its shingle in Missouri in the Moberly Area Industrial Park by building a new, 320,000 square- foot state-of-the-art manufacturing plant.
GAF Roofing will invest more than $150 million to develop a 147-acre site for a new shingle laminator facility, an expansion that is expected to create 125 new jobs with a higher wage than the current county average. The plant will serve GAF's Midwest markets and further enable the company to better serve all of its markets and customers.
GAF is headquartered in Wayne, New Jersey, and employs more than 3,200 workers in 30 plants across the country. The company's products include a comprehensive portfolio of steep-slope and commercial roofing systems, which are supported by an extensive national network of factory-certified contractors.
"GAF is committed to creating good American manufacturing jobs, and Missouri is the place to do it," said Bob Tafaro, president and chief executive officer of GAF. "The state offers a low-tax climate and an experienced workforce that create an ideal business environment to help propel GAF's success. We look forward to the opportunities that locating to Missouri creates."
"Our newest plant demonstrates GAF's commitment to expanding our business and to serving our customers with the most innovative technology by delivering quality product when and where our customers need it," added Tafaro.
"Missouri makes what the world wants, and manufacturing continues to be an important and growing sector of our economy," Governor Jay Nixon said. "In today's global economy, companies like GAF have many options for where to take their jobs and investments. By choosing to build its new state-of-the-art plant here in Moberly, GAF is recognizing Missouri's competitive business climate and highly skilled workforce. We are very proud to welcome GAF to the Show-Me State."
The facility will take nearly two years to construct and the construction process itself will have a significant impact on the community of 14,000, along with surrounding communities. The company expects an average of 400 trucks per day coming to and from the construction site, which also will create a significant impact on the local economy. The project is the single largest one-time manufacturing investment in the community and will provide significant dollars to the taxing jurisdictions as well as the trickle-down income from the new jobs.
"Because Moberly's current major employers pull employees from as far as 60 miles away, the project will positively impact the entire region," said Corey J. Mehaffy, president of the Moberly Area Economic Development Corporation.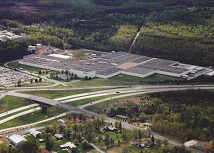 Lindenburg Industry, LLC
Appomattox, Virginia
Appomattox, Virginia, was hard hit by the loss of Thomasville Furniture in 2011, which at its peak employed 1,200.
When Lindenburg Industry, a subsidiary of a Chinese-owned corporation, announced it would invest $113 million to establish an industrial honeycomb manufacturing operation in Appomattox, the region breathed a sigh of relief. This project represents the first new company announcement in Appomattox in 15 years and the largest since Thomasville Furniture began construction in 1972. 
Lindenburg is moving into a building that has been empty for three years. Not only does this project revitalize a vacant facility, it enables Lindenburg to quickly move from start-up to production and will put approximately 350 people back to work in highly skilled manufacturing positions.
Lindenburg will be manufacturing industrial environmental control components used in clean air emissions. The introduction of progressive environmental legislation around the world is a key driver of Lindenburg's business activities. Lindenburg's parent company, EagleRide Investment Holdings, is one of the leading investment holdings companies in China and is focused on energy, energy conservation and environmental protection-related technologies.
According to Virginia Governor Terry McAuliffe, the investment is a direct result of his meeting with company officials in Beijing, China, during his Asia Marketing Mission.
"The U.S. is characterized by low political risk, as well as an advanced level of legal protections for doing business and making investments," said Stella Li, CEO of Lindenburg Industry, LLC and chief technology officer of EagleRide Investment Holdings Ltd. "After an extensive search, we found the right location for our initial U.S. manufacturing operations in Appomattox, Virginia. This location provides us with an excellent business environment and the workforce talent we require to be successful."
"We welcome Lindenburg Industry to Appomattox and to Virginia, and thank the company for this transformative investment and the creation of hundreds of new jobs," said Maurice Jones, Virginia secretary of commerce and trade. "This project is a great example of Virginia's international connectivity as we continue to enhance our strong business relationship with China, and we look forward to Lindenburg Industry benefitting from the Commonwealth's outstanding business climate, world-class workforce and access to global markets through our port system."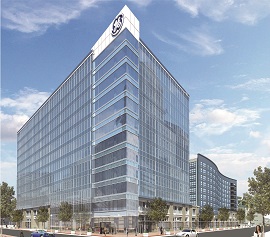 General Electric
Cincinnati, Ohio
General Electric shone its light on the Cincinnati area when it decided to locate its new U.S. Global Operations Center there. The project is expected to create at least 1,400 new high-paying jobs in Ohio with an annual payroll of $111 million in its first few years of operation.
This is the largest economic development win in terms of jobs created in Ohio in more than a decade. It is equivalent to gaining a Fortune 500 headquarters in terms of size, payroll and impact on the state and local community. The company has said the number of employees could climb as high as 2,000.
"We're excited to expand GE's presence in Ohio," said Shane Fitzsimons, senior vice president of GE Global Operations. "Ohio and GE have been working together for many years and Ohio is home to over 15,000 GE employees today. The Greater Cincinnati area provides a pool of talent that will help us build a world-class Shared Services Center. We appreciate the support of JobsOhio in bringing this project to the region.  Our long and successful history with the state will be mutually beneficial."
GE has already broken ground on the new 338,000 square-foot office building in a downtown Cincinnati riverfront development. The 10-story office space expects to be fully operational at the site by 2017.  Meanwhile, GE officials said they are planning to open a temporary center in downtown Cincinnati in 2015. GE currently employs more than 15,800 people in Ohio – more than any other state.
The Greater Cincinnati site will be one of GE's five shared services centers around the world – and the only site serving the U.S. The company will consolidate back-office functions such as finance and information technology at the Ohio center.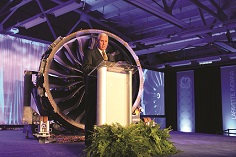 GE Aviation
Lafayette, Indiana
"From jet engines to medical breakthroughs, companies launch the next wave of new technologies in Indiana, confident that in a state that works, the sky is the limit," said Indiana Governor Mike Pence.
He was referring to GE Aviation, the world's largest jet engine manufacturer. GE Aviation plans to locate a new $100 million jet engine assembly facility in Lafayette, Indiana, creating up to 200 new jobs by 2020.
The 225,000 square-foot facility, the company's first final assembly plant in Indiana, will assemble the new LEAP engine from CFM International, a 50/50 joint company of GE and Snecma (Safran) of France. CFM, which will enter service in 2016, has already logged total orders and commitments with airlines for more than 6,000 LEAP jet engines. It will power new Airbus A320neo, Boeing 737 MAX and COMAC (China) C919 aircraft for airlines worldwide. Launched in 2008, the LEAP is now undergoing development testing. As the engine transitions to the production phase, GE could begin hiring at the new Lafayette facility as early as 2015.
Within five years, the plant's workforce is expected to exceed 200 people with the capacity to do final assembly for the engine as well as the engine's hot section, which is the compressor, combustor and high pressure turbine. The new jobs are expected to pay an average wage of $36 an hour, which includes both hourly and salaried positions.
"We are thrilled by the airline industry's enthusiasm for the new LEAP engine and its ground-breaking technologies," said David Joyce, president and chief executive officer of GE Aviation. "Beginning in 2015, the LEAP engine will experience a dramatic production ramp-up for the remainder of the decade. We are grateful to the entire Indiana team in ensuring that our Lafayette assembly plant will soon be up and running."
"With a nod to our past and an eye on our future, Indiana is charting a path forward," said Indiana Governor Pence. "Indiana is a manufacturing state, with decades of experience in building the items that power our world. But we are also a state of innovation, developing the technologies of tomorrow. GE Aviation's plans in Indiana fuse the two."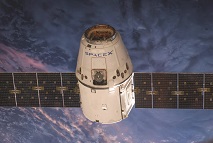 Space Exploration Technologies – SpaceX
Brownsville, Texas
Brownsville, Texas, is soon going to home to a facility worthy of The Jetsons.
SpaceX, started by billionaire and PayPal founder Elon Musk, will build a spaceport that will be used to blast commercial satellites into orbit. The facility will be located on 50 acres about 17 miles northeast of Brownsville and be launch-ready in about two years.
The complex, which will include a rocket launch site, launch command center and ground tracking station, will make up to 12 launches a year. Texas estimates the SpaceX facility will create some 300 jobs in the region and generate $85 million in capital investments.
The company's goal is to provide reliable access to space at significantly lower costs than competitors can offer. One way SpaceX hopes to achieve that is by building reusable rockets, then taking them to the pad, raising them to their vertical position, fueling them and launching them within an hour – with all these steps automated.
"SpaceX is excited to expand our work in Texas with the world's first commercial launch complex designed specifically for orbital missions. We appreciate the support of Governor Perry and numerous other federal, state and local officials who have partnered with us to make this vision a reality," SpaceX CEO Elon Musk said. "In addition to creating hundreds of high-tech jobs for the Texas workforce, this site will inspire students, expand the supplier base and attract tourists to the south Texas area."
During the economic downturn, Brownsville experienced some loss of industry. However, the city is currently experiencing a rebirth of sorts in industry, with the growing automotive sector, the area's proximity to shale natural gas and deep-water oil reserves, its position for renewable energy and international logistics at the Port of Brownsville. And today, with the introduction of the new space industry, Brownsville is poised to add innovation and entrepreneurship opportunities to what is becoming a diversified global economy. 
"Texas has been on the forefront of our nation's space exploration efforts for decades, so it is fitting that SpaceX has chosen our state as they expand the frontiers of commercial space flight," Perry said. "In addition to growing the aerospace industry in Texas, SpaceX's facility will provide myriad opportunities for STEM education in South Texas and inspire a new generation of Texas engineers and innovators."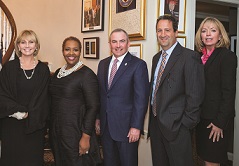 Philadelphia 76ers
Camden City, New Jersey
Eight years ago, Camden City, New Jersey, ranked dead last – 566 out of 566 municipalities – in the 2007 New Jersey Municipal Revitalization Index.
In recognition of Camden's inability to attract investment, the state's Legislature stepped in. The New Jersey Economic Opportunity Act of 2013 (EOA) declared certain municipalities experiencing disinvestment, including Camden, presented significant challenges to development. It included provisions for additional incentives for development in these areas. The objective is to attract individuals and provide and increase to the economy of this area.
It paid off.
The Philadelphia 76ers NBA basketball team is building a new training center in Camden on a on a four-acre tract of land currently occupied by a parking lot.
This new project consists of the development of a 60,000 square-foot professional basketball practice facility that includes two basketball courts; fitness, training and rehabilitation space; player and coaching staff locker rooms; audio-video review room for players and coaches; broadcast media facilities; player lounge and support facilities. 
It will also contain offices for basketball operations management, coaching staff and owners along with a connected three-story commercial building with approximately 60,000 total square-feet for business operations offices. In addition, there is room for equipment and locker room storage and future expansion space for retail, ancillary storage, office or further operations.
"This marks the culmination of an exhaustive and collaborative effort, which would not have been feasible without the New Jersey Economic Development Authority incentive package," said Sixers Chief Executive Officer Scott O'Neil. "The new 76ers Training Center speaks volumes about the vision and commitment of our ownership group. We are focused on improving every facet of the organization and this is a big step on that journey."
In addition to both the direct and "ripple" effect this project will have on the city's economy, the presence of a major sports entity will bring a the sense of excitement and pride. The 76ers have a large fan base throughout the Delaware Valley, which will help to raise Camden's profile throughout the region. It is anticipated there will be opportunities for fans, children's groups and schools to visit the facility to attend practices and other community events.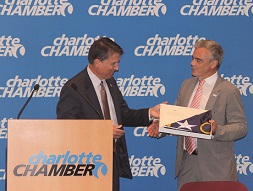 Sealed Air
Charlotte, North Carolina
Sealed Air is a Fortune 500 company that creates packaging and hygiene solutions for name-brands such as Cryovac® food packaging solutions, Bubble Wrap® brand cushioning and Diversey™ cleaning and hygiene solutions. The company recently wrapped up plans to move its headquarters from Elmwood Park, New Jersey, to Charlotte, North Carolina.
The company plans to build a modern, state-of-the art, environmentally sustainable campus that will become the headquarters for its divisions, research & development facilities and corporate offices. The company plans to create 1,262 jobs in Charlotte by the end of 2017. Sealed Air has about 25,000 employees serving customers in 175 countries.
The move marks the largest corporate headquarters relocation in Charlotte history in terms of jobs and investment, according to the Charlotte Chamber of Commerce. The company will spend at least $58 million building the new campus.
Jerome A. Peribere, president and CEO of Sealed Air, said, "We are confident Charlotte will provide a great environment for us to operate and grow our business moving forward. This move will contribute to a stronger, one-company culture that will enable greater collaboration, efficiencies and better use of our investments in people and new technologies. We are here to stay, and we are absolutely delighted to be able to call this place home."
"While Sealed Air's global corporate headquarters is new to Charlotte, this company is not new to North Carolina," said North Carolina Commerce Secretary Sharon Decker. "The company has two production facilities; one in Richmond County, the other in Caldwell County, as well as sales offices throughout the state."
The average annual wage will be nearly double the average annual wage of $59,046 in Mecklenburg County.
"It's paying off as more companies like Sealed Air choose to bring jobs to our communities." "We are working hard to attract corporate headquarters projects across North Carolina," said North Carolina Representative Beverly Earle. "Sealed Air had many options, but they chose Charlotte and we welcome them to become a part of our great community."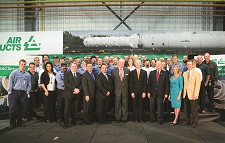 Air Products
Palmetto, Florida
Air Products is a Fortune 500 company and world leader in clean energy technology and liquefied natural gas (LNG). Air Products' primary operations are in Pennsylvania but the company faced constraints in shipping its larger heat exchangers, which can measure 180 feet long and weigh up to 500 tons. 
Air Products needed a secondary location facility with deep water port access that could both manufacture the equipment and ship it directly to global customers. Air Products discovered exactly what it was looking for in the small city of Palmetto, right across the highway from Port Manatee. This new facility, which opened in 2014, will be used to manufacture large custom-made chemical process equipment for overseas customers.
The facility will bring 250 high-wage manufacturing jobs and inject $56.8 million in capital investment to an area that was hard hit by the recession.
"This plant will meet a defined LNG production market need around the globe. At Port Manatee, Air Products will be able to supply the additional capacity required to stay ahead of increasing customer demand, and specifically for the manufacture of larger LNG heat exchangers. This site has the readily available port access that removes any shipping constraints we had previously faced with this larger equipment," said John McGlade, Air Products' chairman, president and CEO.
Governor Rick Scott said, "Air Products' expansion to the Bradenton area is great news for Florida families. Last year we worked hard to remove the sales tax on manufacturing machinery and equipment so that companies like Air Products could invest in their business and create more jobs for Florida families. In three years, we have created 440,000 private-sector jobs and our unemployment rate dropped to 6.7 percent. We are committed to creating an opportunity economy in Florida that will create jobs for generations to come."
The company has teamed up with Manatee Technical Institute and CareerSource Florida to offer technical training programs that will improve the local workforce.
"After a year of searching in a number of different locations around the United States, Port Manatee and the state of Florida, along with the support that we got from the state and local, economic development corporations and from the Manatee County Board of Commissioners, really made us feel like this is the place we wanted to be," said Sandy McLauchlin, general manager of LNG engineering & manufacturing at Air Products.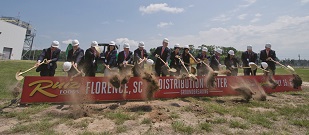 Ruiz Food Products, Inc.
Florence, South Carolina
Ruiz Food Products (Ruiz Foods) is a leading producer of frozen Mexican food and snack products. Its El Monterey® line is the No. 1-selling brand of frozen Mexican food in the United States and its Tornados® are a top-selling snack available at convenience stores. To meet demand on the East Coast, the Dinuba, California-based company needed to expand east.
The company selected Florence, South Carolina, for its newest facility – its first on the East Coast. The $55 million investment is expected to generate more than 500 new jobs over the next several years.
The new Ruiz facility will locate in a former Heinz plant. When Heinz closed its facility in 2013, it left 200 people in the community without jobs. The new investment being made by Ruiz Foods is not only an investment in a vacant facility, but in the people of Florence County. Because Ruiz Foods will hire more than double the amount of displaced workers, this announcement was an important milestone in the history of Florence County.
The new facility is in the process of being renovated and will enable the company to provide great customer support on the East Coast. Initial manufacturing operations are expected to begin in 2015.
"Our expansion strategy included establishing a manufacturing facility on the East Coast. Our products are in high demand with significant growth on the East Coast; and for us at Ruiz Foods, it's all about customer service.  After conducting an initial search, we quickly narrowed our choice to this facility in Florence, South Carolina. My compliments to the State of South Carolina, the people of Florence County and the Florence County Economic Development Partnership – their enthusiasm, cooperation and flexibility made it possible to make our decision quickly," said Rachel P. Cullen, president and CEO of Ruiz Food Products, Inc.
Ruiz Foods is one of the nation's top minority-owned businesses in the nation and continues to be owned and operated by the Ruiz family.
"We are extremely excited to have this opportunity to become a member of the Florence community and believe our tradition of commitment to our team members and the community will be a natural fit. Our corporate culture promotes an open door policy, regular communication meetings, on-site and off-site training, a birthday club and opportunities for internal advancement, competitive wages and benefits, community involvement – in a family environment. Our core values include safety, integrity, respect, quality, innovation and teamwork," said Kim Ruiz Beck, chairman of Ruiz Food Products, Inc. and daughter of co-founder, Fred Ruiz.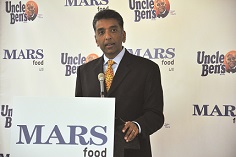 Mars Food North America
Greenville, Mississippi
Mars Food has been a steady employer in Greenville, Mississippi, for more than 35 years. While the Mississippi Delta region has a rich, creative heritage and is the home of the blues, it is also known as one of the most impoverished areas of the state from an economic standpoint.
In October 2014, Mars Food North America announced the company was expanding operations at its manufacturing facility in Greenville. The project represents a $31 million corporate investment, creating 25 new jobs and retaining the company's existing 226 full-time and 230 contract employees. The expansion also involves the relocation of Mars Food's Global Research and Development operations to Greenville from California.
This is big news for Greenville, which as of October 2014 faced an unemployment rate was 10.4 percent while the entire state of Mississippi's was 6.4 percent in October 2014.
Mars' Greenville facility produces products for iconic brands such as Uncle Ben's, Seeds of Change and Abu Siouf, which is exported to the Middle East.
"This is an exciting day for Mars Food as this investment will modernize our Greenville facility, increase our site's capacity and allow us to build a state-of-the-art Research and Development Application Center that will serve our global innovation efforts. We have a long and proud history here in Mississippi, and this is another demonstration of our commitment to both the Greenville site and the surrounding community," said Apu Mody, president of Mars Food North America.
Mars first opened the plant in Greenville in 1978 with five packaging lines and one processing line. Because of increasing market demand, the Mars opened convenience lines in 1987, a ready-to-heat area added in 2007 and a new milled rice area added 2011. Today, the plant sits on 110 acres of property, has 250,000 square feet of space and has close to $140 million in fixed assets.
"Less than one year ago, Mars Food celebrated its 35th anniversary of operations in our state and today the company reaffirms its commitment to the state of Mississippi, Washington County and the Greenville community as it further strengthens its roots in the Delta and creates new job opportunities for the area's residents. I thank the Mars Food team for its continued confidence in our business climate, trust in our workforce and for helping us show the world that Mississippi is a great place to do business," said Mississippi Governor Phil Bryant.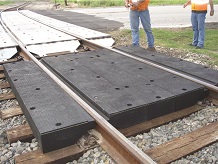 IntegriCo Composites
Springhill, Louisiana
IntegriCo is a Temple, Texas-based manufacturer of composite products made from landfill-bound plastic waste. The company's patented technology mixes waste plastics to create composite railroad ties and related products that far exceed industry standards for high consistency and structural integrity. Traditional wooden railroad ties have a limited life span and they are coated in toxic chemicals that break down rapidly in wet and humid areas.
IntegriCo's composite alternative not only lasts longer, but also is more environmentally friendly in the field. By making products such as railroad crossties and industrial mats from waste plastic, the company is repurposing large amounts of refuse that otherwise would be destined for landfills.
The company is moving into an improved 135,000 square-foot manufacturing plant, formerly occupied by Trane Commercial Systems, and an adjacent 43,000 square-foot building. Following a multistate site selection process, the Louisiana site was chosen based on its acreage, building specifications and geographic location with industrial zoning and direct access to on-site rail and highway routes.
In addition to expanding its manufacturing operations to Springhill in Northwest Louisiana, IntegriCo will establish its corporate headquarters in the Louisiana city of 5,300 people, leading to additional growth opportunities, a new $10.5 million annual payroll and job diversification for Springhill and Webster Parish.
Residents of the rural Webster Parish area are excited about this industrial project, and for good reason. From an economic development standpoint, the project promises a major positive impact. IntegriCo will be the largest employer in the North Webster Industrial Park.
Bringing IntegriCo to the region also represents an important rebound for the traditional wood products and manufacturing community of Springhill. In 2008, Georgia-Pacific closed a plywood and sawmill plant in Springhill, leading to the loss of 400 manufacturing jobs. In 2010, within two years of being acquired by Ingersoll Rand, Trane Commercial Systems closed its operations in the area as well, moving 190 jobs to its new facility in Monterey, Mexico.
As Webster Parish Police Jury President Jim Bonsall noted, "The 300 jobs that IntegriCo Composites will bring to our parish is a godsend and a great opportunity not only for our residents, but for the surrounding communities as well."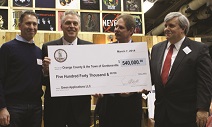 Green Applications LLC
Gordonsville, Virginia
The printing industry, like many others, has been moving back to the United States from off-shore locations. Green Applications, a division of Green Distribution, is one of them. As the Secaucus, New Jersey-headquartered company was looking to expand its operations, it looked no farther than central Virginia.
Green Applications is one of the largest printers and distributors of textile merchandise and heat applied graphics on the East Coast. The company will invest $9.75 million to establish its first Virginia operation in Gordonsville, Virginia. The company will design, screen print, produce and distribute graphic art on heat transfers and apparel, creating 323 new jobs.
The company purchased the former American Press facility, which closed in 2011, putting 130 employees out of work and leaving the building vacant until Green Applications moved it.
Providing more than 300 jobs supports the community by providing employment for those unemployed or underemployed in the area. Green's presence in the community alone will bring life and vitality back to a small town that was greatly impacted by the closure of American Press in 2011.
"Virginia is a great state with a strong workforce to lead our East Coast expansion," said Robert Butters, Green Applications owner and chief executive officer. "As the textile print and embellishment industry moves back to domestic production, being located in the center of the East Coast allows us to deliver quick-turn and strategic solutions to our customers. We worked closely with the Virginia Economic Development Partnership to realize this opportunity and I am excited by the tremendous growth potential in the region."
Governor Terry McAuliffe said, "It is a pleasure to welcome Green Applications to Virginia as the company further expands its footprint on the East Coast. The return of a formerly vacant building to productive use is a symbol of economic revitalization in the region. The creation of over 300 new jobs with this investment marks significant progress toward ensuring our economy remains competitive in the 21st Century."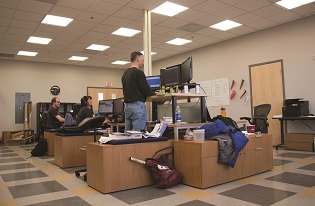 Underwriters Laboratories (UL)
Laramie, Wyoming
If you build it, they will come.
According to Ron Gullberg at the Wyoming Business Council, the region's newly built Cirrus Sky Technology Park was one of the key reasons Underwriters Laboratory (UL) decided to locate to a new technology center in Laramie, Wyoming, chosen over 16 other national locations. In 2013, Laramie County received nearly a $5.5 million grant to build Wyoming Business Council Business Ready Community grant.
Illinois-based UL is an independent safety science company with nearly 11,000 employees serving customers in more than 100 countries. Because the company's growth has accelerated in the past couple decades, the company needed to expand to handle its IT needs internally.
This announcement marked a significant step in the state's efforts to diversify its economy, grow its technology sector and curb the outflow of college graduates to other states. The project also will have a significant impact on the region's ability to diversify its economy and overcome unique financial obstacles within the state. Laramie is the third-largest city in Wyoming with a population of 31,000.
UL officials were impressed by the local business environment, quality of life and outdoor recreation opportunities, growth potential and proximity to University of Wyoming (UW) graduates. They also were drawn to the Wyoming Business Council's Business Ready Community grant program, which allowed the city of Laramie to offer a competitive lease rate UL couldn't replicate in other communities.
The company will move into a 8,200 square-foot building in December 2015. There will be a minimum of 25 people working there by the end of 2015, with the possibility of expanding to 40 or 50 people.
"UL considered several locations across the United States for our new technology center," UL Information Technology Director Mike Nuteson said. "During our search, we were extremely impressed with the quality of talent available in Laramie along with the support and involvement of the local, university and state teams. We will initially employ a small team in Laramie that we plan to expand over time."
UL will work with the university to establish a recruiting strategy to connect graduates from University of Wyoming's Computer Science Department with employment opportunities at UL.
"We found time and time again that folks, given the opportunity to stay in Laramie, would stay in Laramie, but for the jobs, they leave," Nuteson said. "There are talented folks in Wyoming, certainly in Laramie and nearby areas. If possible, we'd like to exclusively recruit from the surrounding areas."
About the Author