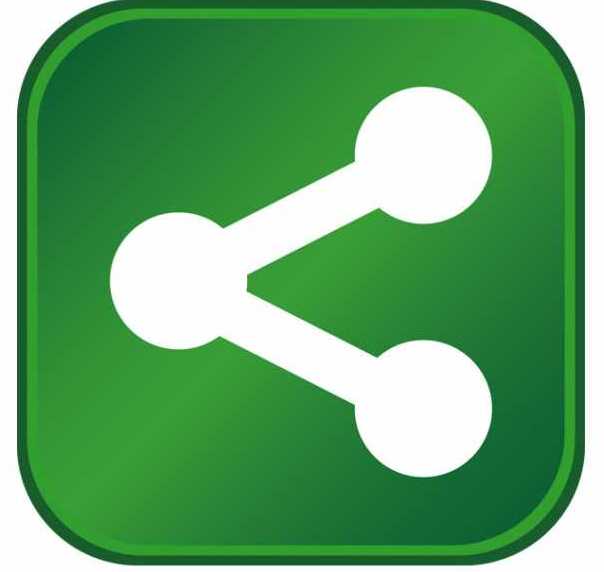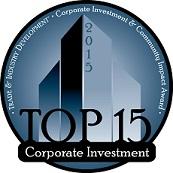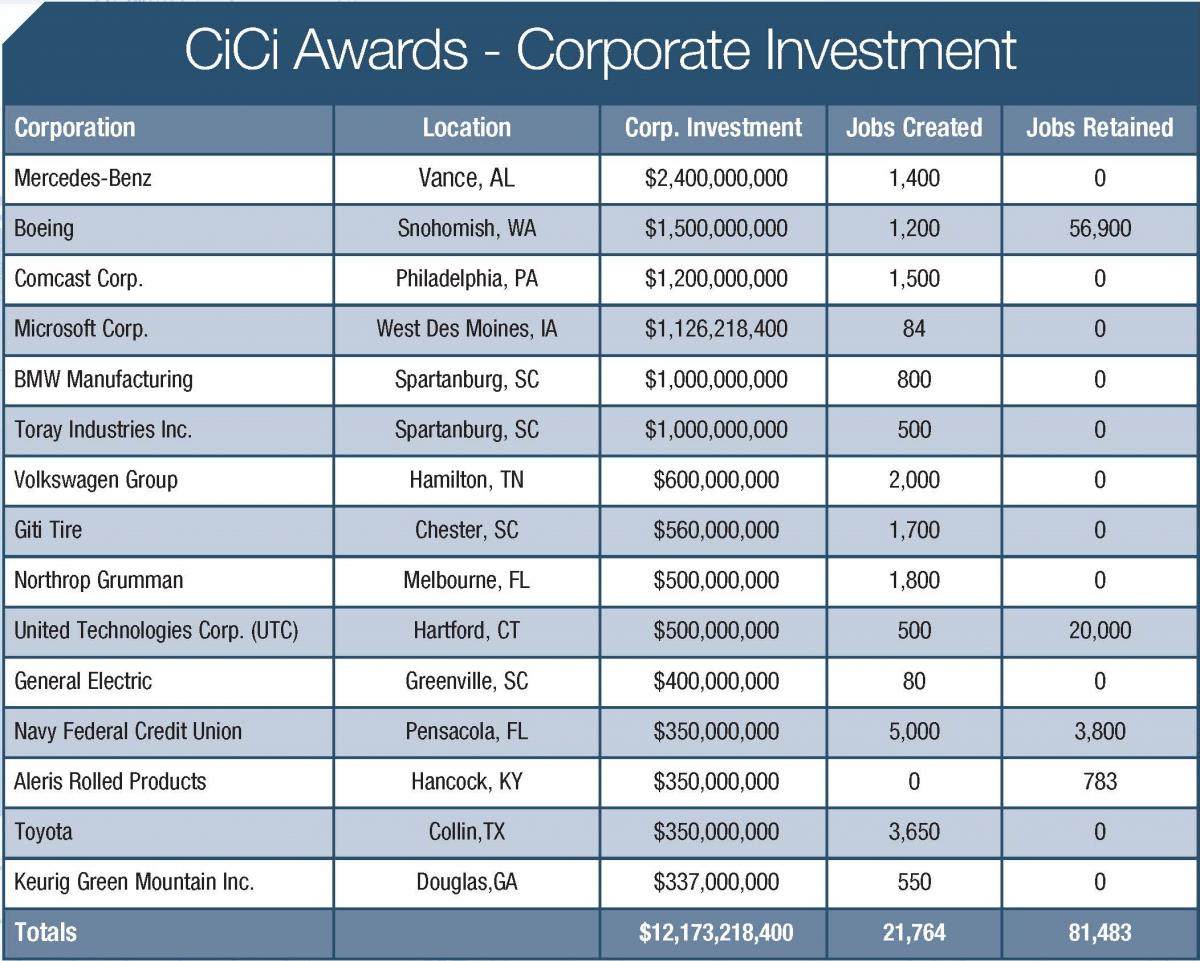 As the 2015 CiCi Awards' Corporate Investment category testifies, 2014 was a year where announcements of capital investment represent a year of enthusiasm for an economic boom to many areas around the country. Of the 15 projects selected, five featured capital investments for economic development totaling at least $1 billion – and one project, Mercedes-Benz in Tuscaloosa County, Alabama, features a mind-blowing $2.4 billion expansion project. The remaining nine projects also are beyond just noteworthy, with investments ranging from $337 million to $600 million. A number of these investments are expansions in the company's existing location, adding jobs and a very-welcome trickle-down effect to the area's entire economy.
The Corporate Investment category of 10th Annual CiCi Awards features companies in a diverse range of industries representing automotive, aerospace, media, technology, the financial sector, manufacturing and food manufacturing.
A number of these investments are turning their regions into a regional industry hub – or are solidifying that area's reputation as a hub. Spartanburg County, South Carolina, is a prime example, with automaker BMW expanding its facility there and Toray Industries opening an advanced manufacturing facility. In addition, with Mercedes-Benz's massive $2.4 billion expansion in Alabama and Toyota relocating its U.S. headquarters to a suburb of Dallas, Texas, the automotive industry is thriving in the South.
Companies in other sectors have exciting investment projects as well. For example, media giant Comcast Corporation is spearheading the largest private development project in the history of Pennsylvania with the Comcast Innovation and Technology Center, a $1.2 billion investment.
However, each company featured in the 2015 CiCi Awards Corporate Investment category is unique and remarkable. These investments are bringing hundreds or even thousands of direct and indirect jobs to the areas in which they will be located – turning private investment into a very public endeavor.
In every instance, this huge investment wouldn't have been possible without the assistance and resources from local and state economic development entities. These examples are a great lesson for all corporate site selectors looking for locations appropriate for their organization's expansion, relocation and new facility aspirations.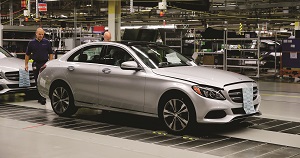 Mercedes-Benz
Vance, Alabama
Mercedes-Benz launched Alabama's auto industry nearly 20 years ago. Now, it's revving up the industry even further with a $2.4 billion investment at the Tuscaloosa County plant over the next two years that will add an expected 1,400 jobs. This will boost its annual capacity to 300,000 vehicles from the 185,000 produced there in 2013. The automaker also added a $70 million logistics center on its campus.
According to Daimler AG and Mercedes executives, one of the driving forces behind the expansion is that Mercedes-Benz plans to begin producing a compact sport utility vehicle called the ML Coupe in Alabama beginning next year. Earlier this year, Mercedes began mass production of the redesigned C-Class in Vance, the first time it has produced a sedan in Alabama.
Daimler Chairman Dieter Zetsche told auto journalists that the SUV market is expected to outpace growth in the overall automotive market, according to a report in the Wall Street Journal. The company had previously announced production plans for the compact SUV.
"We're calling 2015 the Year of the SUV for Mercedes and Tuscaloosa," Zetsche said. "The market for these vehicles is only getting stronger."
In addition to the C-Class, the Alabama plant produces M-Class and GL-Class SUVs, along with the R-Class crossover.
"This latest expansion means several things," Alabama Governor Robert Bentley said.  "First, it means more good jobs for the people of Alabama.  Also, it means the automotive industry continues to grow in this state.  It shows the confidence that companies have in our workforce and in the positive business climate we've created in Alabama. This year marks 20 years since Mercedes-Benz first announced it was coming to Tuscaloosa County.  Our partnership with Mercedes-Benz is stronger today than ever before."
"When we see a business continuing to invest in Alabama and the people of Alabama, that's the greatest compliment we could receive," Governor Bentley added. "Most jobs are created by existing businesses, and when businesses grow here, we don't forget about them."
In addition, Mercedes-Benz has been involved in innovative job-training programs in Alabama, with its Industrial Mechatronics program. Mercedes established the Mechatronics Program in partnership with Shelton State Community College to train and equip students to meet the automotive technology demands of the future. The discipline is called Mechatronics because it combines mechanical engineering, computer science and electronics. The program involves seven semesters of course work and on-the-job training.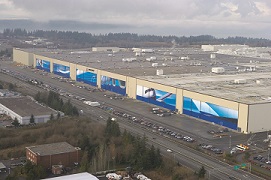 The Boeing Company
Everett, Washington
Boeing has a long history in the state of Washington. Boeing's 777 has been built in Washington since its maiden flight in 1994 and has become the best-selling commercial widebody of all time. Including direct, indirect and induced positions, the Boeing 777 program supports 56,900 jobs in Washington State – and that doesn't include Boeing jobs not associated with the 777.
So when it came time to build a new version called the 777X, with longer, carbon-fiber wings, more fuel-efficient engines and additional passenger amenities, keeping the manufacturing in the state was top priority.
Boeing announced in February 2014 that it would expand its aerospace manufacturing factory in Everett, Washington, where it will conduct final assembly of its forthcoming twin-aisle, twin-engine 777X aircraft, as well as its composite wings. Boeing's new composite wing center for the 777X will be 1.2 million square feet – the size of 24 football fields – and will house three of the largest autoclaves in the world. This $1.5 billion investment will create 1,200 jobs in the area.  First delivery of the 777X is targeted for 2020.
"Locating the new composite wing center in Everett is a win for all of our teammates and partners," said Boeing Commercial Airplanes President & CEO Ray Conner. "This will put our workforce on the cutting edge of composite technology and allow us to build on the infrastructure and logistics system we have in Everett. This decision will strengthen the company's competitiveness and help it grow for the long term."
"The aviation industry grew up side-by-side with the state of Washington," said Conner at a speech at the Trade Development Alliance of Greater Seattle. "The state was only 27 years old when Bill Boeing assembled the Bluebill – the first B&W seaplane – in his boathouse on Lake Union. As we approach the Boeing centennial, I'm incredibly proud of our Puget Sound roots and our continuing presence here as a generator of jobs, revenue and trade. Boeing is the state's largest private employer, with over 81,300 employees based in Washington."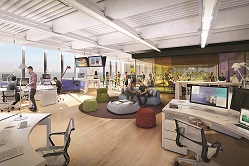 Comcast Corporation
Philadelphia, Pennsylvania
Comcast is known for its deep media reach and now, the media giant has added innovation to its arsenal. The Comcast Innovation and Technology Center (CITC) is the largest private development project in the history of Pennsylvania. Developed jointly by two Pennsylvania-headquartered organizations, Comcast Corporation and Liberty Property Trust, this $1.2 billion, 59-story tower will become the dedicated home for Comcast Corporation's growing workforce of technologists, engineers and software architects.
With 1.7 million square feet in rentable space, the project will redefine Philadelphia's Center City as a thriving nexus of innovation and invention. The CITC includes state-of-the-art incubator space for local technology startups. It also will feature a 200-room, 5-star Four Seasons Hotel, a restaurant on the top floor offering spectacular 360-degree views of the city and studio and office operations of NBC 10/WCAU and Telemundo 62/WWSI.
"The transformative investment Comcast has chosen to make with this project will have a strong impact throughout the region," said Governor Tom Corbett. "The commonwealth's partnership with Comcast will create more than 20,000 direct and indirect jobs during construction, at least 1,500 new Comcast positions and energize Philadelphia's Center City. I believe that it is our people – their creativity, ingenuity, talents and skills – who drive companies like Comcast to make Pennsylvania home."
The upfront economic activity during the construction period alone is estimated to generate $2.75 billion in economic activity within the state and $1.73 billion in economic activity in the city. Comcast will add 1,500 new jobs as part of the CITC.
"We are thrilled to mark another historic moment in our company's history in Pennsylvania with the development of the Comcast Innovation and Technology Center," said Brian L. Roberts, chairman and CEO of Comcast Corporation.  "This expansion of Comcast's vertical campus in Philadelphia will create tens of thousands of jobs and drive billions of dollars in economic development in the Commonwealth and the City.  This exciting project would not be possible without the support of the Commonwealth and Governor Corbett, who is a true and committed partner in driving Pennsylvania's growth."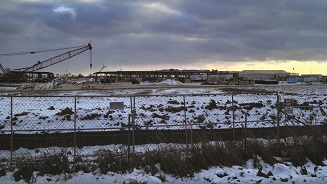 Microsoft Corporation
West Des Moines, Iowa
Microsoft Corporation is a well-known name for its wide range of services, devices and software products. And in the West Des Moines, Iowa, area, the software trailblazer is now known for its plans to build a $1.1 billion data center that includes more than one million square feet of new buildings on 154 acres.
The data center will house servers and computer equipment to operate large-scale web portal services as part of Microsoft's online services businesses. The center, which will be built in four stages, will create 84 jobs. The project will increase Microsoft's investment in West Des Moines to more than $2 billion. The company also has a $900 million data center in the area that spans 42 acres and employs 89 people.
The city of West Des Moines will invest $53,400,000 in infrastructure around the data center using tax increment financing. City and state officials say the new infrastructure should spur other developments. In addition, Microsoft received $20,256,000 in state tax credits and $6,700,000 in a grant from West Des Moines.
"It's a game-changer," says West Des Moines Mayor Steve Gaer. "Look at the size of the project and the property taxes it will generate. It's huge."
Microsoft has agreed to create at least $255 million in taxable value in West Des Moines, which translates to about $8 million per year in property taxes once the data center is completed. City officials say $8 million is equivalent to about 14 percent of the city's annual operating budget and the tax money will be used to spur further development, including a Grand Technology Gateway, as well as to bolster existing programs like parks and recreation.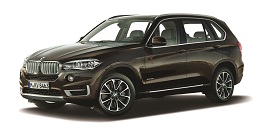 BMW
Greer, South Carolina
To celebrate the 20th anniversary of the BMW manufacturing facility's start of production in Greer, South Carolina, the automaker made a massive announcement. The company will expand its plant in Spartanburg County with a $1 billion investment, which is expected to create 800 new jobs.
Since the original decision to build BMW's only U.S. plant in South Carolina in 1992, BMW's investment in South Carolina has totaled $6.3 billion and has employed 8,000 South Carolinians. Today's announcement represents its largest, single investment to date in its South Carolina presence and the fifth major expansion of the plant.
"BMW's decision to locate in South Carolina was a game-changer 20 years ago, and this commitment of another $1 billion investment and 800 jobs in Spartanburg County is another game-changing moment. This is a real testament to our strong business environment and skilled workforce and we couldn't be more excited to see BMW continuing to grow and invest in our state for many years to come," said South Carolina Governor Nikki Haley.
The latest expansion includes the addition of a fifth vehicle platform at the plant – the X7. The facility already produces the X3, X4, X5 and X6 models. The plant will increase production capacity from 350,000 units to 450,000 units annually, making the Spartanburg facility the highest-capacity plant in the BMW global system by the end of 2016.  More than 70 percent of the vehicles produced were exported to 140 global markets.
"BMW's presence in South Carolina over the past two decades has driven the dramatic growth of our automotive sector, which now includes 250 companies in 38 out of the state's 46 counties. It is great to see BMW's ongoing success in our state as they become the largest plant in BMW's global system," said South Carolina Secretary of Commerce Bobby Hitt.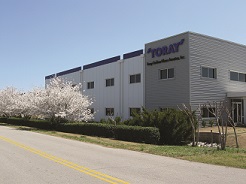 Toray Industries, Inc.
Spartanburg, South Carolina
Investment is skyrocketing in Spartanburg County, South Carolina. Toray Industries, a Tokyo-based manufacturer of fibers and textiles, plastic resins, films and carbon fiber composite materials, selected Spartanburg for its next global facility. The $1 billion investment over the next decade is expected to create 500 new jobs and represents one of the largest initial capital investments in South Carolina's history.
This is the company's first consolidated carbon fiber manufacturing plant in North America, with all steps of the production process calculated at one site. It will serve as a major supplier to the aerospace industry. This further strengthens the South Carolina's status as a hub for aerospace.
"South Carolina offers Toray Industries an ideal location for our next North American manufacturing facility. Here we will have proximity to major customers, both in the U.S. and in Latin American markets. We appreciate the great working relationship we have established with the state and local officials and we look forward to becoming part of the South Carolina business community," said Akihiro Nikkaku, president of Toray Industries.
South Carolina Secretary of Commerce Bobby Hitt reiterated that the state's deep advanced manufacturing roots were a big draw for Toray.
"South Carolina is well-known as both a manufacturing powerhouse and a top location for foreign-owned firms to set up operations. Toray's decision to invest here underscores our growing expertise in composites and advanced materials as well as our global reputation as being just right for business," said Hitt.                                                                                                                                                                  
According to a Toray announcement, the company plans to actively invest its resources to meet demand for its advanced material business base. Toray had already been considering a plan to locate a new, high-performance carbon fiber production facility to serve as a major supplier to the aerospace industry. Toray is the world's largest producer of carbon fiber, which has applications ranging from golf clubs to aircraft to natural gas pressure vessels. 
"It is truly a great day when we get to announce something this significant. Toray Industries' $1 billion investment and 500 new jobs will be a real game-changer for the Upstate and all of South Carolina. We congratulate Toray for their decision to come to Spartanburg County, and we look forward to helping them find continued success and opportunities to grow here in our state," said South Carolina Governor Nikki Haley.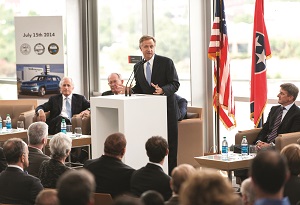 Volkswagen Group of America
Chattanooga, Tennessee
The South's auto industry continues on its accelerated path – and Volkswagen's announcement of expanding its Chattanooga, Tennessee, facility adds high-octane fuel to the industry's growth.
Volkswagen Group of America is expanding its sole U.S. manufacturing facility in Chattanooga, adding an additional manufacturing line and creating the National Research & Development and Planning Center of Volkswagen Group of America. Volkswagen's total global investment for the expansion will be $900 million, with $600 million invested in Tennessee and 2,000 new jobs being created in Hamilton County. Volkswagen Chattanooga currently employs 2,500 people.
The expanded plant will manufacture a new automotive line, a midsize seven-seat SUV for the American market called the CrossBlue. Production of the new SUV will begin in the fourth quarter of 2016 with the first vehicle expected to roll off the new assembly line by the end of 2016. The expansion will also create the National Research & Development and Planning Center of the Volkswagen Group of America.
"This is exciting not just for Chattanooga and Hamilton County but for all of Tennessee, and I want to thank Volkswagen for its significant long-term investment in our state," Tennessee Governor Bill Haslam said. "The impact of this announcement goes far beyond the 2,000 new jobs because of the large multiplier effect of the automotive industry, and adding an additional manufacturing line and the National Research & Development and Planning Center sends a clear signal that Tennessee can compete with anyone in the global marketplace."
 "The United States of America is and will remain one of the most important markets of Volkswagen. Over the past few years, we have achieved a lot here. We are now launching the second phase of the Volkswagen campaign in the USA. With the midsize SUV, the expansion of the Chattanooga plant and the new development center, we are focusing on the wishes of U.S. customers," Prof. Dr. Martin Winterkorn, chairman of the board of management of Volkswagen Aktiengesellschaft said. "This is also a strong signal for the USA as an industrial and automobile production location. The Volkswagen brand is going on the attack again in America."
The state of Tennessee is providing a $165.8 million grant for costs associated with site development and preparation, infrastructure, facility construction and production equipment acquisition and installation. In addition, the state will provide a $12 million grant for training new employees.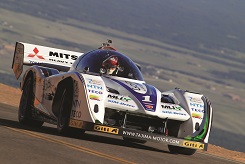 Giti Tire
Chester, South Carolina
Giti Tire, a family-owned company based in Singapore, started in 1951 making bicycle tires and inner tubes in Indonesia. Today, it is the 10th-largest tire company in the world, manufacturing passenger and commercial tires that are shipped around the globe.
The company is establishing its first North American manufacturing facility in Chester, South Carolina, to meet the growing demand of the North American market. Giti Tire plans to invest $560 million – the largest investment the area has seen in over 32 years – which will create 1,700 new jobs over the next decade. The plant will produce both passenger and light truck tires for the OEM and replacement markets. The new facility will combine manufacturing and distribution activities, featuring total building area estimated to be 1.8 million square feet.
"This significant investment represents our strong commitment to customers in North America. This is a key milestone for Giti Tire and an important part of our growth strategy worldwide. Existing business and strong demand for Giti Tire's passenger and light truck tires in North America has made this significant investment in South Carolina possible" said Enki Tan, executive chairman of Giti Tire Group.
"Chester County is an excellent location for Giti Tire, offering extensive and efficient infrastructure network including interstate highways, rail, close proximity to airports and a major metropolitan area to support the company's needs and growth for many years to come,"  added Lei Huai Chin, managing director of Giti Tire Group.
The announcement is especially significant for the area because Chester County is located in a Tier III rural area that rose to prominence with farming and textile mills, bringing jobs and prosperity to the region for nearly a century. This area, like many other mill towns, experienced economic blows with the closing of textile mills that mapped across the state. The full scope of this project will result in the construction of not only the manufacturing of the Giti Tire facility, but in the spinoff new investments in supplier businesses, apartments, restaurants and homes as well.
"This is a great example of what happens when we all work together to bring jobs and manufacturing back to the U.S. We are excited to bring quality, affordable tires to our customers that will also help us meet our goal to spend an additional $250 billion on domestically manufactured products over 10 years," said Ryan Peterson, Walmart's vice president of automotive.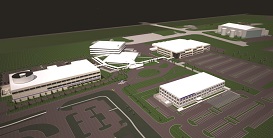 Northrop Grumman
Melbourne, Florida
The aerospace industry has deep roots in Florida, which was one of the key drivers behind Northrop Grumman's $500 million expansion that will create up to 1,800 jobs in Brevard County. Northrop Grumman is a leading global security company that provides innovative systems, products and solutions in unmanned systems, cyber, C4ISR and logistics and modernization to government and commercial customers worldwide.                                                                
These new jobs, which are expected to have an average salary of $100,000, are in addition to recent Northrop Grumman announcements for a Manned Aircraft Design Center of Excellence in Melbourne and an Aircraft Integration Center of Excellence in St. Augustine. Northrop Grumman was able to take advantage of an existing workforce made up of former NASA employees as well as close proximity to the thriving Space Coast aviation community.
Virtually every major defense contractor from the U.S. and abroad has significant operations in Florida. The state offers 22 airports with runways of 10,000-plus feet, two spaceports and launch/landing facilities that support a full range of aviation and aerospace industry activities, from R&D to testing to service. More than 61,000 military and 24,000 civilian personnel, veterans, pilots and engineers are part of the state's flexible talent pool.
Northrop Grumman's expansion will occur in multiple phases. The first phase will begin with the construction of a new 220,000 square-foot office building and the addition of 300 jobs. Potential follow-on phases include construction of additional facilities totaling 500,000 square feet and 1,500 additional jobs.
"We're extremely appreciative of the support we've received from the state of Florida and the local community in our continuing effort to drive our affordability and competitive position," said Tom Vice, Northrop Grumman corporate vice president and president, Aerospace Systems. "This expansion further cements our strong partnership with Florida and will greatly benefit our employees, customers and shareholders."
As part of the project, CareerSource Florida has offered Northrop Grumman performance-based partial reimbursement grants for employee training through the Quick Response Training (QRT) program. QRT grants are structured to be flexible and responsive to the training needs of new or expanding businesses.
"This major project will provide high-wage employment and career-growth opportunities for hundreds of Floridians over the next five years, creating a significant economic impact on Melbourne and the entire state," said Chris Hart IV, president and CEO, CareerSource Florida. "The shared investment in training supports both the creation and retention of jobs in our state and will help assure Northrop Grumman's global competitiveness now and into the future."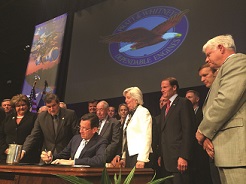 United Technologies Corporation (UTC)
Hartford, Connecticut
United Technologies Corp., based in Hartford, Connecticut, provides a broad range of high-technology products and services for the aerospace and commercial building industries. Because of UTC's long history in Connecticut, the state has become a global aerospace hub. A recent announcement only serves to solidify this.
UTC's aerospace businesses include Sikorsky helicopters, Pratt & Whitney aircraft engines and UTC Aerospace Systems. The company also operates a central research organization that develops new technologies and ways to improve the performance and energy efficiency of UTC products and processes.
UTC will invest up to $500 million in the state to upgrade and expand its aerospace research, development and manufacturing facilities over the next five years. During the same period, UTC expects to invest up to $4 billion in research and other capital expenditures in the state. The agreement between the state of Connecticut and UTC is expected to have an impact on more than 75,000 jobs in the state. As part of the agreement, the company will:
Construct a new Pratt & Whitney corporate headquarters, which it will keep in Connecticut for a minimum of 15 years

Construct a new Pratt & Whitney worldwide engineering center of excellence in Connecticut

Keep Sikorsky corporate headquarters in Connecticut for a minimum of five years

Create a customer training center at UTC Aerospace Systems (UTAS) in Windsor Locks

Build new labs and infrastructure at United Technologies Research Center (UTRC)

Invest in new research projects and capital investments at Pratt & Whitney, Sikorsky, UTAS and UTRC.
United Technologies, Pratt & Whitney and Sikorsky all have a long history of innovation in Connecticut. UTC has called Connecticut home for nearly a century. The company's roots reach all the way back to 1925 when Frederick Rentschler founded Pratt & Whitney, marking the beginning of a long, prosperous relationship with the people of Connecticut. Sikorsky moved to Stratford in 1929 and has been the world's leading provider of helicopters and innovative flight solutions ever since
"Connecticut has long led the world when it comes to the aerospace industry. With the agreement we are announcing today, we will ensure that we remain a leader for years to come," said Governor Dannel P.  Malloy.  "This is a once-in-a-generation opportunity, one that will make sure we are keeping and creating good-paying jobs with good benefits – not just in the UTC companies, but also in the hundreds of aerospace supply chain companies throughout the state and the region. UTC's decision to invest now in new facilities in our state is a strong signal of their belief in Connecticut's talented workforce, commitment to innovation and determination to build a world-class business climate."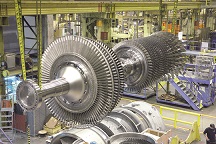 General Electric (GE)
Greenville, South Carolina
General Electric is known for its ability to "bring good things to life." In Greenville, South Carolina, one of those things is $400 million state-of-the-art Power & Water advanced manufacturing facility which will expand the company's advanced manufacturing capabilities and will create more than 80 new jobs over the next 10 years in Greenville County. The new facility broke ground in June 2014 and is expected to be operational in 2015.
In 1968, GE established its corporate presence in Greenville County with the creation of a 340,000 square-foot facility. Today, that same facility employs more than 3,000 people and has grown into more than one million square feet of factory and offices, manufacturing products to support customers on a global level.
The GE Power & Water Greenville Advanced Manufacturing Works facility, the first-of-its-kind, will serve as an incubator for innovative advanced manufacturing process development and rapid prototyping. By developing new techniques and production processes in close proximity to Power & Water's established manufacturing operation on the Greenville campus, GE will be able to design, test, iterate and rapidly bring its products to market.
"The advanced manufacturing facility represents another major GE investment in expanding our Power & Water technologies and our ongoing investment in South Carolina, which began in 1968. The advanced manufacturing techniques that are developed in South Carolina will increase product speed to market, benefiting our global customer base. GE's innovation will power the world," said GE Power & Water President and CEO Steve Bolze.
"GE is a leader in the global manufacturing community and a major contributor to our region's reputation as a hub for innovation, technology and advanced manufacturing as well. We salute their commitment to growing and advancing their presence here in Greenville County," added Dick Wilkerson, chairman of the Greenville Area Development Corporation.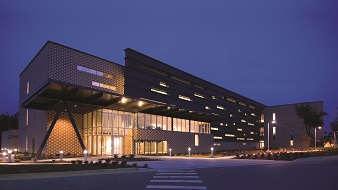 Navy Federal Credit Union
Pensacola, Florida
The Navy Federal Credit Union (NFCU) is the world's largest credit union. With $60 billion in assets and more than 12,000 employees worldwide, it has five million members who are Department of Defense and Coast Guard Active Duty, civilian and contractor personnel and their families.
NFCU announced a $350 million expansion project to its Pensacola campus which will create 5,000 jobs and is its second expansion announcement in two years. In total, the company plans to employ more than 10,000 and create $1 billion in capital investments in the state over the next five years.
The expansion will include the construction of two buildings that will be home to the 5,000 new positions. In April 2013, NFCU announced it would build two multi-story office buildings by 2016 to house 1,500 employees.
Florida is one of the largest states for military personnel. The Pensacola location allowed NFCU to access a large pool of armed forces members and better assist them with their financial needs.
"This is our largest expansion in Pensacola thus far. It underscores what we've long been saying about this great community – it's a great place to grow your business and a wellspring of talented people to employ. Continued growth for Navy Federal not only signifies the strength of the credit union, but also means upholding our high standards for member service. It takes the best to serve the best, and that's why we continue to invest in Pensacola," said Cutler Dawson, CEO and president of Navy Federal Credit Union.
Navy Federal began operations in Pensacola's Escambia County in 2003 with 60 employees. The credit union currently employs more than 3,800 on its Pensacola campus. It added more than 530 employees in 2014 and has an annual payroll estimated at $160 million.
"Navy Federal's decision to expand is a game-changer for Florida and the state's financial industry. This expansion gives the state and region an incredible vote of confidence and lets us know the efforts we've made to improve the business climate here and tell Florida's business story are working," said Gray Swoope, who at the time of the annoucement was secretary of commerce and president and CEO of Enterprise Florida. "We appreciate Navy Federal's continued commitment to Florida and thank them for the incredible impact they've already made in the Pensacola region."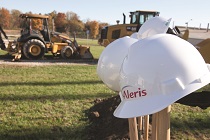 Aleris Corporation
Lewisport, Kentucky
Aleris Corporation's growth is on a roll. The privately held, global leader in aluminum rolled products and extrusions, aluminum recycling and specification alloy production is expanding its aluminum rolling mill in Hancock County, Kentucky.
The $350 million expansion will equip Aleris Rolled Products, Inc. (its legal name in Lewisport) with the capabilities and the technology to serve the North American automotive industry as it shifts to broader aluminum use to make lighter vehicles. It's the single largest project investment by a company in Kentucky in more than a year.
The expansion, which will include two continuous annealing lines and a new wide cold mill, positions the company for long-term growth while maintaining steady employment for approximately 800 workers. Aleris has expertise in this process at its Duffel, Belgium, facility where the company is a leading supplier to the European premium car industry.
The company has operated its 1.6 million square-foot mill in Hancock County since 1964. Aleris chose to expand in Kentucky due to the state's strategic location and business-friendly environment.
"The shift toward significantly greater aluminum use in automotive manufacturing represents a transformational opportunity for our industry," said Steve Demetriou, Aleris chairman and CEO. "We have provided advanced automotive solutions to premium automakers in Europe for many years. This expansion project will position Aleris, and specifically our Lewisport site, to play a key role in the transformation as it takes hold in North America."
Tighter fuel efficiency requirements are causing auto manufacturers to expand their use of lightweight aluminum to include hoods, door panels and trunks. The use of aluminum sheet for vehicle bodies is projected to increase to four billion pounds in 2025, from 200 million pounds in 2012. The production of auto body sheet requires a highly specialized heat treatment process to meet the precise specifications of automotive manufacturers.
Aleris' expansion puts Hancock County and western Kentucky at the forefront of the booming aluminum industry. This will increase production of aluminum auto body sheet and usher in a new market opportunity for this 50-year-old aluminum rolling mill. As Hancock County's largest employer, Aleris' success signals another step in the growth of the advanced manufacturing sector. Hancock County is ground zero for aluminum production in western Kentucky with over 2,000 aluminum manufacturing-related jobs.
"The aluminum industry is an important part of Kentucky's overall economy and its status as the third-largest manufacturer of automobiles in the United States," said Rep. Dwight Butler. "This is an exciting time for our region as Aleris brings more job opportunities to its current outstanding workforce in Lewisport."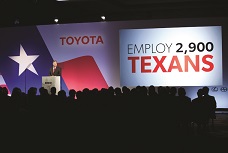 Toyota
Plano, Texas
After a half-century in the Los Angeles suburb of Torrance, California, Toyota is moving its U.S. headquarters to Plano, Texas. This new Toyota campus will bring together 4,000 employees from manufacturing, sales and marketing and corporate operations around the country along with Toyota Financial, its financing arm.
According to a company statement, this is part of the automaker's plans to create a "One Toyota" vision for the U.S. and Canada. Toyota's worldwide headquarters are located in Japan.
"With all its major units consolidated in a single campus, we will be better equipped to speed decision making, share best practices and leverage the combined strength of our employees. The result will be better products," said Jim Lentz, Toyota's CEO for North America.
"This is the most significant change we've made to our North American operations in the past 50 years, and we're excited for what the future holds," Lentz added
There are a number of reasons why the Toyota headquarter relocation to Plano will be a big success for the area. It's reported that average salaries for the 4,000 jobs in Plano will be in the six figures. This relocation is expected to have a $7.2 billion economic impact over the next decade in the region. It emphasizes Texas' logistical advantages being a neighbor to the quickly growing automotive manufacturing industry in Mexico. And Toyota chose Plano even though the incentive package offered was only half that of other competing states.
"There's a financial component to this, but Toyota's move to Plano goes beyond that," Harry LaRosiliere, mayor of Plano said. "This will greatly benefit the community."
"It became quite clear that the Dallas metro area was far and above the best choice," said Lentz.
Texas Governor at the time of the announcement, Rick Perry, said, "Toyota understands that Texas' employer-friendly combination of low taxes, fair courts, smart regulations and world-class workforce can help businesses of any size succeed and thrive."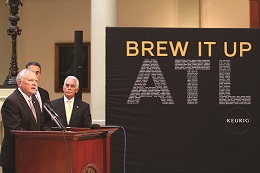 Keurig Green Mountain, Inc.
Douglasville, Georgia
Keurig Green Mountain, the specialty coffee and beverage company known for leading the single-serve coffee pod revolution, is expanding to the Atlanta area. One of the draws is the close proximity to its new partner, Coca-Cola.
Keurig will open a manufacturing facility in Douglas County, creating approximately 550 new jobs and investing $337 million over the next five years. The new 585,000 square-foot Douglas County manufacturing center will support the production of pods for the company's new Keurig Cold platform, a cold beverage system that lets consumers easily create cold beverages at home.
"Keurig's new facility is a great addition to Georgia's already diverse manufacturing industry and will provide many good jobs for our citizens" said Georgia Governor Nathan Deal. "The fact that the company has chosen to manufacture its new product line in Georgia is a testament to our skilled workforce and logistics infrastructure."
In February 2014, Keurig and Coca-Cola announced the companies had entered into a long-term, global strategic partnership to collaborate on the development and introduction of Coca-Cola's global brand portfolio for use in the Keurig Cold beverage system, and will cooperate to bring the system to consumers around the world. The system is currently under development with expected availability in fiscal year 2015.
"We are pleased to welcome Keurig and its new processing facility to metro Atlanta," said Hala Moddelmog, president and CEO of the Metro Atlanta Chamber. "This boost in manufacturing jobs and investment in metro Atlanta's food and beverage industry is a huge win for Douglas County and for our region. Keurig, one of the most widely recognized beverage brands, will benefit from our skilled workforce, warehouse space and supply chain infrastructure."
"I am excited to see an innovative company such as Keurig partner with one of Georgia's biggest brand names – The Coca-Cola Company," said Georgia Department of Economic Development Commissioner Chris Carr. "Our pro-business environment sets the stage for businesses to collaborate, and this is a tremendous example of such a partnership."
About the Author