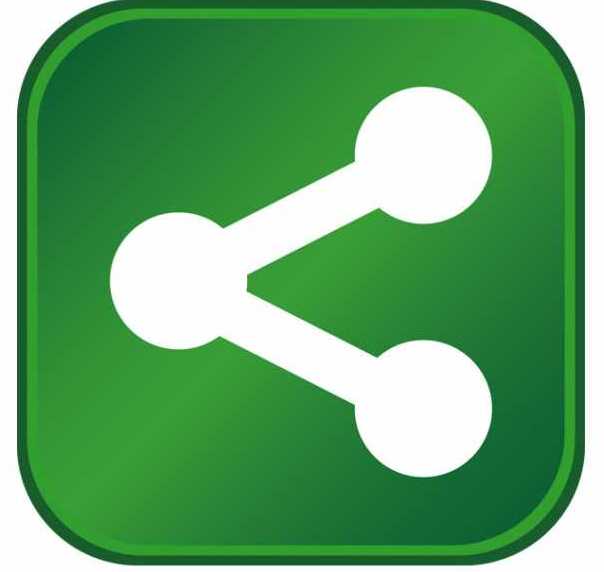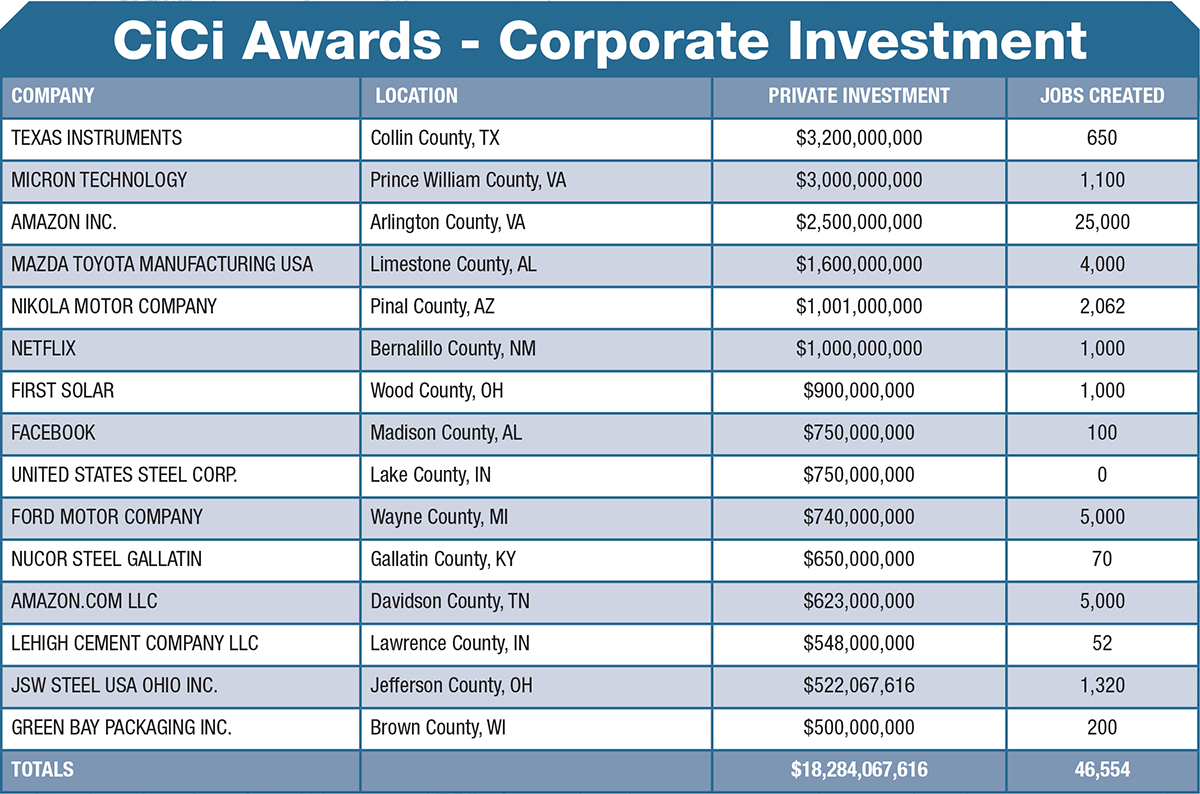 Investment by companies in the United States continues to be strong. The 15 Corporate Investment winners of Trade & Industry Development's 2019 CiCi Awards have been determined from the details announced in 2018 of their corporate development projects. Collectively, these 15 projects bring more than $18 billion in corporate investment. But the benefits go well beyond the capital involved. These projects are creating a total of more than 46,500 new jobs.
Digital-based companies lead our list for corporate investment. Texas Instruments is spending $3.2 billion to expand a chip-manufacturing facility, adding 650 jobs to its existing workforce of nearly 1,000 in Richardson, Texas, and taking advantage of an area with a highly trained workforce. Micron Technology is a close second with its $3 billion investment into an expanded facility in Manassas, Va., that will become Micron's Center of Excellence for long-lifecycle memory and an R&D hub. Amazon's major new headquarters in Arlington, Va., comes after a much-publicized site selection process and will bring a $2.5 billion facility—and some 25,000 new high-paying jobs—over the next 12 years.
Netflix's new U.S. production hub in New Mexico is a $1 billion, 1,000-job investment and involves the purchase of a world-class studio in Albuquerque, continuing the 120-year history of film-making in that state and helping to expand training for workers in the film industry. Another digital giant, Facebook, is locating a new, $750 million state-of-the-art data center in Huntsville, Ala., choosing that community for, among other factors, its quality of life, pro-business climate and educated workforce. And Amazon has a second Corporate Investment winner, this time establishing a new Operations Center of Excellence in downtown Nashville, Tenn., creating 5,000 jobs—the single largest jobs commitment in the state's history.
Huntsville also will be home to the top automaker on our awards list, the new $1.6 billion Mazda/Toyota assembly plant that is expected to employ 4,000 and crank out 300,000 vehicles a year. The Nikola Motor Co., with its $1 billion investment, will bring more than 2,000 jobs to the corridor between Phoenix and Tucson for the design and manufacture of its hydrogen-electric vehicles and related components. Detroit also will benefit from Ford Motor Co.'s investment for a new 1.2-million-square-foot campus for its autonomous and electric vehicles and other services, bringing 5,000 jobs to the area.
Not to be outdone, the steel industry is big on our Corporate Investment list, too, led by U.S. Steel Corp.'s expansion of its Gary, Ind., facility, which has been in operation since 1908 and is the largest integrated steel mill in North America. North Carolina-based Nucor, which is North America's largest recycler of steel and steel products, is expanding its presence in Kentucky, nearly doubling its mill's annual capacity for coiled sheet steel. The JSW Steel project marks the resurgence of steel in Ohio with the revitalization of the Mingo Junction mill, first opened in 1872, and which now will create more than 1,300 jobs for the area.
Growing customer demand for solar technology has led First Solar to invest $900 million and create 1,000 jobs for a new facility in Troy Township, Ohio, to manufacture solar panels. Also in the Midwest, Lehigh Cement is expanding its facility, continuing a more than 100-year tradition of making cement in the town of Mitchell, Ind. And in Green Bay, Wis., another long-established industry gets a boost, with the expansion of facilities at Green Bay Packaging.
All told, TID's 2019 Corporate Investment CiCi Awards recipients are a testament to the effectiveness of the alliances formed between companies and economic developers and entities at the state and local levels. Explore the powerful stories behind the numbers.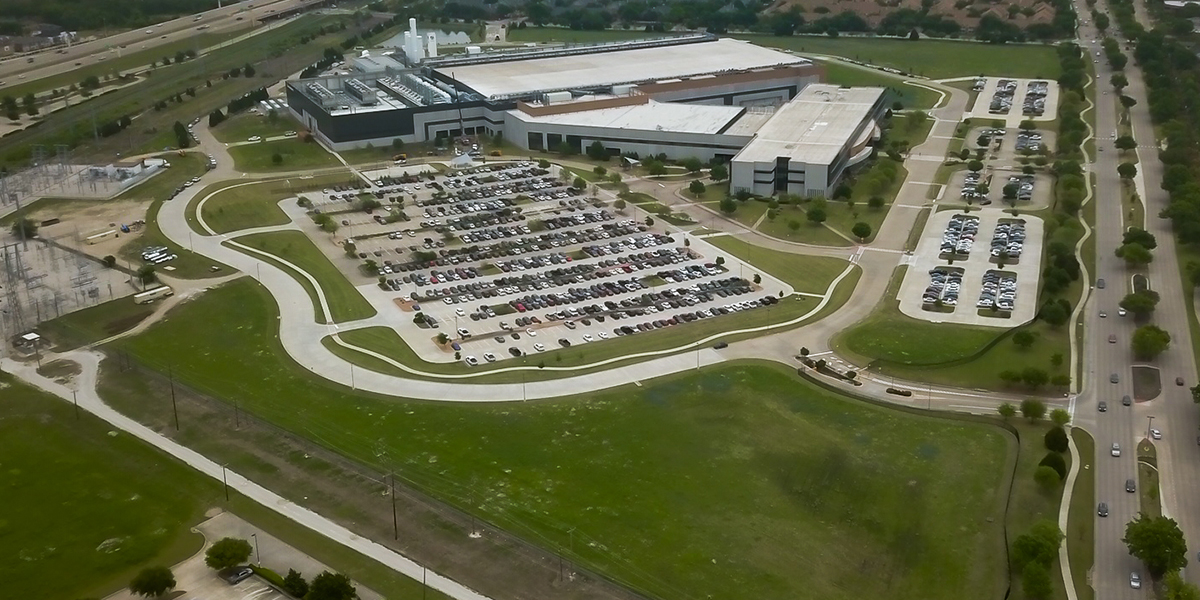 Texas Instruments,
Collin County, Texas
Richardson, Texas, sits just north of Dallas and soon will be home to a much-expanded manufacturing facility for Texas Instruments that will see $3.2 billion in corporate investment and add as many as 650 new jobs for the area.
Last fall, the Richardson City Council showed its unanimous support for the project by voting to amend an existing agreement and reduce the company's property tax payments. The expanded facility will now include an 864,000-square-foot chip-manufacturing plant, a 317,000-square-foot "clean room" and a parking garage. Commercial operations are expected to begin in the first quarter of 2022. Combined with the existing facility, the expansion project will end up employing a total of about 1,600 workers in Richardson.
"We've selected Richardson because of its access to talent, an existing supplier base and multiple airports, as well as operational efficiencies due to the close proximity of the new facility to our existing Richardson factory," said Kyle Flessner, senior vice president of Texas Instruments' technology and manufacturing group.
"Richardson has long proven to be a hub for tech-based developments such as this, and we are proud TI's global search has led them once again to our community," said Richardson Mayor Paul Voelker. "Our business environment is competitive, friendly and offers access to a highly trained technical workforce that helps keep us as a top-tier location for projects like this. We look forward to continuing to prove our value to TI as it prepares to develop this new high-tech manufacturing facility."
"The Lone Star State continues to be a leader in the development of innovative technologies because of companies like Texas Instruments," said Gov. Greg Abbott. "Made in Texas is a powerful label, and this expansion will further solidify Texas' reputation both at home and abroad. I thank Texas Instruments for their investment and look forward to working with them to build an even brighter future here in Texas."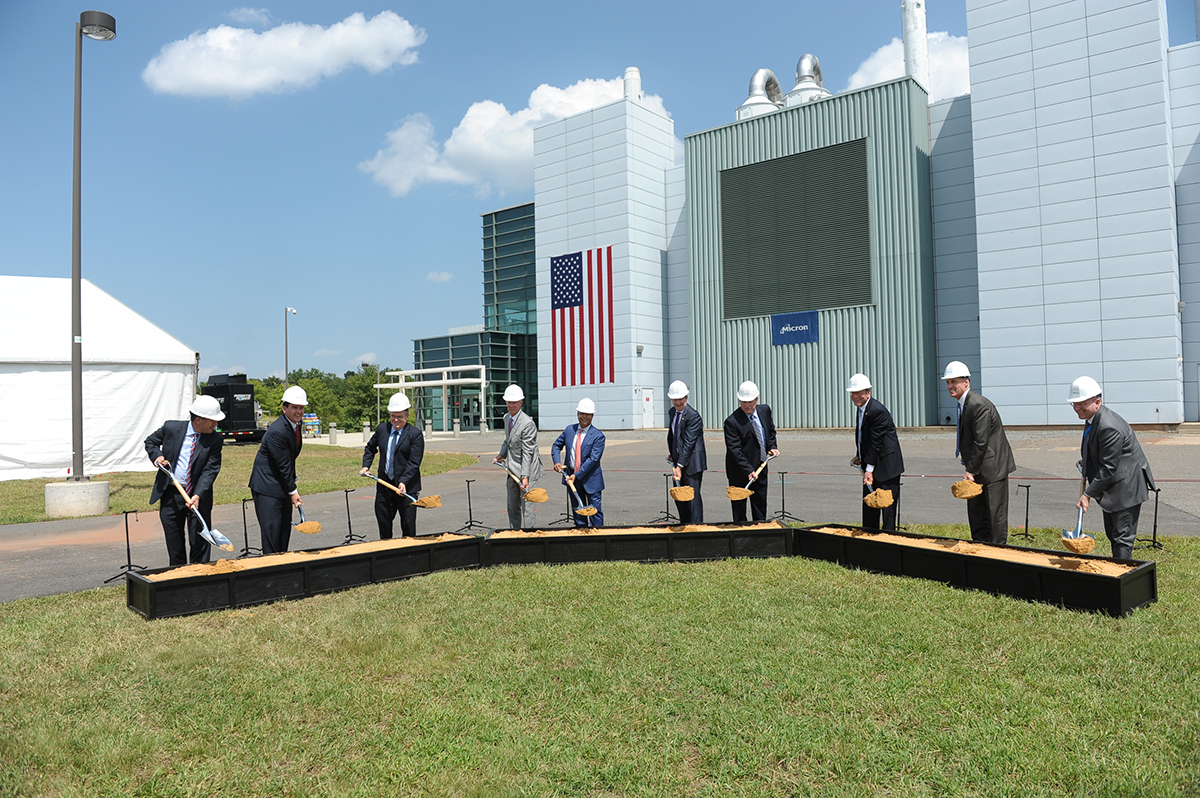 Micron Technology Inc.,
Prince William County, Virginia
Micron Technology, a global leader in innovative memory solutions with more than 34,000 employees in 17 countries, first started its operations in Manassas, Va., in 2001. Late last year, the company committed to investing $3 billion to expand its Manassas production facility, a move that is expected to create 1,100 new jobs over the next decade. The expansion will position the Manassas site as Micron's Center of Excellence for long-lifecycle memory and will help cement the company's position as one of Virginia's largest exporters, as it is expected to increase exports from the Commonwealth by more than $1 billion annually after completion.
As part of the expansion, Micron will establish a global research and development center in Manassas for memory and storage solutions primarily focused on the automotive, industrial and networking markets. The research and development center will include laboratories, test equipment and approximately 100 product engineers focused on applications such as unmanned and autonomous automotive systems, the IoT (Internet of Things), and other applications. The plan came together with the involvement of the Virginia Economic Development
Partnership, City of Manassas, General Assembly's Major Employment and Investment Project Approval Commission and Dominion Energy.
Operating the largest semiconductor fabrication plant in Virginia, Micron is the largest taxpayer and employer in Manassas. Alongside the investment and job creation, the company's philanthropic organization, The Micron Foundation, will commit $1 million toward growing the next generation of scientists, engineers and technicians at several Virginia universities and community colleges. Micron's outreach in local schools, through robotics programs, internships and STEM education, is also helping to prepare young Americans for the jobs of the future.
"Micron is grateful for the extensive engagement of state and local officials to help bring our Manassas expansion to fruition," said Micron President and CEO Sanjay Mehrotra. "We are excited to increase our commitment to the community through the creation of new highly skilled jobs, expanded facilities and education initiatives."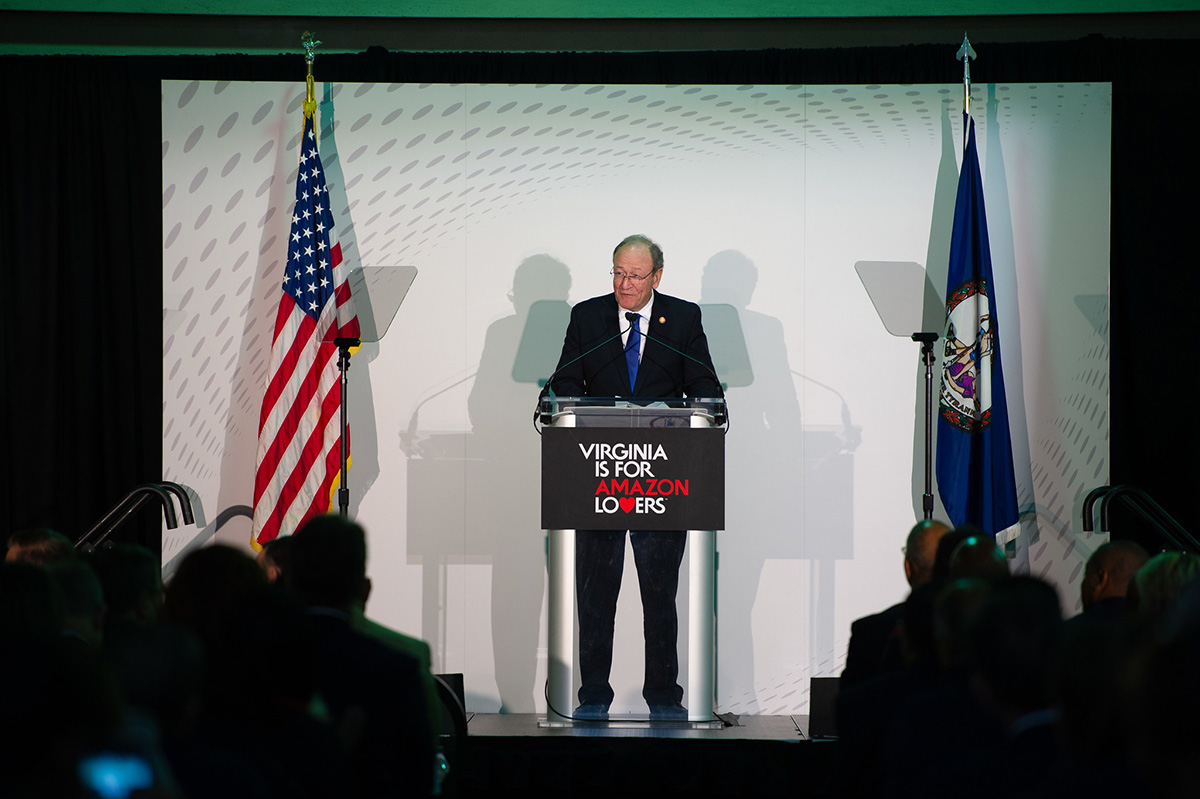 Amazon Inc.,
Arlington County, Virginia
After a highly competitive, 14-month site selection process that captivated the nation, Amazon Inc. announced its decision in November to invest $2.5 billion to establish a major new headquarters in Northern Virginia. This huge corporate development effort, which is expected to create more than 25,000 high-paying jobs in Virginia over the next 12 years, was secured with the support of an unprecedented array of state, local and regional partners.
The multinational technology company, which focuses on e-commerce, cloud computing and artificial intelligence, will locate its HQ in National Landing, a vibrant community that has the workforce talent and infrastructure that can support a company of Amazon's caliber. But the economic benefits of the project will resonate far beyond Northern Virginia.
This will be the largest job creation in Virginia history, resulting in a projected cumulative increase of nearly $3.3 billion in state general fund revenues for 25,000 jobs within 20 years (after subtracting post-performance company incentive payments). In addition to the new direct jobs, the Virginia Economic Development Partnership (VEDP) estimates the creation of more than 22,000 indirect jobs in Virginia. In total, Amazon's investment is expected to have a direct economic impact of more than $55 billion over the 20-year incentive term.
The VEDP says the state's pitch to Amazon stood out among 238 proposals from communities across North America and represents a new model of economic development for the 21st century. The VEDP collaborated with Arlington County, the City of Alexandria, the General Assembly's Major Employment and Investment Project Approval Commission, and dozens of local, regional and state partners to secure the project. In addition to performance-based incentives, Virginia will make extensive, long-lasting investments in education, workforce and transportation infrastructure.
"We are looking forward to joining the community and are excited to be creating high-paying jobs," said Holly Sullivan, Amazon director of WW Economic Development. "We believe that Northern Virginia is a great place for our teams to keep inventing on behalf of our customers."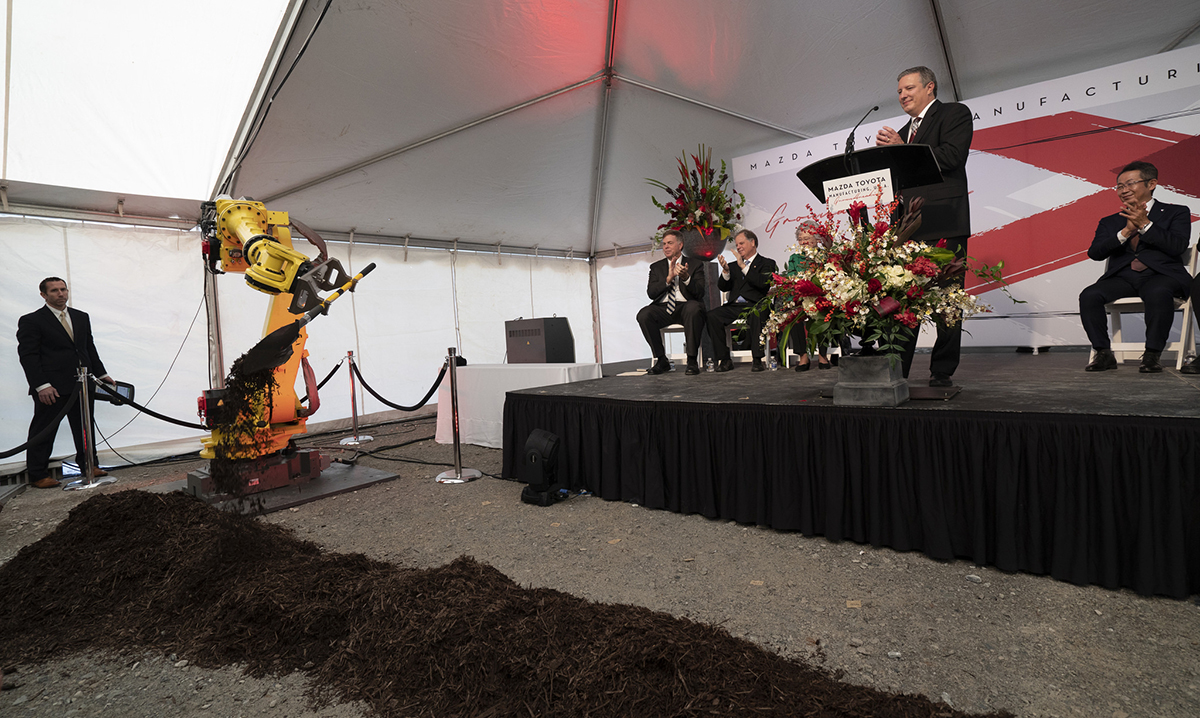 Mazda Toyota Manufacturing USA,
Limestone County, Alabama
The site selection team working clandestinely on "Project New World" for Mazda and Toyota sifted through a list of 300 potential U.S. locations before coming up with a winner for the $1.6 billion auto assembly plant. In the end, a site encompassing 2,500 acres in Huntsville, Ala., claimed one of the most coveted industrial prizes in years. The new venture, called Mazda Toyota Manufacturing USA, will employ 4,000 workers, producing 300,000 vehicles annually.
To secure the project, Alabama's economic development team had to clear a lot of hurdles. Consultants from JLL Chicago worked closely with Mazda and Toyota on the search, analyzing factors such as workforce, operating environment, site specifics, logistics, incentives and quality of life, among many others. As the search advanced, Mazda and Toyota representatives visited sites in more than 20 states in just six weeks. Significantly, officials in Huntsville and North Alabama had previously prepared a massive parcel of land for development, so when the project came up, they could point right to the perfect site for a major assembly plant.
Another factor that helped turned the tide in Alabama's favor is that the state's economic development team, led by the Alabama Department of Commerce, has been at the center of several large-scale auto projects over the past 25 years, including Mercedes-Benz, Honda, Hyundai, Toyota and hundreds of suppliers. In addition, Alabama's primary workforce development agency, AIDT, has been deeply involved in helping global automakers assemble and train skilled workforces in the state. Alabama was also able to provide a competitive incentives package, though it wasn't the largest advanced to the automakers. Other agencies involved in securing the facility include the Huntsville/Madison County Chamber, City of Huntsville, Limestone County Commission and Madison County Commission.
Greg Canfield, secretary of the Alabama Department of Commerce, said securing Mazda Toyota Manufacturing USA represents a massive boost for Alabama's auto industry, which didn't begin producing cars until 1997, but now assembles about 1 million vehicles a year. "In a single generation, Alabama has become a powerhouse in the auto industry, and the Mazda Toyota Manufacturing USA assembly facility will provide another potent catalyst for sustained growth in the sector," he noted.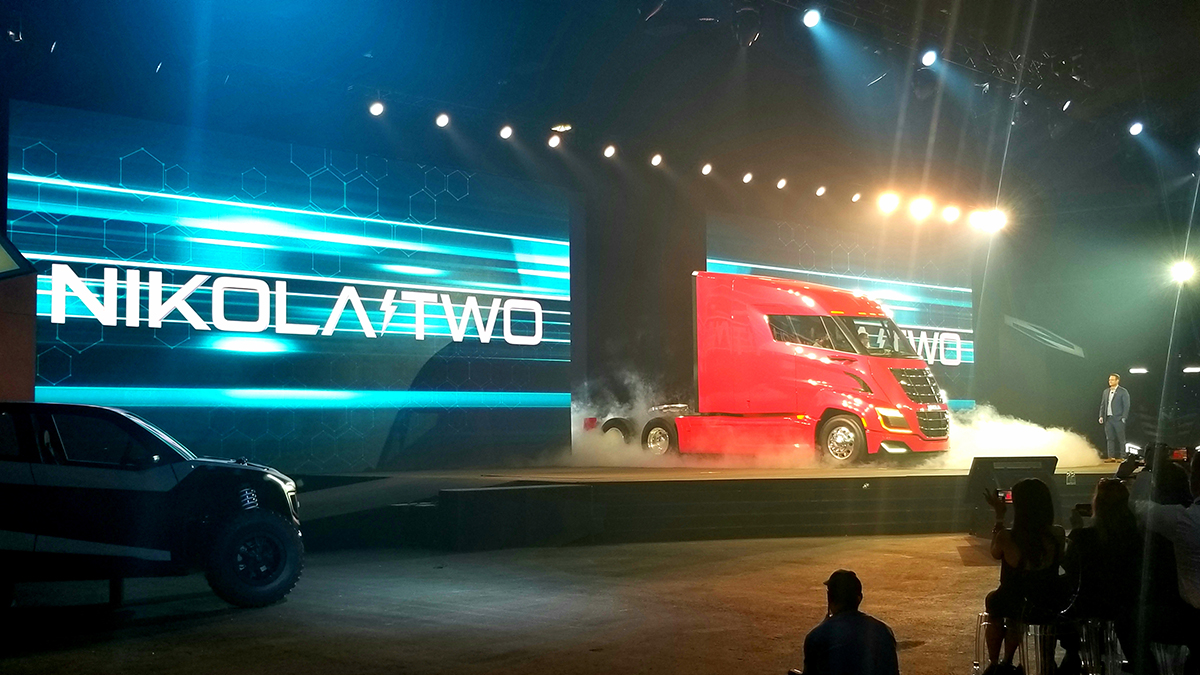 Nikola Motor Company,
Pinal County, Arizona
The Nikola Motor Company is one of the latest additions to the 130-mile corridor along Interstate 10 between Tucson and Phoenix, an organically developing cluster of manufacturing establishments that provides high-value jobs to thousands of Arizonans. The company designs and manufactures hydrogen-electric vehicles, electric vehicle drivetrains, vehicle components, energy storage systems and hydrogen stations.
Originally set to build in a different Arizona community, when a big customer order came up, Nikola Motors switched to the location in Coolidge, which could quickly accommodate production for its hydrogen-electric semi-truck manufacturing. The Coolidge facility will employ 1,762 workers; another 300 people will be in a headquarters and R&D facility in Phoenix, about 50 miles northwest of Coolidge.
"Arizona has the workforce to support our growth and a governor [Doug Ducey] who was an entrepreneur himself," said Trevor Milton, CEO and founder of Nikola Motor Company. "They understood what 2,000 jobs would mean to their cities and state." The company expects to have construction under way on its new zero-emission manufacturing facility by the end of the year.
As technology evolves and more companies continue to establish operations in Arizona, access to employees trained in high-tech advanced manufacturing has become even more important. Recognizing the need, a partnership among three community colleges was formed to collaborate on standard curriculum for their students, under the guidance of the Arizona Commerce Authority Office of Economic Opportunity. The three schools—Maricopa County Community College District, Central Arizona C.C. and Pima C.C.—formed the "Arizona Advanced Technology Network" and each offers curriculum to meet rigorous third-party industry credentialing standards.
"Arizona continues to prove that our talent, operating environment and quality of life are exactly what business leaders are seeking," said Sandra Watson, Arizona Commerce Authority president and CEO. "The Nikola Motor Company project will be transformative and further advances Arizona's leadership position in the innovation economy. I thank the Nikola team for their commitment to our state, as well Gov. Ducey for his leadership and our many partners who helped make this project a reality."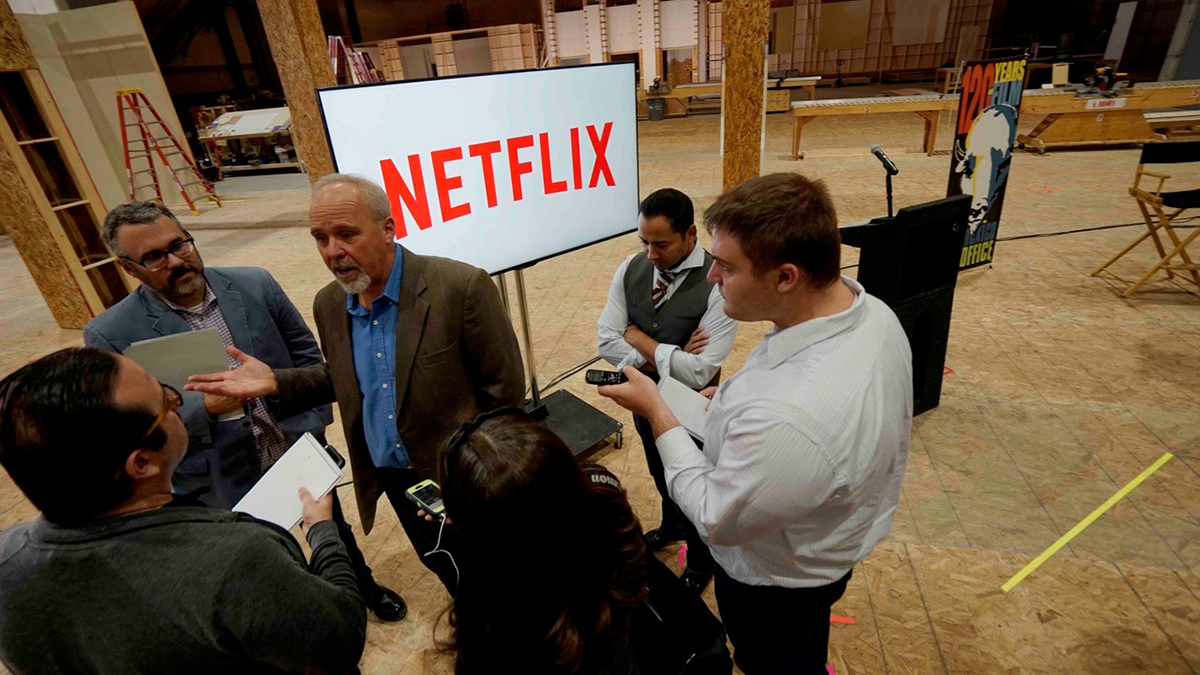 Netflix, Bernalillo County,
New Mexico
Netflix, the world's leading internet entertainment service, will bring $1 billion over the next decade to its new U.S. production hub in New Mexico. The company purchased ABQ Studios, located in Albuquerque's Mesa Del Sol and plans to create up to 1,000 production jobs a year. The world-class ABQ Studios opened in 2007 and includes 132,000 square feet of sound stages, 100,000 square feet of production offices and a large backlot.
Netflix continues the state's rich, 120-year history in film-making and post-production. The New Mexico Economic Development Department, City of Albuquerque, New Mexico Film Office, City of Albuquerque Film Office and Albuquerque Economic Development were all involved in making the deal a reality. Instrumental, too, was Alicia J. Keyes, the current N.M. Cabinet Secretary of Economic Development who at the time was the director of the Albuquerque Film, Television and Media Office.
"Our experience producing shows and films in New Mexico inspired us to jump at the chance to establish a new production hub here," said Ty Warren, vice president of physical production for Netflix. "The people, the landscape and the facilities are all stellar and we can't wait to get to work—and employ lots of New Mexicans—creating entertainment for the world to enjoy."
Since the inception of the state credit program in 2003, more than $3.4 billion has flowed into the state via the film industry. Current Gov. Michelle Lujan Grisham has identified film and media production for aggressive and strategic investments, citing it as a clean, sustainable industry with an established statewide workforce. The newest initiatives seek to nurture that ecosystem into one that supports year-round employment and careers for students now working on film and media technical certifications in 22 degree programs around the state. The publication MovieMaker declared Albuquerque as the No. 1 city for those who want to work in film and live near their job.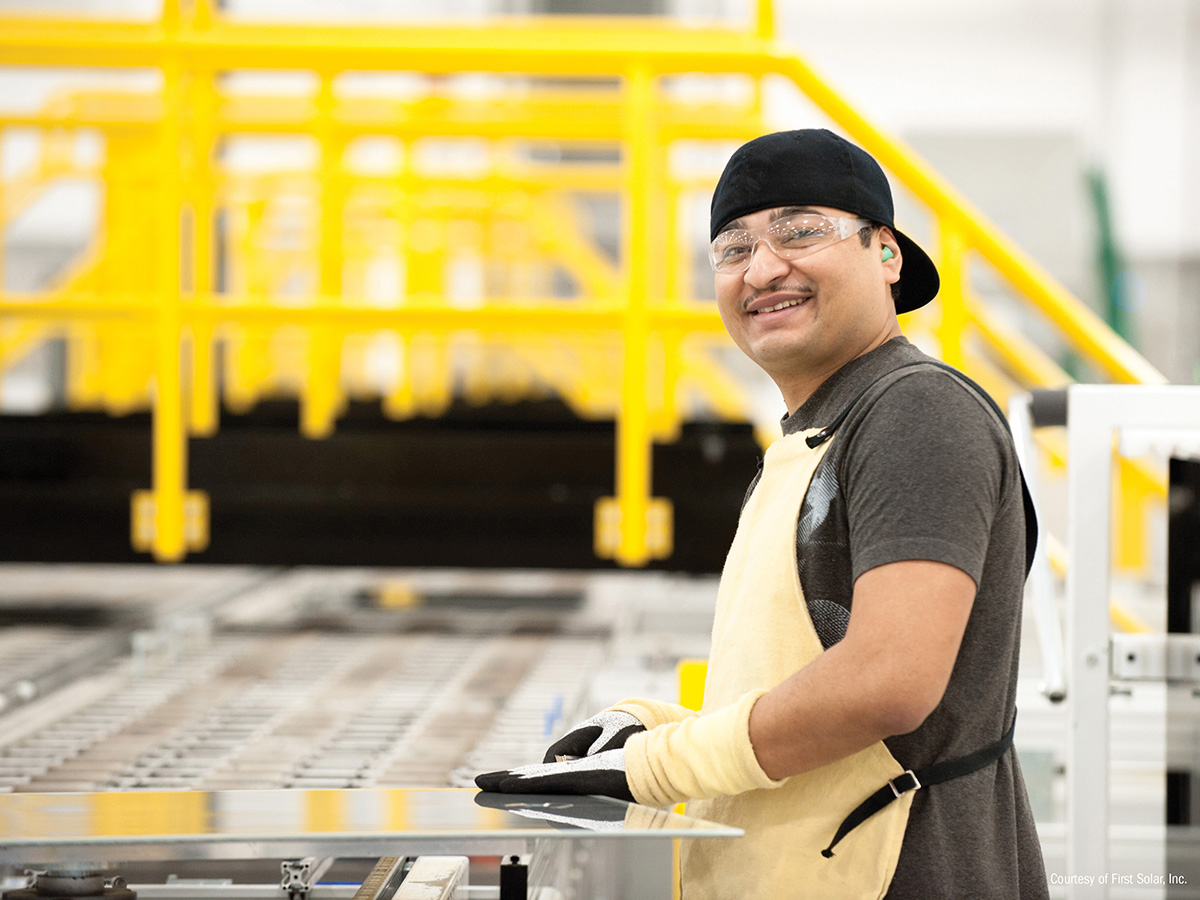 First Solar Inc.,
Wood County, Ohio
First Solar Inc. manufactures thin-film photovoltaic (PV) modules—solar panels—and is a provider of PV power plants and supporting services that include finance, construction, maintenance and end-of-life panel recycling. Growing customer demand for solar technology prompted the company to search for a second site near its existing flagship plant in Ohio.
First Solar has praised Northwest Ohio's dedicated workforce, which it says has "displayed the handiness, company dedication and work ethic" necessary for the company to stay ahead. So, with a $900 million company investment, First Solar chose a site in Troy Township for its new advanced manufacturing facility, a location it feels will help gain logistics advantages to reach its customers, particularly in the Midwest and East Coast regions. The new plant, expected to create 1,000 new jobs, will produce First Solar's Series 6 solar panel, which the company calls a "game-changer"—the panels are thinner, lighter and three times the size of its predecessor.
"Expanding our U.S. manufacturing is particularly exciting," said Tymen de Jong, First Solar's chief operating officer. "We originated in Ohio, and we're proud to build on that history as we grow into the future." JobsOhio, the state of Ohio, the Regional Growth Partnership, Wood County Economic Development Commission and Wood County Port Authority came together to help make the project a reality in the state.
Since its inception, First Solar has invested approximately $3 billion in Ohio, including wages paid, manufacturing purchases, research and development costs and taxes. The flagship Perrysburg plant is the largest solar manufacturing facility in the U.S., working with more than 250 U.S. suppliers and indirectly supporting more than 4,000 jobs across Ohio.
"Strong demand in the U.S. for advanced solar technology, along with recent changes in U.S. corporate tax policies, have encouraged our decision to grow First Solar's U.S. production operations," said Mike Koralewski, senior vice president of global manufacturing for First Solar. "State and local officials and JobsOhio have also worked with us to create a business-friendly environment that support our objectives … [and] make expanding U.S. operations an attractive, win-win opportunity."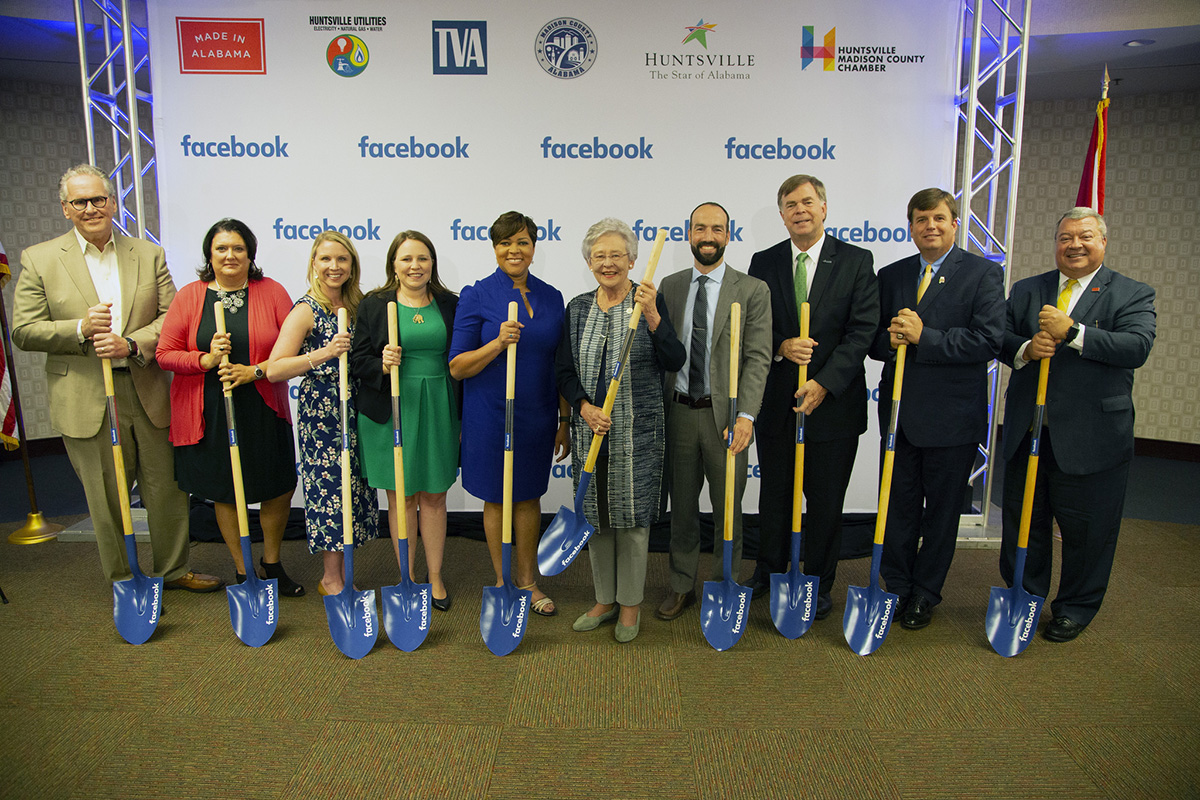 Facebook,
Madison County, Alabama
Recruiting technology companies has become a top priority of the Alabama Department of Commerce, the state's leading economic development organization, and Facebook was a natural target for those efforts. Now, with Facebook added to the roster of high-tech companies operating in Alabama, the state's profile in the tech sector continues to gain momentum.
"Facebook's decision to locate its new, state-of-the-art data center in Huntsville reflects Alabama's attractiveness to technology companies and marks another important chapter in the growth story of our tech sector," said Greg Canfield, secretary of the Alabama Department of Commerce.
Facebook, in turn, found a lot to like in Huntsville, considered one of the best cities in the U.S. for technology jobs. The company is investing at least $750 million for its new facility, which is expected to create at least 100 jobs, with an average annual salary of $80,000. Facebook said it chose Huntsville because of quality-of-life factors, the city's pro-business environment and the area's educated and available workforce.
"We are excited to be joining the Huntsville community," said Matt VanderZanden, Facebook's director of site selection. "As one of the fastest growing tech hubs in the country, we knew it would be a great location for our newest data center. We are committed to having a positive impact at the local level and look forward to a strong partnership with the Huntsville community."
In addition to the state Department of Commerce, the new project came about with the involvement of the Huntsville Madison County Chamber of Commerce, the City of Huntsville, the Madison County Commission and AIDT. An analysis of the financial benefits of the Facebook project over 30 years by the Department of Commerce estimates total new revenue for the state, county and city will be nearly $300 million.
"Every day, millions of people around the world use Facebook's products, and this new Alabama data center will soon play a role in keeping the company's popular platforms running flawlessly," Gov. Kay Ivey said. "Facebook has found a great location in Sweet Home Alabama, and we'll do our best to help the company grow and prosper here."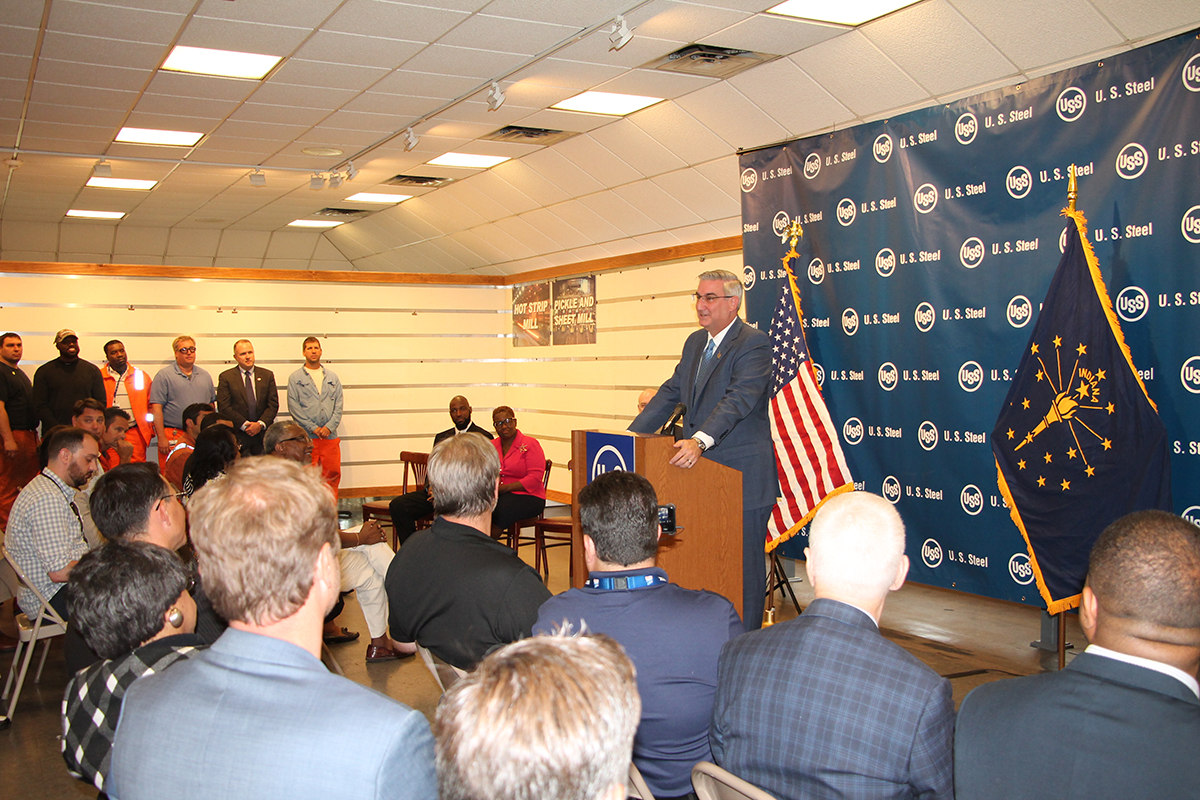 United States Steel Corp.,
Lake County, Indiana
Located on the south shore of Lake Michigan, Gary Works—which has been in operation in Northwest Indiana since 1908—is U.S. Steel's largest manufacturing plant and the largest integrated steel mill in North America. Comprised of both steelmaking and finishing facilities, Gary Works has an annual raw steelmaking capability of 7.5 million net tons. The facility provides more than 3,800 full-time jobs and manufactures sheet products, strip mill plate in coils and tin products.
With the increases in investment due to U.S. Steel's $2 billion asset revitalization program, at least $750 million in capital investments will be made over five years to modernize and enhance the company's flagship operation in Gary, through building expansion and improvement. This includes the installation of state-of-the-art production equipment, machinery and modernizing technology to better serve customers in the automotive, energy, industrial, metal building components, home construction, appliance and container industries.
"We are pleased about this investment in the plant and even more encouraged by a deepened partnership with the company of the city's origin," said Karen Freeman-Wilson, the mayor of Gary, which worked with the Indiana Economic Development Corporation on the project. "This is also consistent with our development plan, which builds on our strong manufacturing history and allows us to diversify commerce in the areas of education and medicine; recreation and gaming; logistics and technology."
Added U.S. Steel Corp. CEO David Burritt: "We are pleased to be making this significant investment at Gary Works, which will improve the facility's environmental performance, bolster our competitiveness and benefit the local community for years to come. Through the skill and determination of our employees, support from the state and city, without which this project would not be possible, and favorable trade policies with the strong Section 232 national security action on steel imports, we are experiencing a renaissance at U.S. Steel."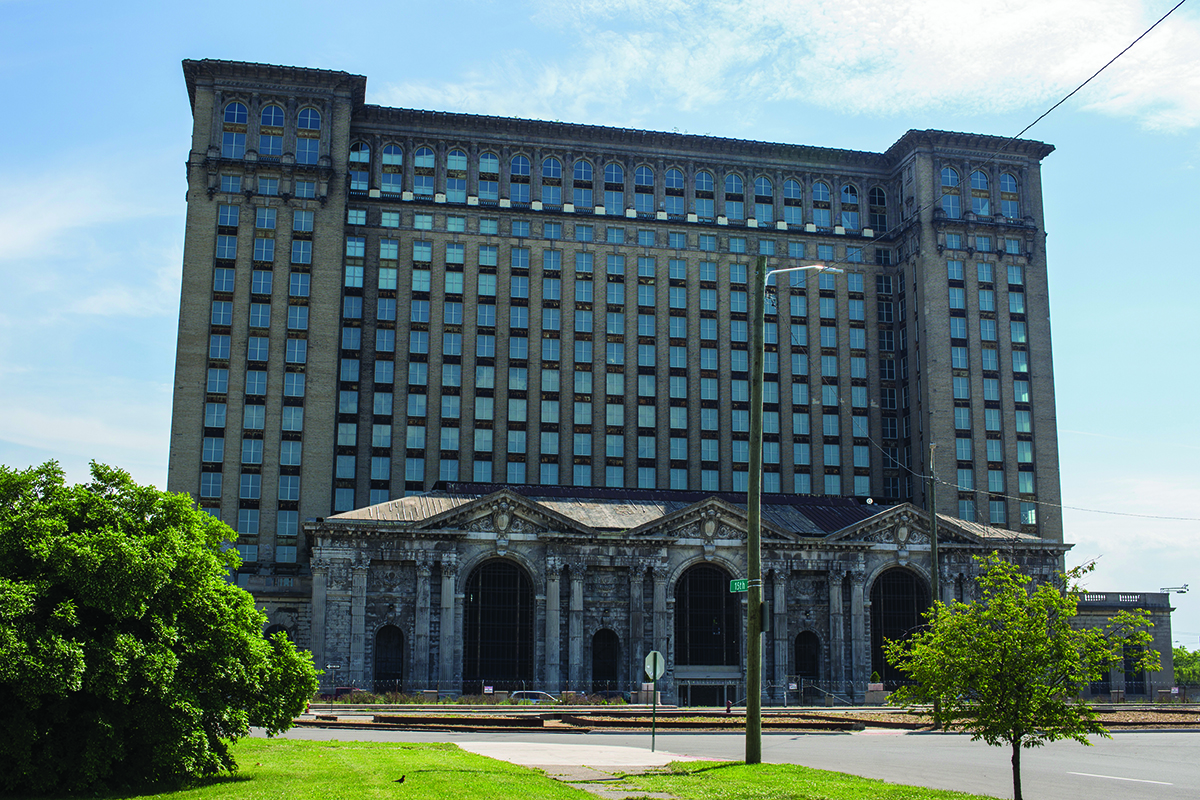 Ford Motor Company,
Wayne County, Michigan
For decades, the crumbling façade of the Michigan Central Station Depot, a few blocks from the Detroit River, has been the often-cited symbol of the city's plight. But in June 2018, that began to change, when Ford Motor Co. announced its purchase of the long-vacant building, with plans to historically renovate the station and redevelop surrounding areas in the Corktown neighborhood.
With the support of several partners, including the Michigan Economic Development Corporation, Detroit Economic Growth Corporation and City of Detroit, the finished project will become the centerpiece of Ford's new 1.2 million-square-foot Corktown campus and mobility hub. The remaining 300,000 square feet will serve as a mix of community and retail space, residential housing and commercial space for local entrepreneurs.
"Michigan Central Station is a place that in many ways tells the story of Detroit over the past century," said Bill Ford, the company's executive chairman. "We at Ford want to help write the next chapter, working together in Corktown with the best startups, the smartest talent and the thinkers, engineers and problem-solvers who see things differently—all to shape the future of mobility and transportation."
With an overall investment of nearly $740 million, the state-of-the-art facility will be where Ford and its partners develop autonomous and electric vehicles, and design urban mobility services and solutions that include smart, connected vehicles, roads, parking and public transit. Set to be completed in 2022, the project will bring about 5,000 direct permanent jobs. An additional 4,593 indirect and induced jobs are also projected. The predicted total economic output of this project from 2022 to 2031 is more than $15.6 billion.
While Michigan is known as the birthplace of the traditional automobile, the competition to lead the next generation of transportation is fierce. The investment by Ford is bolstering a new mobility industry in the state and helps position the Motor City to lead the next transportation revolution. Secondary industries including automotive suppliers and original equipment manufacturers, as well as technology, telecommunications, cybersecurity and others in the mobility space, are also expected to see growth as a result of this project.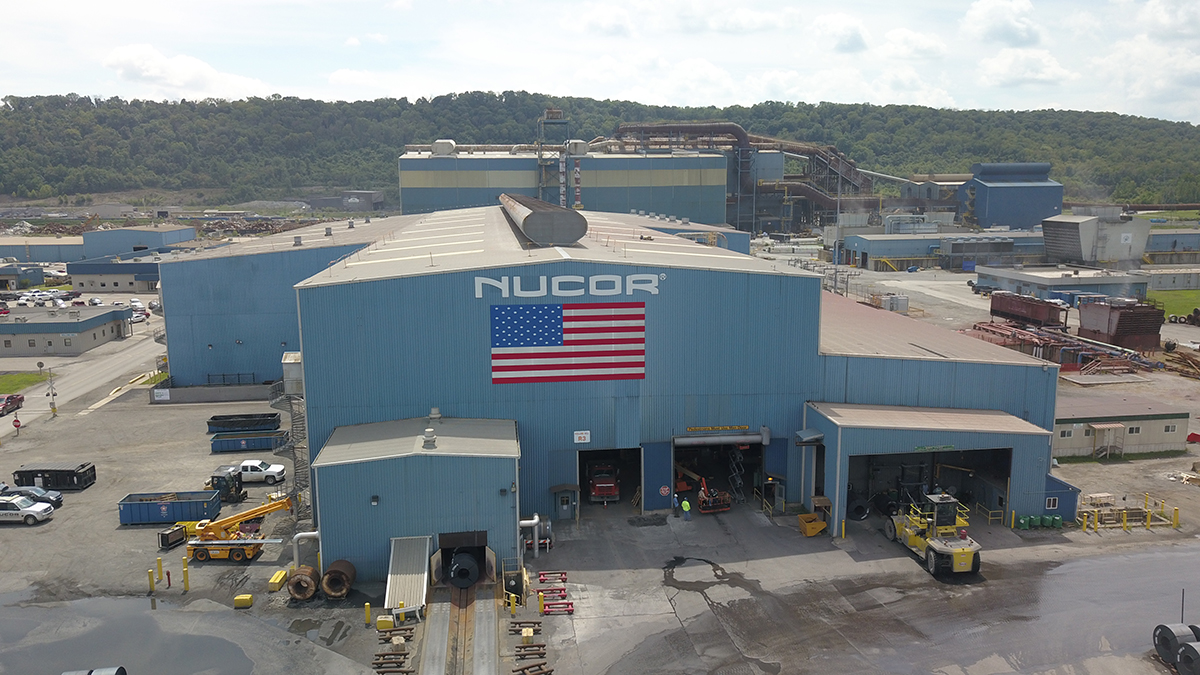 Nucor Steel Gallatin,
Gallatin County, Kentucky
Nucor Corp., which is headquartered in North Carolina, is North America's largest recycler and the nation's largest producer of steel and steel products. In Kentucky, Nucor has operated in Ghent since 1993, where it employs about 430 people, but this past September, Nucor Steel Gallatin announced a $650 million investment expected to create 70 jobs. The project is an expansion to increase the mill's annual capacity from 1.6 million tons of coiled sheet steel to about 3 million tons. The project also will allow the mill flexibility to produce coils up to 73 inches wide.
By committing to expand its efforts within the region to increase its annual production capacity, the Nucor investment will provide opportunities for high-quality job creation, economic stability and prosperity throughout the already rapidly-expanding region. In addition, it will spur interest from the local youth to look to pursue careers within high-skill, high-wage positions, and will strengthen the region as one of the manufacturing hubs of Northern Kentucky. The project involved the Kentucky Economic Development Cabinet and Kentucky I-71 Connected.
"Nucor is doing incredible things at its Kentucky steel mill," said Gov. Matt Bevin. "We are excited that, after a substantial investment in 2017, the company has decided to move forward with its Phase II project and create additional job opportunities for the county and surrounding communities. The steel and primary metals industry is a driving force behind the commonwealth's surging economy, and this announcement reflects the distinct advantages we have to offer engineering and manufacturing companies. Nucor is certainly a major player in this industry, and we are grateful for their commitment to continue forging success right here in Kentucky."
Kentucky offers the lowest industrial electric power rates east of the Mississippi—one of its many attractive features for manufacturers. That played a role in Nucor's decision.
"We would like to thank Gov. Bevin, our local officials, East Kentucky Power Cooperative and Owen Electric, our teammates and the entire community for their support," said John Farris, vice president and general manager of Nucor Steel Gallatin. "The project will allow us to better serve our automotive and value-added customers."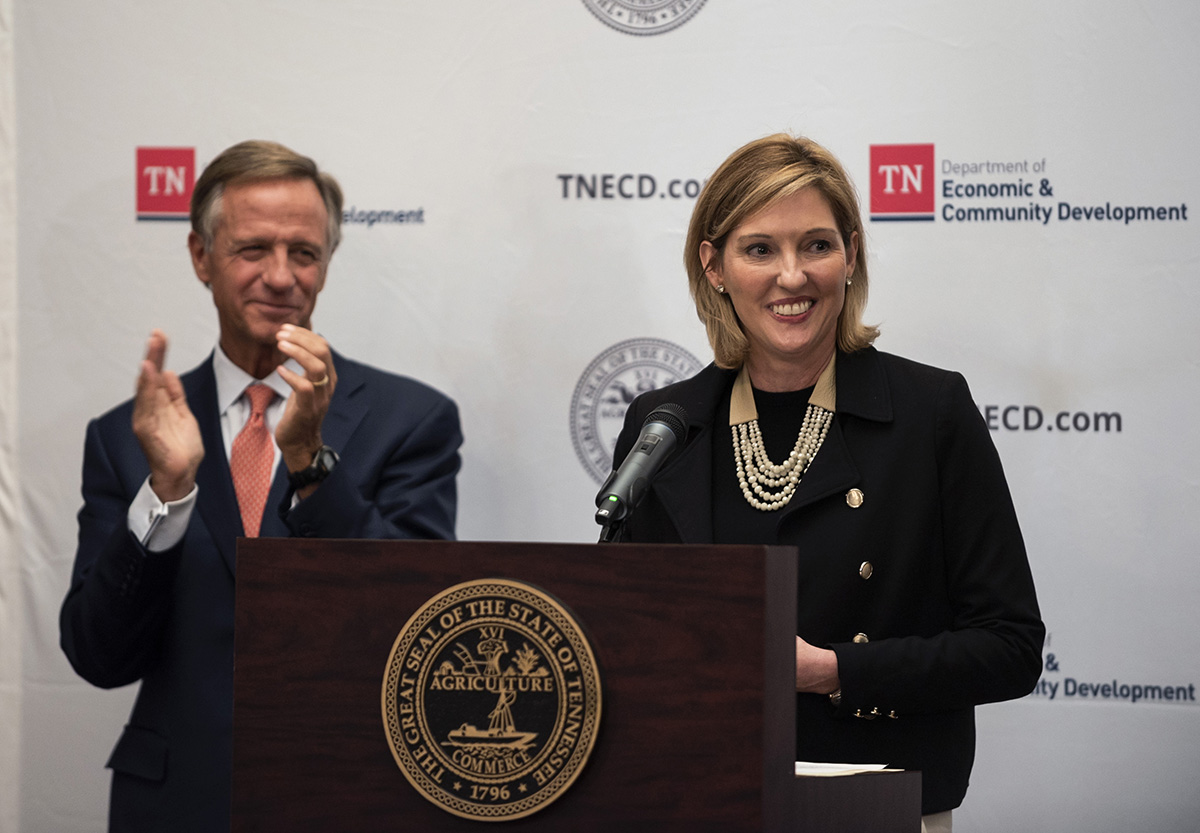 Amazon.Com LLC,
Davidson County, Tennessee
Amazon's announcement that it will establish a new Operations Center of Excellence in downtown Nashville was greeted enthusiastically by state and local officials. As part of Amazon's investment, the company will create 5,000 jobs, representing the single largest jobs commitment made by a company in Tennessee history.
"This is a game changer for Tennessee," said Gov. Bill Haslam. "The ripple effect of Amazon's decision to invest in our state and create 5,000 high-paying jobs in downtown Nashville will be felt for years to come. Amazon has spent the past year searching the nation for the best possible locations to expand and it chose Tennessee because of our business-friendly policies, low taxes and skilled workforce. I thank Amazon for its continued investment in Tennessee."
Amazon currently has five fulfillment and sortation centers in Tennessee located in Charleston, Chattanooga, Lebanon, Murfreesboro and Nashville, as well as one Prime Now Hub in Nashville. It will build its Operations Center of Excellence in Nashville Yards, a 15-acre, mixed-use development. The 1-million-square-foot office space will house the tech and management functions of Amazon's Retail Operations division, including customer fulfillment, customer service, transportation and supply chain.
"Our new Operations Center of Excellence will become the Eastern U.S. hub for our Retail Operations division," said Amazon public policy official Holly Sullivan. "We are looking forward to joining the community and are excited to be creating high-paying jobs in Nashville."
"Amazon has been a valued partner in Tennessee for a number of years, employing more than 6,500 Tennesseans," added Bob Rolfe, commissioner of the state's Department of Economic and Community Development. "The announcement is a tremendous win for Nashville, Davidson County and Middle Tennessee. I look forward to the considerable impact these jobs will have on the citizens of our state."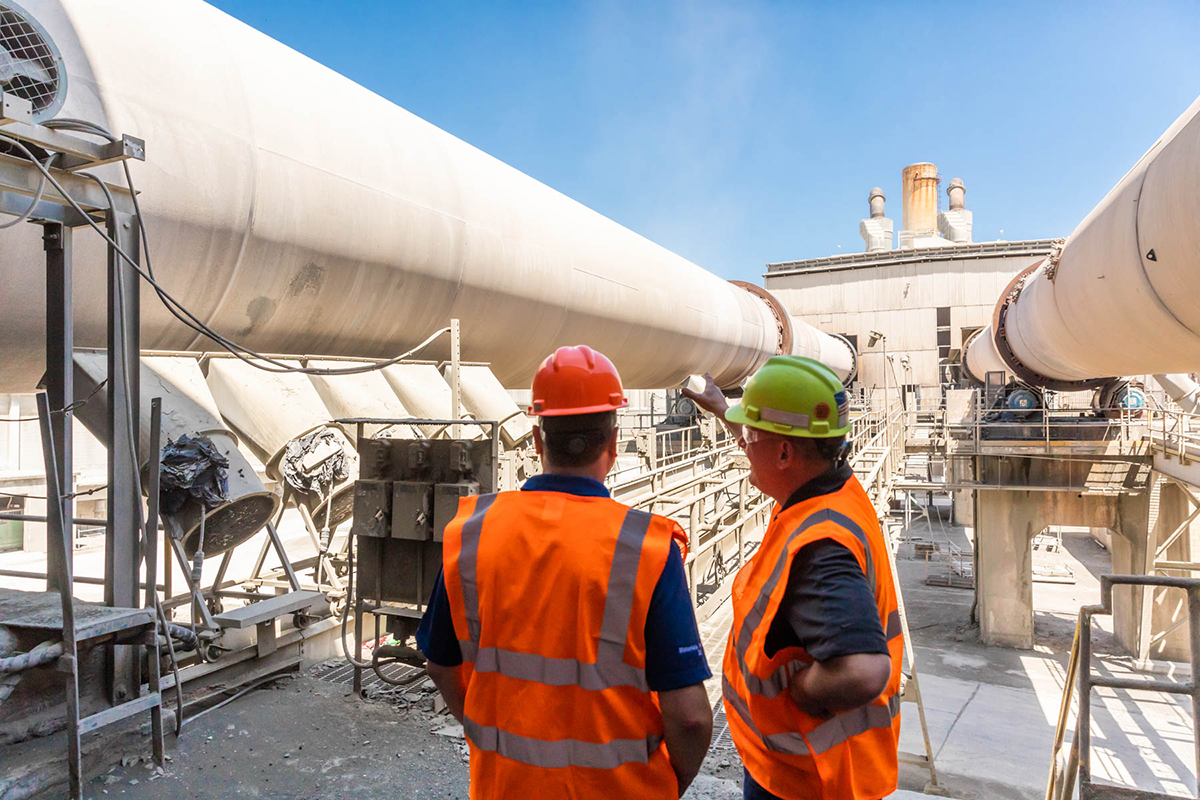 Lehigh Cement Company LLC,
Lawrence County, Indiana
Cement has been manufactured in the town of Mitchell for more than a century, and now that industry gets another boost, with the $548 million expansion of the Lehigh Cement plant. Lehigh Hanson, which is a part of Germany-based HeidelbergCement, will construct the facility on its 2,500-acre property, allowing the company to expand and modernize its current operations.
The project, which is the largest expansion and modernization Lehigh Hanson has undertaken in North America, will increase the facility's production capacity more than threefold to 2.8 million tons, while also significantly reducing energy usage and emissions per ton of cement produced. The enhanced plant, which will add more than 50 new jobs, will feature state-of-the-art technology to improve operating efficiencies, allowing Lehigh Hanson to better supply cement for the continued growth of the Midwest market.
"Lehigh Cement Company began operating in Indiana in 1902, and this investment represents a commitment to long-term growth in Southern Indiana, propelling the company forward for its next 100 years," said Indiana Secretary of Commerce Jim Schellinger. "Choosing Indiana for Lehigh Hanson's largest modernization effort in North America is a true testament to our pro-growth business climate and a dedicated and skilled workforce. I'm confident Hoosiers will continue to play a key role in the company's success for generations to come."
In addition to the Indiana Economic Development Corporation, the project involved the City of Mitchell, the Lawrence County Board of Commissioners and the county Economic Growth Council, and Duke Energy Company.
"We appreciate the support of local officials in making this expansion and modernization a reality," said Jerry Miller, plant manager of Lehigh Cement Co. in Mitchell. "We are thankful for Indiana's commitment to economic development and its supportive business climate, which helped make this opportunity an attractive investment. Lehigh Hanson's investment is not only in the Mitchell plant, but also in the Mitchell community, and our dedicated and hardworking employees will continue contributing to the positive legacy of Lehigh in Mitchell for years to come."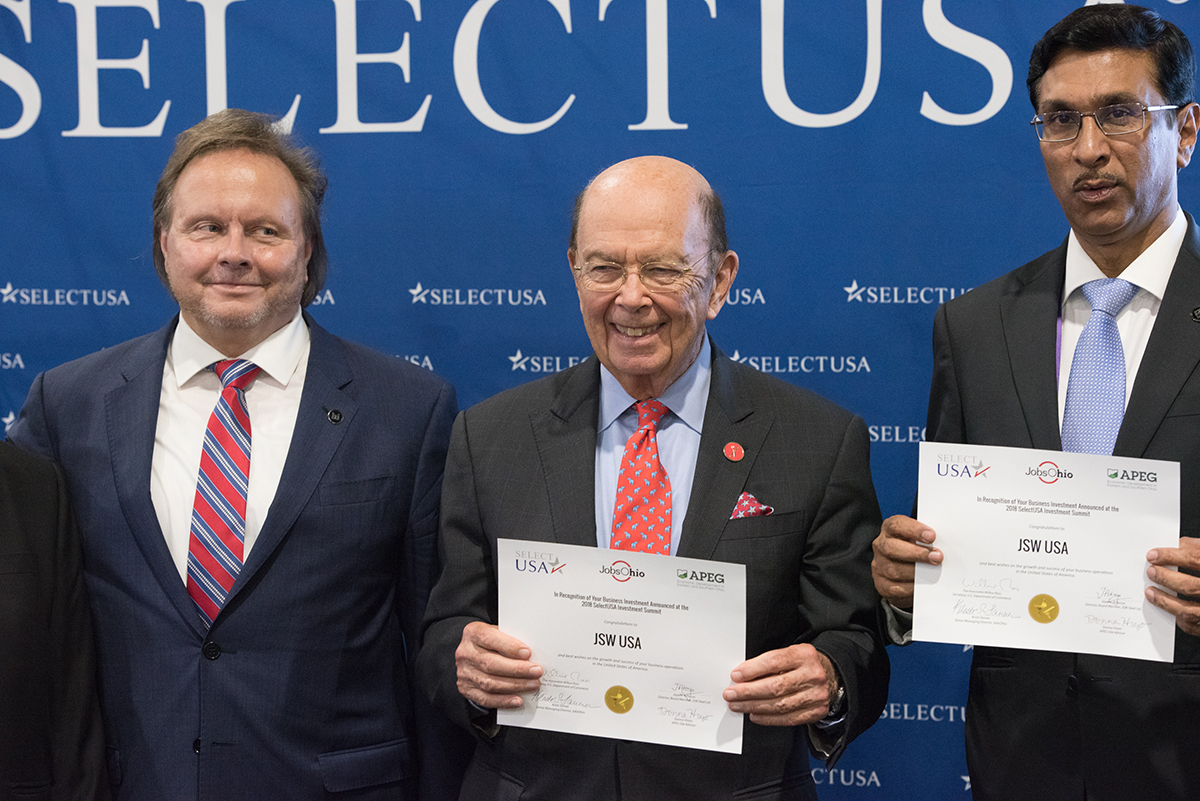 JSW Steel USA Ohio Inc.,
Jefferson County, Ohio
The JSW Steel project in Eastern Ohio's Mingo Junction not only marks the resurgence of steel in Ohio, but also is an international investment with long-term benefits. The revitalization of the Mingo Junction mill, first opened in 1872, has been in the works for nearly a decade. The current cohort of partners came together in 2015, ultimately leading to the creation of Acero Junction Inc., with financial backing from Midland Metals and Asian Colour Coated Ispat Ltd., an Indian manufacturer of steel products.
JobsOhio first met with JSW Steel officials in the spring of 2018 to discuss its acquisition of Acero and restarting the Mingo Junction mill, with its state-of-the-art electric arc furnace. In June 2018, an agreement was signed by the Hon. Wilbur Ross, secretary of the U.S. Department of Commerce, and Jayant Acharya, board member and director of JSW Steel Ltd. It served as a public commitment by JSW Steel and the U.S. government to reshape the steel landscape in Ohio. JSW Steel, which is investing more than $522 million in the project, is part of the JSW Group, which has over $13 billion in assets and is the largest steel exporter in India, shipping to over 100 countries across five continents.
A team from JobsOhio at the state level, the Appalachian Partnership for Economic Growth at the regional level and the Jefferson County Port Authority at the local level collaborated to identify company needs, to respond to changing demands and to offer a single point of contact for incentive negotiations. JSW Steel was facing significant development costs, workforce attraction and training concerns, and uncertain market conditions. The incentives offered were tailored to meet its needs as closely as possible.
"We are excited to welcome JSW Steel to Ohio," said Kristi Tanner, senior managing director of JobsOhio. "Its planned investment in Acero Junction Holdings will bring cutting-edge technology that will revitalize the facility and bring good-paying jobs to the community."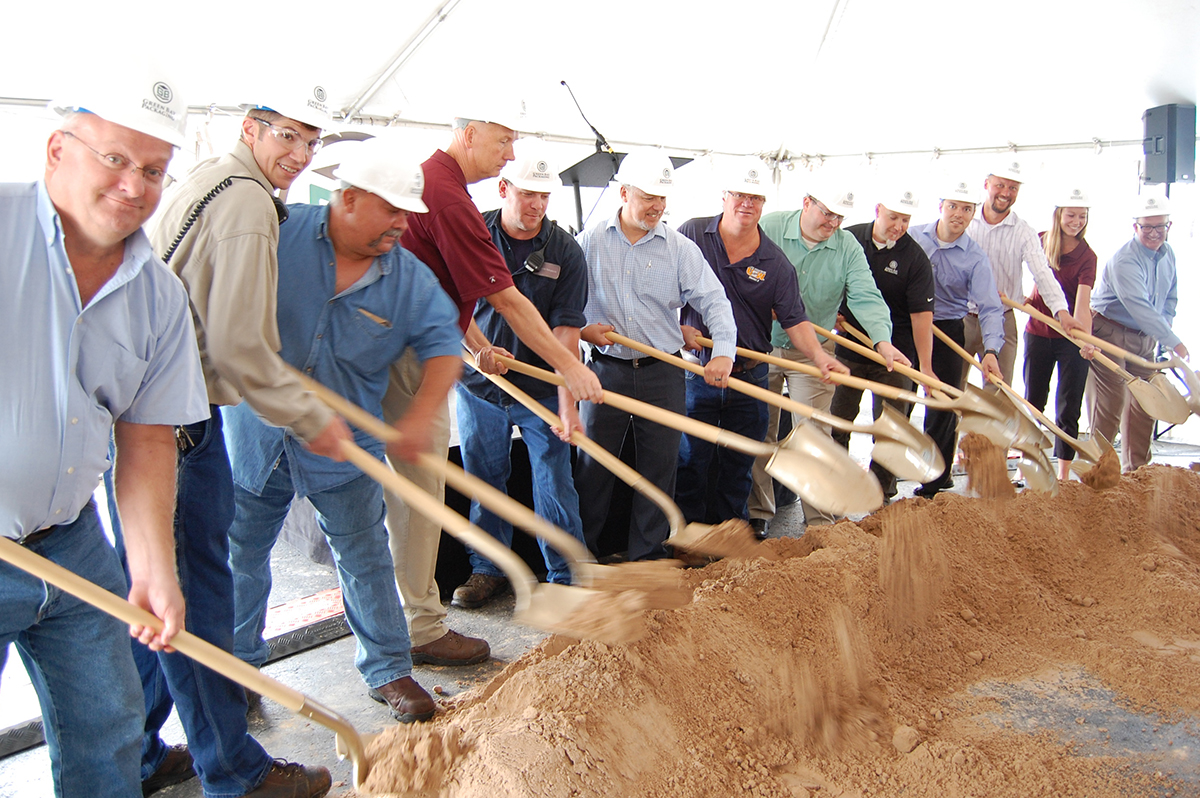 Green Bay Packaging Inc.,
Brown County, Wisconsin
Papermaking has long been a staple of Wisconsin's economy. But in recent years, says Will Kress, president and CEO of Green Bay Packaging (GBP), "It's no secret that many paper mills across the state have closed down or moved out. They grow old, become inefficient and too expensive to reinvest."
Kress noted the company's Green Bay Mill was headed in that direction, but then, "We decided to move forward with building a new paper mill right here in Green Bay, because we are committed to our hardworking employees, our loyal customers and this community." The Wisconsin Economic Development Corporation helped to keep the project at home.
With a $500 million investment, GBP is building a new recycled paper mill at the location of its current facility in Green Bay. The new mill will replace the 164-inch recycled paper machine with a new 280-inch machine. The project is expected to create 200 new jobs, while retaining more than 1,100 GBP jobs across Brown County. An economic modeling study also estimated the project could indirectly generate 135 additional jobs in the region. Importantly, building the new mill in Green Bay will allow GBP to continue its growth in Wisconsin while securing the likelihood of the company making long-term investments in the state.
"The new Green Bay Mill will more than double Green Bay Packaging's paper production capabilities, resulting in a positive impact on Wisconsin's transportation industry by increasing the amount of freight coming to and from the company each day," noted Bryan Hollenbach, GBP's executive vice president. "It will also continue to advance Green Bay Packaging's longtime commitment to be an industry leader in environmental stewardship and sustainability as it will be one of the most environmentally friendly mills in the country."
"Green Bay Packaging has been an integral part of Wisconsin's manufacturing legacy for generations, and we are excited to see their ongoing commitment to Wisconsin through this major expansion," said former Gov. Scott Walker, when the project was announced in June 2018. "With this expansion, Green Bay Packaging joins a growing list of longtime Wisconsin companies that are continuing to grow here because of our positive business climate and dedicated workforce." T&ID
About the Author