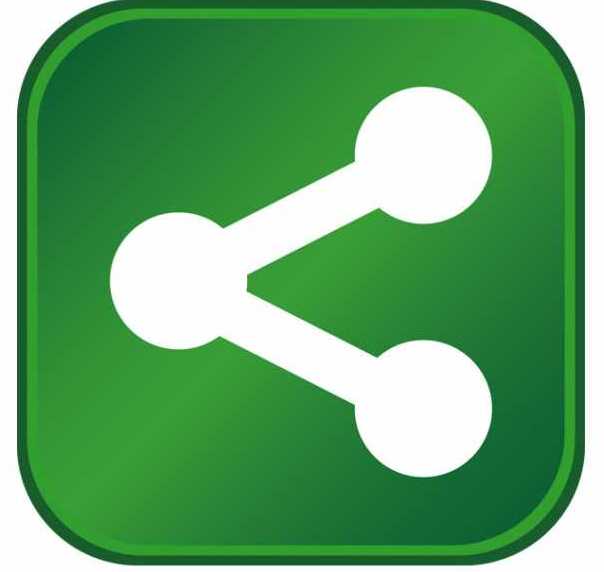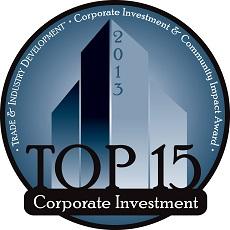 The Corporate Investment division of our 8th Annual CiCi Awards pays tribute to 15 U.S. corporations that have announced the largest capital investment in new facilities or expansion deals in 2012 across the United States.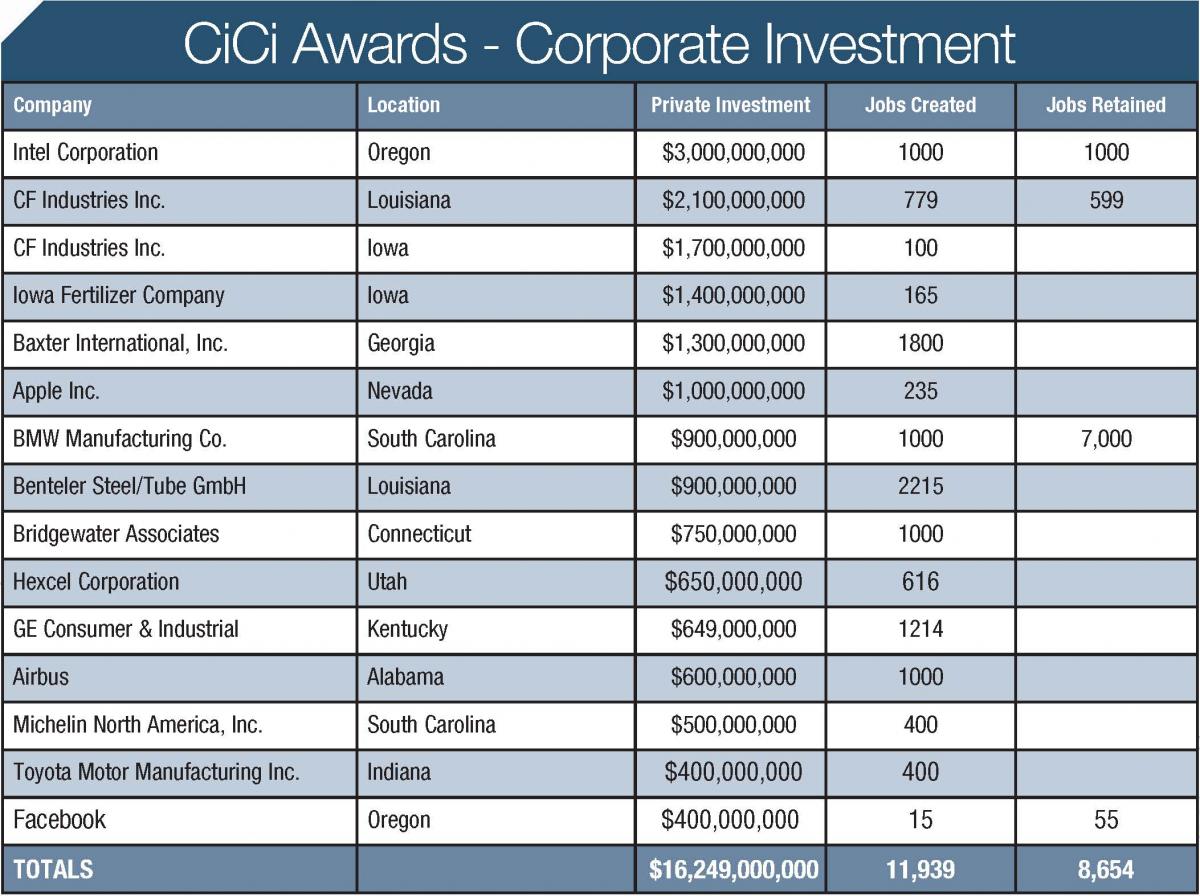 Despite the fact that it was an election year, coupled with considerable economic turbulence abroad and a still-semi-feeble economy here, the year 2012 was a good one for U.S. capital investments. We count six private sector capital investment announcements among our recipients of the 8th Annual CiCi Awards in the Capital Investment division that are $ 1 billion or more.  It has been some time since our CiCi Awards have included multiple single-company capital investment announcements that individually totaled $1 billion and more. Last year there was one. The year before there were three. The year before that there was not one.
As you read through the descriptions of the Corporate Investment division CiCi Award recipients, you will notice that of the companies committing to invest $1 billion or more, three produce fertilizer products that have been made more economically viable as a result of more abundant and affordable natural gas available in the U.S. today than in the past.  Additionally, one of these companies is in the bio-pharmaceuticals sector and two are computer-related tech companies. Lump them together and you get the picture of cutting-edge industries that perhaps have waited until domestic economic conditions felt comfortable enough to make such bold capital leaps.
That can likely be said of all of our CiCi Award recipients in the Investment division — and the Impact division to some degree, as well — this year.
Corporate site selectors charged with making location decisions in 2013 will do well to note the particulars of the deals as they are described in the following pages and consider the fit of the locations highlighted to their own endeavors in expansion and relocation investments in 2013.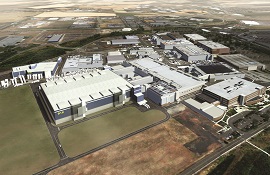 Intel
Hillsboro, Oregon
Massive is perhaps the most suitable word to describe the expansion and latest investment of more than $3 billion Intel has committed to make at its Ronler Acres campus in Hillsboro, Oregon. While it may be difficult to process the concept of an investment at that level, it is not the first time the chipmaker, which is arguably among  the country's richest companies, has made a stunning investment/expansion announcement in this northwest state.
Having established a presence in Oregon in the1970s, the company made the state its main production hub in the 1990s and has grown to be Oregon's largest private sector employer with more than 17,000 employees. The company's decision to invest $3 billion to build a new semiconductor chip fabrication (fab) facility (to employ an estimated 800 to 1,000 full-time workers when it opens in 2013) was huge news in 2010. It employed 8,000 construction workers and contractors and singlehandedly helped pull Oregon's construction industry out of the recession doldrums.
Then, late in the summer of 2012, Intel announced it would more than double the size of its fab plant already under construction, and with it would double the size of its investment. This ensured full-time employment for those 8,000 construction workers for another three years and is expected to add another 800 to 1,000 full-time jobs.
What exactly will this new plant look like? By all accounts, the word mammoth is most appropriate here. According to The Oregonian, "Intel plans 2.5 million square feet of new buildings altogether, anchored by a 1.1 million-square-foot research factory called D1X Mod 2. Additionally, Intel will add an office building, a manufacturing support building and another parking garage. It will be a mammoth undertaking."
"Long-term investment in technology is what we do," said corporate spokesman Chuck Mulloy at Intel's headquarters in Santa Clara, California. "When we build anything, we're placing a strategic bet."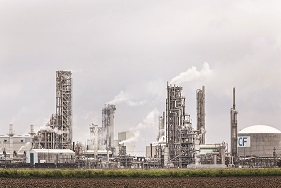 CF Industries Holdings, Inc.
Ascension Parish, Louisiana
Fertilizer, by most estimations, is an unglamorous, but necessary commodity that doesn't make a great topic for cocktail conversation. Well, maybe not in most places, but it's a different story if you are a Donaldsonville, Louisiana, local.
That's because a rapid increase in demand for nitrogen-based fertilizer encouraged CF Industries to formally announce in early November 2012 that it will significantly expand its Donaldsonville, Louisiana, Nitrogen Complex — to the tune of $2.1 billion, one of the largest capital investments of any company of any kind in the U.S. in 2012.
In Louisiana, CF Industries operates the largest nitrogen complex in North America. The Ascension Parish site provides an enviable manufacturing environment with the intersection of five major natural gas pipelines and multiple modes of transportation by highway truck, rail and Mississippi River shipments. Louisiana's abundant supply of natural gas, combined with historically low natural gas prices and a competitive state incentive package, convinced CF Industries to make what is believed to be the largest single capital investment in the history of Ascension Parish.
While the CF Industries investment in the Donaldsonville Nitrogen Complex will have widespread global impact, literally providing crop nutrient products throughout the world for farmers, the most intense impact will be felt in Ascension Parish and Donaldsonville (population 7,500), which are located on the southern edge of the Baton Rouge metro area known as the Capital Region.
The $2.1 billion expansion will generate 1,800 construction jobs at peak in 2014. CF Industries will pay an average of $56,500, plus benefits, in hiring nearly 100 new direct employees, and the company's payroll for direct employees at the Donaldsonville Nitrogen Complex will reach $40 million annually during the next decade. The expansion also will generate broad community impact, with an estimated $142 million in new state and local tax revenue pumped into the Louisiana economy during the next decade.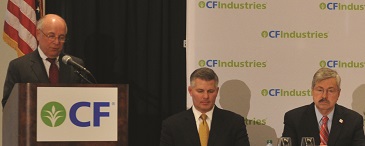 CF Industries Holdings, Inc.
Woodbury County, Iowa
The month of November in 2012 will be remembered by the State of Iowa as the month it landed the single largest capital investment in its history. The historic economic development announcement came from worldwide leader in fertilizer manufacture and distribution, CF Industries, which said it would be investing $1.7 billion for the expansion of its Port Neal fertilizer complex in Woodbury County, Iowa.
At the formal announcement of the investment, Iowa Governor Terry Barnstad, who was joined by CF Industries CEO Steve Wilson, told the audience, "This kind of investment will have a major economic impact that will be felt all over our state, especially up here in Northwest Iowa and also benefit neighboring states as well."
Woodbury County Supervisor Larry Clausen was quoted by Sioux City Journal as saying, "The size of this project is just unbelievable. There's so many zeros in this, it's hard to fathom."
The publication also said that CF Industries' CEO Steve Wilson attributed the decision to expand at its Iowa plant in part to the favorable past performance of its 100-plus employees, as well as to Port Neal's existing infrastructure, multiple modes of transportation and access to natural gas. He was also quoted as saying that the site is in the "heart of the best fertilizer market in the world."
The facility is projected to take two years to construct, during which time it should create up to 2,000 construction jobs. Upon completion it will create an additional 100 permanent jobs that will pay a beginning salary of $55,000. Seven hundred indirect jobs will likely be generated as well.
State economic development officials awarded the project $1.5 million in direct assistance and tax credits totaling $22 million. The tax credits include $13 million in sales tax refunds paid during construction and $9 million in investment tax credits.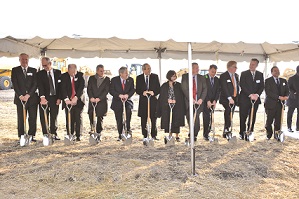 Iowa Fertilizer Company
Lee County, Iowa
A capital investment of $1.4 billion has a way of waking up a sleepy community. It happened in Lee County, Iowa, when on September 5, 2012 Iowa Fertilizer Company, a subsidiary of Egypt-based Orascom Construction Industries (OCI), announced the largest single capital investment in the state of Iowa to that date (it was surpassed by a $1.7 billion investment announcement by CF Industries two months later).
The company is using the investment to build a nitrogen fertilizer plant in a southeastern Iowa community near the town of Wever.
The company's Chief Executive Officer Nassef Sawiris explained the scope of and rationale for the project to Businessweek that wrote, "The planned project, with an annual production capacity of 1.5 to 2 million tons, will take advantage of low natural gas prices and growing U.S. demand for fertilizers."
Another publication wrote that Sawiris also said Iowa's relatively sound financial health swayed its decision to locate in that state, in addition to its abundance of grain processing and, as he said to Businessweek,  its access to inexpensive natural gas.
The new plant will be approximately four miles from the Mississippi River for convenient access to the "corn belt."
The fertilizer plant is expected to employ 2,500 in construction until completion in 2015. When it opens, it is expected to create 165 permanent positions.
Iowa Fertilizer Company's investment will also be a boon to farmers throughout the Midwest. In particular, its new production of nitrogen fertilizer will benefit the 92,400 farms in Iowa where 30.8 million acres are cultivated annually, according to TW Landscaping. It said, "Iowa uses more fertilizer than any other state in the nation, at well over 1 million tons per year," and this demand has outpaced U.S. supply. Without U.S. suppliers such as Iowa Fertilizer Company, these farmers are forced to rely on expensive imported product.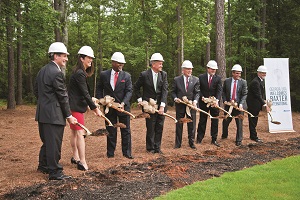 Baxter International, Inc.
Covington, Georgia
More than $1 billion. That's one big capital investment. The state of Georgia experienced the reality of this when it learned on April 19, 2012 it would be the home of a $1.3 billion capital investment from bio-pharmaceutical manufacturing company Baxter International, Inc. Without a doubt, this investment coming from a marquee company like Baxter is of landmark significance for the development of Georgia's bioscience industry.
Baxter's new state-of-the-art plasma fractionation facility will manufacture immunoglobulin therapy for patients with immune deficiencies, and albumin products primarily used as plasma-volume replacement therapy in critical care, trauma and burn patients.
The company broke ground on August 1, 2012 for an integrated campus that will include three main manufacturing components, as well as support warehouse and utilities buildings, administrative facilities and laboratories. Construction of the first manufacturing buildings is expected to be complete by 2015 with additional construction continuing into 2016. The plant is anticipated to begin commercial production in 2018. When the facility is fully operational, it is expected to generate 1,800 Georgia jobs (up from the 1,500 Georgia jobs originally projected).
The Baxter facility in Covington will be located in Stanton Springs, a 1,620-acre master-designed industrial park, located just west of Interstate 20 at the intersection of Newton, Walton, Jasper and Morgan counties. The park is managed by the Joint Development Authority, which is a partnership of the four counties. In a unique and mutually beneficial partnership, the counties share the cost of the tax incentives, as well as the tax benefits.
The presence of Baxter International will undoubtedly attract similar companies from the global marketplace and accelerate the growth of the state's bioscience industry.
The Center also adds to the capacity and curricula of Georgia's Technical College System. In addition, the Governor's Office of Workforce Development and the Georgia Department of Labor will assist Baxter in identifying and recruiting skilled workers.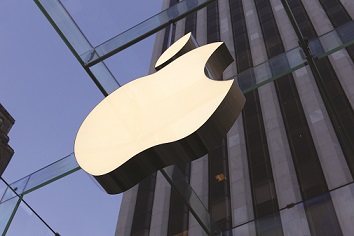 Apple Inc.
Washoe County, Nevada
What does a $1 billion slice of Apple taste like? The County of Washoe, Nevada, knows the answer to that question. On August 2, 2012 the Nevada Governor's Office of Economic Development approved tax abatements for Apple Inc. in exchange for the company's commitment to invest $400 million over the next four years in a data center and office building, and $1 billion over 10 years.
GOED Director Steve Hill said, "This is a great day for Nevada and in particular the Truckee Meadows."  Hill said, "Apple's investment in the area plus the prestige of the company's brand is a great next step in the region's economic diversification."
The Apple project consists of building a data center encompassing 1.5 million square feet in Washoe County east of Reno and Sparks (which was slated for completion at the end of 2012) on 2,200 acres as well as a business office in downtown Reno. Apple estimates the completed data center will provide jobs for at least 35 direct Apple employees and more than 200 Apple-badged contractors. 
The data center design includes "on-site power generation including 100 megawatts of wind power, up to 20 megawatts of geothermal energy and solar power from a 20-megawatt photovoltaic installation," according to Apple Insider's Mickey Campbell on June 26, 2012.
The state of Nevada hopes that the Apple project, which is on a site that was intended to attract a high-profile data center, will attract similar data center projects and other technology-related companies to the area. 
David Chernicoff in ZDNet said the Apple project should generate more than $300 million in economic impact to the local community and building of the project should create 500 construction jobs.
Campbell reported "The Cupertino, California, company will be getting an $89 million tax break including an 85 percent reduction in personal property tax for 10 to 30 years."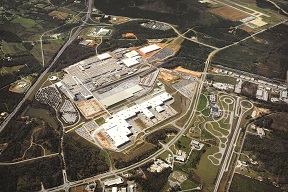 BMW Manufacturing Co.
Spartanburg County, South Carolina
When it comes to high-end automobiles, BMX blew past Lexus as the top-selling luxury car in the United States in 2011 and remained at the top in 2012. The Munich, Germany-based automaker owes much of its success to its Spartanburg County, South Carolina, assembly plant — its first U.S.-based plant — that has been assembling sought-after BMW vehicles since 1994.
The plant has been wildly successful over the past nearly two decades, growing exponentially. To continue its growth, on January 12, 2012, BMW announced it would invest $900 million for its fourth expansion and its largest investment to date in the Spartanburg County plant. BMW also commemorated a Spartanburg production milestone that same day – 2,000,000 vehicles since the company began U.S. production in 1994.
Bobby Hitt, secretary of commerce for South Carolina, said, "BMW's impact on South Carolina's economy and overall competitiveness is always worth celebrating."  
This expansion is taking place to ramp up production at the plant to 350,000 vehicles per year and to accommodate a new BMW model, the X4. BMW Manufacturing is the expertise center for BMW's X models and is the sole global producer of these sports activity vehicles – various configurations of the X3, X5 and X6. The new vehicle model, the X4, will be introduced for the 2014 model year.
With this latest announcement, BMW's total investment in its South Carolina plant and equipment reaches $6 billion, with total employment at the plant currently more than 7,000. The expansion is expected to create 1,000 more jobs at full capacity in 2014. BMW's production plant in Spartanburg County ranks as the company's second-largest production plant in the world.   
More than 70 percent of the factory's output is exported to more than 130 markets worldwide. The plant is the largest automobile exporter from the United States; and in 2012, the National Association of Foreign Trade Zones named BMW its Exporter of the Year.
Benteler Steel/Tube GmbH
Shreveport, Louisiana
When a U.S. location lands a $900 million deal from a European company that had a pool of more than 100 potential sites in 13 states to choose from for its economic development project, that is a feat for the history books. For the state of Louisiana, its history-book-worthy deal with those exact parameters is Benteler Steel/Tube GmbH. Benteler is, in fact, creating one of the largest manufacturing projects in Northwest Louisiana history.
Paderborn, Germany-based Benteler Steel/Tube GmbH and its parent company, Austria-based Benteler AG, decided a 330-acre site at The Port of Caddo-Bossier in Shreveport, Louisiana, provided the company with the best fit for its $900 million project. Shreveport's proximity to America's Energy Belt was key to its decision. Its sophisticated port infrastructure on the Red River represented Benteler's best opportunity to be near its oil and gas customer base while still maintaining ready access to global shipping channels.
Benteler will build the project in two phases. First it will build a seamless tubular steel plant with construction beginning in 2013 that is scheduled to be completed in 2015.  Second, it will construct a steel production mill that will be completed within four years of the first phase. Together, the facilities will cover 1.35 million square feet.
In addition to more than 2,200 new direct and indirect jobs associated with the project, Benteler will require more than 1,000 construction workers to complete its facilities. Of significant note, the Benteler announcement came two months after the final shutdown of GM's truck assembly plant in Shreveport, where as many as 3,000 people at peak and 800 at closing built 8.8 million trucks over the past 30 years.
An economic impact study commissioned by Louisiana Economic Development and performed by the LSU Division of Economic Development forecasts total new earnings of $2.7 billion (approximately $150 million per year at full employment) in Northwest Louisiana and a total, cumulative impact through 2035 of $16.2 billion in the region.
Bridgewater Associates
Stamford, Connecticut
Despite consistently being ranked as one of America's top four wealthiest states, Connecticut is a state that has not been on the forefront of huge economic development investment announcements in recent years. Its own Governor Dannel P. Malloy admitted, "For a long time, our state failed to compete for the kinds of good-paying jobs with good benefits that will grow and sustain our economy." So, as would be expected, when the announcement came on August 15, 2012 from asset management firm Bridgewater Associates, in fact the world's biggest hedge fund, that it would be making a $750 million investment to construct a new headquarters in Stamford, Connecticut, and bring with it 1,000 new jobs,  it was met with great enthusiasm.
"To have a company of Bridgewater's stature make the business decision to invest $750 million in our state and significantly increase its workforce is not only an extraordinary economic win, but signals to the rest of the world that Connecticut is strengthening its leadership position in the very competitive financial services sector," Malloy said in a statement.
The company maintained that in addition to the new jobs it would be moving its 1,225 employees from its Westport, Connecticut, location where it has been operating out of five buildings.
Bridgewater's new Stamford location is expected to encompass 850,000 square feet (it originally proposed 750,000 square feet) spread across two bridged and path-joined buildings that promise to be eco-friendly. In addition, Bridgewater's zoning applications indicate plans for a helipad, a floating recreational barge, a restored estuary and a marina as well.
The Stamford location is a waterfront, contaminated peninsula swath of land known as Harbor Point. Bridgewater has committed to cleaning up the area and making it a reforested, park-like campus that will not only be accessible to employees, but to the public as well. Its completion is expected in 2017.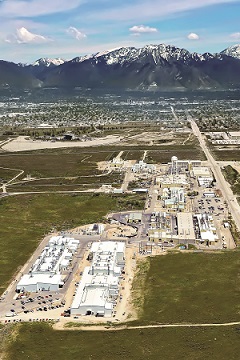 Hexcel Industries
West Valley City, Utah
Wisdom dictates that success begets success. In economic development, when you have found a location that works well for you, it often makes great sense to invest and grow in that spot to continue your success. Hexcel Corporation understands that wisdom and has committed to a $650 million investment to expand its West Lake City, Salt Lake County, Utah, composite fiber manufacturing operations.
Not only will this investment create 616 new jobs, potentially doubling the workforce in West Valley City, the new fiber line it will be able to produce will keep Utah at the forefront of this growing and critical part of high-tech manufacturing.
"I am very pleased Hexcel has chosen to undertake this major expansion of its already considerable presence in our state," said Utah Governor Gary R. Herbert.  "This expansion is a testament to Utah's position on the leading edge of the advanced composites industry, and it will be a major boost to our efforts to accelerate private sector job creation."
Advanced composite materials are currently a big focus in Utah's aerospace and defense sector. Carbon fiber and similar materials are used in products ranging from lightweight, high-impact body armor and rockets to high-end sports cars and recreational products. As an example of Utah's critical mass of companies working in the industry, Hexcel products are the first step in a local supply chain that ultimately produces structures for large and small commercial airplanes, as well as key space and defense programs like the V-22, the F-35 and the C-17.
As a result of Hexcel's presence, Utah has been able to attract some significant aerospace and defense manufacturing to the state.
The GOED board of directors approved a one-time, post-performance EDTIF refundable tax credit of $7,767,961 over the 10-year life of the project. Over the life of the incentive, the State is expected to gain as much as $30 million in new state revenue.
General Electric Consumer & Industrial
Louisville, Kentucky
General Electric really likes Kentucky. It makes that clear with its continued extraordinary capital investments in the state that run in the hundreds of millions of dollars.
Beginning in 2009, General Electric began an investment strategy that would reverse decades of outsourcing, bringing thousands of jobs and hundreds of millions of dollars in investment back to its Appliance Park in Louisville, Kentucky.
In 2012, on top of its initial investments to upgrade Appliance Park, GE committed to investing an additional $649 million, bringing the company's total investment to $800 million in Louisville.
"GE's continued investment in its Louisville manufacturing facility will help create jobs and drive economic growth for the surrounding community," Kentucky Governor Steve Beshear said. "They have been a great partner in helping to showcase to the rest of the world that Kentucky is a great place to do business."
In addition, along with the 2012 investment announcement, GE added another 1,214 jobs, which represents a combination of production workers and engineers. Some will remember that GE made its insourcing strategy the focus of the company's 2012 Super Bowl commercial.
GE opened two plants at its Louisville Appliance Park in 2012. In April 2012 it opened its GeoSpring™ Hybrid Water Heater manufacturing facility. The hybrid water heater combines energy-saving heat-pump technology with traditional electric heating elements used in most conventional water heaters. A month later it opened anther factory in Appliance Park to manufacture its French door bottom freezer refrigerator.
At the grand opening of the second factory, which will use "lean" manufacturing principles, GE Appliances President and CEO Charles "Chip" Blankenship said, "Today's Appliance Park milestone is proof that when businesses, unions, employees and government work together, we can deliver innovative solutions to the marketplace and demonstrate that U.S.-based manufacturing is critical to a robust economy." He went on, "We know we could not have reached this milestone without our partners such as the local union, government leaders at all levels and our 4,000 incredibly hard-working Louisville employees."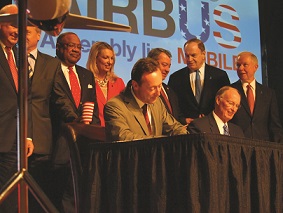 Airbus
Mobile, Alabama
While many in the U.S. were preparing for their upcoming Fourth of July celebrations, the city of Mobile, Alabama, was celebrating an historic economic development announcement. Their celebration centered on the July 2, 2012 announcement by the French aircraft manufacturer Airbus that it would be making a capital investment of $600 million to locate its first U.S. manufacturing facility in this Alabama port city.  
The announcement came after a seven-year courtship of Airbus parent company European Aeronautic Defence and Space Co. The result of the effort is a new Brookley Aeroplex assembly plant for the Airbus A319, A320 and A321 aircraft that will employ 1,000 at full capacity.
The company said it expects a two-year construction time, during which it anticipates the creation of 3,000 construction jobs. It also expects its presence in Mobile will attract to the area many more related business and suppliers and the thousands of jobs that go along with those businesses.
The Associated Press in a July 2, 2012 article said Carl Moore, dean of University of South Alabama's business school, believes Airbus "could have a transforming effect on Alabama," similar to what happened when Alabama landed Mercedes-Benz in 1993 for its first U.S. assembly facility. Once Mercedes-Benz took up residence in Alabama it was followed by assembly plant deals with Honda and Hyundai and an engine plant for Toyota. 
George Talbot wrote on al.com that Airbus President and CEO Fabrice Bregier said, "The town is right, the talent is right and the time is right." That same article quoted Alabama Department of Commerce as saying the state will contribute $158 million in cash, tax breaks and other incentives toward the project.
Talbot's article also said Auburn University Montgomery economic professor Keivan Deravi performed a study from which he deduced the annual economic impact to the state as a result of the Airbus plant will be $409 million. In addition, Deravi said this project should generate 500 new housing units, a $126,000 addition to property tax revenue along with $43 million in annual retail sales.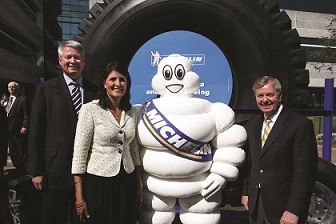 Michelin North America Inc.
Anderson County, South Carolina
It calls its 12-foot tall, 5-ton tireline Earthmover, and Michelin's announcement on April 10, 2012 to make a $500 million capital investment to build a new plant to produce this tire line in Starr, Anderson County, South Carolina, next to one of its existing rubber plants, likely rocked the world of a lot of citizens in this community.  
Michelin has been doing business in South Carolina since the mid-1970s when it opened its first United States production plant. Since then, Michelin consolidated its North American headquarters and R&D in Greenville and opened multiple manufacturing plants across the state producing passenger and light truck tires, truck and bus tires, extra-large Earthmover tires, semi-finished rubber products and truck tire retreads.
This plant will be Michelin's third in Anderson County and its second in Starr. Michelin's existing plant in Starr makes semi-finished rubber and has more than 200 employees. Its other plant in Anderson County, in Sandy Springs, is one of the largest rubber-processing plants in the world and has about 500 employees.  
This investment for expansion is being made because Michelin needed to increase production capacity of its extra-large Earthmover tires used in heavy construction and mining to meet global demand. According to the company, sales of these tires grew by 20 percent between 2009 and 2011. Michelin could have located the plant anywhere in the world but chose to expand and grow in familiar territory – in South Carolina and Anderson County. The company already makes Earthmover tires in Lexington, South Carolina, which is getting an upgrade; Brazil, Canada, France and Romania. Michelin has a total of 8,000 employees across South Carolina. This project, along with new tire plants for Bridgestone and Continental, is making South Carolina the hub of the tire industry. South Carolina already ranks first in the nation in tire exports and is expected to become first in tire production.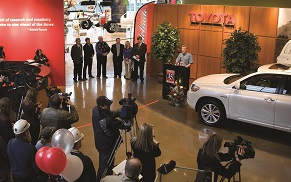 Toyota Motor Manufacturing Indiana, Inc. (TMMI)
Gibson County, Indiana
Doors to international markets are opening in Indiana, and Toyota Motor Manufacturing Indiana, Inc. is helping to make it happen with a $400 million capital investment. 
Toyota Motor Manufacturing Indiana, Inc. (TMMI) announced plans on February 7, 2012 to expand its Gibson County operations, creating approximately 400 new jobs by 2013. The company will invest $400 million total with $131 million going directly to its Princeton plant in Gibson County to consolidate its Highlander midsize SUV production from Japan to this location, including both hybrid and export versions. Toyota's Princeton plant was established in Gibson County in 1996 and was the second recognized wholly owned Toyota plant in North America.
Production is expected to begin in late 2013 with annual Highlander production volume expected to increase by approximately 50,000 units at TMMI.
"This project allows for better utilization of the Indiana plant, and will help Toyota capitalize on the improving North American and global auto market," said Steve St. Angelo, executive vice president of Toyota Motor Engineering & Manufacturing North America, Inc. "In addition to new jobs at the Indiana plant, this project will increase opportunities and jobs for our North American supply base."
Indiana has a long history of automotive manufacturing and is the only state with three different major Japanese brands producing vehicles on its soil.  Toyota's most recent expansion not only increases that footprint in the region, but opens up new export opportunities overseas for the Highlander model.
The direct impact of additional jobs and capital investment is phenomenal, but when coupled with the residual increase in housing starts, tax base and Toyota's history of local community and educational investments, the positive, long-term effects of this project will be sustained for generations of Gibson County and surrounding area residents.  Adding a hybrid electric model to Toyota's production plant in Indiana further ensures that this project will keep pace with an ever-changing automotive market in the 21st century, and Indiana will continue to be a leader in that market going forward.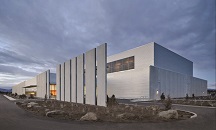 Facebook
Prineville, Oregon
Social networking giant Facebook posted a status update on August 14, 2012, filing plans declaring its intention to make a $400 million capital investment that would add to its profile of data center operations in Prineville, Oregon.
This investment will create Facebook's third data center operation in Prineville and follows previous investments of between $300 and $400 million in this town located in rural Crook County in Central Oregon.  
Beginning in 2011, Facebook invested in the construction of two 330,000-square-foot data centers in Prineville. When the first of these huge, "hot storage," energy-efficient data centers opened in April 2011 it was met with great praise.
"This data center is built for energy efficiency and is a milestone for Facebook," said Tom Furlong, director of site operations at Facebook. "The new computing capacity will enable us to offer great new social experiences, while setting new standards for environmental responsibility in data center design and operations."
This third data center is expected to be smaller than the first two — this one encompassing 62,000 square feet and being used for "cold storage" of old photos, videos and posts that Facebook users don't usually access daily. Cold storage is said to be five times more energy efficient than "hot storage" as each rack of servers has eight times more storage space. With "cold storage," the majority of the computers are "asleep," with the remaining computers "awake" and ready to signal the "sleeping" computers to retrieve the older items users don't typically access. Using this method, Facebook says its costs will be reduced by one third. 
Facebook's concern for energy efficiency in the development of all of its Prineville data centers has resulted in innovative design that has drawn widespread recognition in an industry that is known for tremendous amounts of electricity and power usage.
 
About the Author