Trade & Industry Development Magazine
2008
2007
2006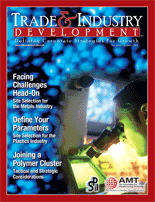 November/December 2006
With advances in technology, manufacturing productivity has increased with less dependence on workers.  This issue of T&ID explores the intricate balance between workers and technology, all with an eye toward the proper model for expanding your business.   In order to compete on a global stage, companies have sought to achieve optimal performance through streamlined processes and enhanced technology.  Some companies have found this through automation.  Others have found it through clustering.  As explored in our "Special Report" column, the plastics industry has benefited from the grouping of industry professionals and resources in geographical areas, thereby pooling resources, technology and workers.   The "Feature" articles cover the intricacies of business expansion for both the plastics and metals industry providing a blueprint from which to work.  Our state "Spotlights," provided by Texas, Mississippi, Kentucky, and Michigan present numerous programs designed to enhance your...
Click here for Digital Version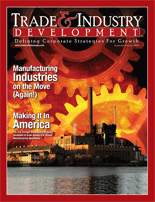 September/October 2006
According to NAM, U.S. manufacturing accounts for nearly two-thirds of industrial research and development, three-fourths of U.S. exports, and supports more that 20 million high paying jobs. Yet with all this success, distinct challenges face manufacturers in the U.S, including rising production costs and foreign competition. In this issue we explore the intricate balance of growth, site selection and expansion for North American manufacturers, and the resources and options available.   The "Feature" articles provide an excellent overview of the what, where and how with regard to site selection, as well as strategies necessary for a successful site location.   Included in this issue is a report on Foreign-Trade Zones, and the benefits available for manufacturers operating in FTZs. Accompanying this article is an insert detailing the location of the functioning FTZs in the U.S.   For even more information, look to the area"Spotlights" (Tennessee, New Mexico, Arkansas and Kansas) showcasing...
Click here for Digital Version